---
Updated on June 23rd, 2023

A California lease agreement is used by owners of residential or commercial real estate to set legally binding terms and conditions for the rental of their property. There are a variety of agreement types, each one specific to a unique rental situation. In most cases, the landlord/owner will have potential tenants complete application forms so they can select the best candidate for tenancy. Once a tenant has been chosen, the terms of the agreement can be discussed between the parties before the contract is signed.

Rental Application – This is the form used to examine each applicant before choosing the individual for tenancy.
Agreements: By Type (6)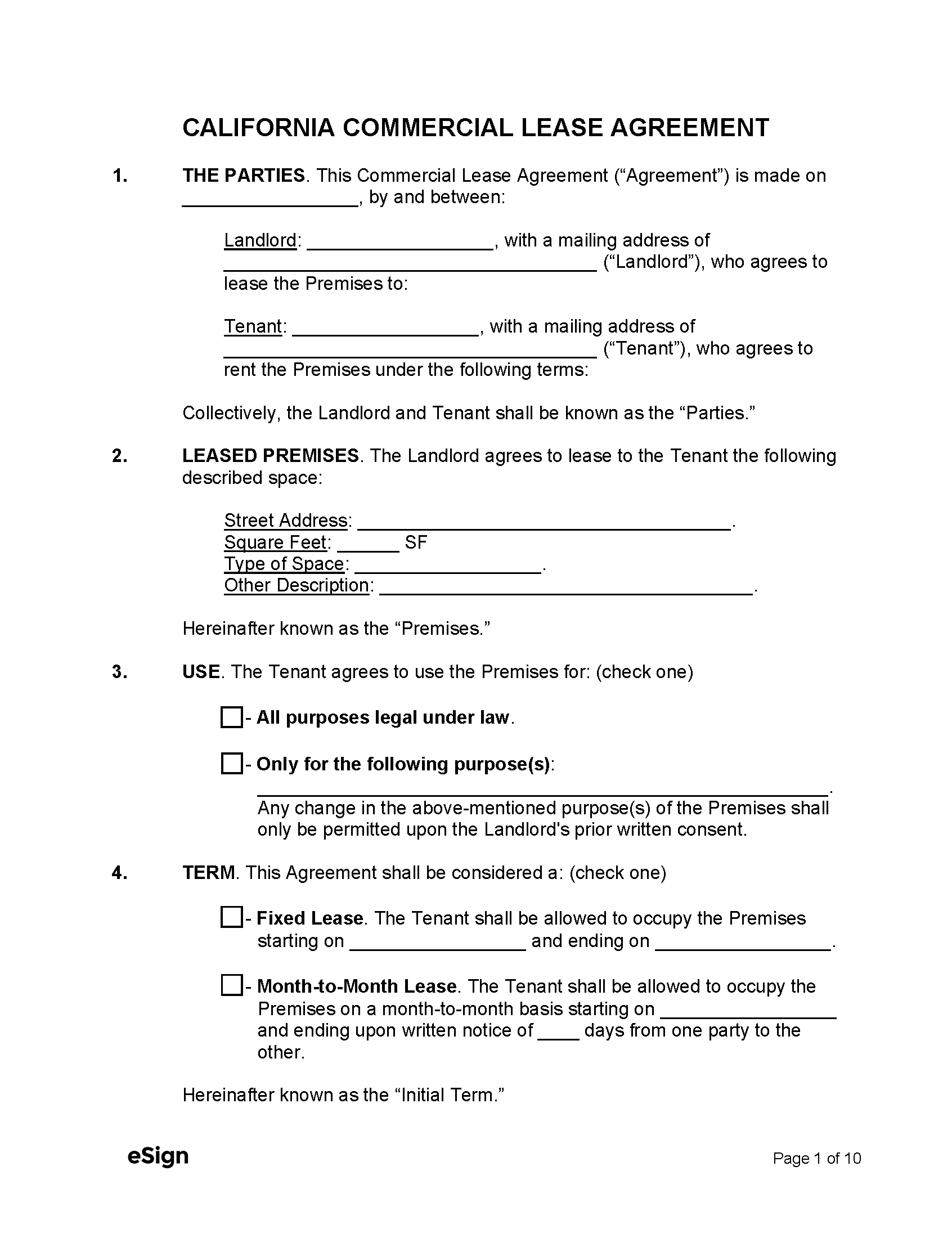 Commercial Lease Agreement – A commercial lease agreement is used to rent an office, industrial, or retail space to a business or individual.
Download: PDF, Word (.docx), OpenDocument
---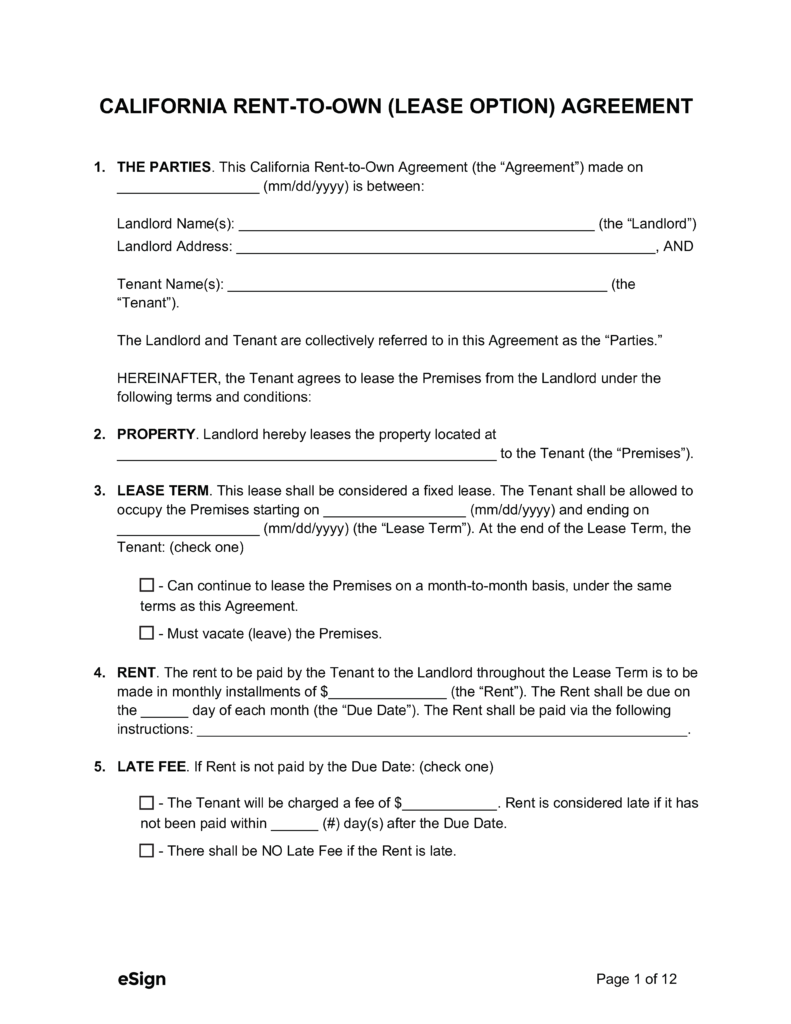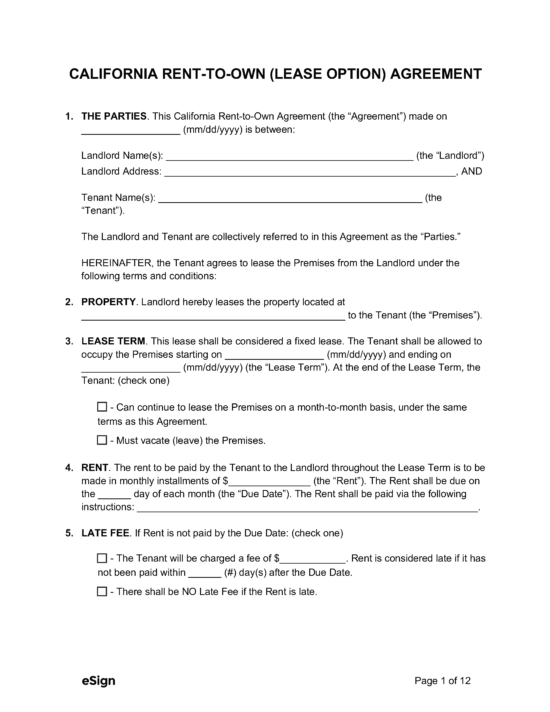 Rent-to-Own Agreement (Lease Option) – This agreement is used to rent out a property on a fixed term while providing the tenant the option to buy the property under certain conditions.
Download: PDF
---
Month-to-Month Lease Agreement – A lease agreement with no end date that renews monthly. A month-to-month lease can be terminated by either party (tenant or landlord) at any time as long as proper notice is given.
Download: PDF
---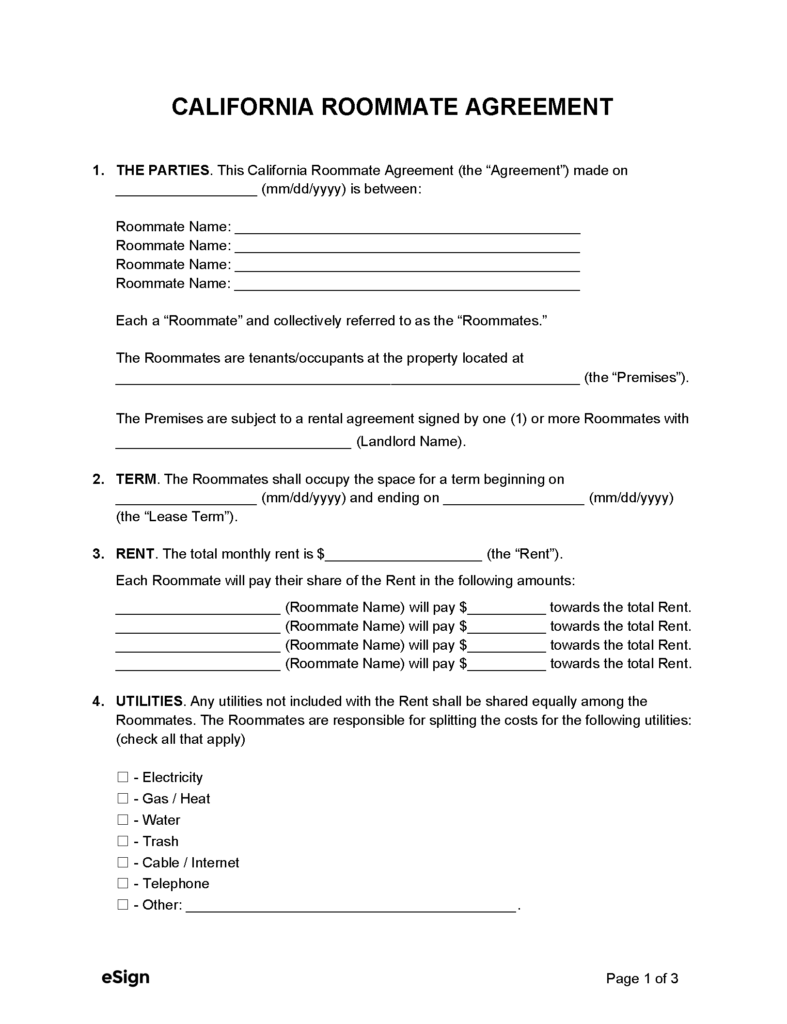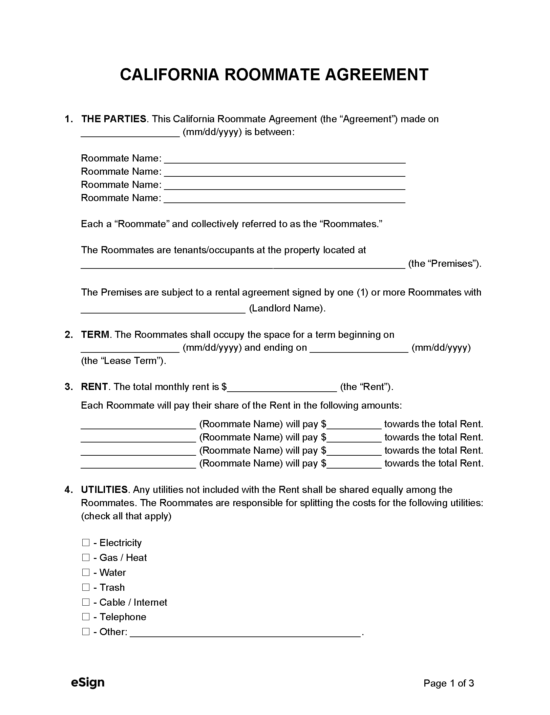 Roommate Agreement – This document is created for the purposes of establishing cohabiting arrangements between individuals who share a residential dwelling.
Download: PDF, Word (.docx), OpenDocument
---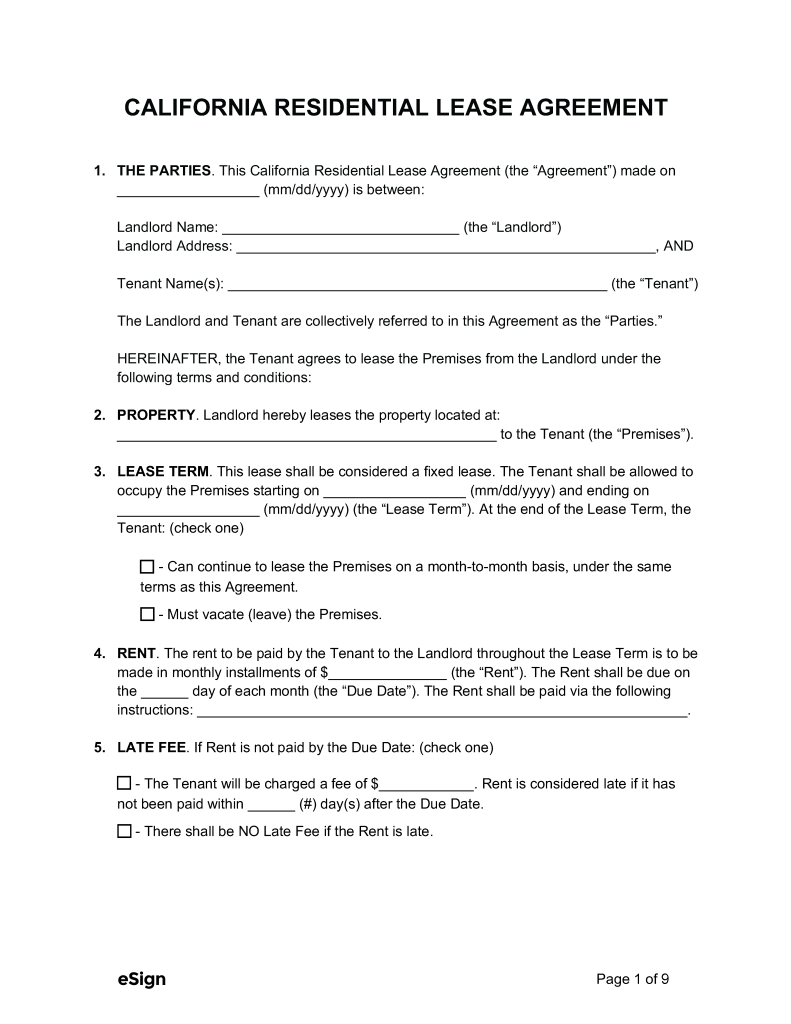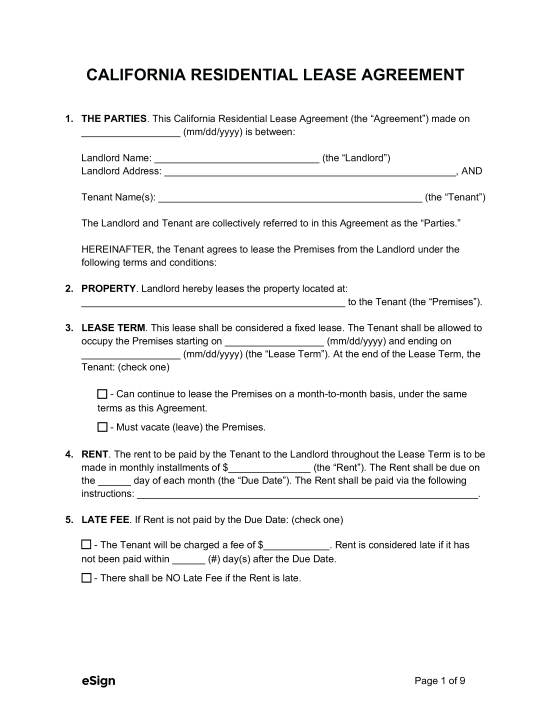 Standard (1-year) Lease Agreement – The most common residential lease agreement used to establish a one (1) year tenancy with the option to negotiate additional years at the end of the fixed term.
Download: PDF
---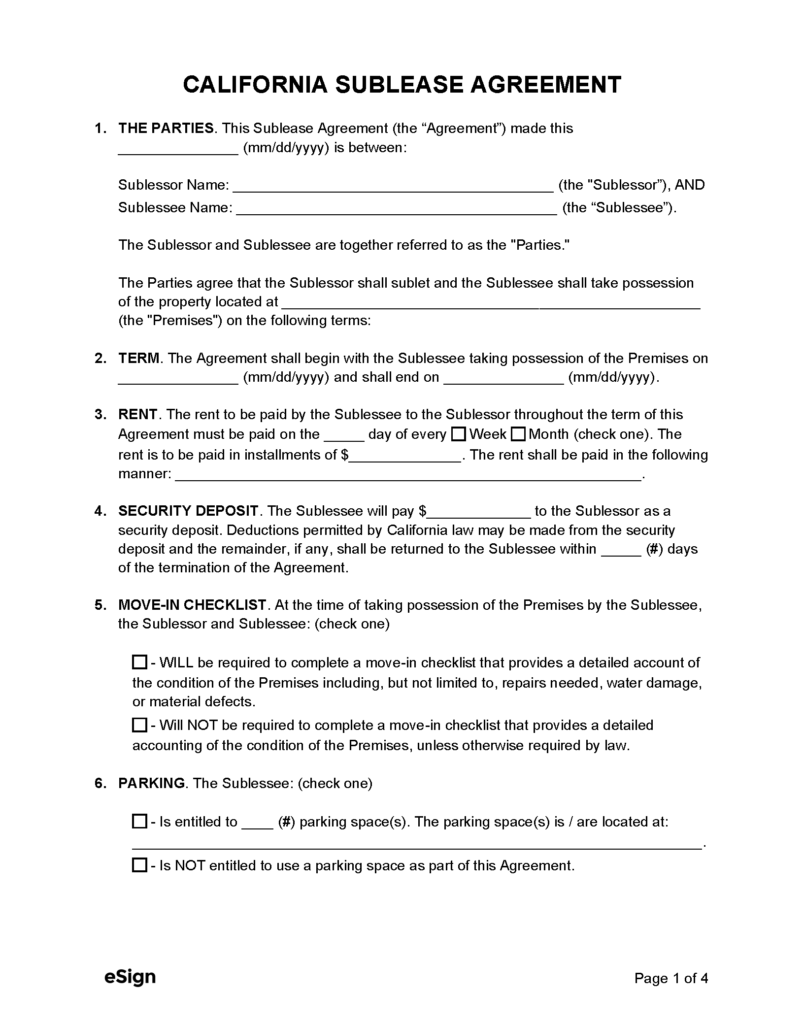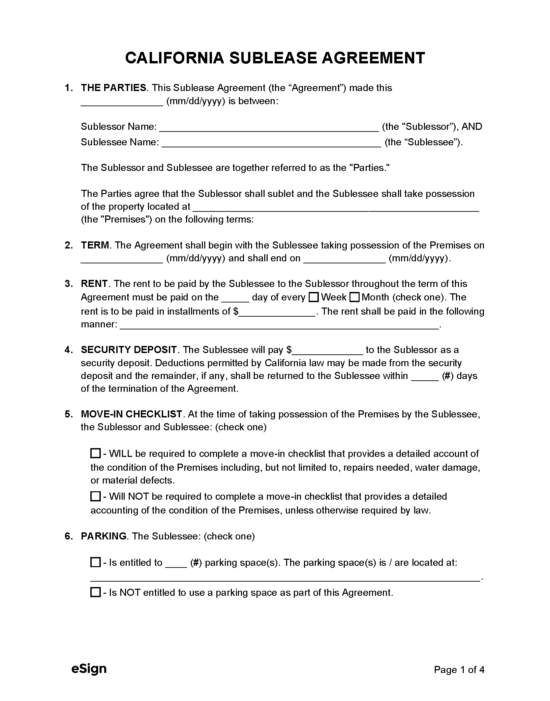 Sublease Agreement – Used by a tenant to rent out part of their rented property or the entirety of the dwelling to another individual. A sublease can only be created if the landlord has permitted such action in the original lease agreement.
Download: PDF, Word (.docx), OpenDocument
---
Disclosures (15)
1) AB 1482 Just Cause Addendum
This must be signed by both the tenant and landlord if certain criteria are met which would make the property unaffected by the just cause or rent increase laws indicated in the California Civil Code.
Before entering into a tenancy agreement, landlords must provide written notice to tenants with information concerning bed bug infestations.
If a death occurred in the rental unit, landlords are required to disclose this to potential tenants. This disclosure is not required if the death occurred three (3) years or more before the tenant leases the unit or if the decedent had or died from AIDS.
Before signing a rental agreement, landlords must notify prospective tenants if they have applied for a permit to demolish the residential unit.
If the property is located in a special flood hazard area, the landlord must disclose this information to tenants.
The following notification must be provided to the tenant unless the rental property meets the requirements of Sections 1947.12 (d)(5) and 1946.2 (e)(8) of the Civil Code:
California law limits the amount your rent can be increased. See Section 1947.12 of the Civil Code for more information. California law also provides that after all of the tenants have continuously and lawfully occupied the property for 12 months or more or at least one of the tenants has continuously and lawfully occupied the property for 24 months or more, a landlord must provide a statement of cause in any notice to terminate a tenancy. See Section 1946.2 of the Civil Code for more information.
7) Lead-Based Paint Disclosure
If the rental unit was built before 1978, this form indicating the potential presence of toxic paint on the premises must be signed by both parties.
This notice must be included in every lease agreement so the prospective tenant is aware that they can perform an internet search for registered sex offenders in their area.
9) Methamphetamine Contamination
If the rental property has been deemed contaminated with methamphetamine and is subject to remediation, then a copy of the remediation order must be provided to any prospective tenants.
Landlords must notify tenants if the property is located in a neighborhood that was once used as a federal or state ordnance location.
Landlords must provide new tenants with a notice from a pest control company if the landlord has used their services periodically.
Landlords must notify tenants if the unit has a shared electrical or gas meter so they can understand how the costs of these utilities are split amongst tenants.
All lease agreements must have a section notifying tenants of the prohibited smoking areas around the building.
A written disclosure has to be provided to tenants if there is mold present in the unit or building; if the problem was remediated, the landlord is not obliged to notify prospective tenants.
Landlords must disclose the application of water submeters using the California Association of Realtors' (CAR) Form WSM (if applicable). The completed document will provide a billing estimate and an explanation of how billing will work.
---
Landlord-Tenant Laws
---
Landlord's Access
General Access (CIV Code § 1954(d)(1)) – State law defines twenty-four (24) hours as a reasonable notice time before entering the premises for non-emergency reasons.
Emergency Access (CIV Code § 1954) – A landlord may enter a tenant's dwelling for emergency purposes without notice.
---
Rent
Grace Period – No statute.
Maximum Fees ($) (Tenant-Landlord Guide Page 39)- Not mentioned in state statutes, but it is noted in the handbook that late fees may not be more than a reasonable estimate of costs incurred by the landlord for late rent payment.
Rent Increase Notice (CIV Code § 827(b)(2-3)) – Thirty (30) days' notice must be provided to the tenant if the rent will be increased. If the rent increase is more than 10% of the lowest amount charged over the last twelve (12) months, ninety (90) days' notice is required.
---
Security Deposits
Maximum Amount ($) (CIV Code § 1950.5(c)(1)) – Two (2) months' rent if the unit is unfurnished and three (3) months' rent if it is furnished.
Returning to Tenant (CIV Code § 1950.5(g)(1)) – The landlord must return the tenant's security deposit no later than twenty-one (21) days after the tenant has vacated the premises.
Interest Required? – No statute.
Separate Bank Account? – No statute.