The Illinois standard residential lease agreement is a binding contract that delineates the terms and conditions of tenancy between a landlord and an occupant of residential property. Standard lease agreements are fixed-term contracts that typically last one (1) year. During the initial term, the tenant is responsible for paying the monthly rent and property expenses designated in the lease (e.g., electricity, heat). Only after the initial term expires can the landlord raise the rent or otherwise modify the agreement. If the tenant fails to uphold their obligations, they may be subject to fees and/or eviction.
Rental Laws – 765 ILCS 705 (Landlord and Tenant Act)
Handbook (Guide) – Landlord and Tenant Rights and Laws
Security Deposits
Maximum (765 ILCS 710) – No limit.
Returning (765 ILCS 710/1(a)) – Thirty (30) days if deductions were made; forty-five (45) days otherwise.
---
When is Rent Due?
Tenants are obligated to pay rent according to the terms set forth in the rental agreement. If rent remains unpaid for five (5) days, the landlord can charge a reasonable late fee (770 ILCS 95/7.10(a)).
---
Realtor Version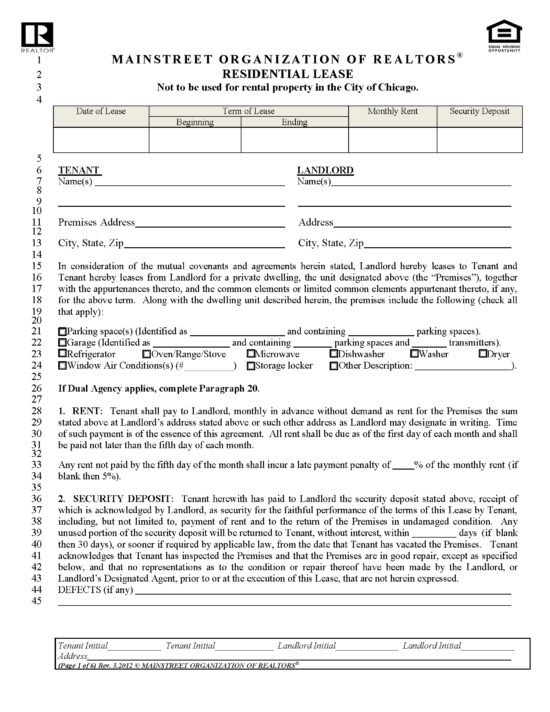 Mainstreet Organization of REALTORS® Residential Lease – This residential lease agreement is intended for use in any Illinois city or town except Chicago.
Download: PDF
---
Disclosures (4)
1) Lead-Based Paint Disclosure
The tenant must be informed in writing regarding the presence of lead-based paint in their rental unit if the property was built before 1978.
If the tenant's rental unit is located on the second floor of a building or lower, the landlord is required to disclose the possible or known presence of radon on the premises and give them a copy of the Radon Guide for Tenants.
If the landlord makes a rent concession (rebate or reduction) with the tenant, it must be written in the lease agreement.
If the tenant is on a shared utility meter with the landlord, the landlord is required to inform them about the shared service(s) and how payments will be divided between both parties.