---
Updated on August 24th, 2022

A Kansas standard residential lease agreement is a contract between a landlord and tenant that sets forth terms and conditions for the leasing of residential property. Tenants must abide by all lease terms including the monthly rental amount, due date, and the accepted method(s) of payment. All conditions defined in the agreement will be effective for a fixed term that typically lasts one (1) year but may be modified depending on the circumstance. During the contract term, neither the tenant nor landlord may alter the lease provisions unless the changes are agreed upon in writing.

Rental Laws – Ch. 58, Art. 25 (Landlords and Tenants)

Handbook (Guide) – Kansas Landlords Handbook
Security Deposits
Maximum (§ 58-2550(a)) – One (1) Month's Rent (if unfurnished); One and a Half (1.5) Months' Rent (if furnished)
Returning (§ 58-2550(b)) – Thirty (30) Days
---
When is Rent Due?
Rent must be paid on the due date designated in the rental agreement (§ 58-2545(c)).
---
Realtor Version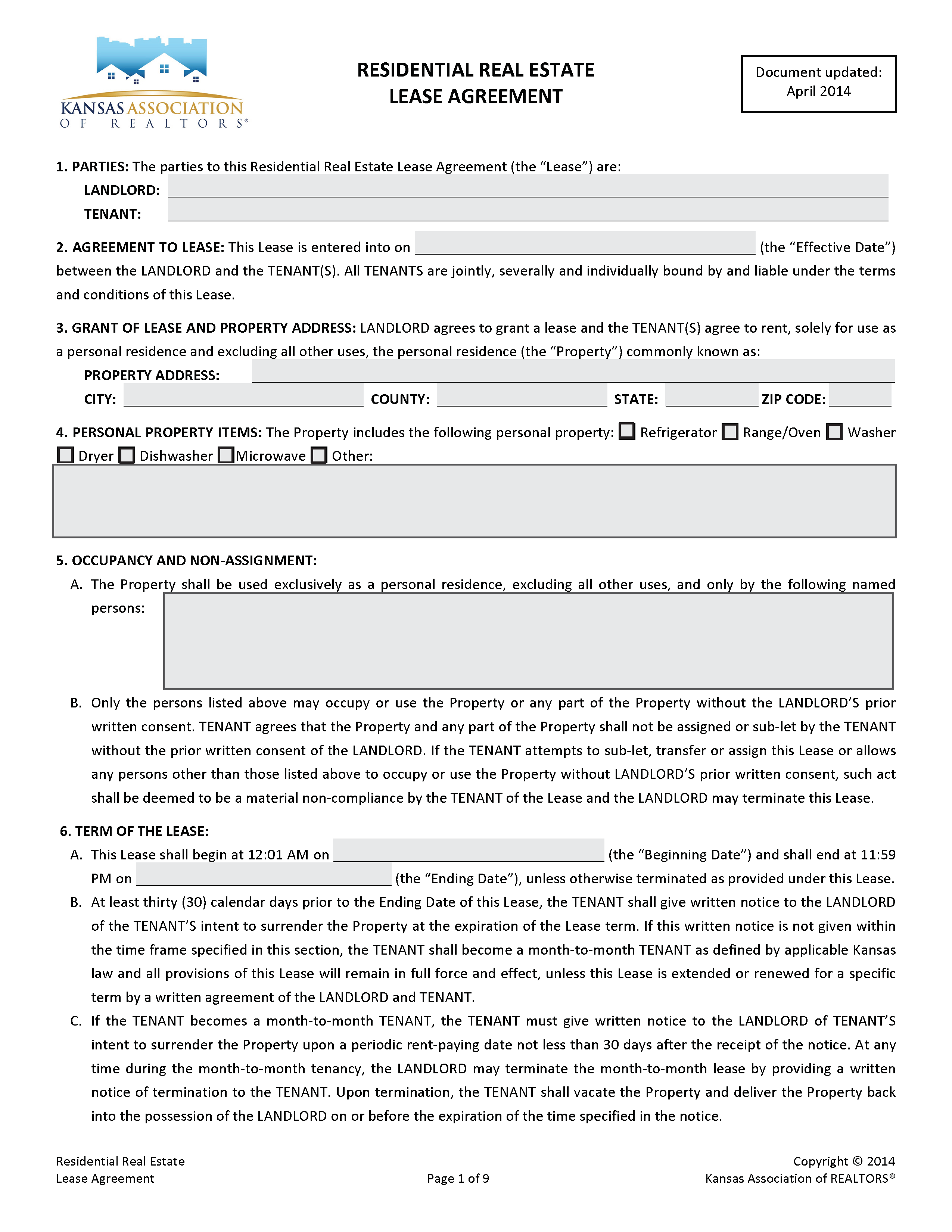 Residential Real Estate Lease Agreement – This residential lease is intended for use by agents licensed with the Kansas Association of REALTORS®.
Download: PDF
---
Disclosures (3)
The landlord is required to disclose in writing the names and addresses of any and all agents and managers who are authorized to manage the premises and serve notices and demands upon the tenant.
2) Inventory and Condition Report
Within five (5) days of the tenant being granted possession of the premises, the landlord (or their representative) must record an inventory of the contents and condition of the tenant's rental unit and any furnishings/appliances. Once completed, the document must be signed by both parties with a copy given to the tenant.
3) Lead-Based Paint Disclosure
If the rental property was built before 1978, the landlord must give the tenant a written disclosure that warns them about the presence of lead-based paint on the premises.