---
Updated on June 23rd, 2023

A Kansas lease agreement is a contract designed to convey the terms and conditions of a rental arrangement between a landlord and tenant. Each agreement listed below is made for a specific residential or commercial rental purpose. The laws vary depending on the type of rental situation, and both parties should be made aware of the specific rules for each tenancy variation. A lease agreement becomes legally binding upon both parties once their signatures are inscribed.

Rental Application – A form used to collect information from potential tenants so the landlord can perform background checks to find a suitable person for tenancy.
Agreements: By Type (6)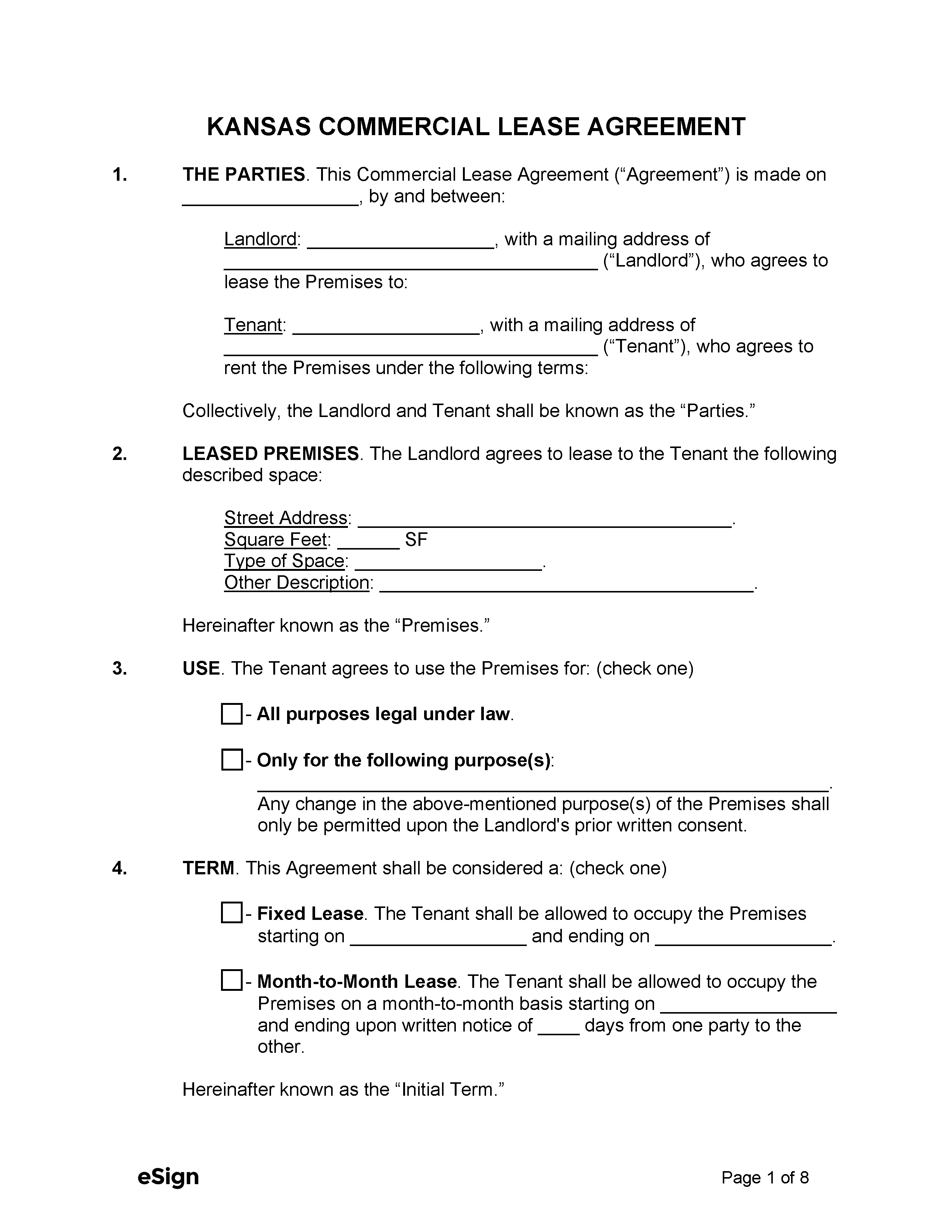 Commercial Lease Agreement – Used to rent commercial space to a business entity; for example, office spaces, restaurants, and shopping outlets.
Download: PDF, Word (.docx), OpenDocument
---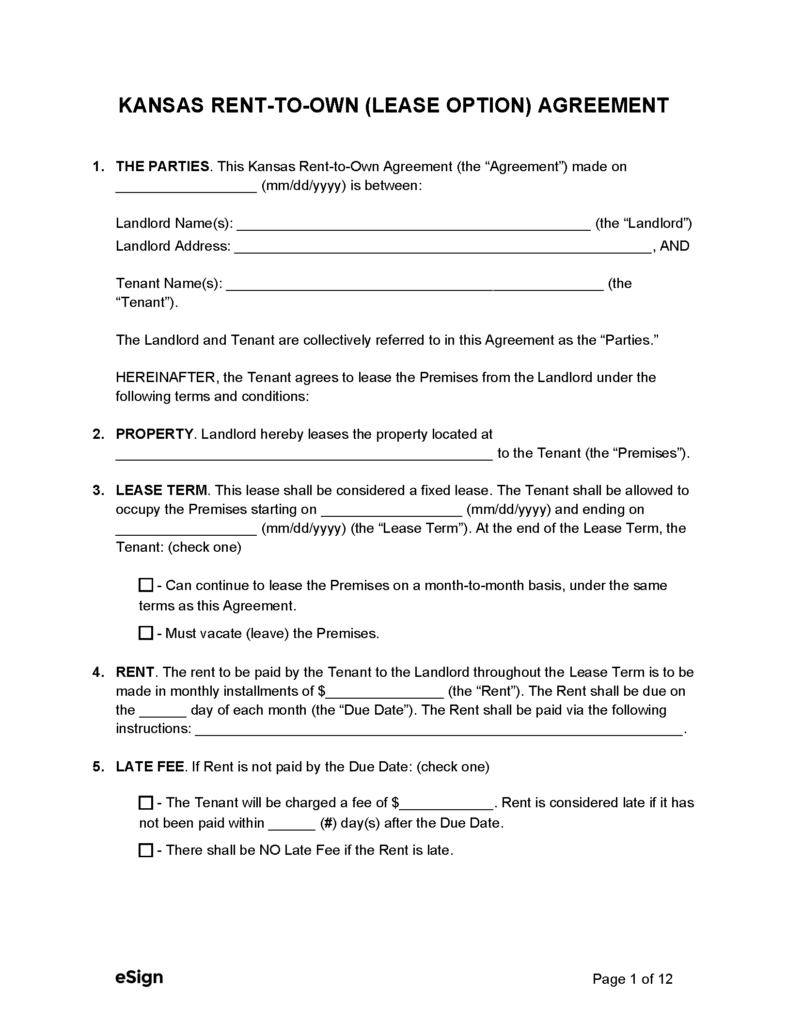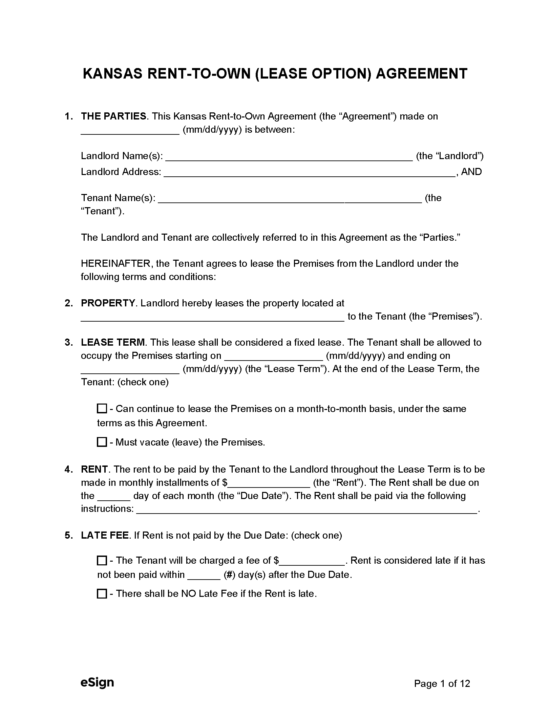 Rent-to-Own Agreement (Lease Option) – For tenants who are interested in purchasing the rental property after they have lived in the unit as a tenant for a certain period of time (other conditions will apply).
Download: PDF, Word (.docx), OpenDocument
---
Month-to-Month Lease Agreement – Used by tenants who wish to rent a piece of property on a month-to-month basis with the option of terminating at any time with sufficient notice. The landlord also has the ability to terminate the lease at any time..
Download: PDF, Word (.docx), OpenDocument
---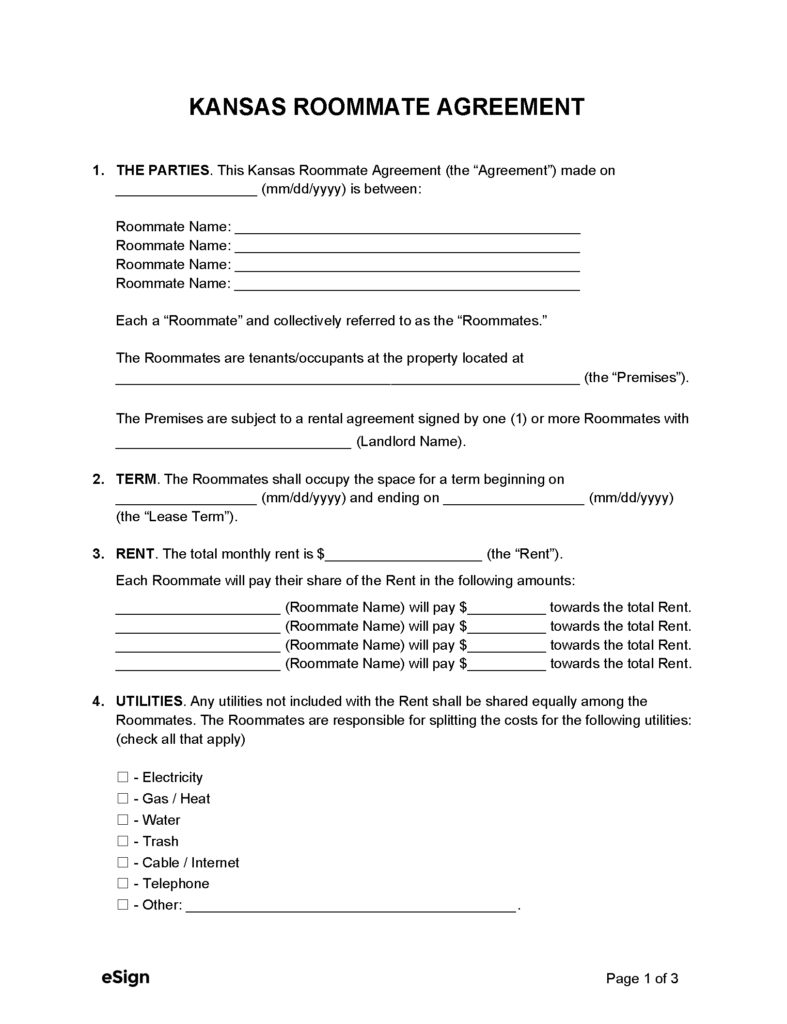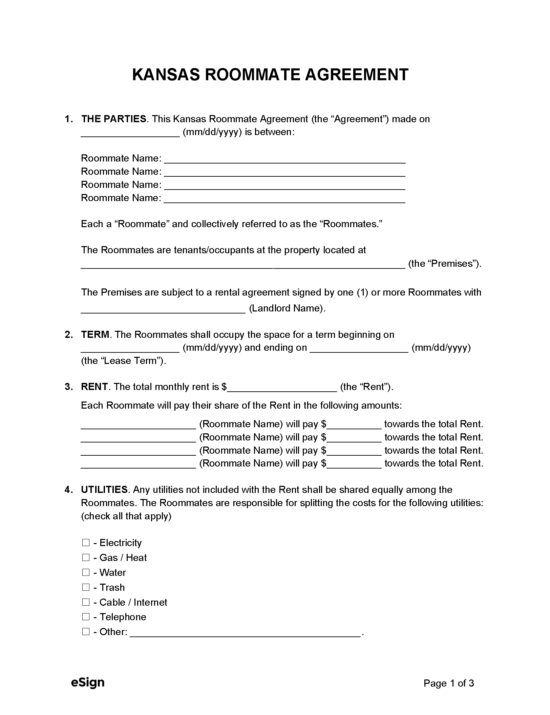 Roommate Agreement – For individuals who are living together and wish to create an official written agreement that specifies certain rights, duties, and obligations. This is a separate contract from the original lease between landlord and tenant.
Download: PDF, Word (.docx), OpenDocument
---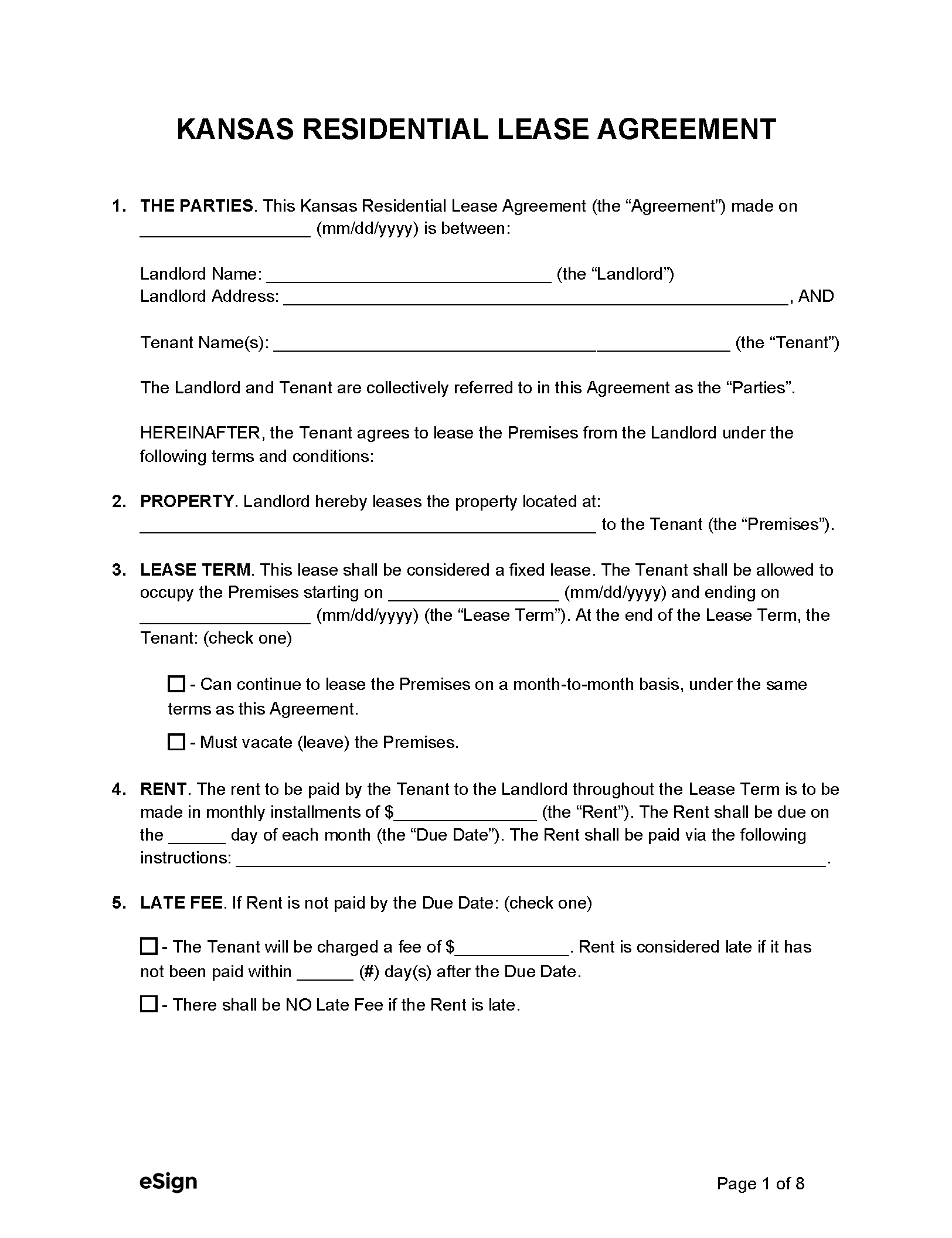 Standard (1-year) Lease Agreement – A fixed-term lease agreement that allows the landlord and tenant to agree upon a rental arrangement that will continue until the end of the one (1) year term.
Download: PDF, Word (.docx), OpenDocument
---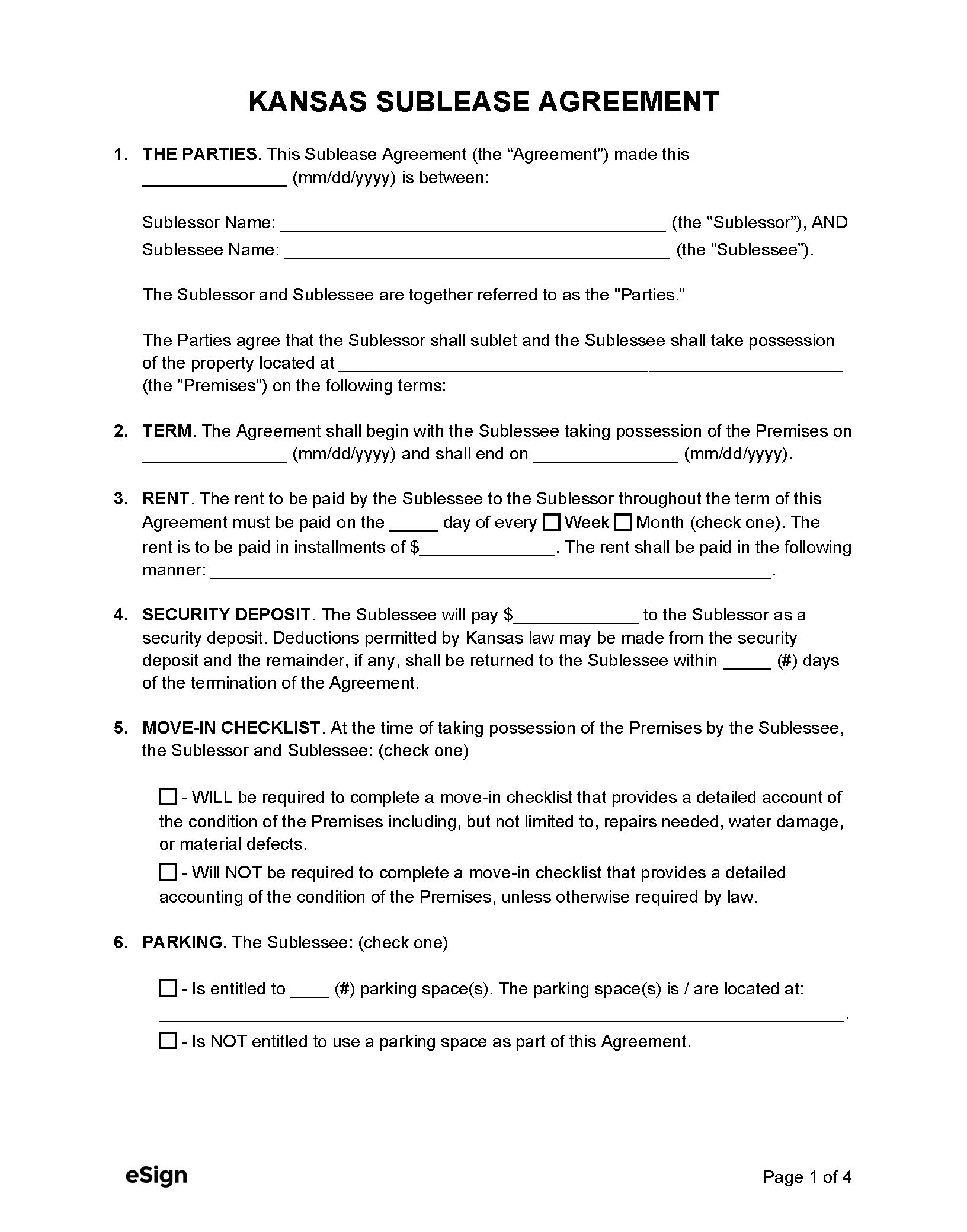 Sublease Agreement – Used by a tenant to rent the entirety or a part of their living space to a subtenant, with permission from the landlord.
Download: PDF, Word (.docx), OpenDocument
---
Disclosures (3)
The landlord is required to disclose in writing the names and addresses of all individuals authorized to manage the premises and to serve notices and demands upon the tenant.
2) Inventory and Condition Report
A written record of the condition of the premises and any furnishings/appliances must be made and a copy given to the tenant upon delivery of possession or within five (5) days thereof.
3) Lead-Based Paint Disclosure
Landlords will need to complete this disclosure form and give it to prospective tenants of residences that were built before 1978 to inform them of the possible presence of lead-based paint on the property.
---
Landlord-Tenant Laws
---
Landlord's Access
General Access (§ 25-2557(a)) – The landlord must provide reasonable notice before entering the premises (no exact time period is mentioned).
Emergency Access (§ 25-2557(b)) – The landlord may enter the premises with no notice as long as it is for emergency purposes.
---
Rent
Grace Period – No statute.
Maximum Fees ($) – No statute.
Rent Increase Notice – No statute.
---
Security Deposits
Maximum Amount ($) (§ 58-2550(a)) – The maximum a landlord can charge tenants for security deposits is an amount equal to one (1) month's rent if unfurnished or one and a half (1.5) month's rent if the unit is furnished.
Returning to Tenant (§ 58-2550(b)) – The security deposit must be returned to the tenant within thirty (30) days of the tenancy termination date.
Interest Required? – No statute.
Separate Bank Account? – No statute.