---
Updated on August 3rd, 2023

A Kentucky standard residential lease agreement is a contract used by landlords to set forth terms and conditions for a tenant to occupy residential property. Tenants will pay rent to the landlord in the amount and in the manner described in the lease. The tenancy will be set for a fixed term and, as such, the lease must state the start and end dates of the agreement. Prior to the initial date of occupancy, the lease provisions may obligate the tenant to prepay a portion of the rent or furnish a security deposit to cover potential damages caused during the rental term.

Rental Laws – KRS Chapter 383

Handbook (Guide) – Kentucky Landlord Tenant Guide
Security Deposits
Maximum – Not mentioned in state statutes.
Returning (§ 383.580) – Sixty (60) Days; Thirty (30) Days (if last month's rent is unpaid)
---
When is Rent Due?
Payment shall be made on the due date agreed upon by the landlord and tenant in the rental contract. If no such agreement exists, rent is payable on the first (1st) of each month or at the start of the rental period for terms of one (1) month or less (§ 383.565).
---
Realtor Version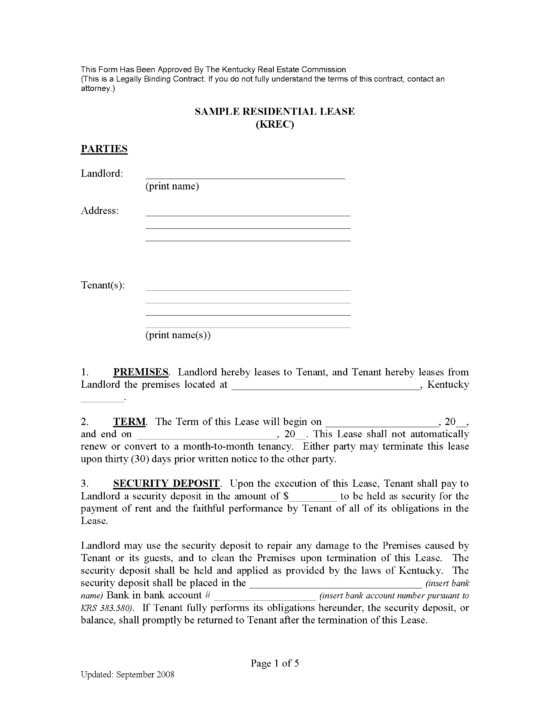 Sample Residential Lease – This binding lease has been approved by the Kentucky Real Estate Commission for use by residential landlords.
Download: PDF
---
Disclosures (4)
1) Disclosure of Managers and Agents
The landlord must give the tenant a document that discloses the identities and addresses of any managers and agents who are authorized to manage the property and receive and issue notices and demands.
2) Lead-Based Paint Disclosure
If the rental property was constructed prior to 1978, the landlord must inform tenants that there may be lead-based paint on the premises.
3) Move-in/Move-out Condition Checklist
If the tenant pays a security deposit, the landlord must inspect the premises and identify any necessary repairs in a written report before the occupancy date. Furthermore, the tenant will need to be given the opportunity to verify the report.
4) Security Deposit Disclosure
If the tenant pays a security deposit, it must be kept in a bank account created for that purpose with the bank name and account disclosed to the tenant by the landlord.