---
Updated on April 3rd, 2023

A Maine standard residential lease agreement is a rental contract entered into by a landlord and a tenant for the purposes of establishing the terms and conditions of a residential tenancy. A lease agreement is presented to a prospective tenant after they have expressed interest in renting the residential unit from the landlord.

The parties will go over the contract and ensure everyone is on board with the terms and that they accept the duties, rights, and obligations to which they will be held. This document covers the amount of rent, payment date, length of the lease, security deposit amount and return information, pet information, services and utilities, and damages and liability, among other stipulations.

Rental Laws – Title 14, Chapter 710

Handbook (Guide) – Maine Attorney General's Tenants Rights
Security Deposits
Maximum (§ 6032) – Two (2) months' rent.
Returning (§ 6033(2)) – Thirty (30) Days
---
When is Rent Due?
Rent is due at the time specified in the residential lease agreement (no statute). Maine law provides a grace period, giving the tenant a minimum of fifteen (15) days to pay rent before late fees are charged by the landlord (§ 6028).
---
Attorney General Version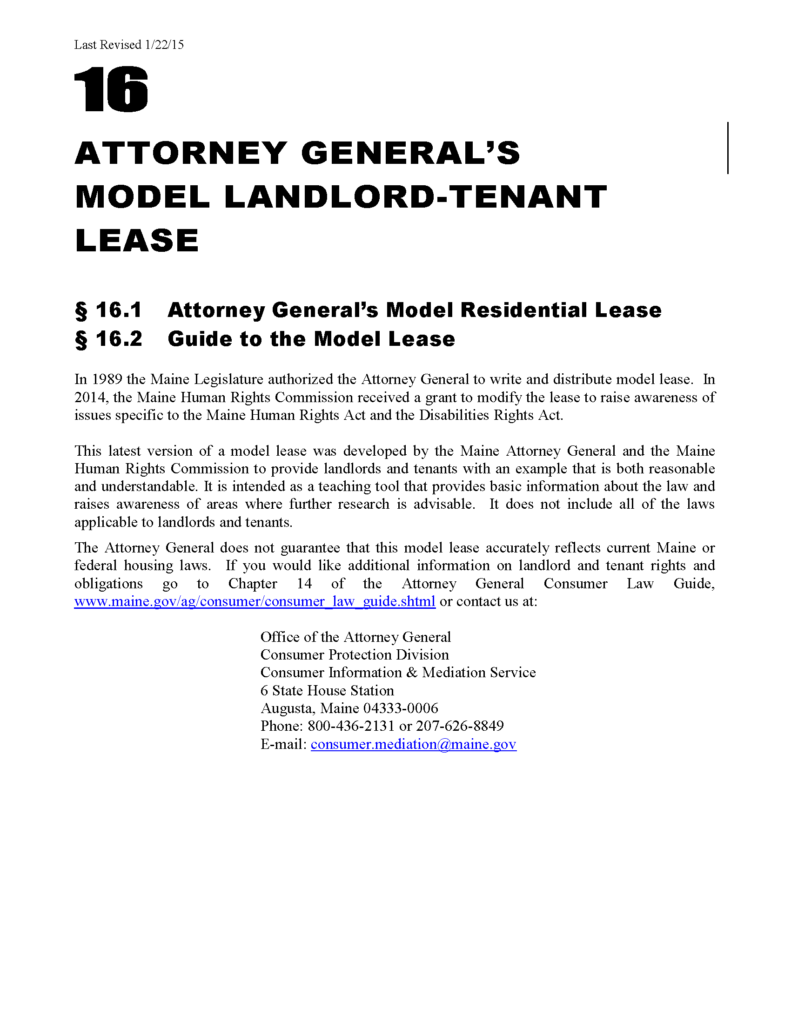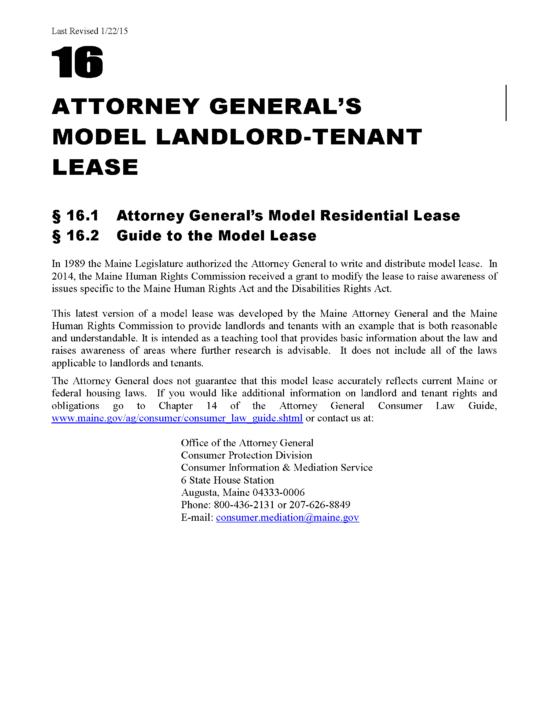 Model Landlord-Tenant Lease  – This standard residential lease is provided by the Attorney General of Maine for reference and use. The second half of the document is a guide to completing the residential lease for landlords and tenants.
Download: PDF
---
Disclosures (6)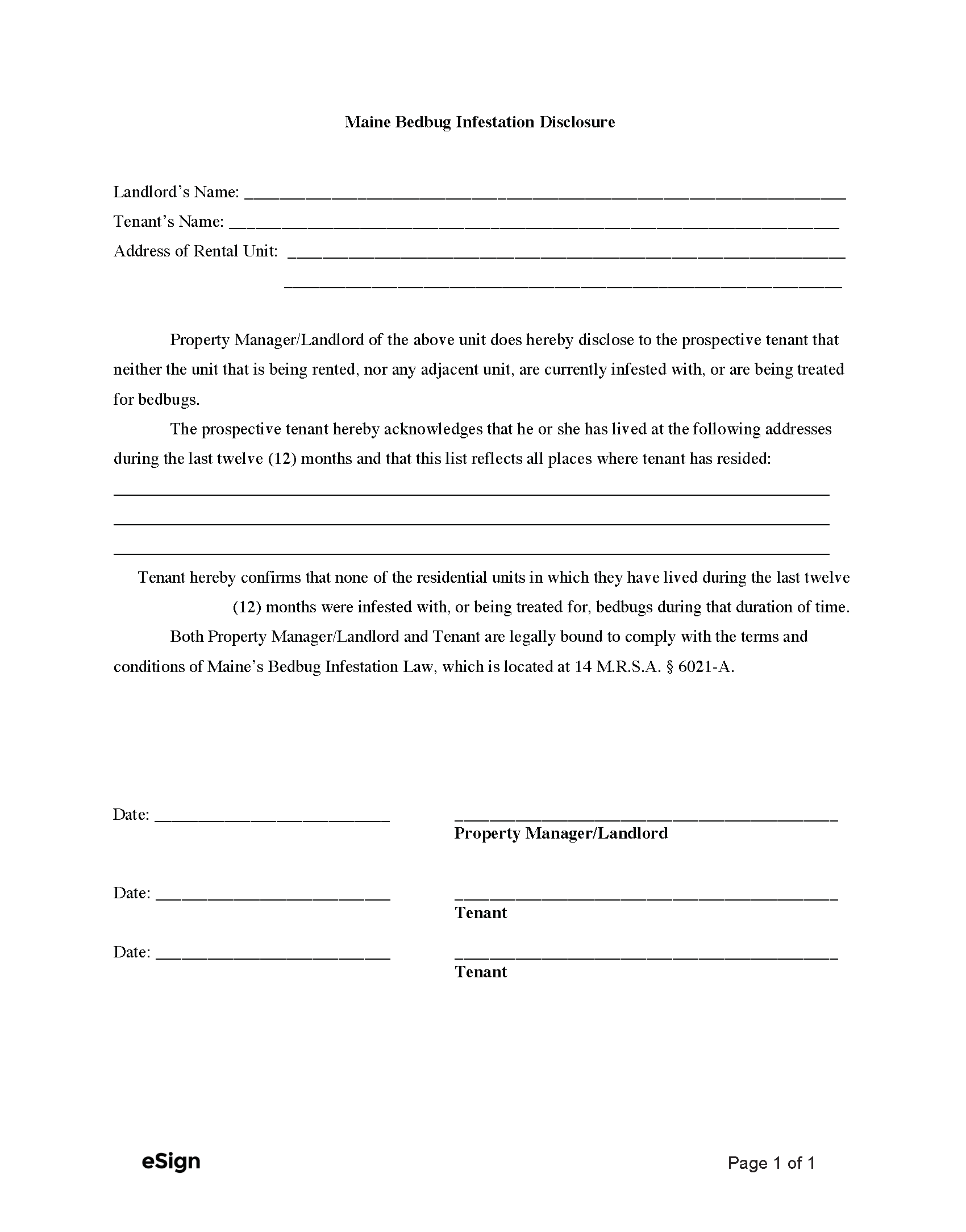 Bedbugs (§ 6021-A(2)(D)) – The landlord must disclose the presence of a bedbug infestation if adjacent units are infested with bedbugs or under treatment for these pests.
Download: PDF
Energy Efficiency Disclosure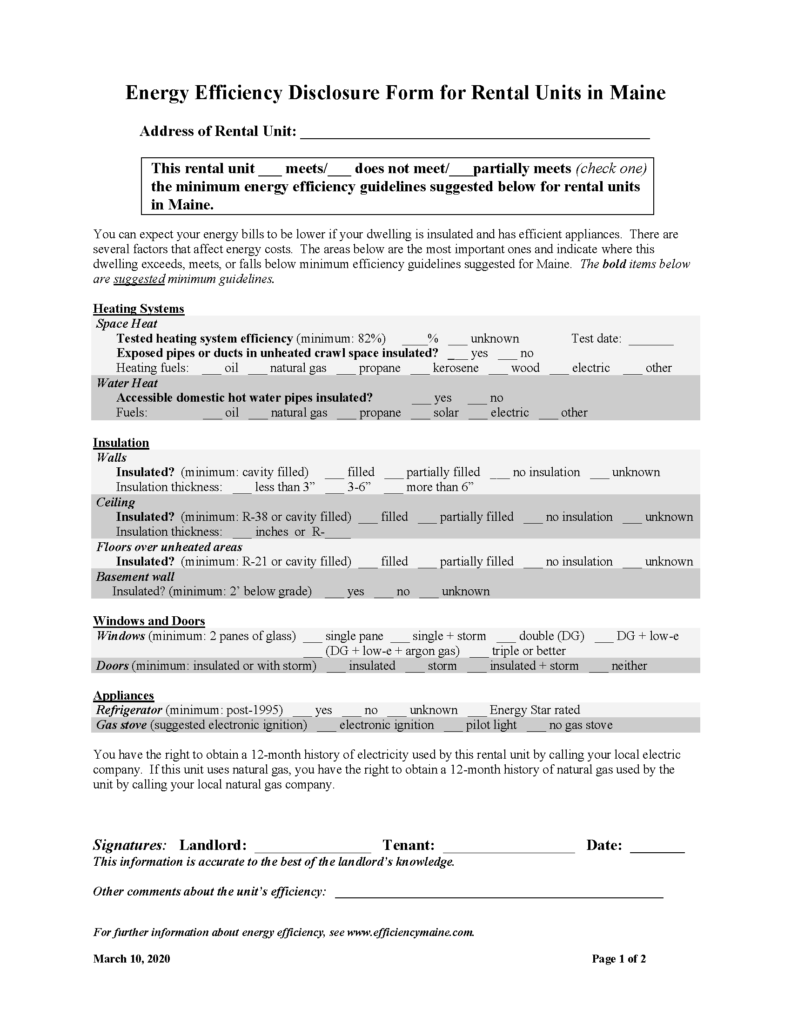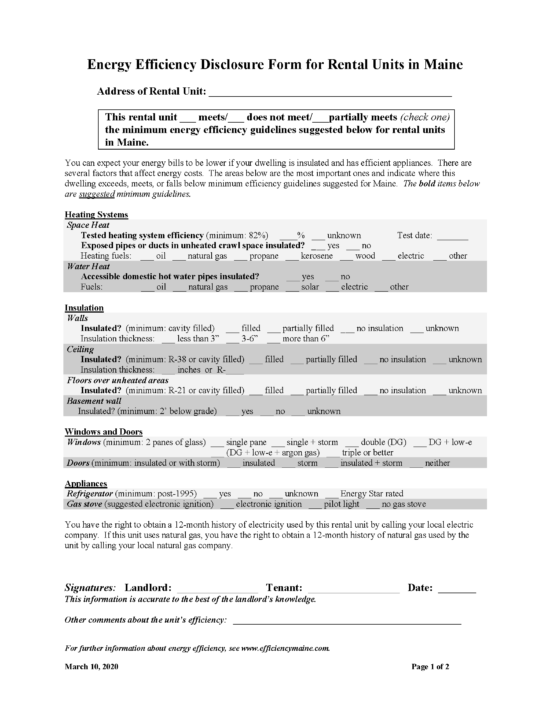 (§ 6030-C(1)) – If the tenant will be responsible for paying any utilities, they must be given this disclosure (completed by the landlord) that details the energy efficiency of the rental unit and included appliances (stove/refrigerator).
Download: PDF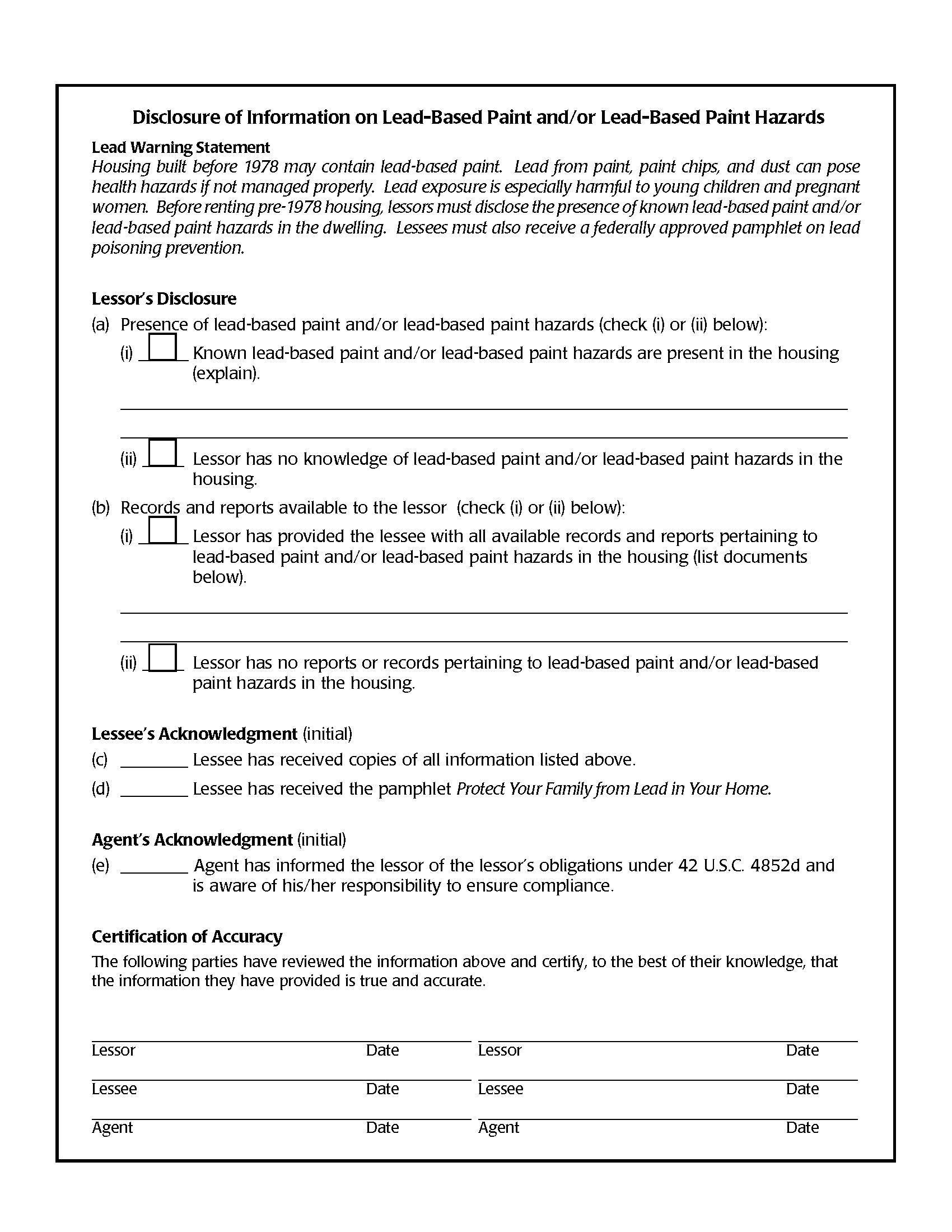 Lead-Based Paint Disclosure – If the property being rented was constructed prior to 1978, the tenants must be given a form that discloses the presence of toxic paint on the premises.
Download: PDF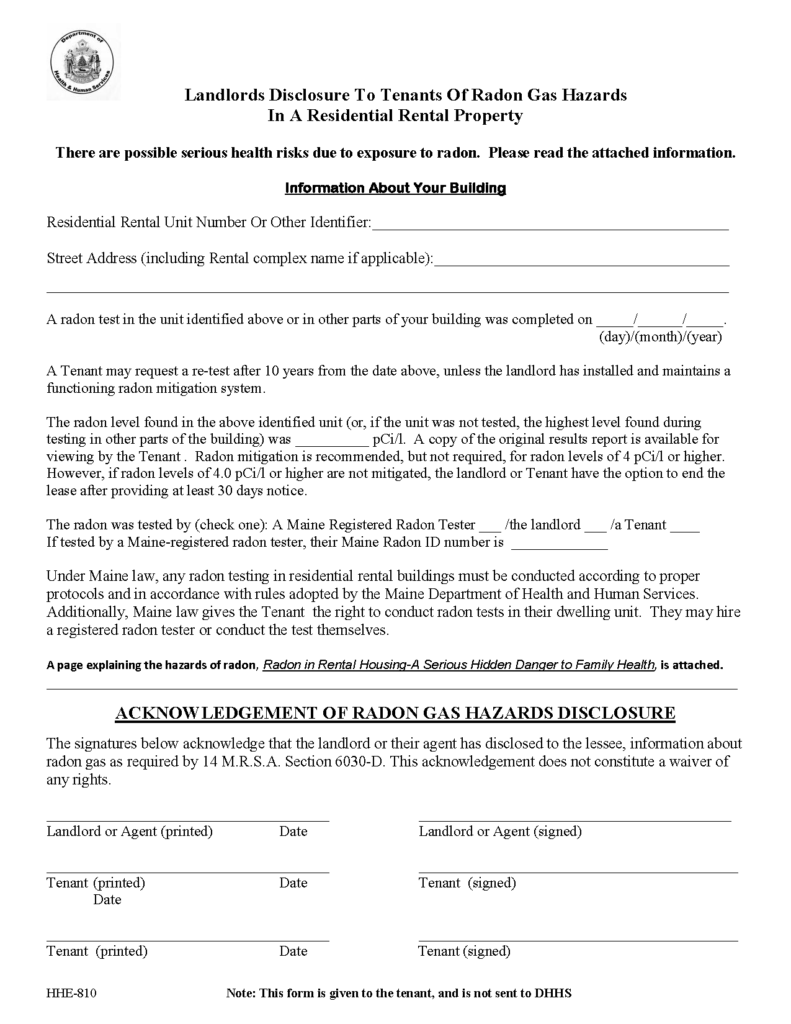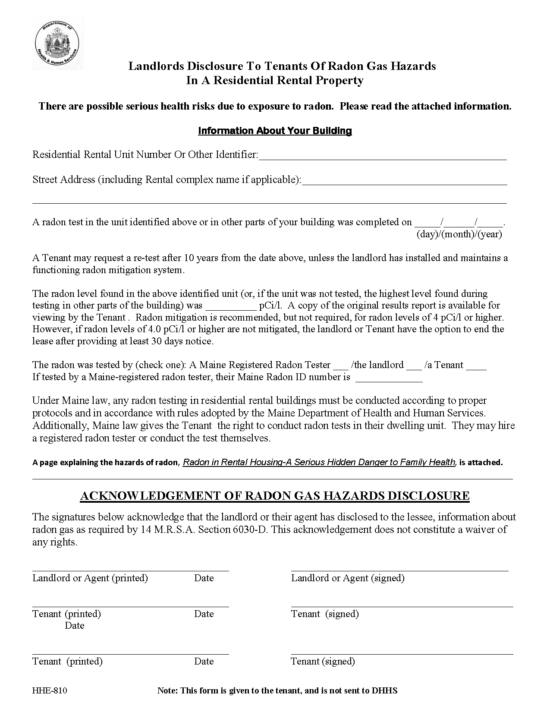 Radon Disclosure Form (§ 6030-D(2)) – Landlords are required to test their rental properties for radon gas and give this completed disclosure form to tenants.
Download: PDF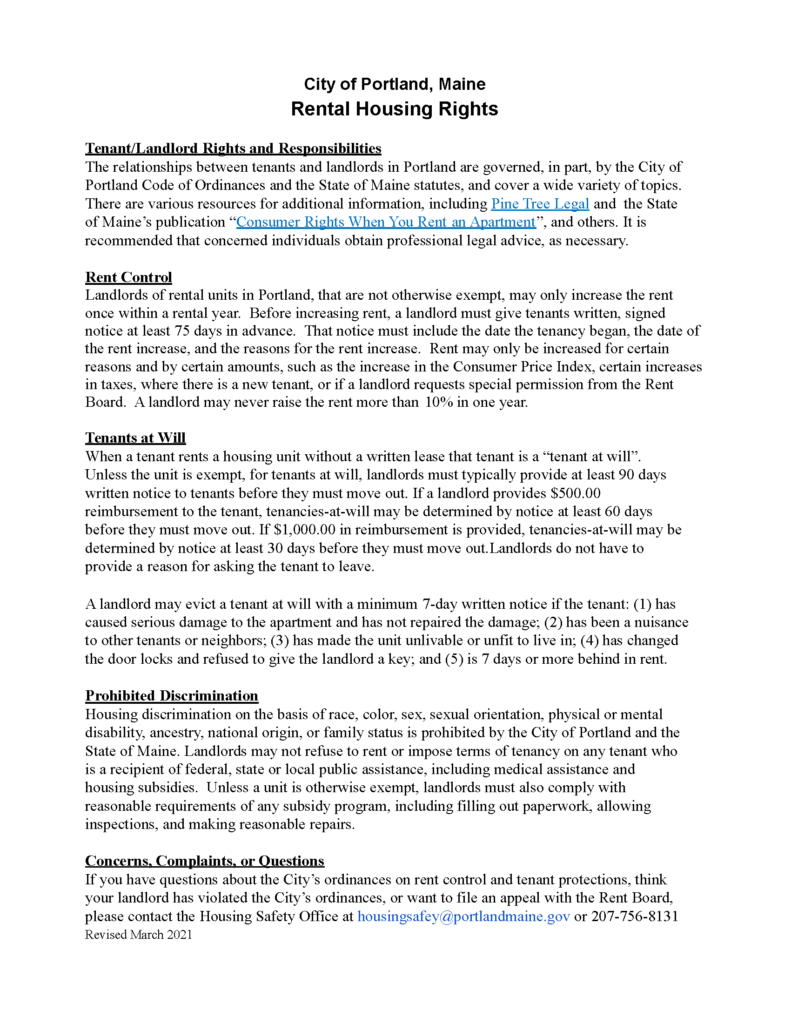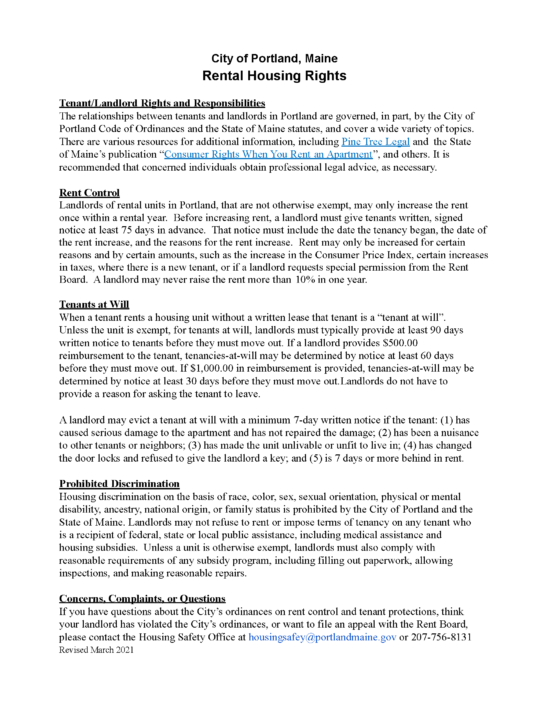 Rental Housing Rights Disclosure Form (City of Portland ONLY) – In Portland, all tenants must be given this document that outlines their rights as tenants. The second page must be signed in acknowledgment.
Download: PDF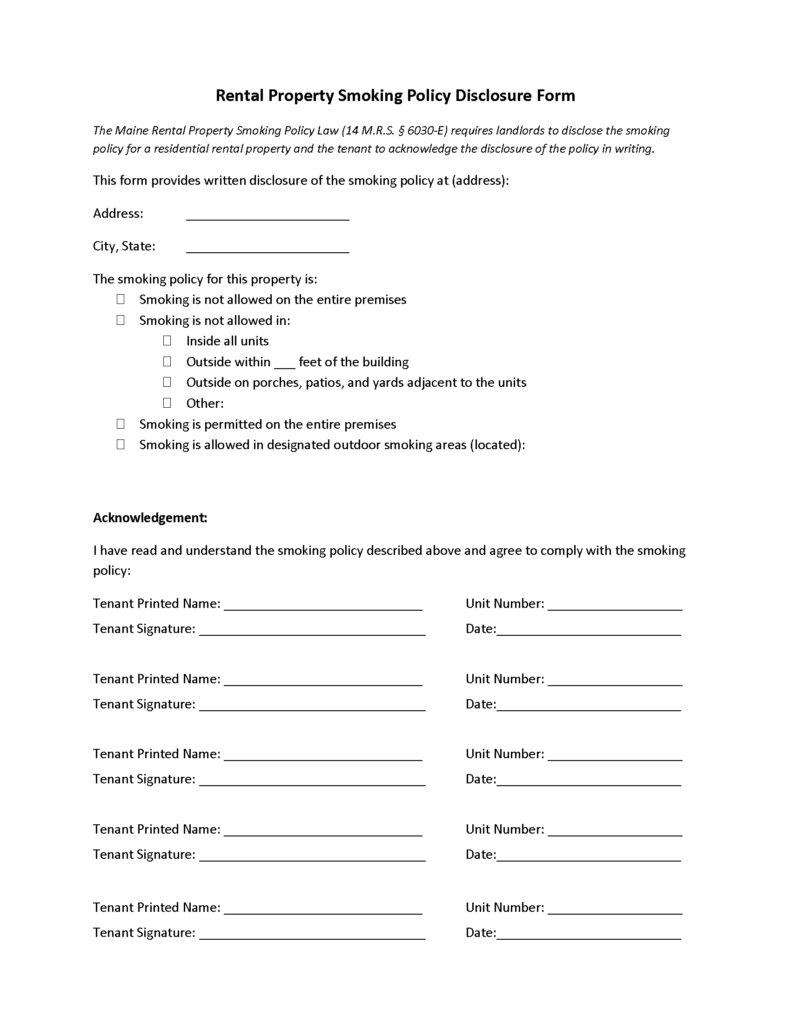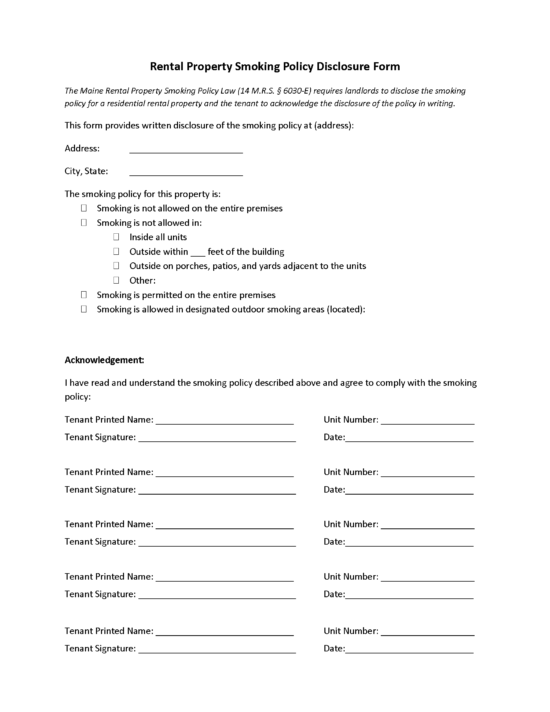 Smoking Policy Disclosure (§ 6030-E(3)) – The landlord must give the tenant a written notice that describes the rental property's smoking policy.
Download: PDF