---
Updated on June 23rd, 2023

A Maine lease agreement is a real estate document that is used to bind a tenant and a landlord/owner of commercial or residential property to the provisions of the rental arrangement. A lease is used to protect both parties, ensuring that they are aware of, and have signed off on, their respective obligations and rights. Prior to signing a lease and accepting a tenant, the landlord will generally screen an applicant and review the contents of the contract with them. Once signed, both individuals are bound to the terms and conditions of the agreement until the end of the lease term.

Rental Application – A document completed by a rental applicant and used by the landlord to ensure that their prospective tenant is a suitable candidate to rent the property.
Agreements: By Type (6)
Commercial Lease Agreement – A commercial lease agreement is used to rent out non-residential property such as warehouses, office space, and retail space. The rental term is generally longer than that of a residential real estate agreement.
Download: PDF, Word (.docx), OpenDocument
---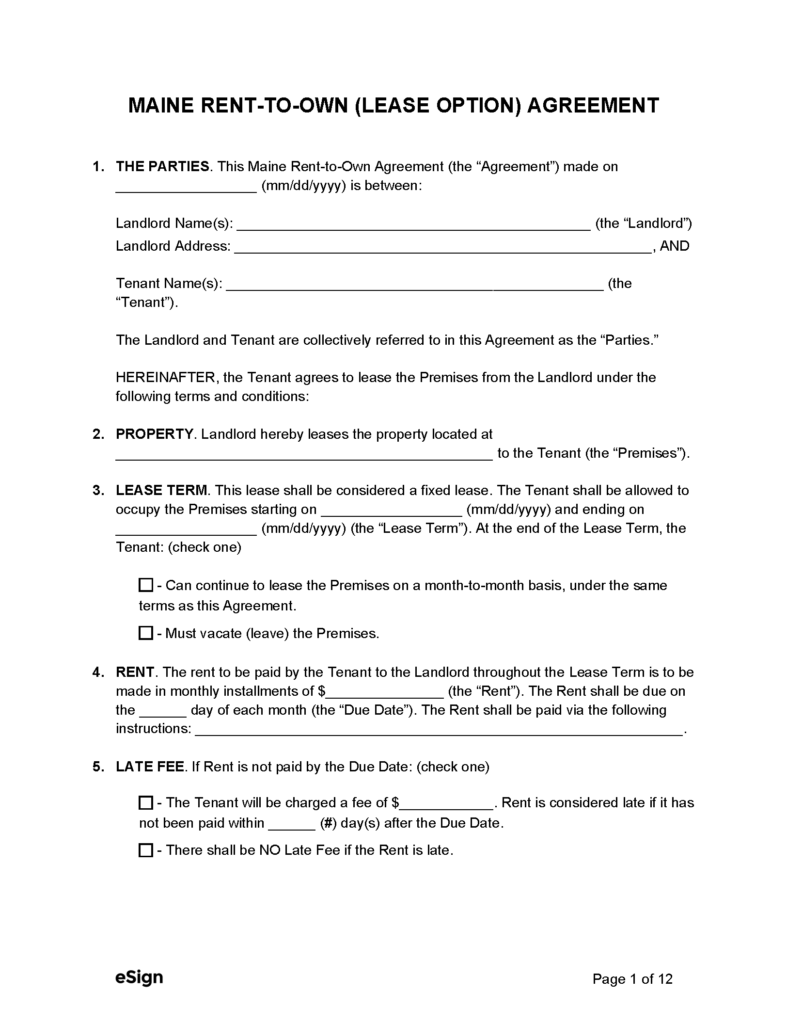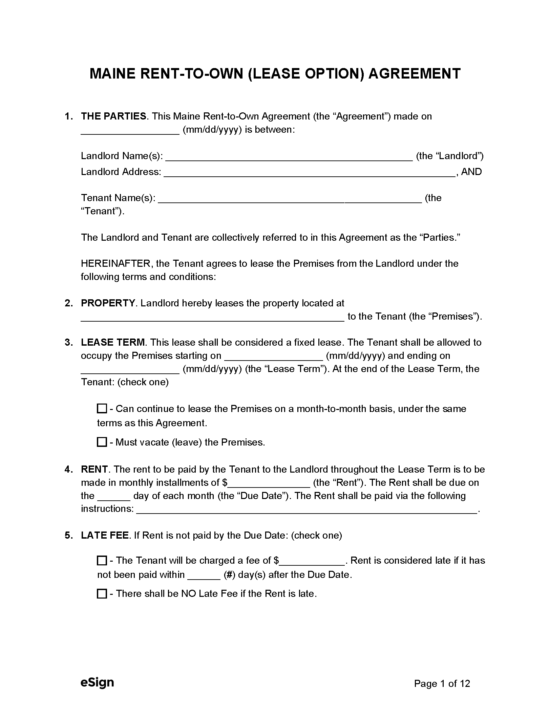 Rent-to-Own Agreement (Lease Option) – A lease wherein the tenant agrees to rent the property for a pre-determined period of time with the option to purchase the property before the lease term ends.
Download: PDF
---
Month-to-Month Lease Agreement – A month-to-month agreement has no fixed termination date but renews each month with the payment of rent. Either party can terminate the agreement at any time during the year providing sufficient notice was provided.
Download: PDF
---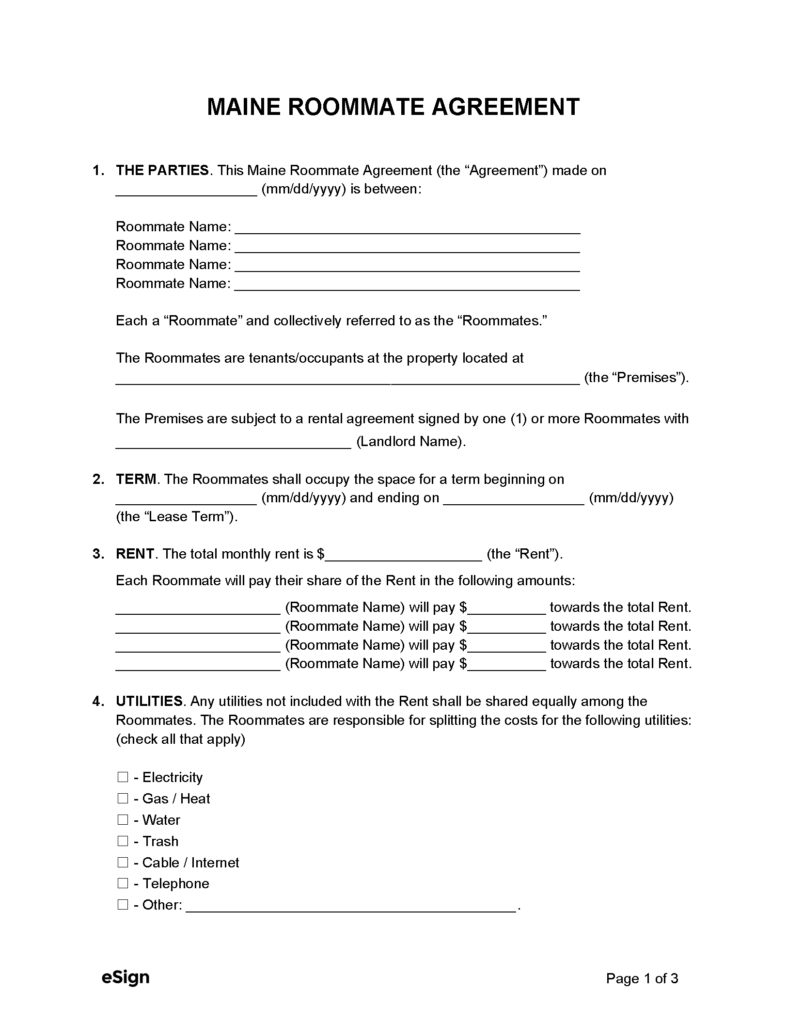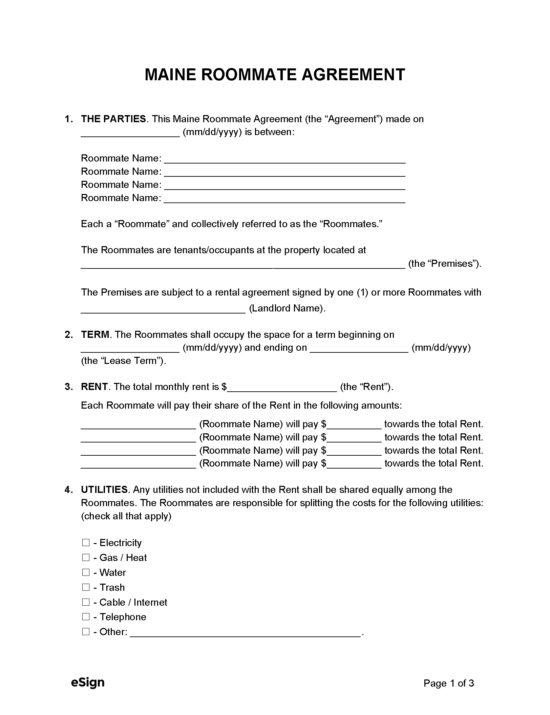 Roommate Agreement – A roommate agreement ensures that all inhabitants of a rental space are aware of the conditions of living on the premises.
Download: PDF, Word (.docx), OpenDocument
---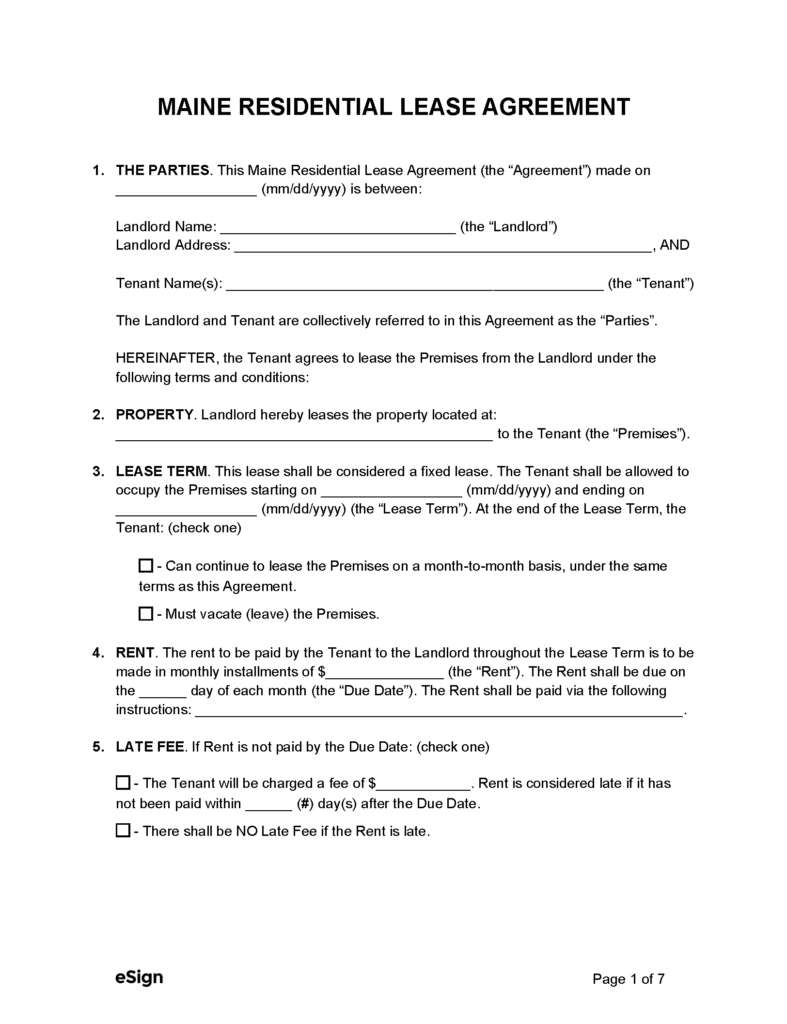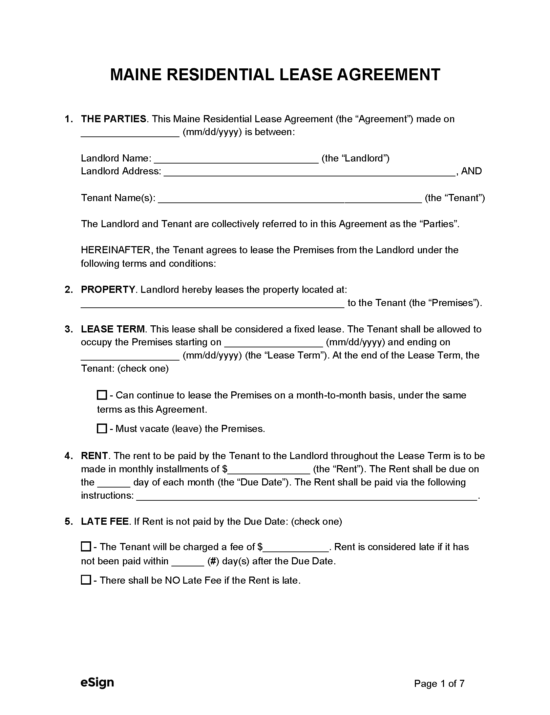 Standard (1-year) Lease Agreement – The most common lease agreement, this one (1) year lease is used to rent residential property to a tenant, providing that they comply with the provisions set therein.

Download: PDF
---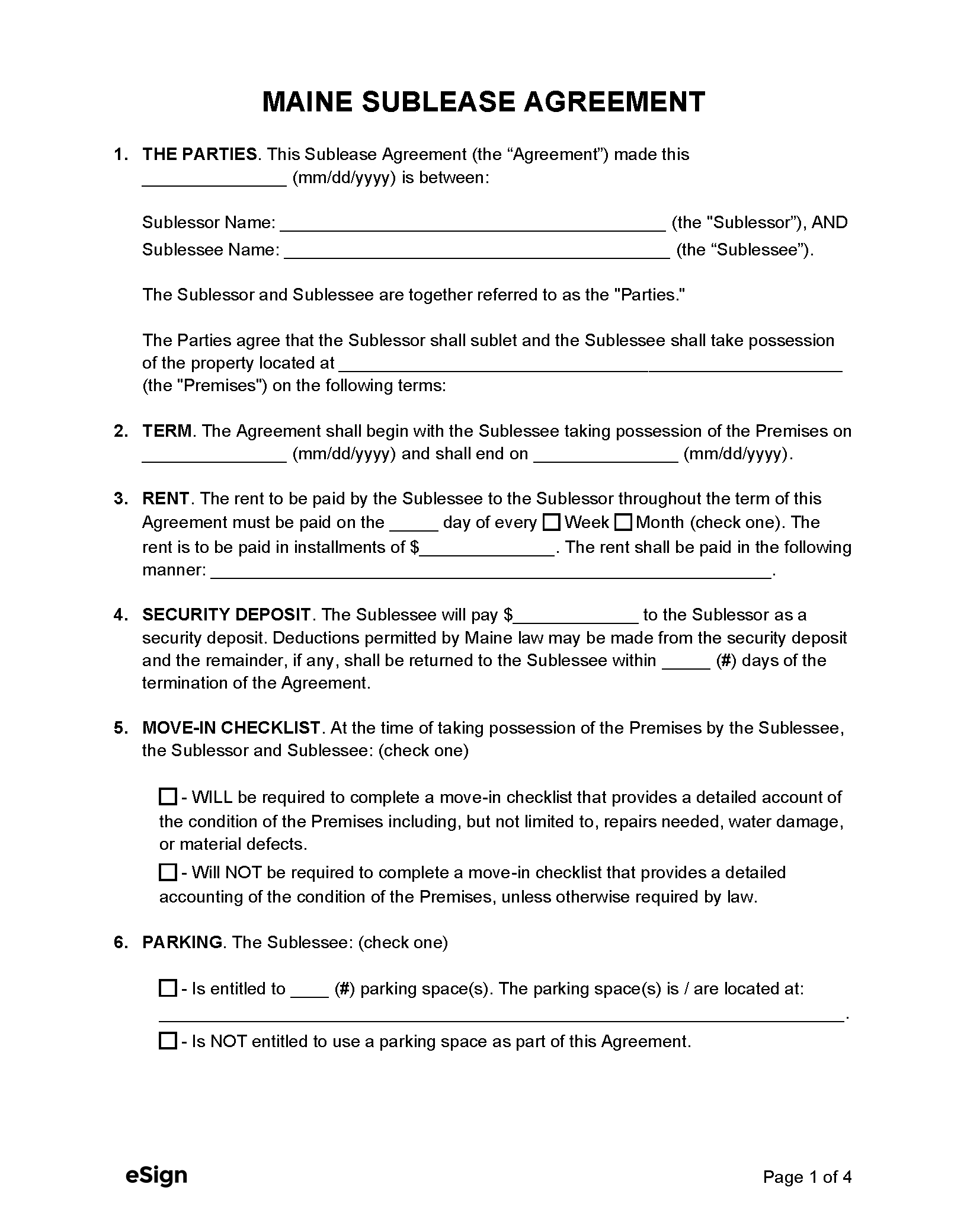 Sublease Agreement – A sublease agreement is employed when a tenant wishes to rent out a portion or all of the rental property to another individual.
Download: PDF, Word (.docx), OpenDocument
---
Disclosures (6)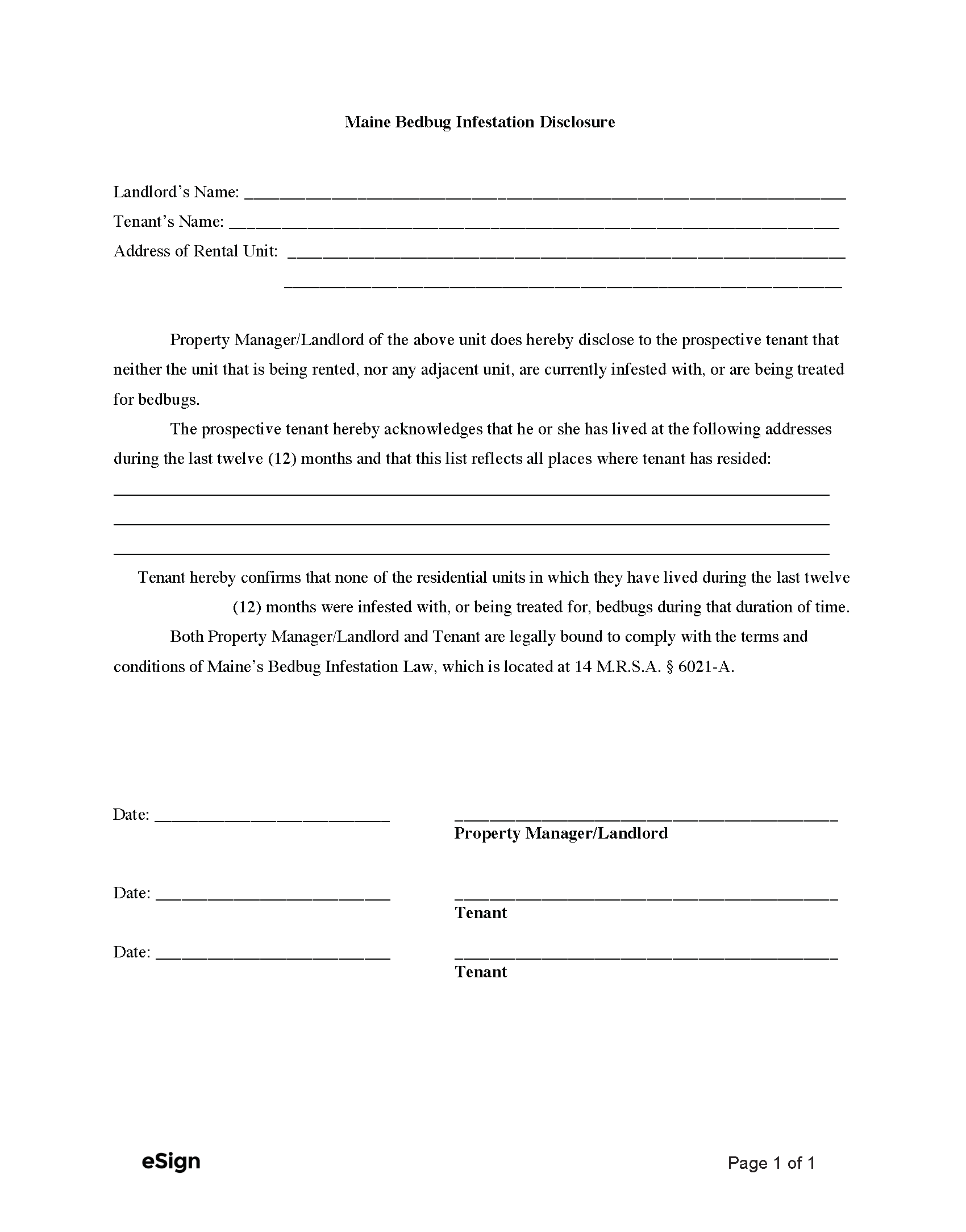 Bedbugs (§ 6021-A(2)(D)) – The landlord must disclose to the tenant any information regarding bed bugs located in the rental unit or an adjacent rental unit. This must be relayed in writing.
Download: PDF
Energy Efficiency Disclosure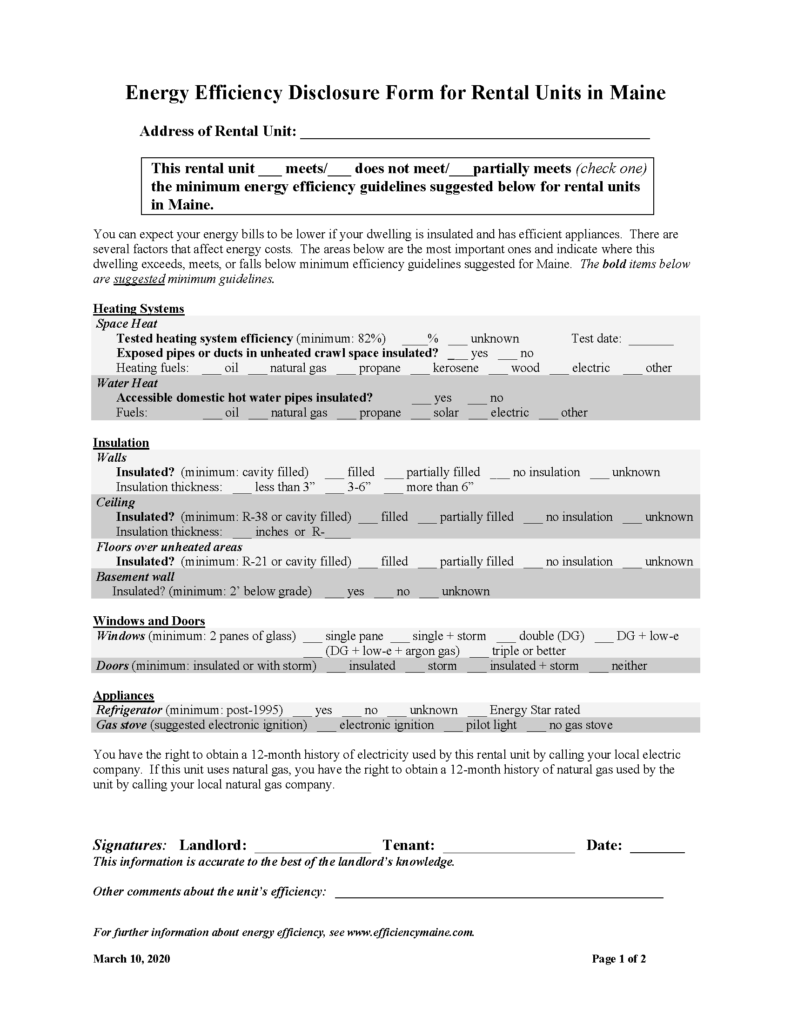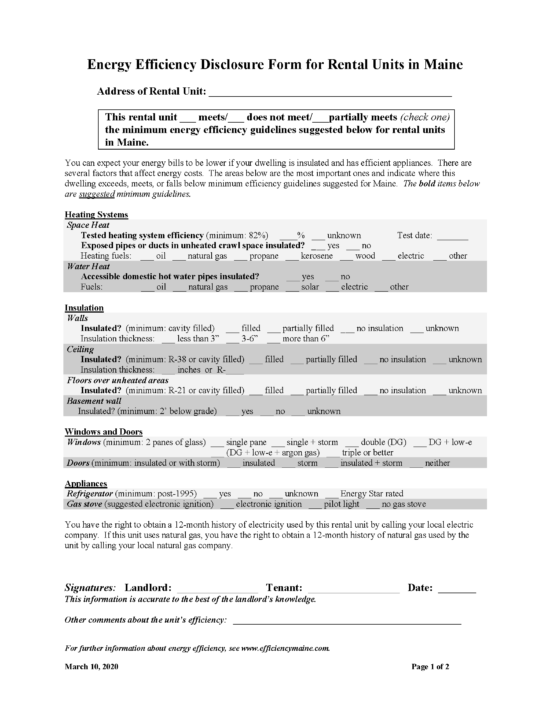 (§ 6030-C(1)) – The landlord or individual acting on behalf of the landlord must supply the tenant who will be paying for utilities with a residential energy efficiency disclosure statement.
Download: PDF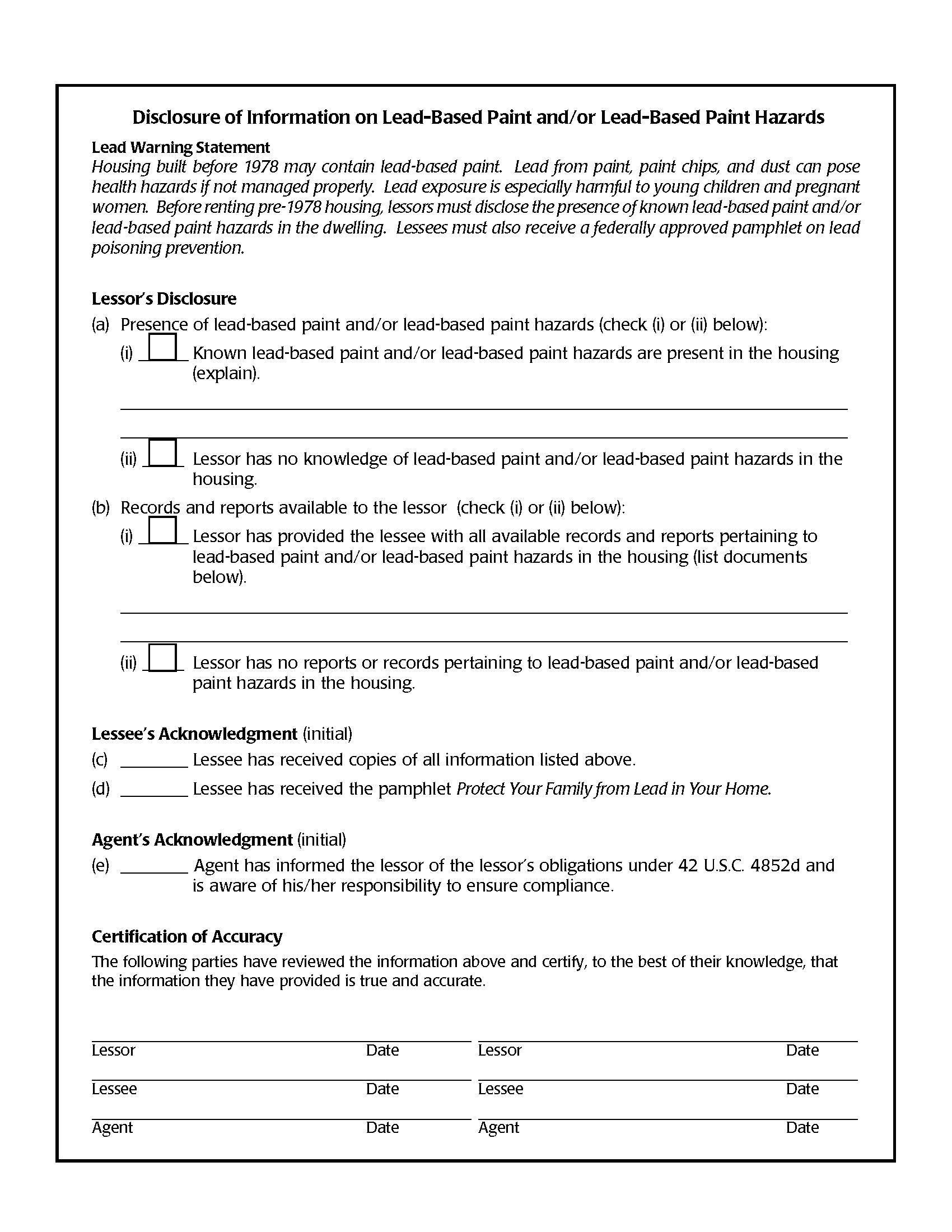 Lead-Based Paint Disclosure – It is a federal requirement that the landlord of any rental property that was built 1978 must give a written disclosure to their tenants that discloses the risk of lead-based paint on the premises.
Download: PDF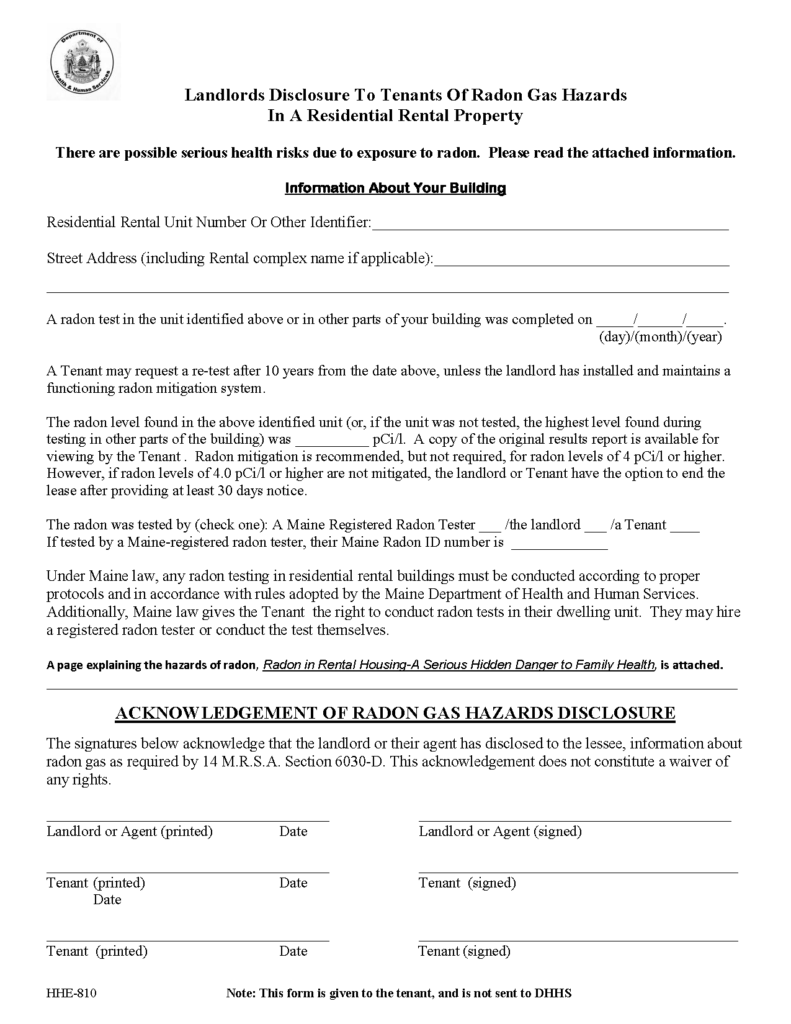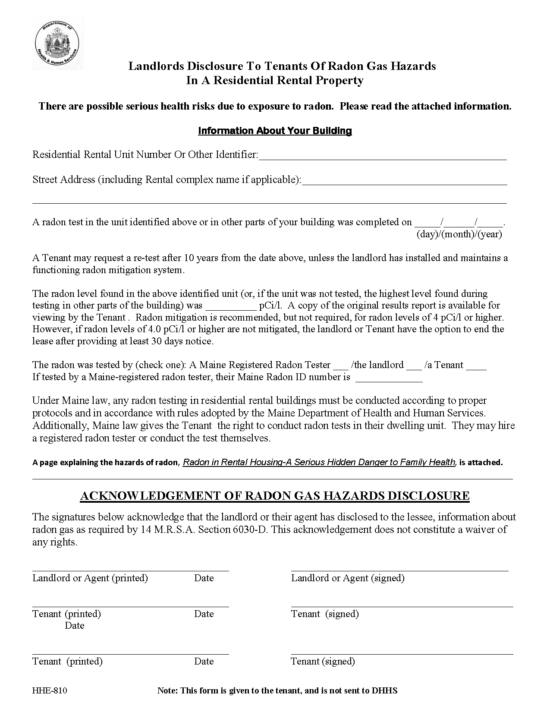 Radon Disclosure Form (§ 6030-D(2)) – Since 2012, landlords are required to check every ten (10) years for the existence of radon gas. The results must be recorded in a form that is issued to every tenant.
Download: PDF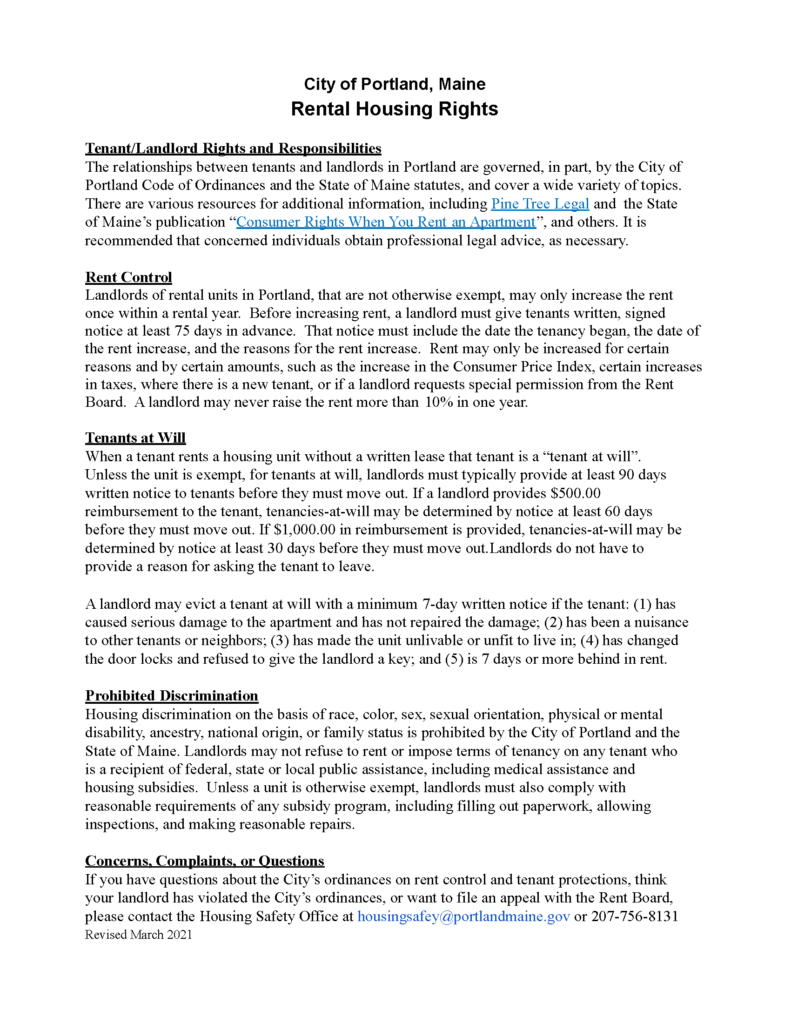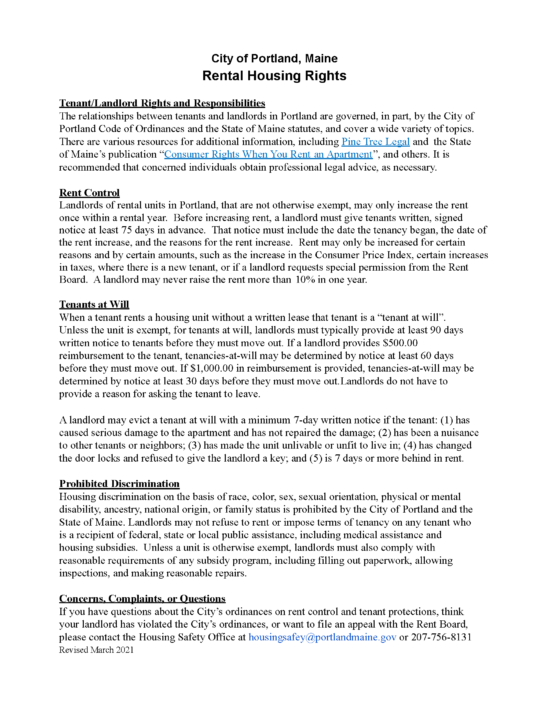 Rental Housing Rights Disclosure Form (City of Portland ONLY) – This pamphlet outlines tenant's rights and required disclosures and must be given to all Portland tenants and signed before occupancy.
Download: PDF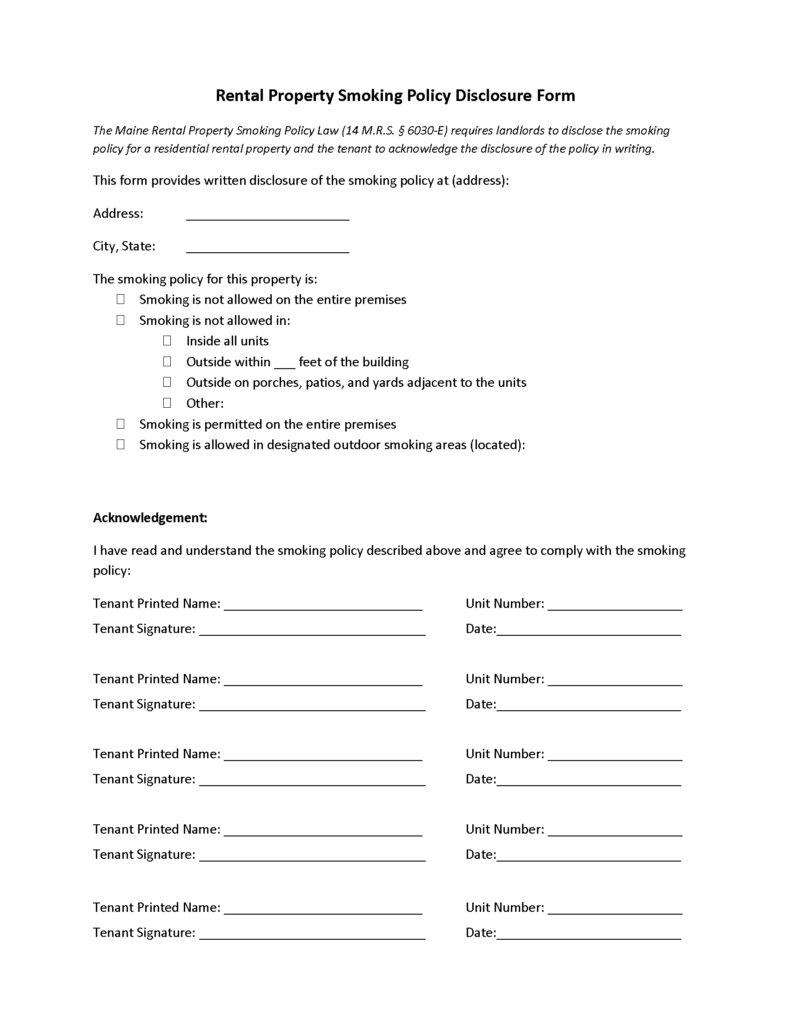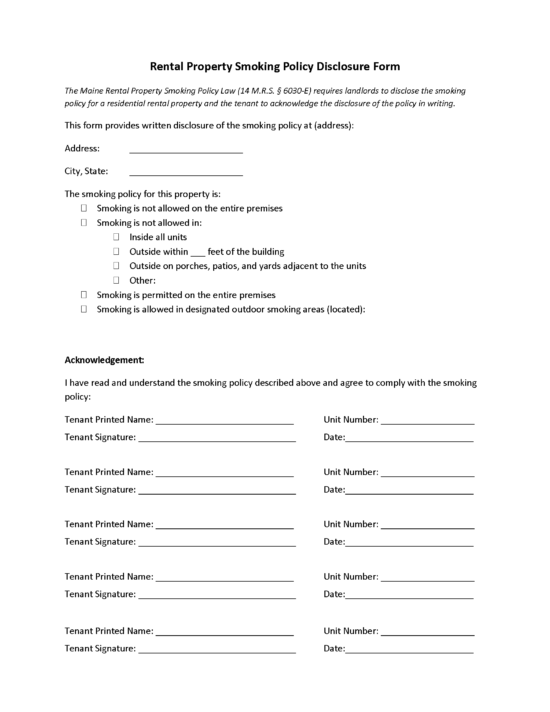 Smoking Policy Disclosure (§ 6030-E(3)) – The landlord must supply the tenant with a disclosure stating their policy on smoking on the premises. This can be added to the lease agreement or provided as a separate notice.
Download: PDF
---
Landlord-Tenant Laws
---
Landlord's Access
General Access (§ 6025(2)) – The landlord should provide twenty-four (24) hours' notice before accessing the property.
Emergency Access (§ 6025(2)) – If the landlord needs to access the property in the case of an emergency, they can do so immediately and without warning.
---
Rent
Grace Period (§ 6028(1)) – Rent must be paid within fifteen (15) days of the due date or it is considered late.
Maximum Fees (%) (§ 6028(2))- A landlord may not charge more than 4% of the total cost of monthly rent.
Rent Increase Notice (§ 6015) – A landlord must give at least forty-five (45) days' notice.
---
Security Deposits
Maximum Amount ($) (§ 6032) – A landlord may not charge an amount greater than two (2) months' rent as a security deposit.
Returning to Tenant (§ 6033(2)) – A landlord must return the deposit to the tenant, if applicable, within thirty (30) days if it is a fixed lease, or within twenty-one (21) days if the tenancy is month-to-month.
Interest Required? – No statute.
Separate Bank Account? (§ 6038) – Security deposits must be held in a separate bank account that places the amount beyond the claim of creditors. The landlord must provide the tenant with the institution and account number at which the deposit is being held.