A Missouri standard residential lease agreement helps a landlord and a tenant define the terms and conditions of a residential rental arrangement by entering those provisions in a written document. Before a lease agreement is introduced, the landlord and tenant will usually complete a walk-through of the rental unit and discuss the condition of the property and negotiate details of the lease. These details will vary depending on the type of residential property, the length of the lease, and other defining factors.
Certain conditions are always entered into a written agreement such as the rent amount, length of the lease, utilities and services, termination options, and the rights, responsibilities, and obligations of both parties. Once a lease is signed by the landlord and their tenant, it becomes a legally binding contract.
Rental Laws – Chapter 535 – Landlord-Tenant Actions, Chapter 441 – Landlord and Tenant
Handbook (Guide) – You and Your Landlord – A St. Louis Area Guide to Tenant Responsibilities and Rights
Security Deposits
Maximum (§ 535.300(1)) – Two (2) Months' Rent
Returning (§ 535.300(3)) – Thirty (30) Days
---
When is Rent Due?
A rent due date is not mentioned in state statutes; the payment date shall be established by the landlord in the lease agreement.
---
Realtor Version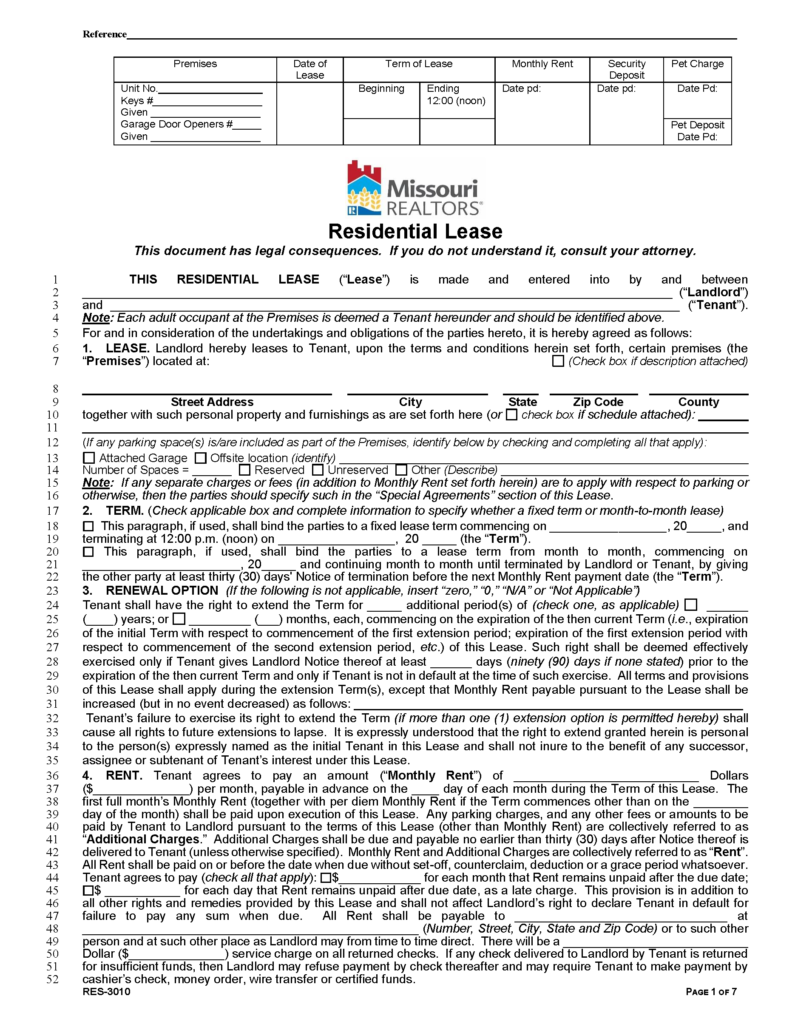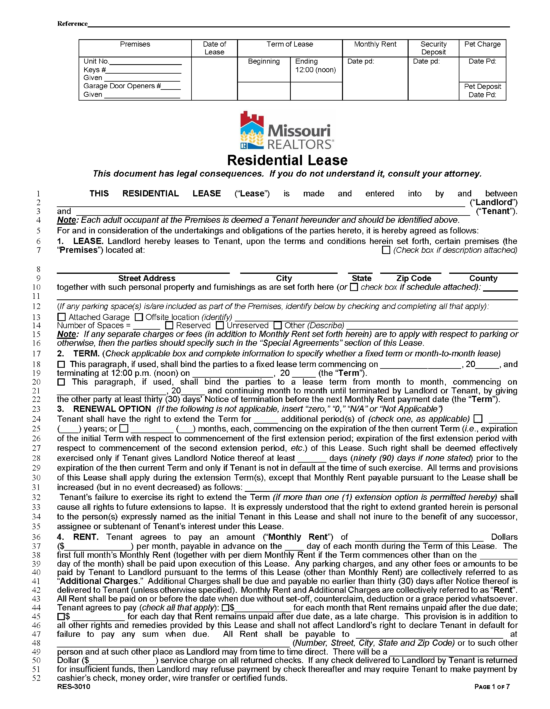 Missouri Association of Realtors Residential Lease Agreement (Form RES-3010) – A 7-page residential lease agreement prepared by the Missouri Association of Realtors.
Download: PDF
---
Disclosures (3)
1) Lead-Based Paint Disclosure
If residential property was built prior to 1978, landlords must provide tenants with a disclosure form notifying them that there may be traces of lead-based paint on the premises.
If the rental property was used at some point to produce methamphetamine, the landlord must disclose this fact in writing (provided that the landlord has knowledge of it).
The names and addresses of the owner(s) of the property, any property managers, and any other individual authorized to act on behalf of the owner must be provided to all tenants before entering into a lease agreement.