A North Carolina standard residential lease agreement outlines the conditions under which a tenant is permitted to rent someone else's property for a specified term, generally lasting one (1) year. The landlord in charge of the property will provide this lease to an individual who has expressed an interest in entering into a tenancy arrangement. A lease agreement can be completed and altered to fit the specific rental unit that the landlord is renting.
Terms such as the length of the lease, rent amount, security deposit amount, pet and vehicle fees, and the cost of utilities and services will be established and reviewed in the agreement by the parties before the document is signed. A lease agreement becomes legally binding once both the landlord and tenant have signed it.
Rental Laws – Chapter 42 (Landlord and Tenant)
Handbooks (Guides) 
Security Deposits
Maximum (§ 42-51(b)) – Two (2) Months' Rent
Returning (§ 42-52) – Thirty (30) Days
---
When is Rent Due?
The due date will be established by the landlord in the lease agreement (a specific date is not mentioned in state statutes). A grace period is provided by state law, which gives the tenant five (5) days after rent is due to pay the landlord before a late fee can be charged (§ 42-46(a)).
---
Realtor Version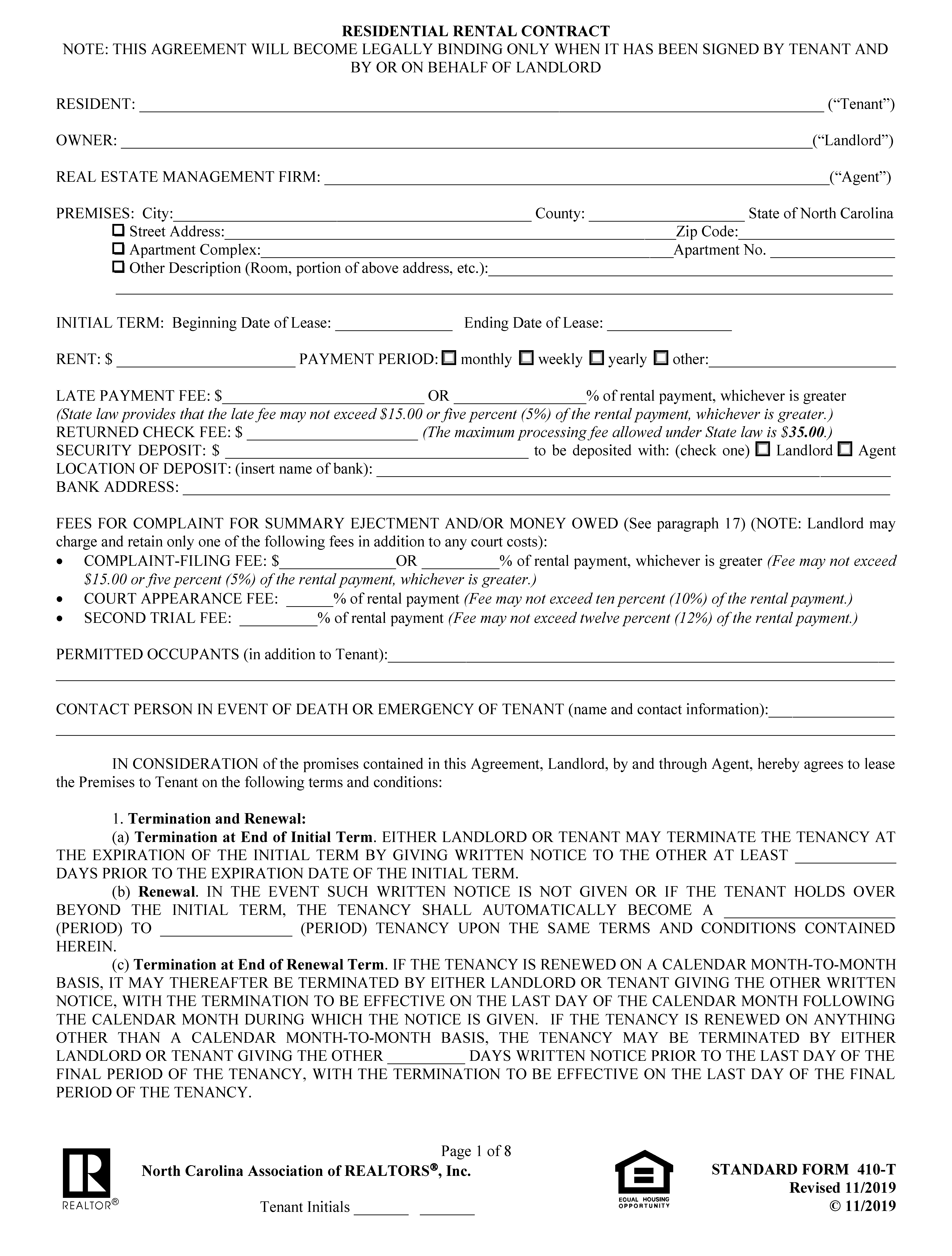 North Carolina Association of Realtors Residential Rental Contract (Form 410-T) – A standard rental contract for leases between a landlord and a tenant that can be used for almost any residential tenancy.
Download: PDF
---
Disclosures (3)
If the landlord intends to charge fees for late rent, they must disclose such fees to the tenant in the rental agreement, and the fees must comply with state regulations.
2) Lead-Based Paint Disclosure
Used to notify tenants of the presence of lead-based paint on the premises of pre-1978 housing.
3) Security Deposit Disclosure
Landlords that collect a security deposit must, within thirty (30) days after the start of the lease term, inform the tenant of the name and contact information of the bank where the deposit is stored. If the deposit is held in the form of a bond, the landlord must instead disclose the name of the insurance company that provided the bond.