A New Jersey standard residential lease agreement is a rental contract that establishes the rights and obligations of a landlord and tenant with respect to a residential tenancy. Most residential leases contain similar provisions such as the length of the lease, monthly (or weekly) rent amount, security deposits, fees, utilities and services, and termination options. Since each rental property is somewhat unique, a residential lease may contain other terms and conditions that meet the requirements of that particular rental unit.
The landlord and tenant will look over the lease to ensure the tenant understands their rights and that they agree to the duties and responsibilities they are obligated to uphold. A residential lease agreement is legally binding after both parties have signed the document.
Rental Laws – Title 46, Chapter 8 (§ 46:8-1 to § 46:8-1-50) and Title 2A, Chapter 42
Handbook (Guide) – Tenants' Rights in New Jersey – Legal Services of New Jersey
Security Deposits
Maximum (§ 46:8-21.2) – One and a Half (1.5) Months' Rent
Returning (§ 46:8-21.1) – Thirty (30) Days
---
When is Rent Due?
There are no statutes pertaining to rent due date; therefore, rent is due on the date stated in the lease agreement. A grace period of five (5) days is mentioned in state statutes; however, it only applies if the tenant is a senior citizen (applicability defined here: § 2A:42-6.3) (§ 2A:42-6.1).
---
Realtor Version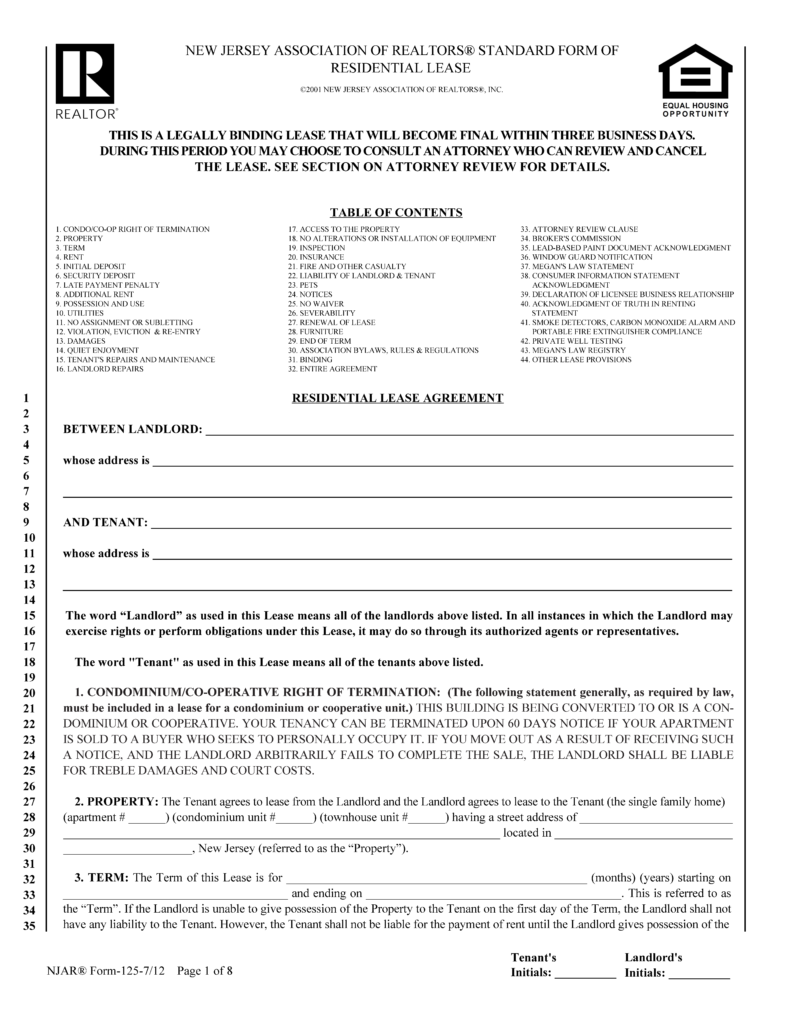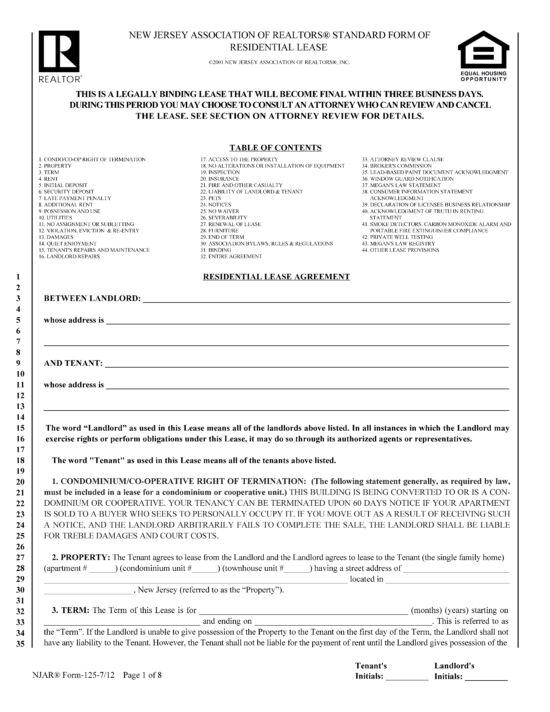 New Jersey Association of Realtors Residential Lease Agreement (Form-125) – A lease agreement that can be used by realtors, agents, or landlords to rent residential property to a tenant. This lease includes a separate window guard disclosure form that must be signed by the tenant and the owner/landlord.
Download: PDF
---
Disclosures (4)
Landlords must notify tenants if a rental property has been determined to be located in a flood zone/area. FEMA provides a Flood Zone Lookup Tool that can be used to determine whether a property is affected.
2) Lead-Based Paint Disclosure
Federal law requires that all landlords deliver a lead-based paint disclosure form to tenants if the property being leased was constructed prior to 1978.
The Department of Community Affairs has prepared a Truth in Renting Act document for the purposes of conveying the rights and responsibilities of tenants and landlords. All tenants must receive a copy of this document from the landlord before or upon the commencement of a tenancy.
In buildings with three (3) or more dwellings, tenants with children under the age of ten (10) may request that landlords install window guards on all the windows within the unit and in the hallway. The statement provided in the statute linked above must be included in all leases advising tenants of their right to request window guards.