A New Mexico standard residential lease agreement is a written contract that establishes an arrangement between a landlord and tenant for the renting of residential property. This document contains provisions that govern the lease with regard to the rights and obligations of both parties. A signed lease is legally binding upon the landlord and tenant, and any default in the agreement could mean punitive action on the non-complying party. All agreements differ but will typically include the rental amount, length of term, renewal and termination options, pet policies, security deposit fee and return date, as well as the costs of utilities and other services.
Rental Laws – Chapter 47, Article 8 (Owner-Resident Relations)
Handbook (Guide) – Renter's Guide by New Mexico Legal Aid
Security Deposits
Maximum (§ 47-8-18(A)(1) & (2)) – One (1) month's rent; for leases one (1) year or longer, the landlord may charge more if they pay annual interest to the tenant.
Returning (§ 47-8-18(C)) – Thirty (30) Days
---
When is Rent Due?
Rent due date and grace period are not mentioned in state statutes. A landlord is allowed to charge a late fee after the rent due date (as established in the lease agreement) as long as it does not exceed 10% of the total periodic rent (§ 47-8-15(D)).
---
Realtor Version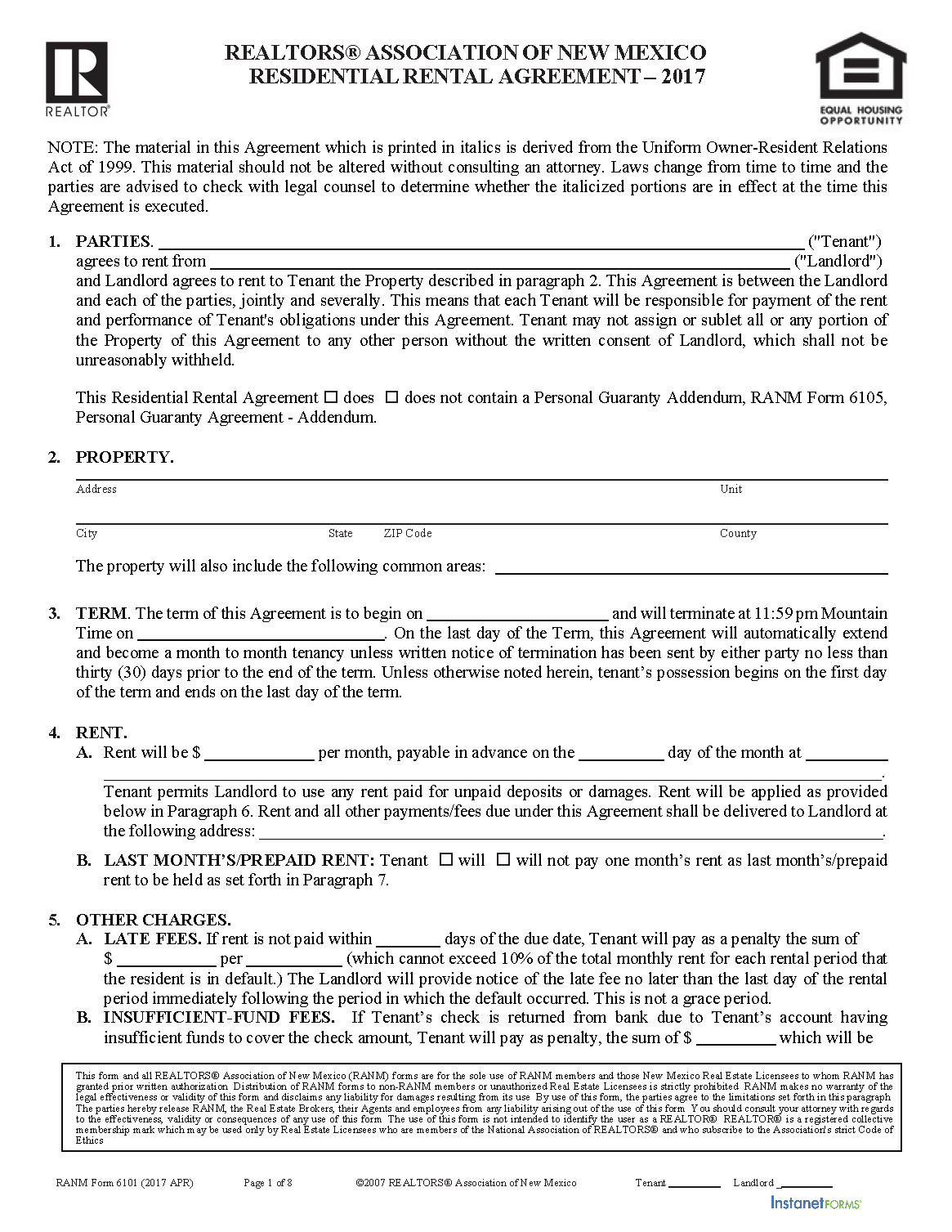 New Mexico Association of Realtors Residential Lease Agreement (Form 6101) – This lease contains the provisions the Association of Realtors deems necessary for a residential rental contract.
Download: PDF
---
Disclosures (2)
1) Lead-Based Paint Disclosure
This form is used to disclose the presence of hazardous paint on the premises of the rental unit and is required if the property was built before 1978.
The landlord must disclose to the tenant the name, address, and telephone number of the person authorized to manage the premises as well as the property owner or an agent of the owner who is permitted to receive official court documents, notices, and demands.