---
Updated on September 20th, 2022

A New York standard residential lease agreement is a rental contract that grants a tenant the right to occupy a residential dwelling for a fixed term. A written lease is presented to a tenant after they have verbally committed to renting a particular property owned or managed by a landlord. The parties will go over the lease agreement to make sure the tenant understands and agrees to the terms and conditions that the landlord has established. Residential leases should always identify the rent amount, payment date, length of the lease, termination options, security deposits and other fees, and the rights and responsibilities of both parties.

Rental Laws – RPP, Article 7 (Landlord and Tenant)

Handbook (Guide) – Residential Tenants' Rights Guide
Security Deposits
Maximum (GOB § 7-108(1-a)(a)) – One (1) Month's Rent
Returning (GOB § 7-108(1-a)(e)) – Fourteen (14) Days
---
When is Rent Due?
Tenants must pay rent to the landlord on the due date written in the lease. If payment has not been made within five (5) days of the due date, a fee may be charged to the tenant in the amount of five percent (5%) of the monthly rent or fifty dollars ($50), whichever is less (RPP § 238-A(2)).
---
Realtor Version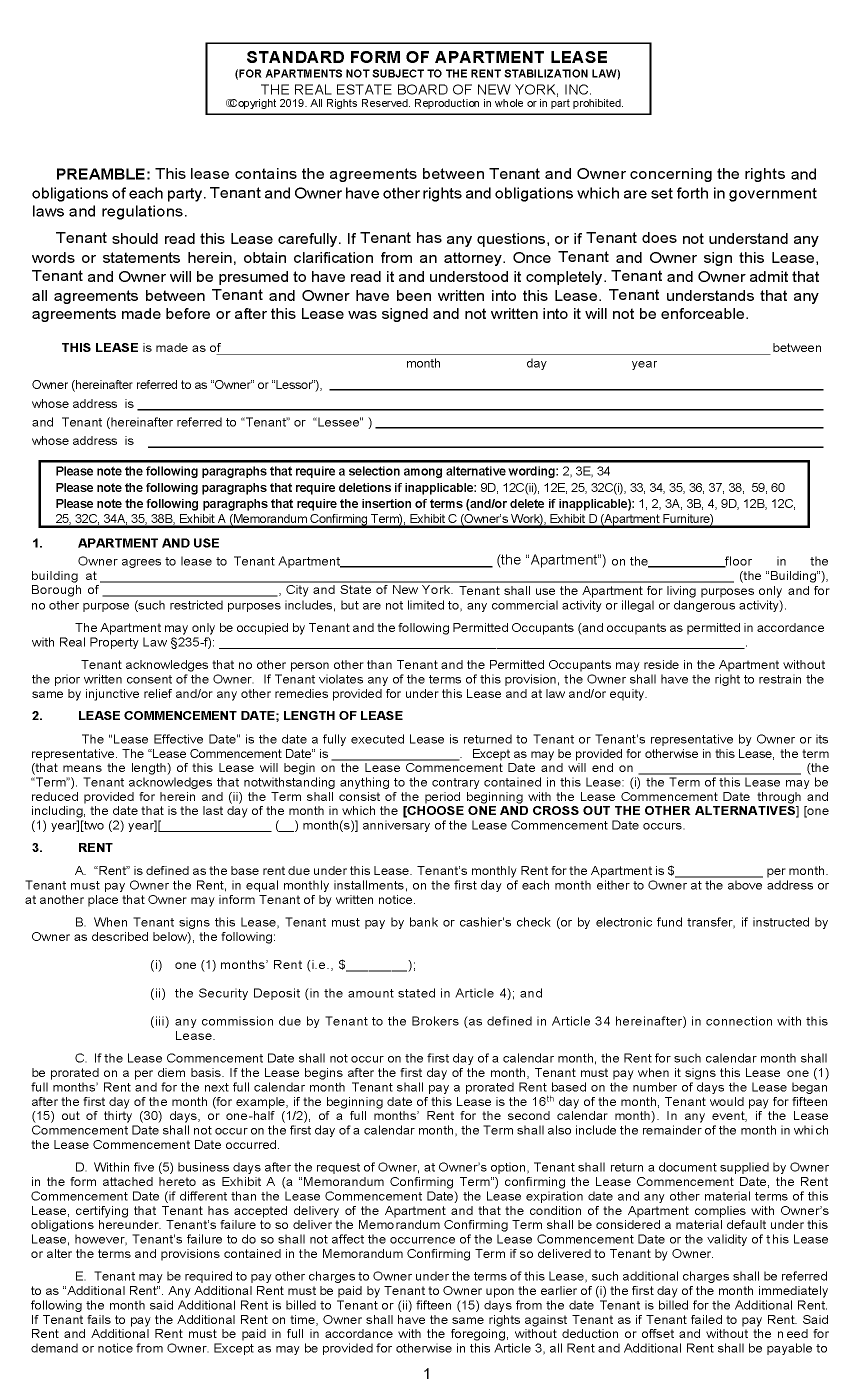 Board of Real Estate of New York Standard Apartment Lease Agreement – A comprehensive residential lease contract that includes a number of riders, exhibits, and disclosures that will apply to most apartment rentals.
Download: PDF
---
Disclosures (8)
1) Allergen Hazards Disclosure (NYC Only) (NYC Admin. Code § 27-2017.2) – This disclosure notifies tenants that the building's owner is required to conduct an annual inspection for indoor allergen hazards, including mold, insects, and rodents.
Download: PDF
2) Bedbug Infestation Disclosure (NYC Only) (NYC Admin. Code § 27–2018.1) – Furnished to occupants of rent-stabilized dwellings to disclose the existence or non-existence of a bedbug infestation.
Download: PDF
3) Building Smoking Policy Disclosure (NYC Only) (NYC Admin. Code § 17-505) – Identifies the areas where tenants can and cannot smoke (only required for apartments in residential buildings containing three (3) or more units).
Download: PDF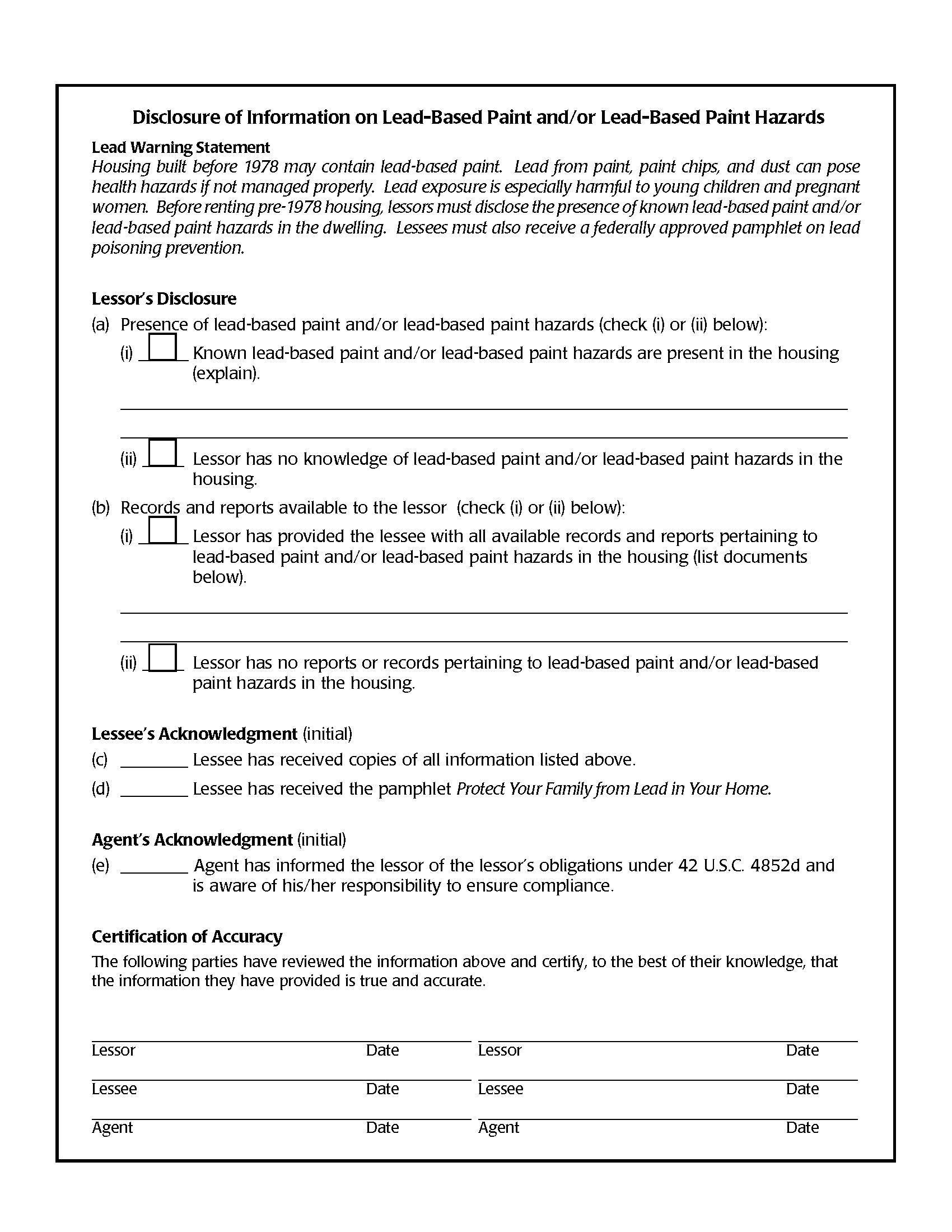 4) Lead-Based Paint Disclosure – Used to disclose the presence of toxic paint on the premises of the rental unit that was built prior to 1978.
Download: PDF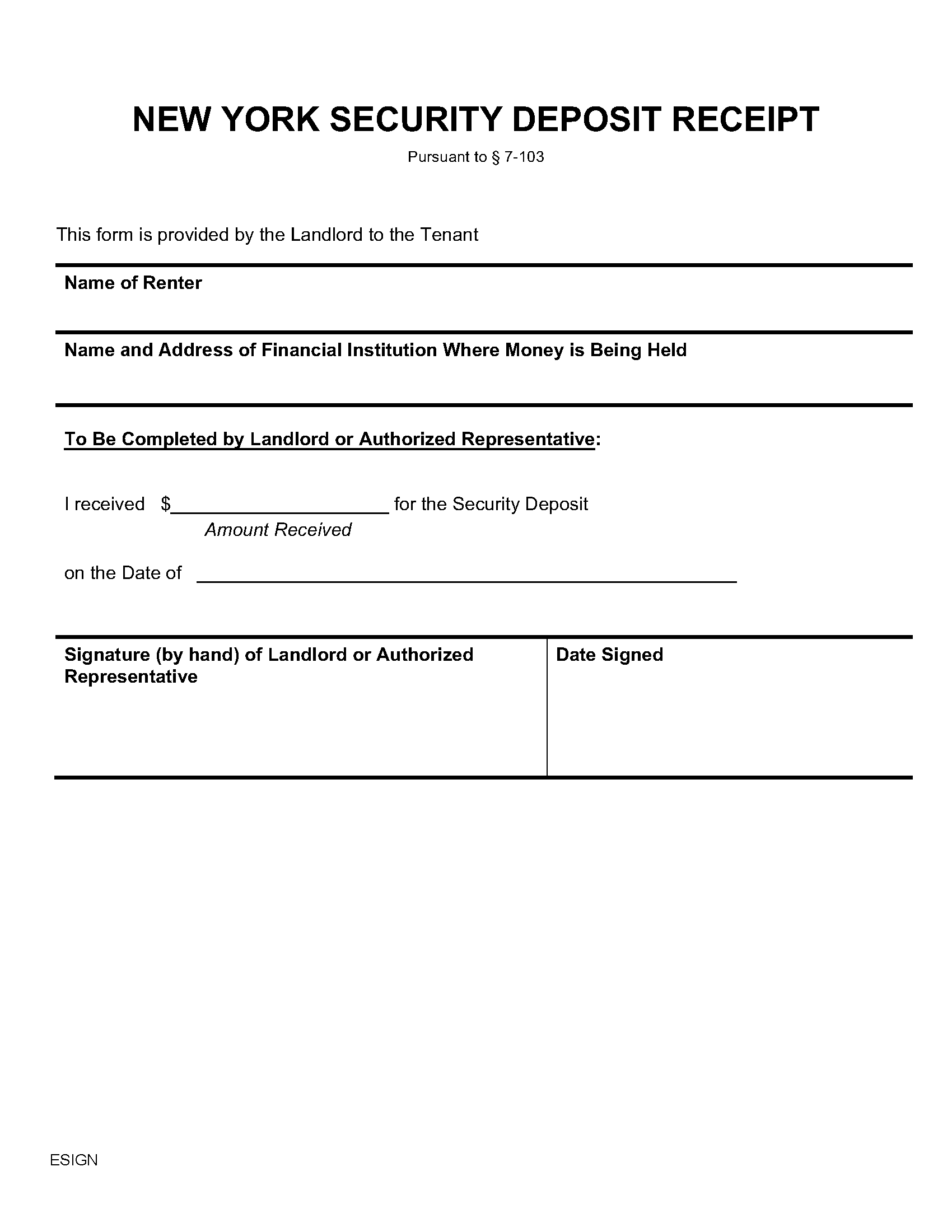 5) Security Deposit Receipt (GOB § 7-103) – If the landlord collects a security deposit, they must use this disclosure to inform the tenant of the name and address of the banking organization where the deposit is held.
Download: PDF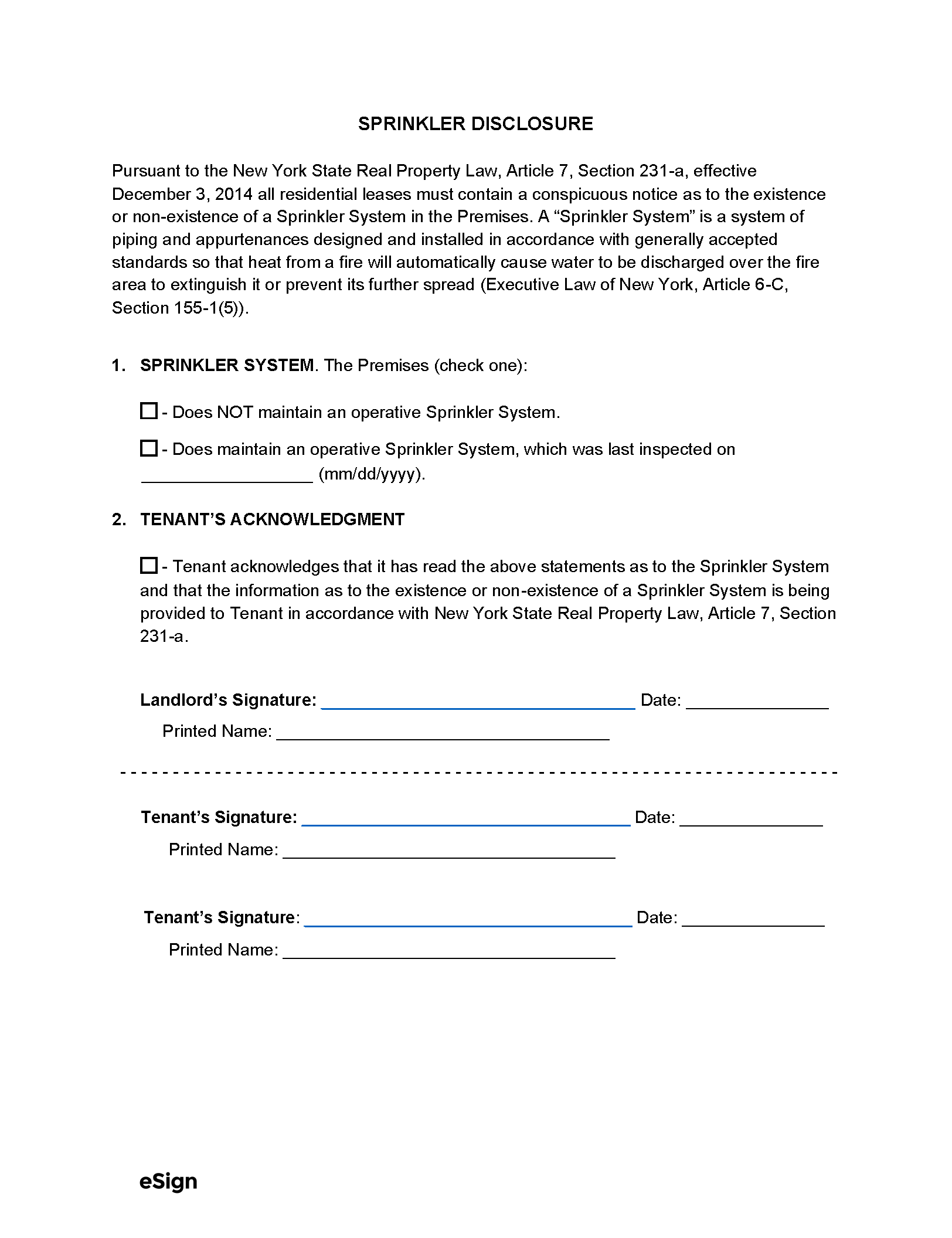 6) Sprinkler System Disclosure (RPP § 231-A) – This notice shall be included in all residential leases to disclose whether an operative sprinkler system is maintained on the property.
Download: PDF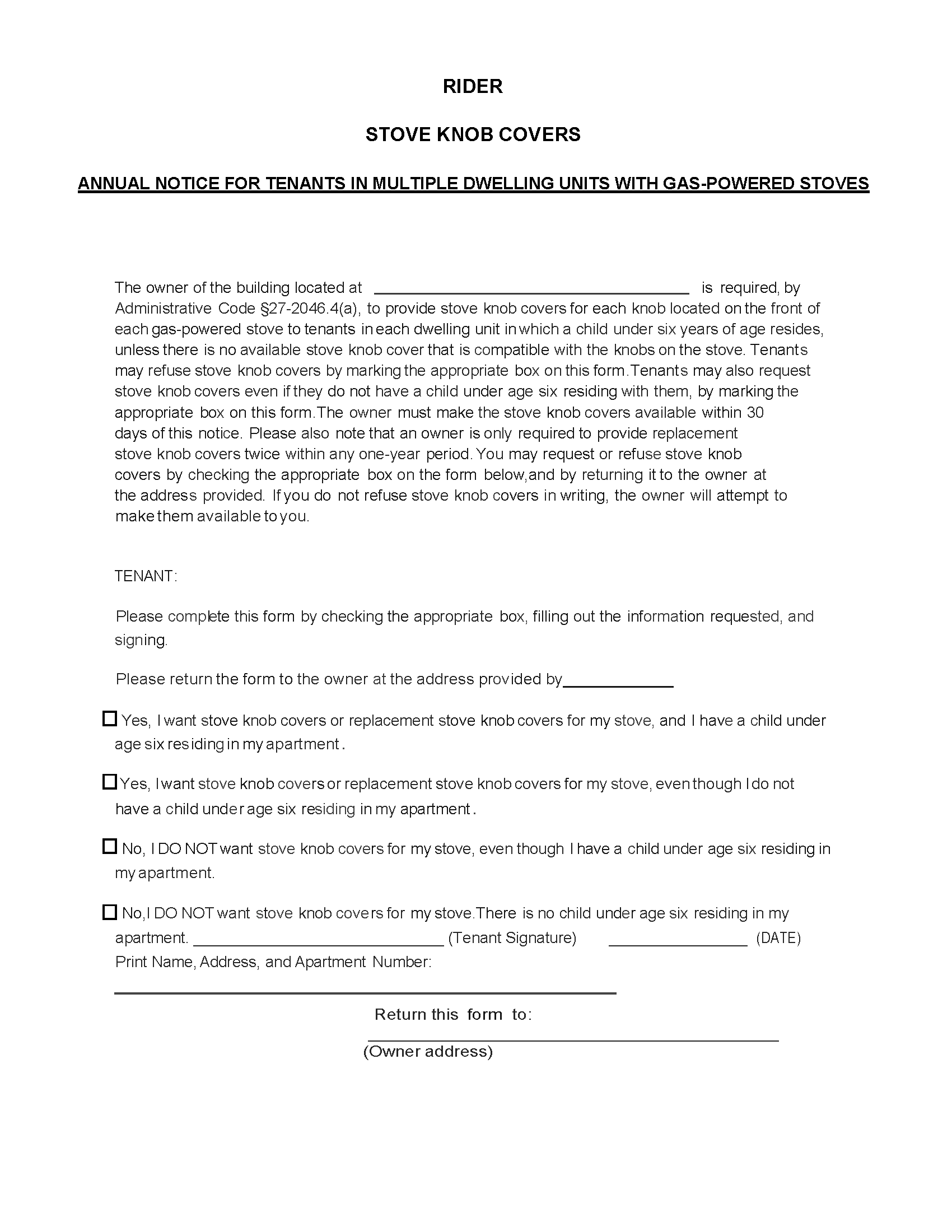 7) Stove Knob Covers Disclosure (NYC Only) (NYC Admin. Code § 27-2046.4(a)) – A notice provided to tenants annually to disclose the landlord's responsibility to install stove knob covers on gas-powered stoves in rental units in which a child under the age of six (6) resides.
Download: PDF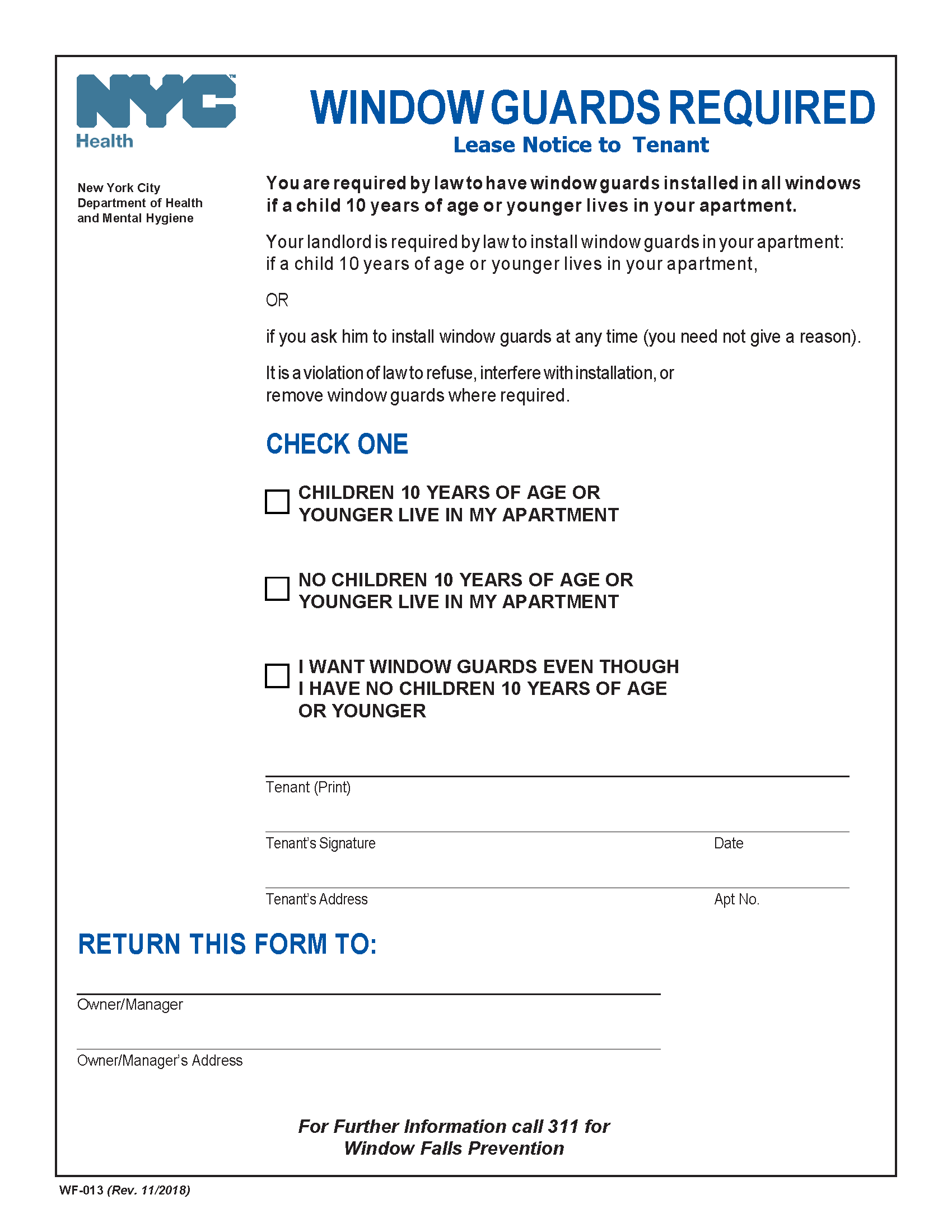 8) Window Guard Disclosure (NYC Only) (NYC Admin. Code § 27–2043.1) – A lease attachment stating that the landlord is required to install window guards if the property is occupied by a child aged ten (10) or younger.
Download: PDF