---
Updated on September 28th, 2021

An Oklahoma standard residential lease agreement is a rental contract between a landlord and tenant whereby the tenant is given temporary possession of the landlord's residential property in exchange for monthly payments. The agreement is generally set for a one (1) year term but can be modified according to the landlord and tenant's preferences.

In addition to the cost of the monthly rent, any damage deposits, pet fees, late charges, or advance rent demanded by the landlord must also be written in the lease. Once both parties have signed the document, it will become legally binding, and the tenant must make the required payments and uphold the terms of the lease or face the possibility of legal action.

Rental Laws – Title 41 (Landlord and Tenant)

Handbook (Guide) – What Are Your Rights and Duties as a Tenant?
Security Deposits
Maximum – Not mentioned in state statutes.
Returning (§ 41-115(B)) – Forty-Five (45) Days
---
When is Rent Due?
Rent is due at the beginning of each rental period (usually monthly) or as agreed upon by both parties (§ 41-109(B)).
---
Realtor Version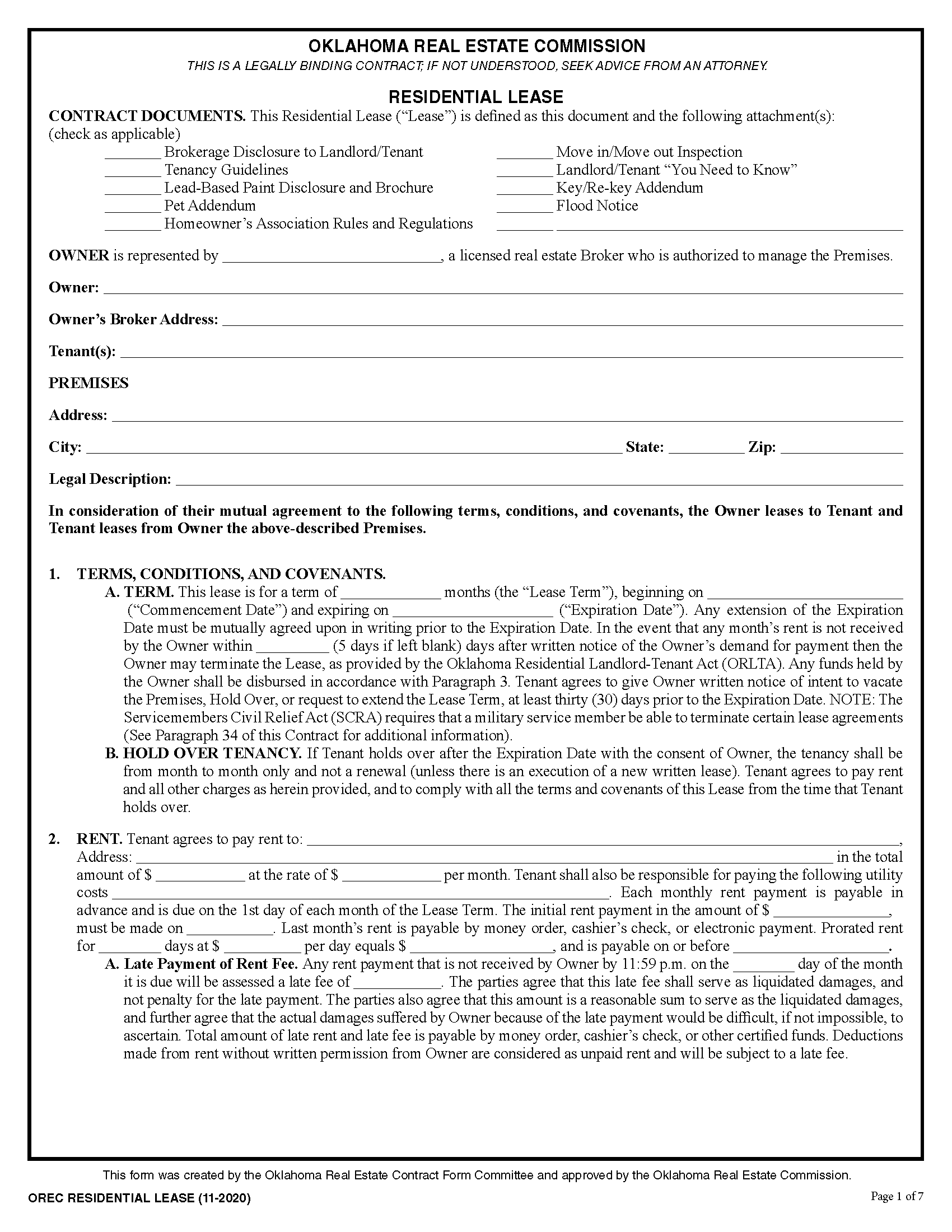 Oklahoma Real Estate Commission (11-2020) – This official 7-page rental agreement is provided by the state real estate commission to be used by landlords, agents, and brokers to lease residential property.
Download: PDF
---
Disclosures (4)
If the landlord knows that the leased premises has flooded within the past five (5) years, this information must be disclosed to the tenant in writing.
The landlord must disclose to the tenant the name and address of each individual authorized to manage the premises as well as the owner or a person authorized to represent the owner for the purpose of service of process and to accept demands and notices.
3) Lead-Based Paint Disclosure
Informs tenants that lead-based paint may exist on the leased premises. Federal law requires the landlord to issue this disclosure to tenants if the property was built prior to 1978.
If the landlord has knowledge or suspects that the rental unit was used in the manufacturing of methamphetamine, this information must be disclosed to the tenant before the start of the lease term.