---
Updated on June 23rd, 2023

An Oklahoma lease agreement is a contract between a landlord and a tenant that sets forth terms for the rental of residential or commercial property. It is important that the contract includes all of the landlord's rules regarding rent payments, utilities, prohibited actions, and special fees to ensure that they will have the legal right to take action should the tenant fail to fulfill any rental condition.

If a tenant does not comply with the terms of their lease, the landlord can serve them a notice to quit and start an eviction action against them in court. In addition to commercial and residential lease templates, month-to-month, sublease, and roommate agreements are provided below.

Rental Application – To review an individual's work and rental history, the landlord can have them fill out this form and provide consent for a background and credit check.
Agreements: By Type (6)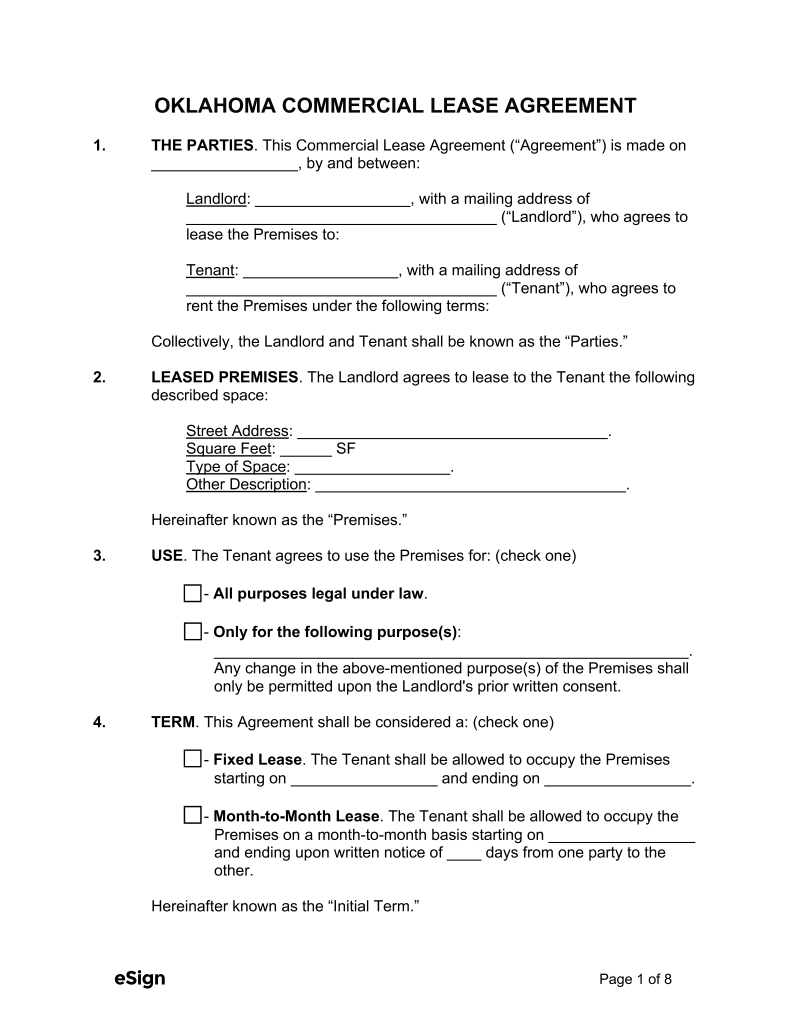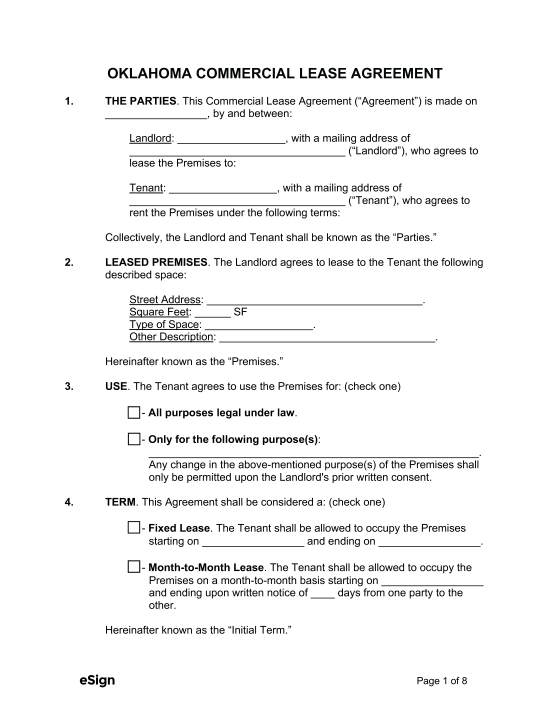 Commercial Lease Agreement – A legally binding arrangement whereby a property owner leases their commercial property to an individual or entity.
Download: PDF, Word (.docx), OpenDocument
---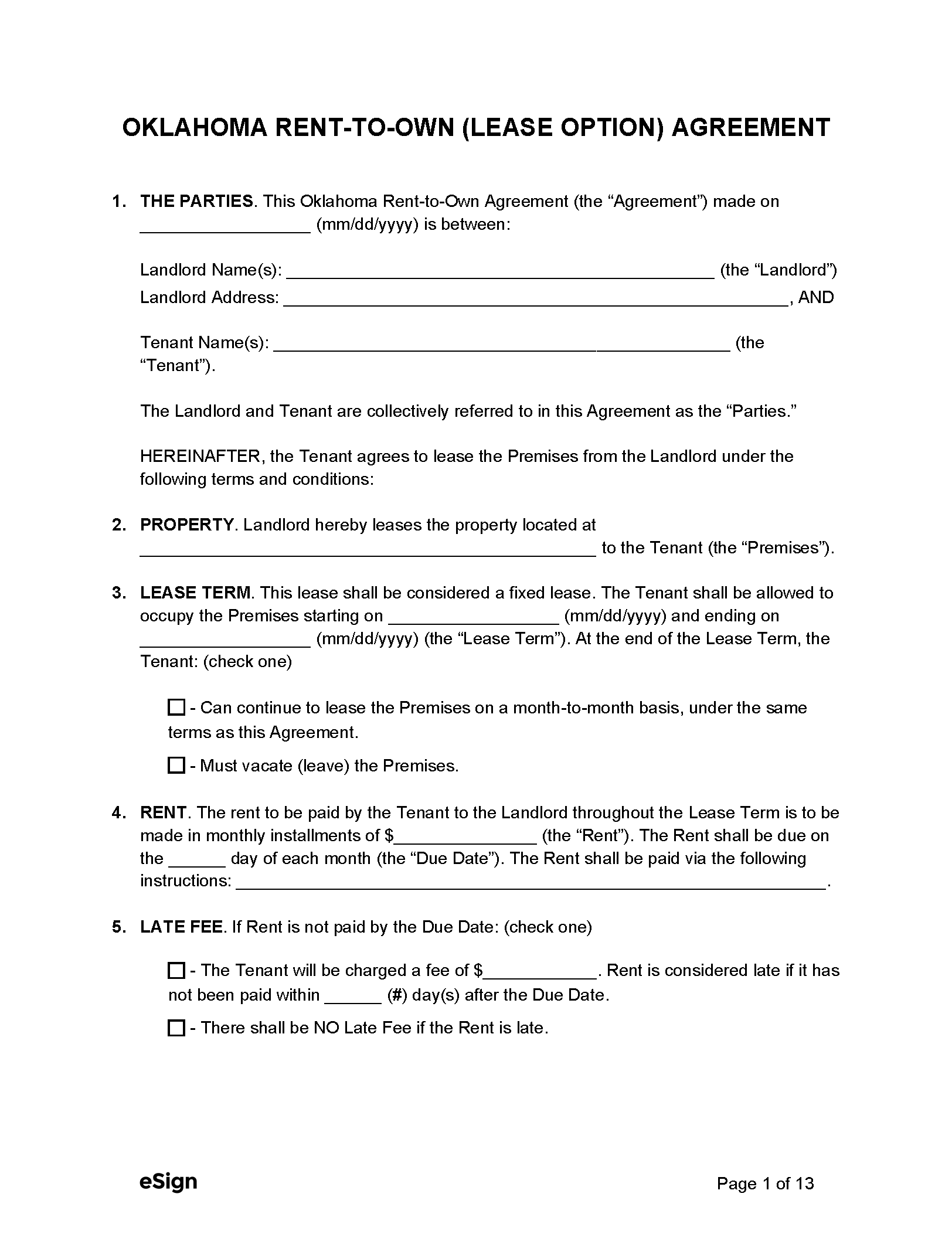 Rent-to-Own Agreement (Lease Option) – A lease whereby a tenant rents a property with the option of buying it from the owner during the agreement term.
Download: PDF, Word (.docx), OpenDocument
---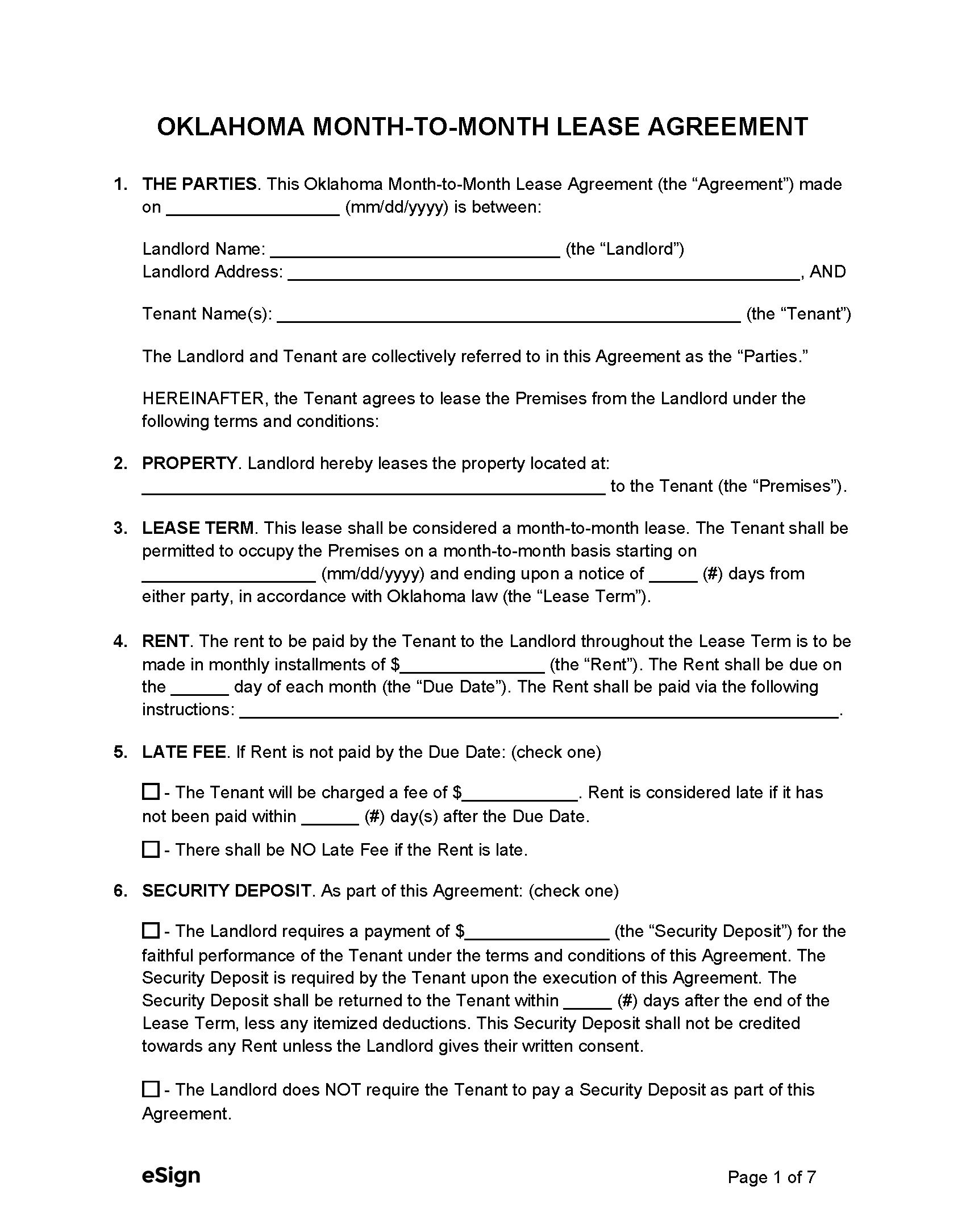 Month-to-Month Lease Agreement – This rental contract gives the tenant an "at-will" arrangement by which they renew the lease with each monthly payment.
Download: PDF, Word (.docx), OpenDocument
---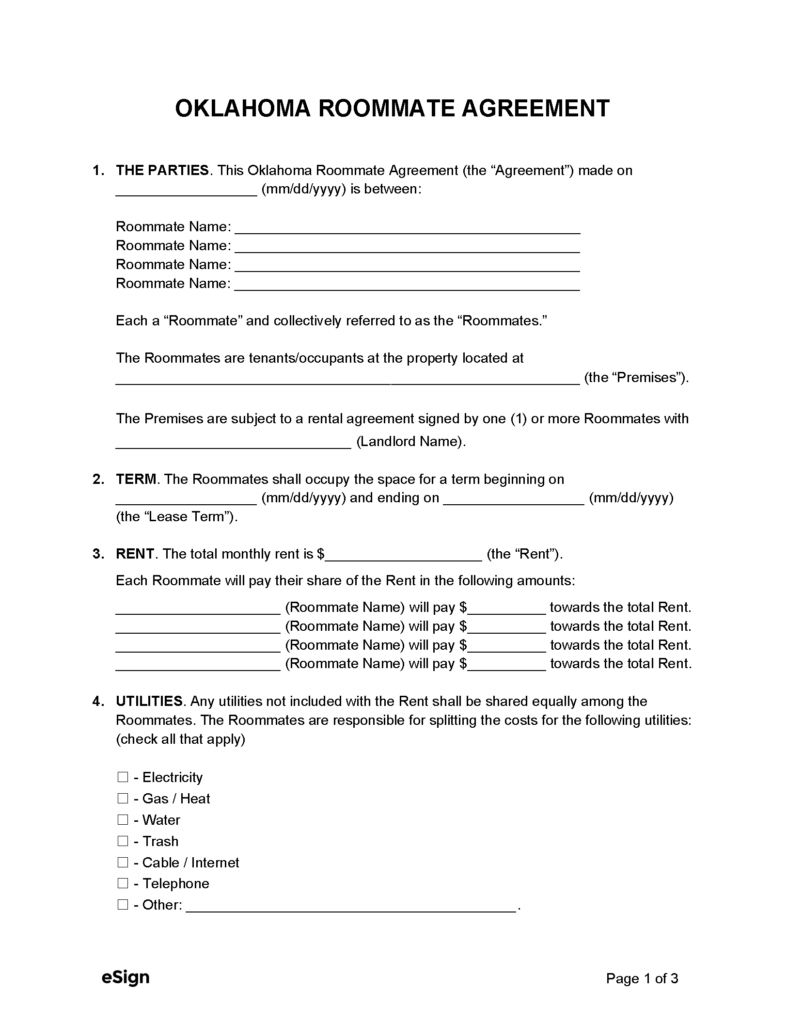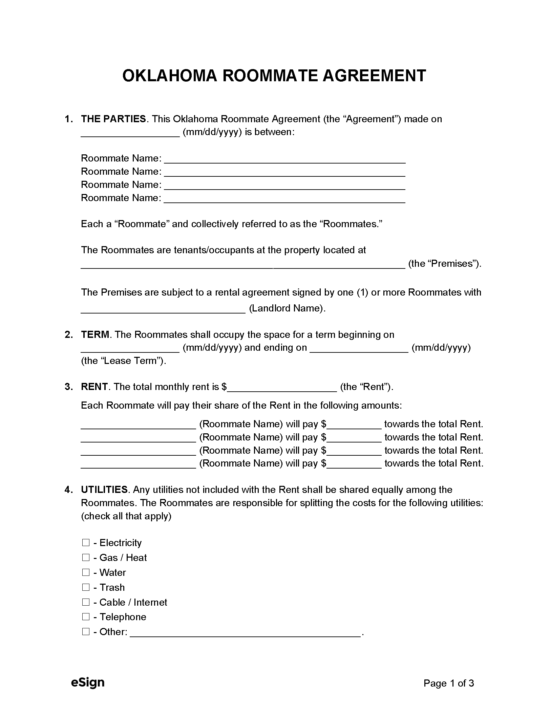 Roommate Agreement – Roommates can use this document to set out rules regarding payments, chores, and activities.
Download: PDF, Word (.docx), OpenDocument
---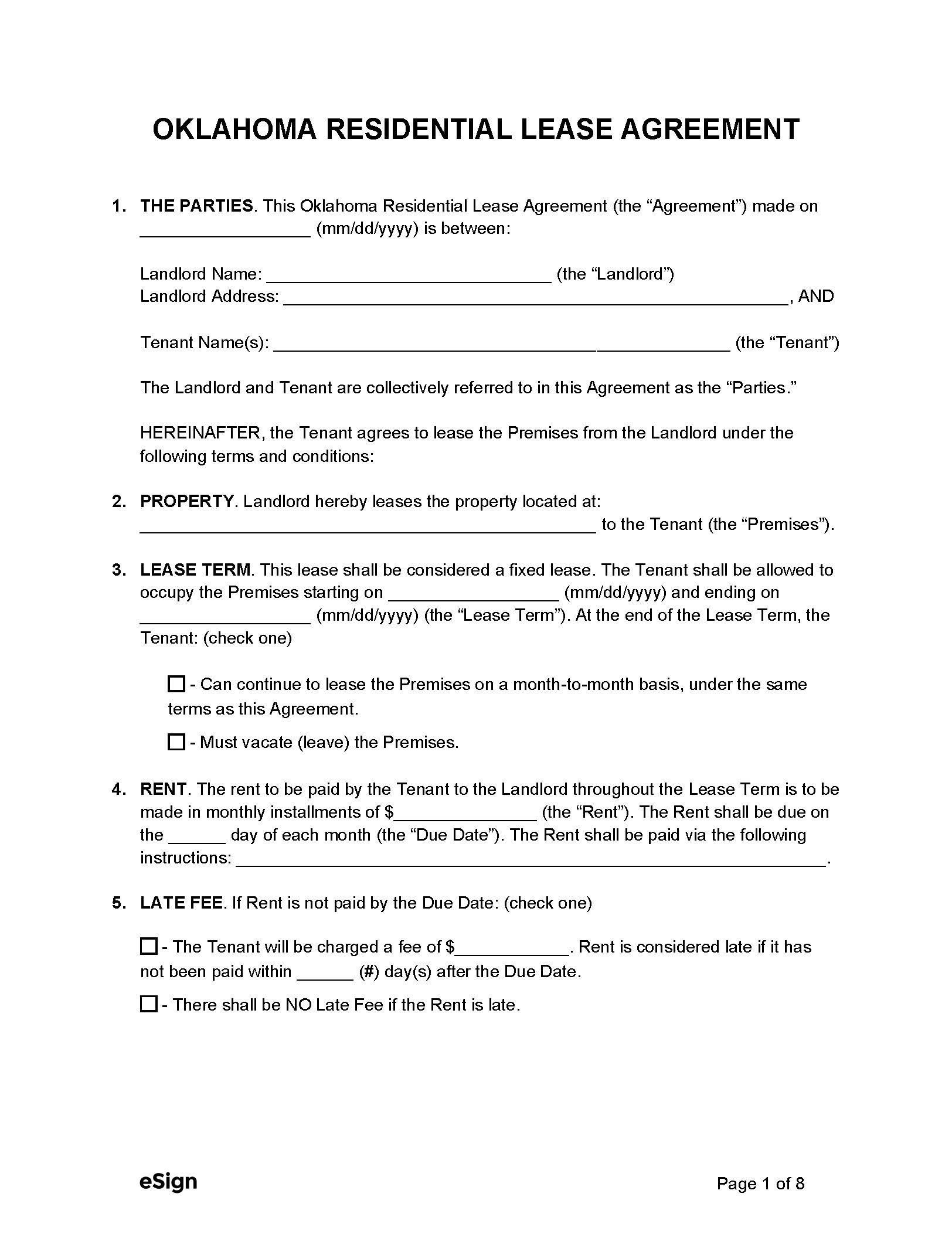 Standard (1-year) Lease Agreement – This residential lease agreement has a one (1) year term with the tenant paying rent monthly.
Download: PDF, Word (.docx), OpenDocument
---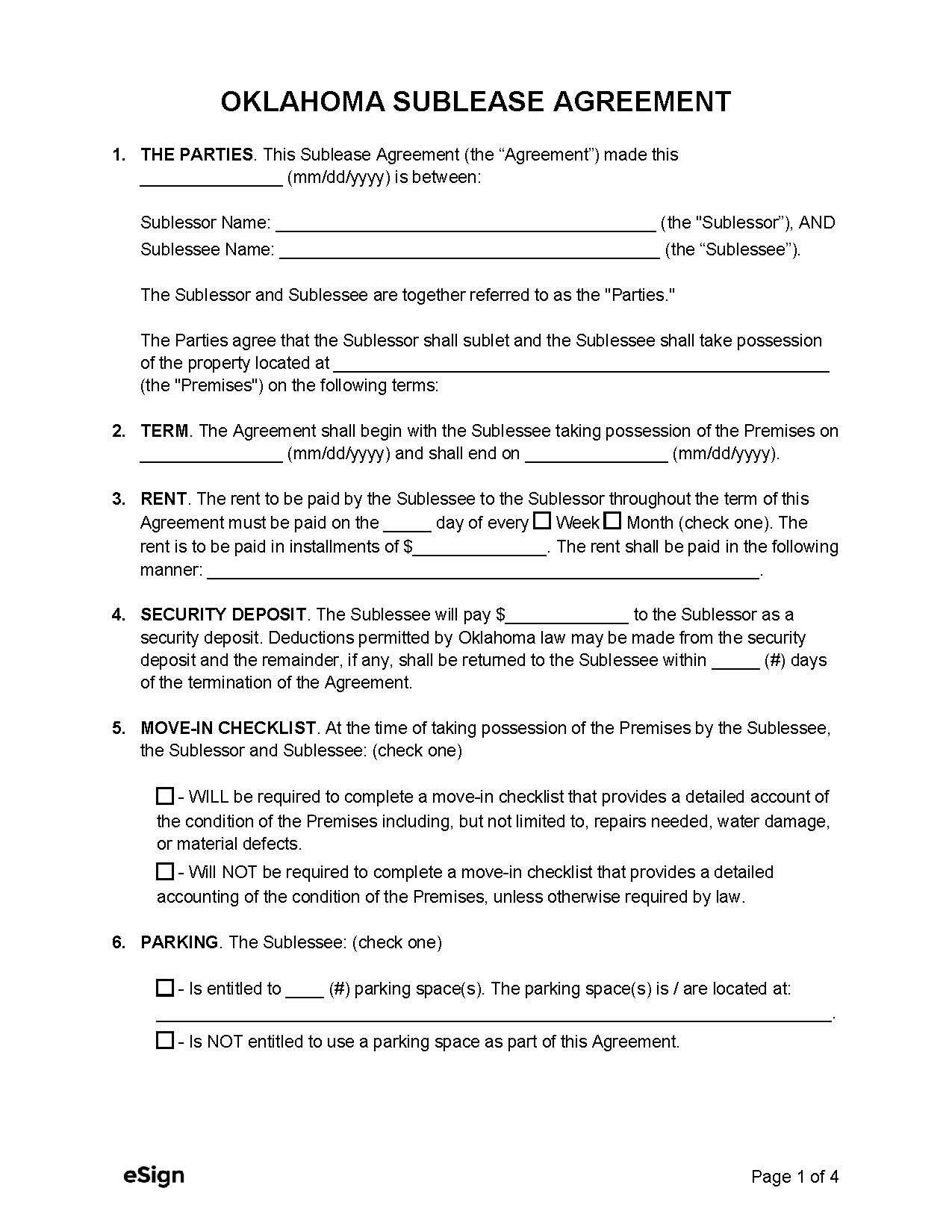 Sublease Agreement – A sublease agreement is used when a tenant wishes to rent out a portion or all of the property to a third party.
Download: PDF, Word (.docx), OpenDocument
---
Disclosures (4)
If the rental space has flooded at any time in the last five (5) years, and the landlord is aware of it, then all information in relation to the event must be forwarded to the tenant.
The landlord must provide the name and address of anyone who is permitted to enter the rental property, including the property manager, owner, and any representative of the owner who is authorized to receive court-issued paperwork, notices, and demands.
3) Lead-Based Paint Disclosure
Federal law requires landlords to warn tenants that lead paint may exist on the premises if the property was constructed before 1978.
If there was methamphetamine production in the rental unit, the landlord must disclose this information to the tenant before finalizing a lease agreement.
---
Landlord-Tenant Laws
---
Landlord's Access
General Access (§ 41-128(A) and (C)) – Before accessing the tenant's rental unit, the landlord must give them at least one (1) day's notice.
Emergency Access (§ 41-128(B)) – The landlord can enter without notice in the event of an emergency at the rental property.
---
Rent
Grace Period – No statute.
Maximum Fees ($) – No statute.
Rent Increase Notice – No statute.
---
Security Deposits
Maximum Amount ($) – No statute.
Returning to Tenant (§ 41-115(B)) – Within forty-five (45) days from the lease termination date, any security deposit funds must be returned to the tenant.
Interest Required? (§ 41-115(B)) – No, the landlord is not required to pay interest on the deposit.
Separate Bank Account? (§ 41-115(A)) – Yes, in accordance with state law, the security deposit must be "kept in an escrow account for the tenant, which account shall be maintained in the State of Oklahoma with a federally insured financial institution."