---
Updated on September 28th, 2021

The Rhode Island standard residential lease agreement relays the terms and conditions of a rental arrangement between a landlord and tenant as well the rights and responsibilities of both parties. The standard term of a residential lease is for one (1) year with rent payments due on the first (1st) day of each month. The agreement is binding once signed, and the tenant's failure to adhere to the terms and conditions therein, such as paying rent on the due date, could result in legal action against them. If the tenant is unsure about any provisions of the lease, they should consult a legal professional before signing.

Rental Laws – Chapter 34-18 (Residential Landlord and Tenant Act)

Handbook (Guide) – Rhode Island Landlord-Tenant Handbook
Security Deposits
Maximum (§ 34-18-19(a)) – One (1) Month's Rent
Returning (§ 34-18-19(b)) – Twenty (20) Days
---
When is Rent Due?
Rent is due on the first day of each month or as stated in the lease. Tenants have fifteen (15) days from the due date to pay rent before the landlord can serve them with a notice to pay or quit (§ 34-18-15(c) & § 34-18-35(a)).
---
Realtor Version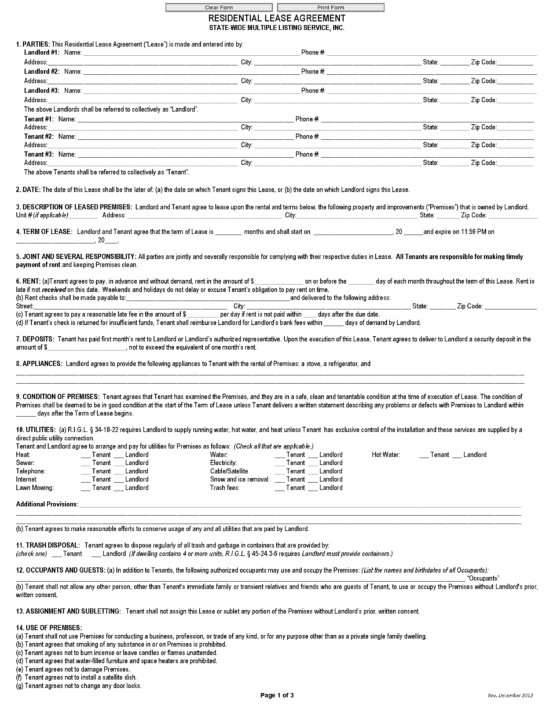 State-Wide Multiple Listing Service, Inc. – This rental contract has been drafted by the State-Wide Multiple Listing Service (a subsidiary of the Rhode Island Association of Realtors) for landlords and property managers to use when renting out residential property.
Download: PDF
---
Disclosures (3)
Landlords must disclose to tenants whether the property is subject to any outstanding local or state minimum housing code violations.
The tenant must be given the name, address, and telephone number of all property managers and the building owner or an individual authorized to act on the owner's behalf to receive service of process, notices, and demands.
3) Lead-Based Paint Disclosure
Landlords are required to issue this lead paint disclosure to tenants if the rental unit was constructed prior to 1978.