A Wisconsin standard residential lease agreement is used by landlords and property managers to establish legally binding rental terms with their tenants. The document details all necessary provisions, including rent payment, lease term, security deposit, and the landlord's rules regarding the use of the property. The tenant should thoroughly review the document because they can be held legally accountable for any breach of the lease. A standard residential lease typically has a term of one (1) year with rent paid on the first day of each month. Once both parties have signed the document, the contract becomes effective until the end of its term.
Rental Laws – Chapter 704 (Landlord and Tenant)
Handbook (Guide) – Landlord-Tenant Guide
Security Deposits
Maximum – Not mentioned in state statutes.
Returning (§ 134.06(2)) – Twenty-one (21) Days
---
When is Rent Due?
State laws do not specifically mention when rent is due. Therefore, rent must be paid as stated in the written lease agreement.
---
Realtor Version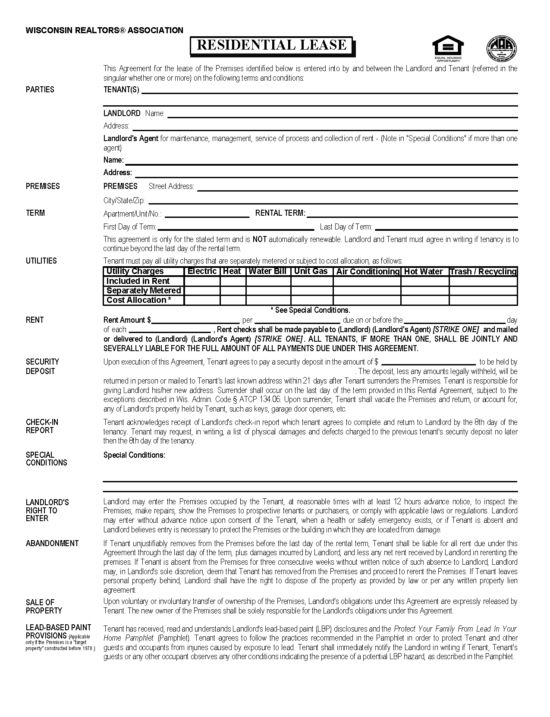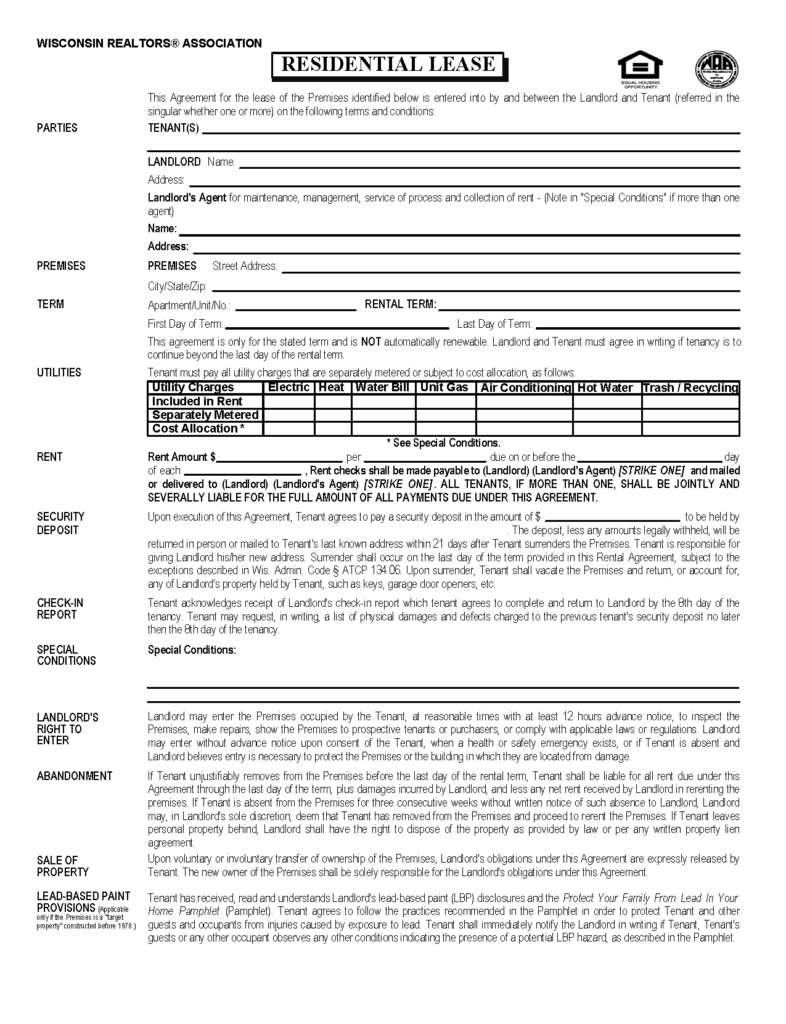 Wisconsin Realtors Association Residential Lease – This residential lease agreement is drafted by the Wisconsin Realtors Association for use by realtors, property managers, and landlords.
Download: PDF
---
Disclosures (5)
Before signing a lease agreement, the landlord must inform prospective tenants of building code violations that affect the dwelling and threaten the prospective tenant's health and safety.
Before accepting a security deposit, landlords are required to inform the tenant of their right to inspect a dwelling unit for defects and request an inventory of the damages charged to the previous tenant's security deposit.
3) Landlord and Agent Identification
The landlord is required to disclose the name and address of all individuals authorized to collect rent and manage the premises, as well as the name and address of the owner of the premises or a representative thereof to whom service of process and notices/demands can be sent by the tenant.
4) Lead-Based Paint Disclosure
Landlords must provide this toxic paint disclosure to tenants renting a dwelling constructed before 1978.
The landlord must disclose if the utility charges are included in the rent before accepting a security deposit or entering into a rental agreement with a prospective tenant. If a property has multiple rental units that are not metered separately, the landlord must disclose how the individual charges for utility services will be distributed.