Rental Application
– A form filled out by lease applicants that provides landlords with contact information, rental history, and consent for a background check.
Lease Agreements: By Type (6)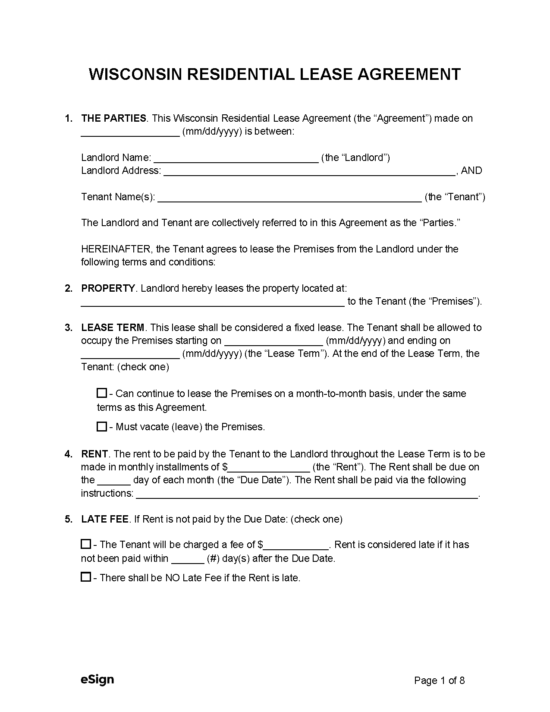 Standard (1-year) Lease Agreement – Contains the rental conditions of a residential dwelling agreed upon by a landlord and their tenant.

Download: PDF, Word (.docx), OpenDocument
Commercial Lease Agreement – Used by landlords and property owners to lease office, industrial, or retail space to a tenant.

Download: PDF, Word (.docx), OpenDocument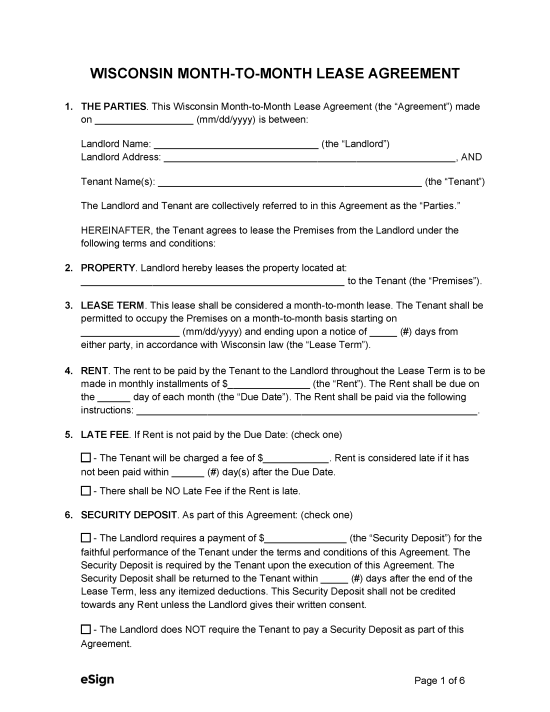 Month-to-Month Lease Agreement – This at-will rental agreement continues on a monthly basis until terminated by either party with twenty-eight (28) days' notice.

Download: PDF, Word (.docx), OpenDocument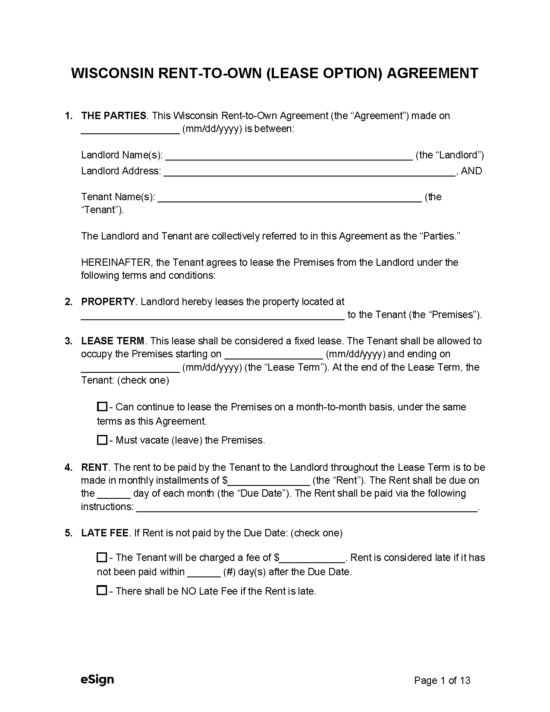 Rent-to-Own (Lease Option) – A tenancy agreement that includes contingencies that enable the tenant to purchase the property at a later date.

Download: PDF, Word (.docx), OpenDocument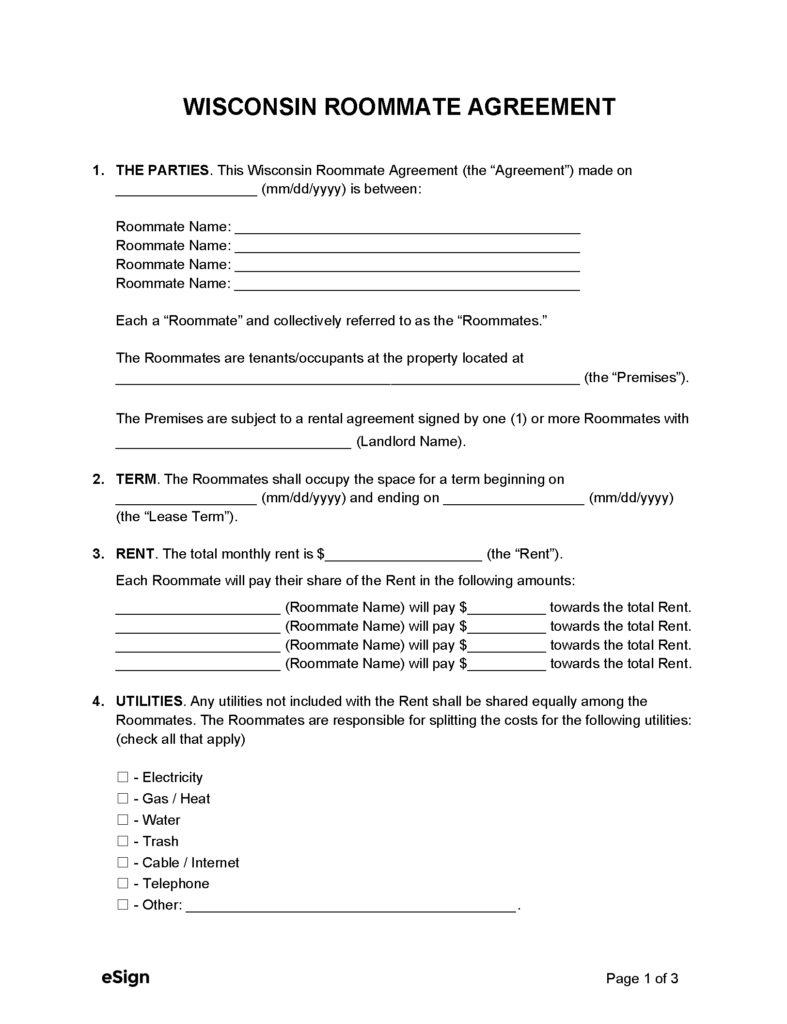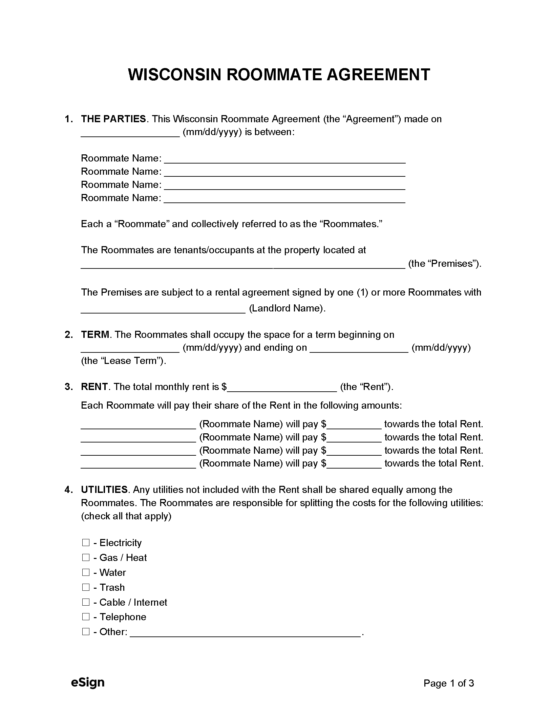 Roommate Agreement – Used by roommates to establish rules and conditions for a shared rental space.

Download: PDF, Word (.docx), OpenDocument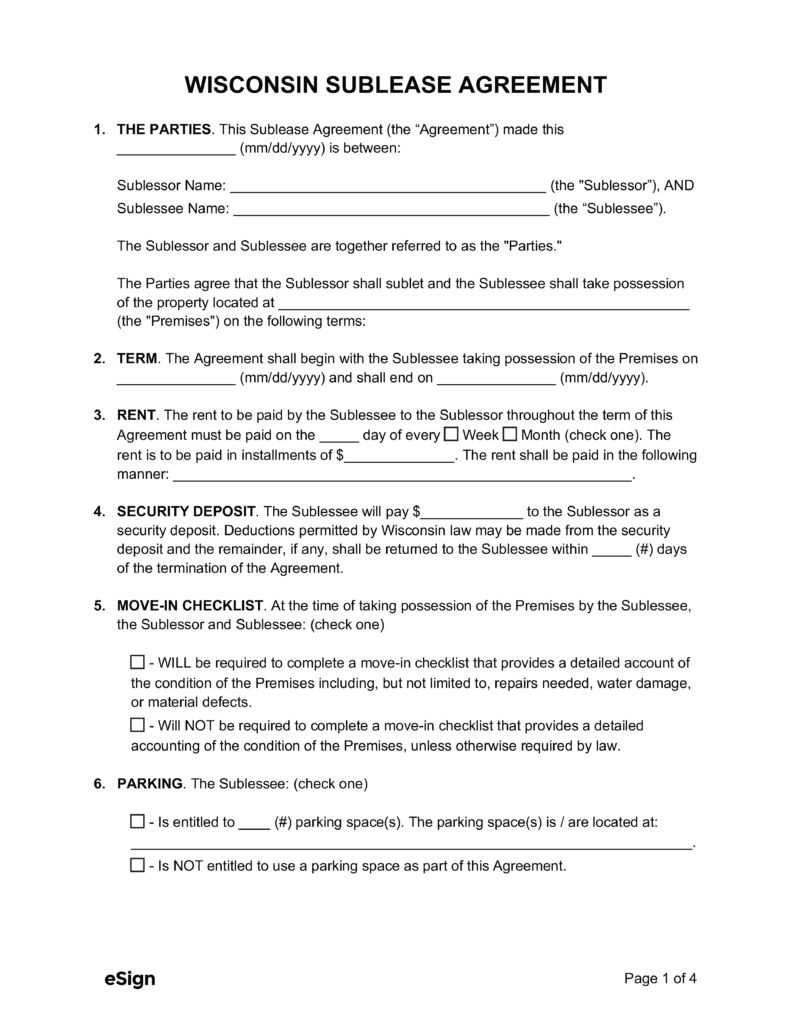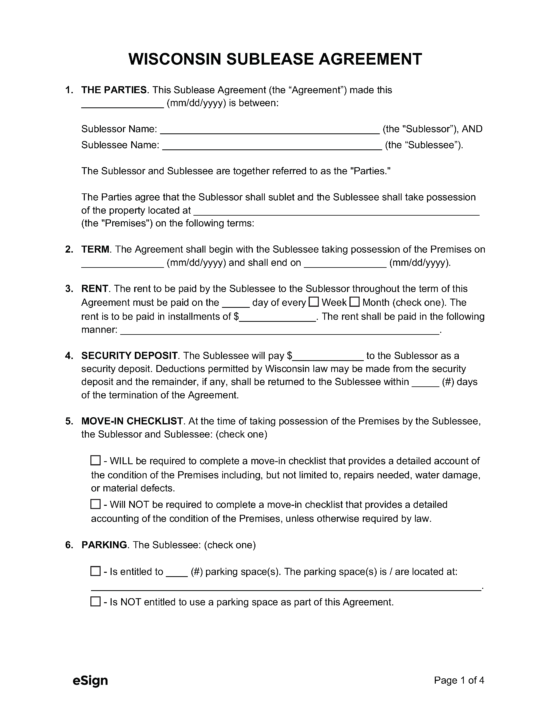 Sublease Agreement – An agreement separate from the original lease between the tenant and a subtenant who will renting their leased property.

Download: PDF, Word (.docx), OpenDocument
Security Deposits
Maximum Amount ($) – State law does not set a maximum amount for security deposits.
Collecting Interest – There are no legal requirements for collecting interest on security deposits in Wisconsin.
Returning to Tenant – Security deposits must be returned to tenants within 21 days of the termination of the rental agreement.[6]
Itemized List Required? – Yes, if any amount of the tenant's security deposit is withheld for damages, the landlord must send a list describing each damage and the amount withheld.[7]
Separate Bank Account? – There is nothing mentioned in the state statutes that requires landlords to keep security deposits in a separate bank account.
Landlord's Entry
General Access – Landlords are permitted to access the rental property to perform their various duties during reasonable times and with at least 12 hours' notice.[8]
Immediate Access – Landlords can enter the premises without notice for emergencies or if the tenant is absent and immediate access is necessary to protect the property from damage.[9]
Rent Payments
Grace Period – There is no rent grace period established in state statutes.
Maximum Late Fee ($) – Landlords may only charge a late fee if it is mentioned in the rental agreement, but state law does not set a maximum amount.[10]
Bad Check (NSF) Fee – Fees for bounced rent checks are not covered by state law.
Withholding Rent – Tenants can take certain actions if the landlord fails to maintain the habitability of the premises, but they may not withhold rent.[11]
Breaking a Lease
Non-Payment of Rent – Landlords can use a 5-day notice to pay or quit when a tenant is late paying rent.[12]
Non-Compliance – When a tenant fails to comply with the lease, landlords can serve a 5-day notice to comply or quit.[13]
Lockouts – Landlords may not prevent a tenant from accessing their rental property except through a legal eviction process.[14]
Leaving Before the End Date – If the tenant leaves before the lease has terminated and failed to pay any rent owed, the landlord can recover rent and damages.[15]
Duty to Re-rent – Landlords must make a reasonable effort to re-rent the property, i.e., the same steps they would have taken if the lease term had ended according to the agreement.[16]
Lease Termination
Month-to-Month – Monthly tenancies can be terminated by either party as long as 28 days' notice is provided.[17]
Unclaimed Property – Any of the tenant's unclaimed property can be assumed by the landlord to be abandoned and may be dispose of as the landlord sees fit.[18]