---
Updated on October 21st, 2022

An Indiana non-compete agreement enables an employer to impose restrictions on their employee's ability to enter into competition post-termination. The document can be drafted in both a working relationship and in the sale of a business. A non-compete's function is to prevent unfair competition that may be brought on by a former employee or owner's knowledge of company trade secrets, business methods, or other sensitive data. Once the agreement is executed, it will be effective in the area the employer has protectable interests until its termination date.
Enforceability in Indiana
While Indiana statutes do not contain provisions governing non-compete agreements, they are enforceable contracts, and Indiana courts will look to previous case law when establishing the reasonableness of the provisions. However, non-compete agreements are typically not favored by courts because they have the effect of restricting trade.[1] When determining enforceability, the courts will examine whether the restrictions are equitable to both parties and their potential impact on the employee and the general public.[2]
When it

IS

 Enforceable
Protectable interest. A court will not enforce a non-compete unless it is essential to protect a legitimate interest, such as a company's goodwill, trade secrets, or sensitive data.[2]
Physicians. For a non-compete to be enforceable on a physician, the contract must include provisions that state the following:

The employer must provide a copy of all notices (redacting patient names and contact details) related to the physician leaving the position or those sent to patients seen by the physician within the two (2) years before termination.
The employer must disclose the physician's last known address to patients requesting their whereabouts and patients seen by the physician within the two (2) years before their employment ended.
The employer must provide access to, or copies of, medical records of patients seen by the physician within a two (2) year period before they left the company upon receiving the patients' consent.
The employer must offer at a reasonable price a release from the non-compete. If declined, the employer retains their right to equitable remedies (e.g., enforcing the non-compete).[3]
When it's

NOT

Enforceable
Restricting law practice. Agreements restricting a lawyer from practicing law are void and unenforceable, except if the agreement has to do with retirement benefits.[4]
Maximum Time Period
No maximum time limit is indicated in Indiana statutes. The duration of a non-compete must be only so long as to protect the employer's interest; whether the length is excessive is a question of law.[1] Non-compete agreements with terms ranging from one (1) to five (5) years have been approved by Indiana courts.[1][5][6][7]
Geographical Area
Geographical restrictions are typically confined to where the employer conducts business activities.[7] For example, a geographic limit of three (3) counties was deemed reasonable by the court to prevent a physician from practicing in the area they serviced while under employ.[5] State courts tend to find narrow restrictions acceptable, and radiuses around a business of 10-25 miles have been deemed enforceable.[8] Broader restrictions encompassing the entire state or country, on the other hand, have not been upheld.[9]
Indiana courts are more inclined to enforce larger areas if the restriction is in place to protect confidential details, trade secrets, or sales.[9][10][11]
Consideration
Consideration is a requisite for non-compete agreements. Forms of consideration previously accepted by the courts include financial compensation, offering employment, and continued employment.[1][10][12]
Sources
---
Related Forms (2)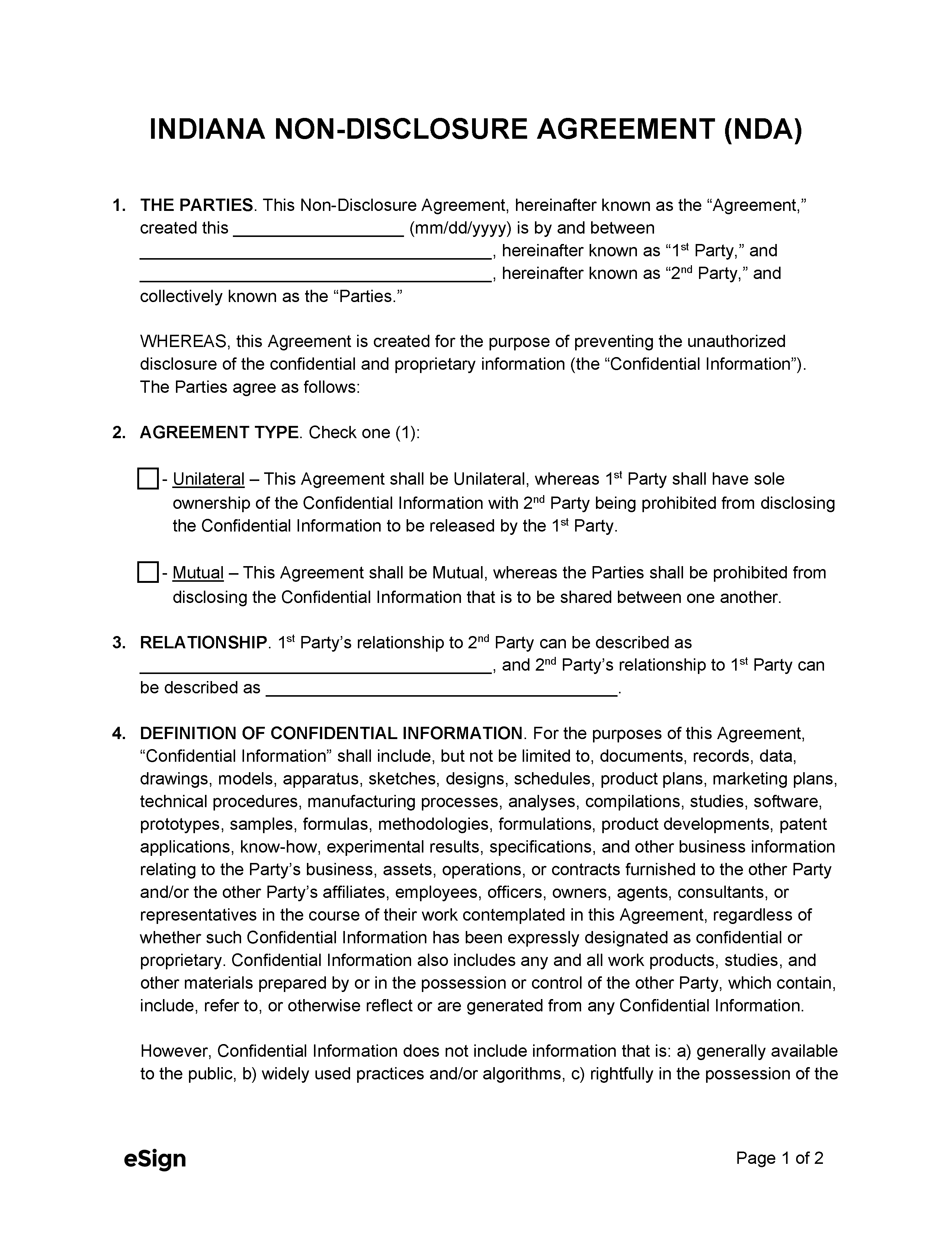 Indiana Non-Disclosure Agreement – Allows legal action to be enforced against a party if they disclose entrusted confidential information.
Download: PDF, Word (.docx), OpenDocument
---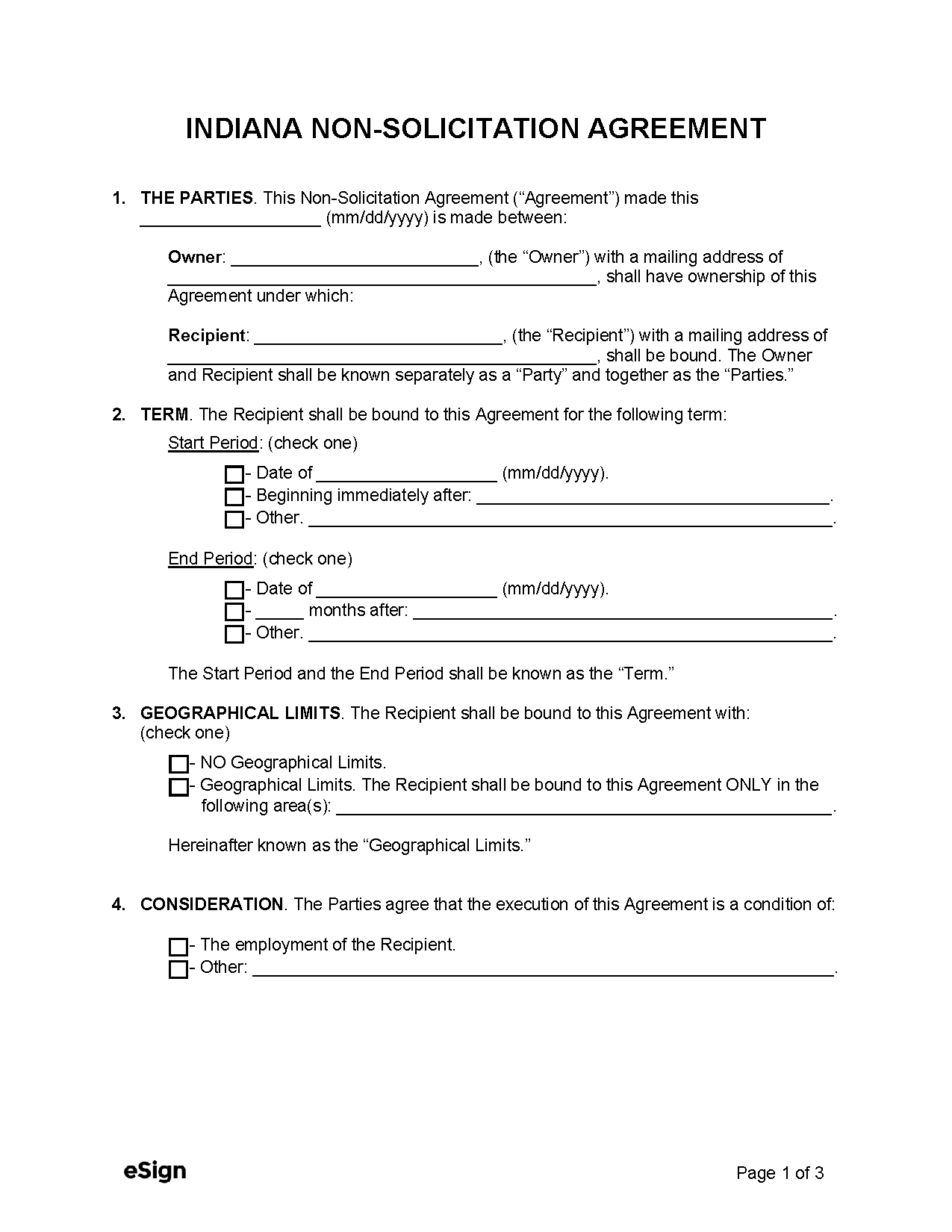 Indiana Non-Solicitation Agreement – Used to protect an employer's relationships wth clients and employees from unauthorized communication.
Download: PDF, Word (.docx), OpenDocument