---
Updated on October 21st, 2022

A Kentucky non-compete agreement is a contract imposed on an employee by an employer to prevent them from working or starting a business in the same industry. By enforcing this type of agreement, the employer is able to protect their business from an employee's attempt to provide similar products or services in the same region or engage with their clients, customers, and suppliers.

Non-competes must establish reasonable time and geographical restrictions so as not to completely eliminate the employee's ability to make a living. The agreement must also provide appropriate consideration (being hired, being promoted, etc.) for the employee in exchange for their promise not to compete; employment is
Enforceability in Kentucky
Aside from the rules of professional conduct that apply to the legal industry, there are no Kentucky laws that govern the use of non-compete agreements. When deciding whether or not to enforce an NCA, the courts will use previous cases to determine how reasonable the provisions of the agreement are and will consider the nature of the business and the circumstances of both parties. In general, a non-compete must be reasonable in duration, geographical scope, and purpose.[1]
When it

IS

Enforceable
Reasonable scope. If the agreement aims to protect the business interests of the employer and does not hinder public interest or unjustly oppress the employee, it shall be considered reasonable and will be enforced.[2]
When it's

NOT

Enforceable
Legal industry. Non-compete agreements are not enforceable for legal professionals, as it unjustly limits their professional autonomy and the right of clients to seek legal counsel.[3]
Maximum Time Period
While not an explicit restriction, Kentucky courts generally find five (5) years to be the durational limit for non-compete agreements.[4] It is possible for a non-compete contract to be unlimited in duration as long as it is confined to a reasonable geographical area.[6] The inverse is also true: even with a reasonable time restriction in place, courts may deem a contract to be inequitable if the geographical radius is too great.[5]
Geographical Area
When determining enforceability, courts look favorably upon agreements that have a limited and fair geographical scope. With that in mind, the geographical range will vary greatly depending on the industry in question. There have been situations where Kentucky courts viewed 50 miles as appropriate[1] and others where 200 miles was enforceable.[7] In cases where the employer's business is national, they may be able to establish a non-compete agreement that covers the entire country.[8]
Consideration
Kentucky courts will enforce non-compete agreements as long as sufficient consideration is provided, such as hiring the employee.[9] A promotion or other type of benefit has been recognized to be acceptable as well, which can include specialized knowledge, training, or expertise.[10]
In general, continued employment is not deemed ample consideration. However, the courts have ruled in favor of an employer who made employees sign a non-compete after they had already started working.[8] But the NCA was only enforced because employment continued for many years, the employees were given promotions throughout this time period, and the employees were the ones to resign from their positions to work in direct competition with the employer.
---
Sources
---
Related Forms (2)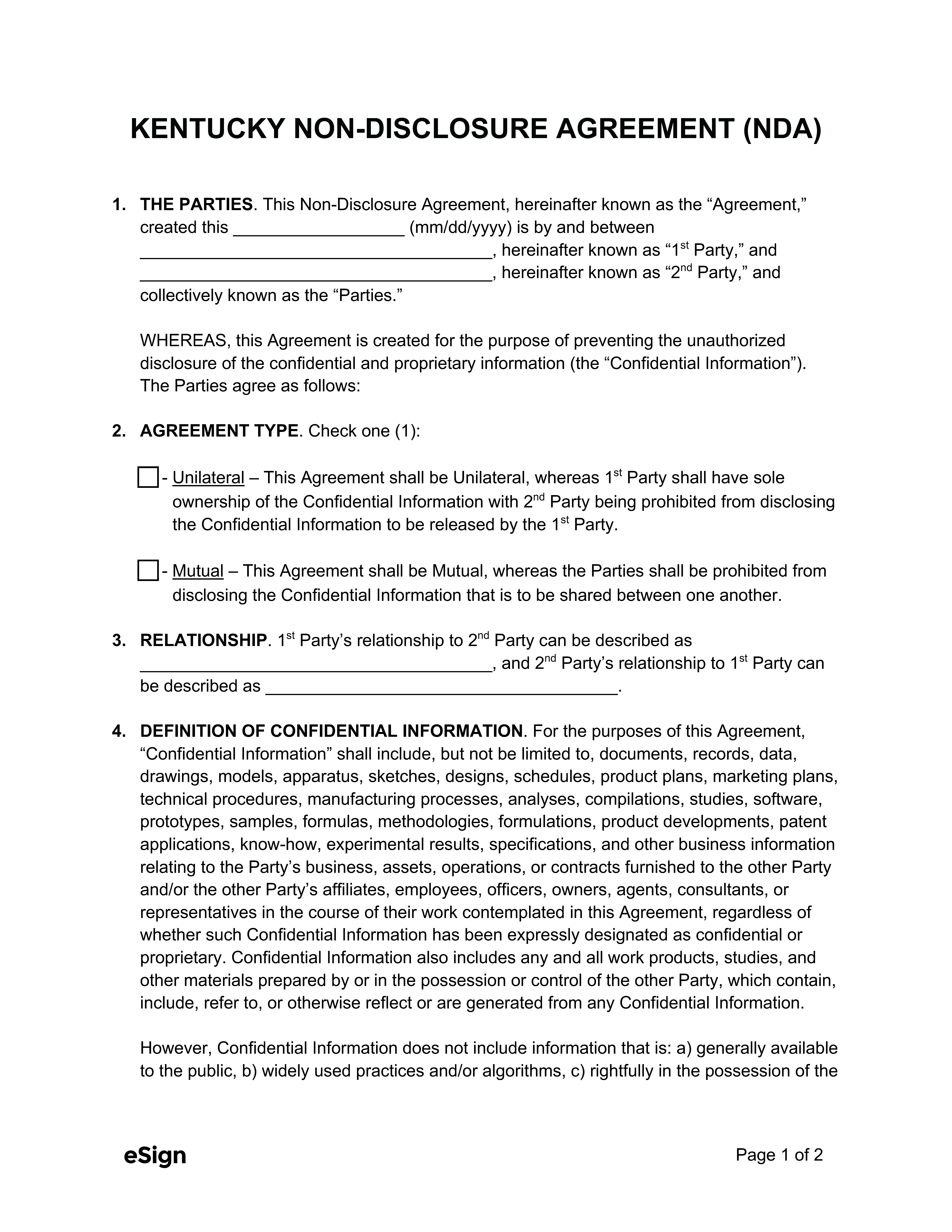 Kentucky Non-Disclosure Agreement – May be used in conjunction with an NCA to help protect the employer's confidential information from misuse or improper dissemination.
Download: PDF, Word (.docx), OpenDocument
---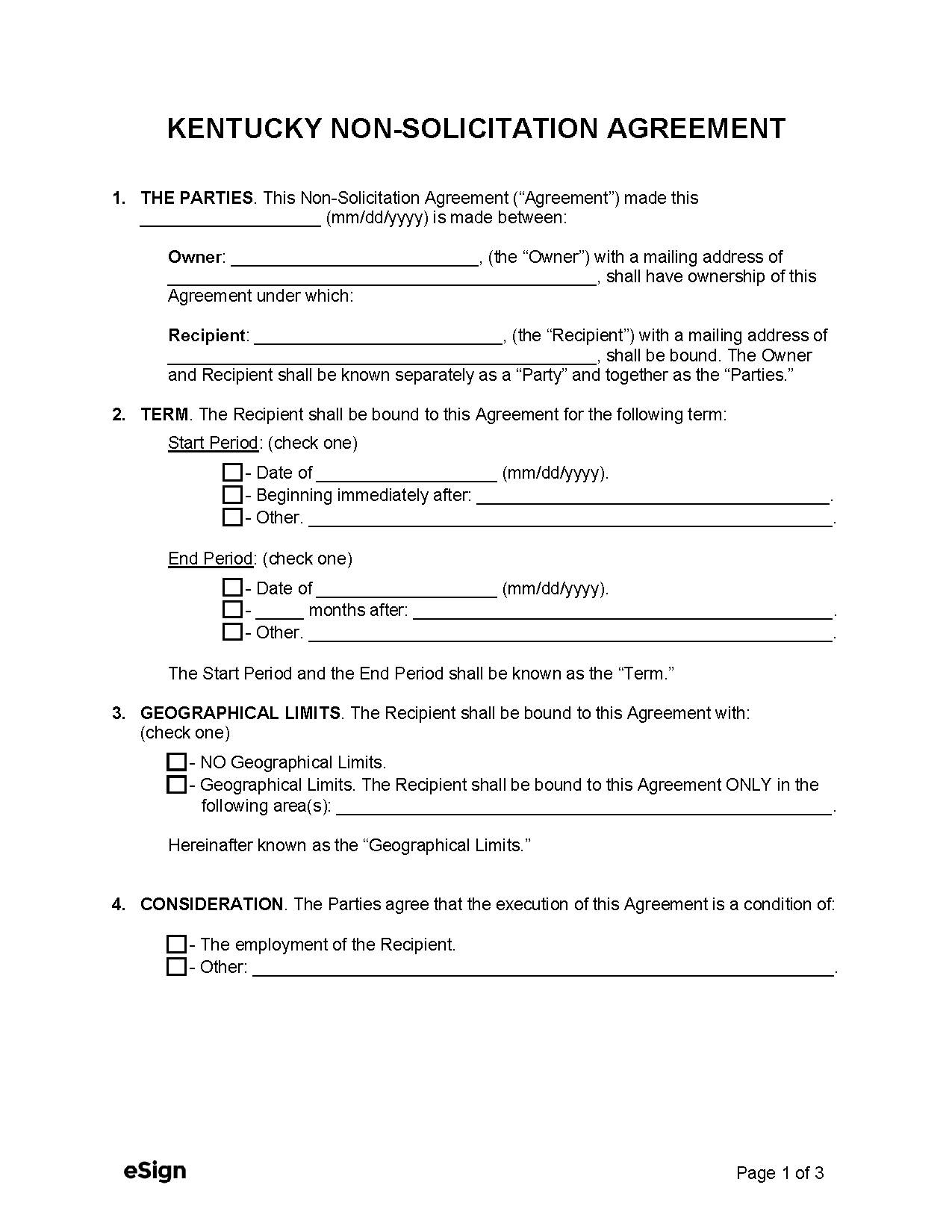 Kentucky Non-Solicitation Agreement – A legal contract that limits a party's capacity to communicate with an employer's clients or employees.
Download: PDF, Word (.docx), OpenDocument