An Oklahoma non-compete agreement is a document that contains restrictive provisions that limit one signing party's ability to compete professionally with the other. In Oklahoma, this agreement can only be used in the dissolution of a partnership, the sale of a business, or to prevent the signing party from soliciting established customers. Any agreement that attempts to prevent someone from carrying out their profession is unenforceable in Oklahoma, which means most employee-employer non-compete agreements are void.
Enforceability in Oklahoma
In most employment scenarios, non-compete agreements are not enforceable in Oklahoma, as state law prohibits any contract that restricts an employee from carrying out their profession, trade, or business.[1] However, there are a few exceptions wherein an agreement may be enforced. Oklahoma courts will deem a restraint reasonable if it:
1. "Is no greater than is required for the employer's protection from unfair competition;
2. Does not impose undue hardship on the employee; and,
3. Is not injurious to the public."[2]
When it IS Enforceable
Solicitation of customers. A former employee may be restricted from selling goods or services to their former employer's established customers.[3]
Sale of the goodwill of a business. An agreement may be made to restrict the seller of a company from establishing or entering a similar business within a specified city, town, or county.[4] 
Dissolution of a partnership. Partners may agree to refrain from carrying out comparable business operations within the same or contiguous county, city, or town when the partnership dissolves.[5]
When it's NOT Enforceable
Practicing law. Lawyers may not offer or enter any agreement that restricts their right to practice law when employment is terminated.[6]
Maximum Time Period
No time restrictions are mentioned explicitly in Oklahoma statutes. Oklahoma courts consider each case's circumstances and facts to determine whether the duration of the non-compete period is reasonable. The court has shown to enforce favor agreements with two (2) year limits or less,[7][8] but tends to find terms of three (3) or more years excessive.[2]
Geographical Area
An NCA signed in the sale of a business or dissolution of a partnership is enforceable if the applicable geographical area is limited to a specified town or city, or to a particular county and bordering counties.[4][5] Oklahoma courts have generally found agreements with too broad of a radius to be unenforceable.
For example, in the case of Cohen Realty, Inc. v. Marinick, the Oklahoma Supreme Court did not uphold an agreement where a real estate broker was prohibited by his former employer from competing within an unlimited geographical area by his former employer.[9]
In the case of Cardiovascular Surgical Specialists, Corp. v. Mammana, the restrictive covenants barred a doctor from working within a twenty-mile radius  of their former employer's offices, effectively creating a 100-mile radius outside of Tulsa. The Oklahoma Supreme Court found these limitations too restrictive.[10]
Consideration
Consideration is what an individual will receive as the value in return for signing a non-compete agreement. For example, the money received in the sale of the goodwill of a business. In Oklahoma, whenever there is a written instrument, consideration will be presumed,[11] meaning that when the agreement is signed, it is assumed both parties have agreed that the value exchanged for the restrictive covenants will be acceptable.
Sources
---
Related Forms (2)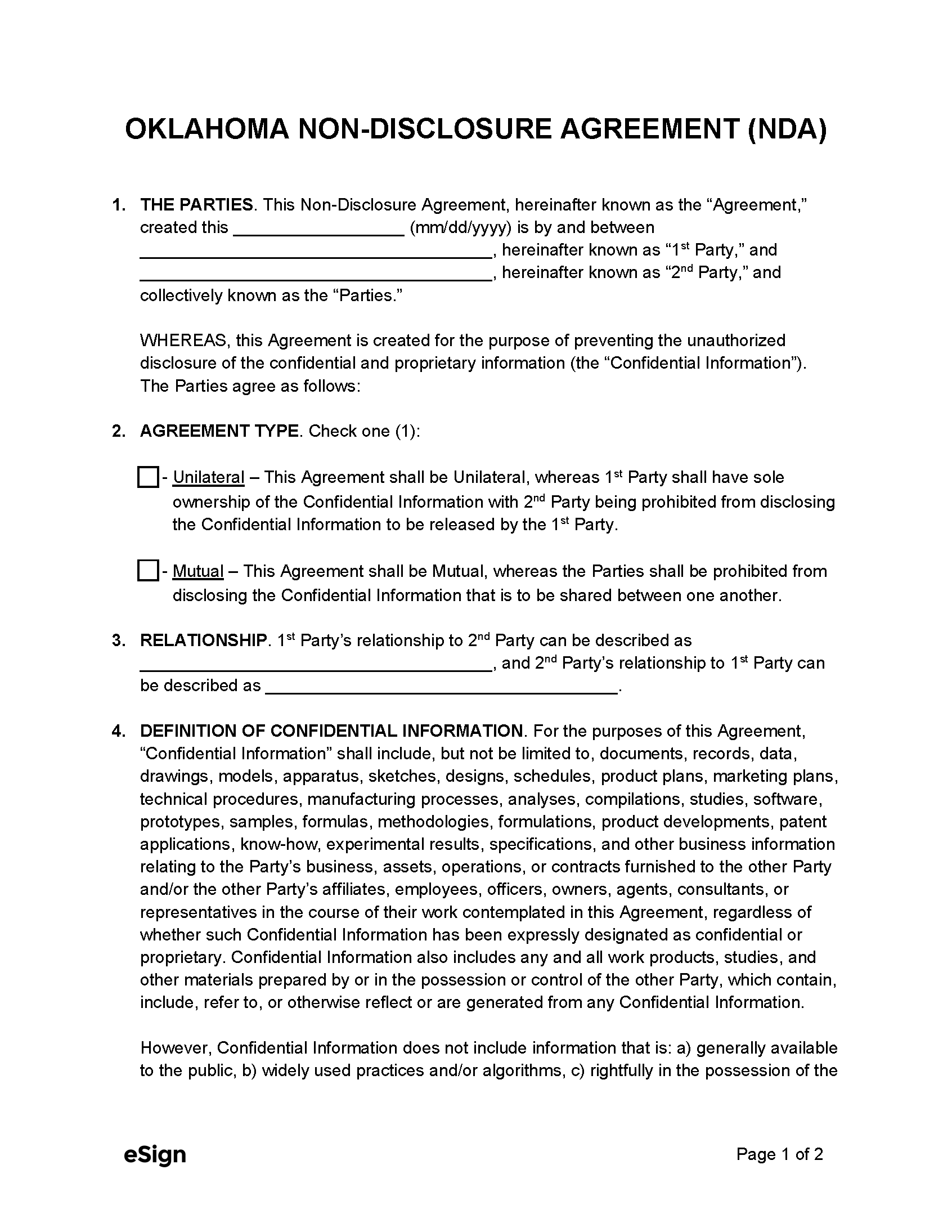 Oklahoma Non-Disclosure Agreement – Business owners may use this form to share proprietary information with employees or partners while keeping it confidential.
Download: PDF, Word (.docx), OpenDocument
---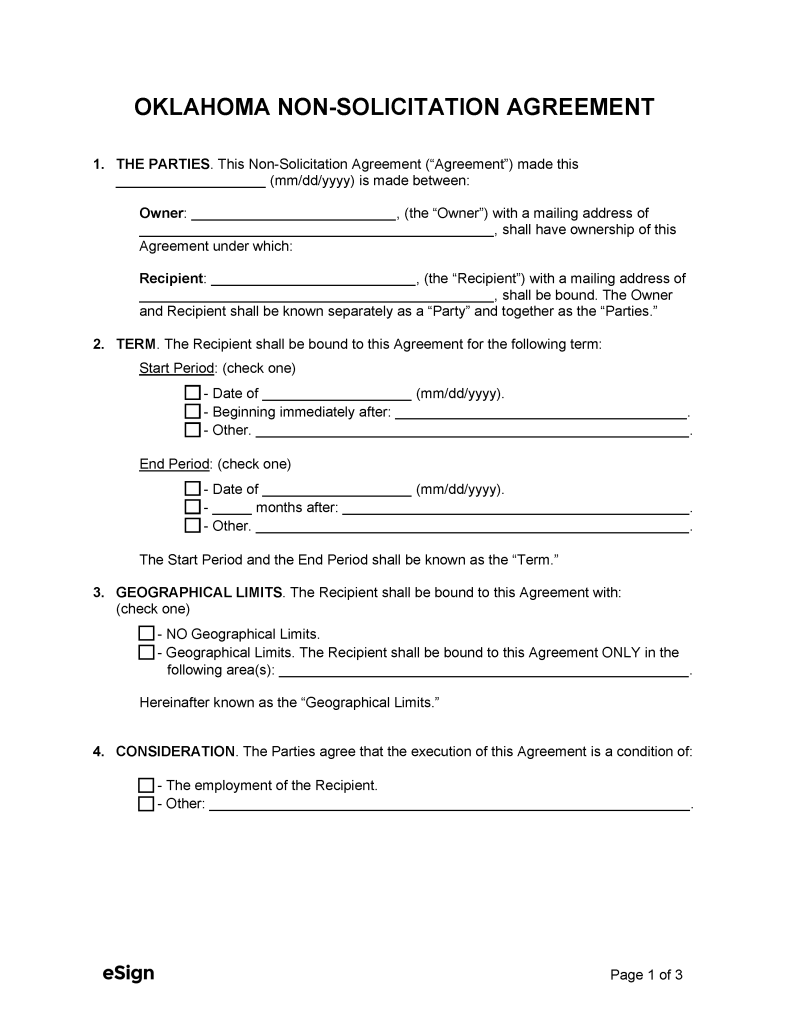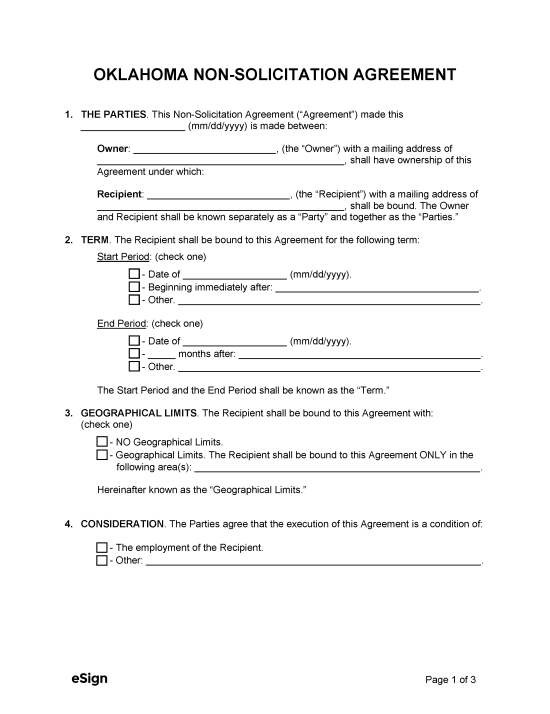 Oklahoma Non-Solicitation Agreement – Helps protect an employer's clients and staff from being solicited by employees and contractors after their relationship has ended.
Download: PDF, Word (.docx), OpenDocument