---
Updated on November 7th, 2022

An Oregon non-compete agreement allows employers to place certain post-employment restrictions on their employees to protect their business. When signed, the document will prevent former workers from seeking positions with the employer's competitors, soliciting their clients, or sharing trade secrets. The contract also prohibits said employees from starting an enterprise in the same field or developing similar products that may negatively affect the previous company's business.

As of January 1st, 2022, restrictions are limited to a twelve (12) month post-employment period and a "reasonable" geographical limitation (depending on the type of employment) to maintain equity between both parties.
Enforceability in Oregon
Non-compete agreements are enforceable in Oregon, provided they follow the guidelines set forth in ORS § 653.295.
When it

IS

Enforceable
Non-compete agreements are enforceable in Oregon as long as they adhere to the following conditions:[1]
Prior notice. An employee must be informed in writing of the necessity of a non-compete at least two (2) weeks before the first day of employment, or the non-compete is executed upon the "bona fide advancement" of the employee's position at a later date.
Eligible employee. The employee is an individual as described in ORS 653.020(3).
Safeguarding a "protectable interest." The employer has a protectable interest, meaning the employee has access to trade secrets per ORS 

646.461

, or access to other sensitive, confidential, professional, proprietary business information, or is employed as on-air talent in the broadcasting industry.
Post-termination. A signed, written copy of the NCA terms must be provided within thirty (30) days of the end of the employee's employment.
Gross salary. The employee's gross salary at the time of termination must be at least the amount stated in 653.295(1)(e) and adjusted every calendar year for inflation under the Consumer Price Index for All Urban Consumers, West Region (this does not apply to employees considered "on-air" talent).
Restraint on trade. Three (3) requirements must be upheld for any restrictions on an employee's right to do business to be enforceable:[2]
"1. It must be partial or restricted in its operation in respect either to time or place;
2. It must be on some good consideration; and
3. It must be reasonable, that is, it should afford only a fair protection to the interests of the party in whose favor it is made, and must not be so large in its operation as to interfere with the interests of the public."
Employees working as on-air talent in the broadcasting industry may be subject to non-competes if specific requirements are met:
If the employer spent an amount of at least 10% of the employee's salary to promote, train, or otherwise develop the employee.
The employer provides the employee 50% of their gross base salary at the time of termination or 50% of $100,533 (adjusted for inflation annually) for the time the employee was unable to work.
When it's

NOT

Enforceable
Lawyers.

A lawyer cannot enter into any agreement that prevents them from practicing law following the termination of a business relationship, with the exception of an agreement regarding retirement benefits.

 A lawyer must also not sign or offer an agreement that restricts their ability to practice law as a part of the settlement of a controversy with a client.[3]
Signed after employment. Agreements signed after the employment period will be void unless the employee is offered "bona fide advancement," which has been defined as a "genuine promotion in rank after initial employment. [4]
Prohibit vocation. Restrictions that prevent an individual from working in their vocation entirely are considered unreasonable.[5]
Maximum Time Period
Twelve (12) months. Any contract entered into following January 1st, 2022, is only enforceable if the duration of effectiveness does not exceed twelve (12) months following the termination of the recipient's employment.[1]An agreement executed before January 1st, 2022, may restrict the employee for a term of up to eighteen (18) months.
The maximum time limitations do not apply to bonus restriction agreements (as defined in ORS § 653.295(8)(a)) or contracts restricting the former employee from doing business with their former employer's customers or soliciting their employees.[1]
Geographical Area
Though not specified in the state statute, Oregon courts have been known to enforce geographical restrictions based on the nature of the business, where the employer conducts his business, and where the employee worked.
In one case, the Oregon Supreme Court ruled in favor of a non-compete that restricted an employee from working within the state of Oregon.[6] Others have been more broad still, allowing an employer to prevent a former employee from working in several states and Western Canada, their previous jurisdiction.[7]
In contrast, an agreement that restricted an employee from working in any of the employer's 65 US locations was deemed too broad and unreasonable because it prevented the employee from working in the industry altogether.[5]
Consideration
For a non-compete to be deemed enforceable, it must be presented with consideration. Consideration can come in the form of an offer of employment or a bona fide advancement.[1] A change in pay alone will not be sufficient; there must be growth that may take the form of more job responsibilities, or a transition to a higher job level with increased pay or benefits. [8]
Sources
---
Related Forms (2)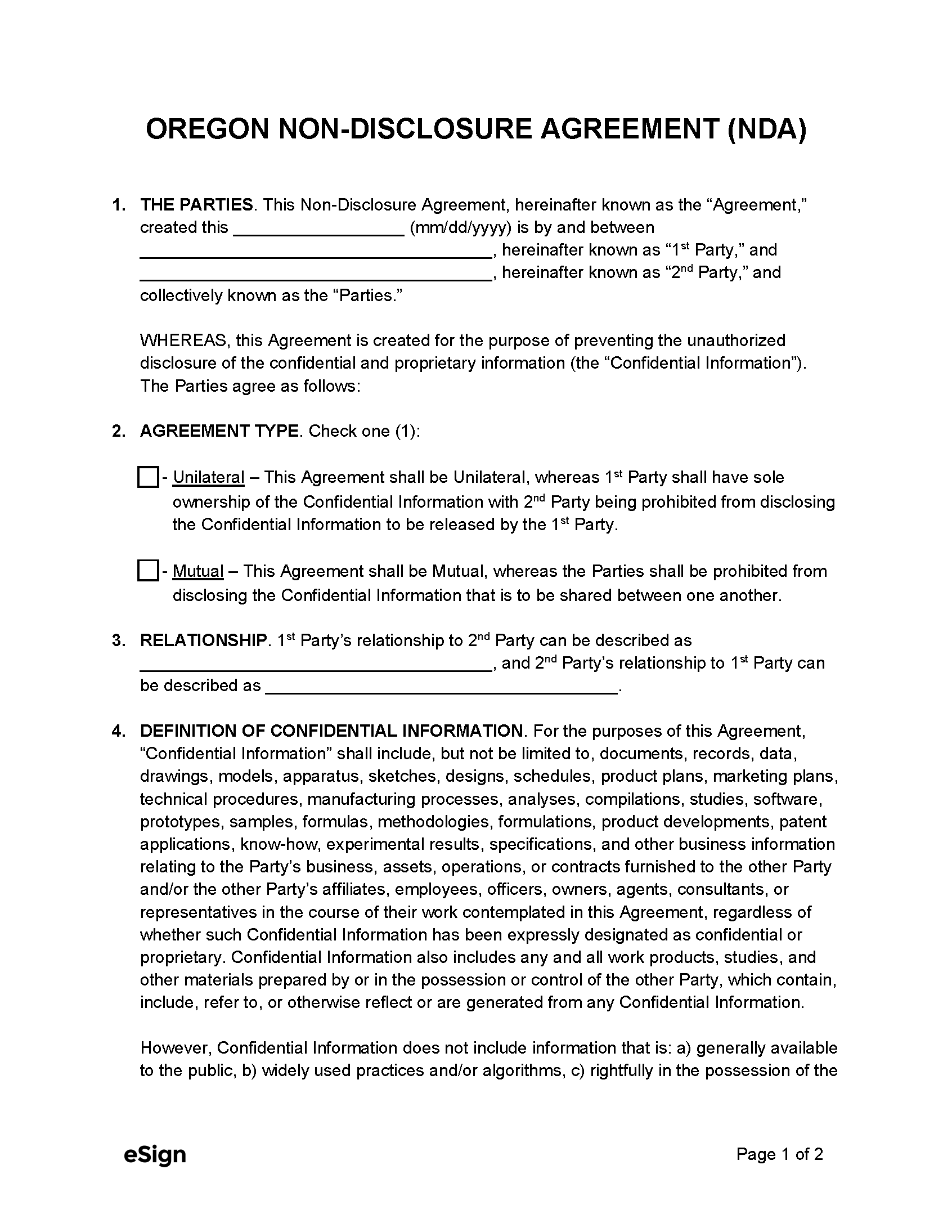 Oregon Non-Disclosure Agreement – Employers may use this form before sharing confidential information with employees or partners.
Download: PDF, Word (.docx), OpenDocument
---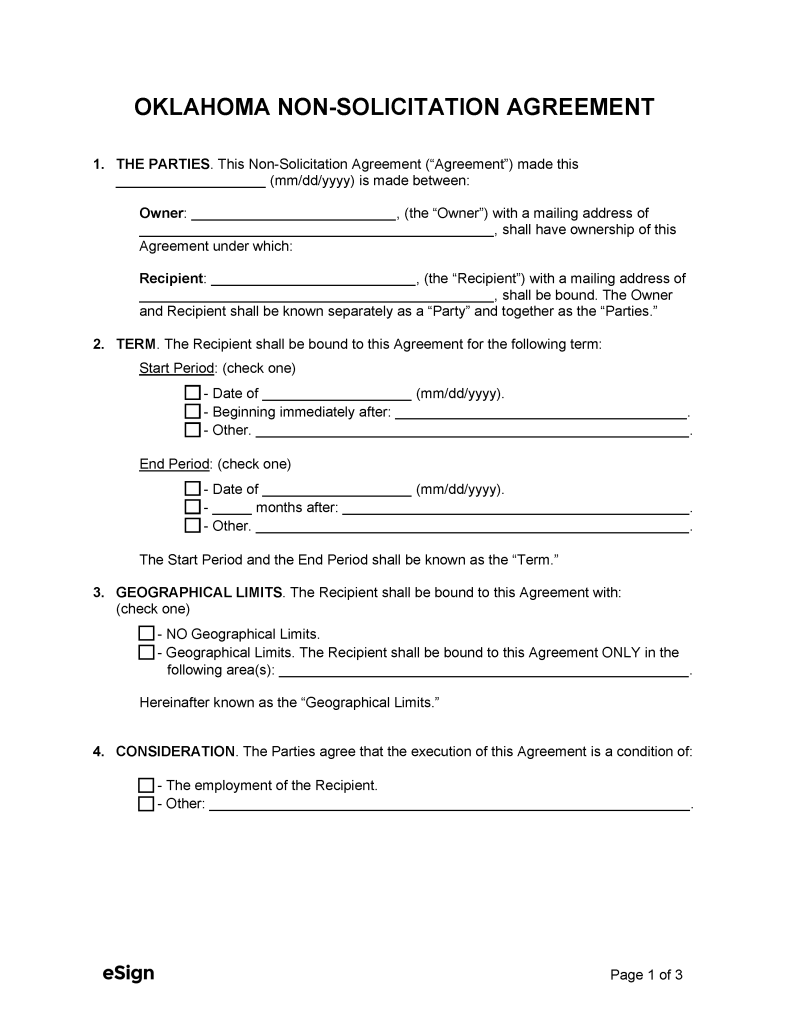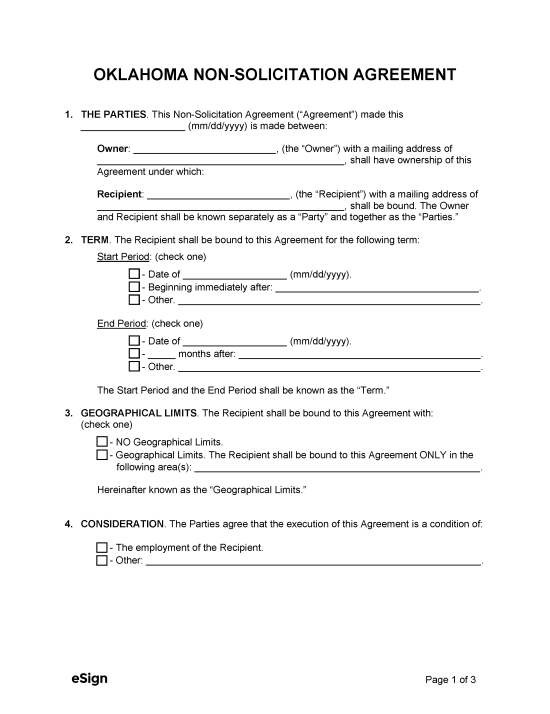 Oregon Non-Solicitation Agreement – Prohibits employees from soliciting other employees or clients and customers when they leave their job.
Download: PDF, Word (.docx), OpenDocument