The Iowa standard residential lease agreement is used by landlords and property managers to establish terms by which a tenant will be authorized to occupy a residential space. Residential lease agreements define the tenant's rights and responsibilities during the contract term including the payment of monthly rent and utility expenses, the duration of the tenancy, and the number of pets allowed on the premises. Any security deposits or prepaid rent installments should be collected prior to the start of the term.
Rental Laws – Title 14, Ch. 562A (Uniform Residential Landlord and Tenant Law)
Handbook (Guide) – Landlord-Tenant Law
Security Deposits
Maximum (§ 562A.12(1)) – Two (2) Months' Rent
Returning (§ 562A.12(3)(a)) – Thirty (30) Days
---
When is Rent Due?
The tenant is required to pay rent to the landlord without demand or notice on the date specified in the rental agreement (§ 562A.9(3)).
---
Realtor Version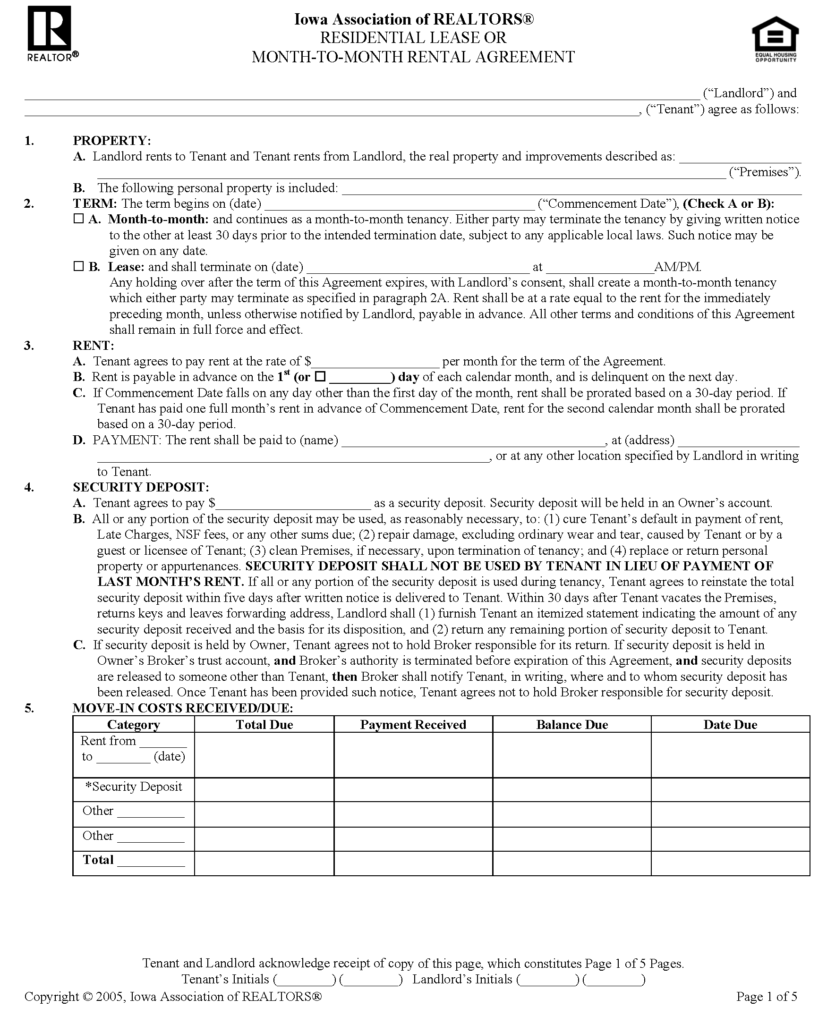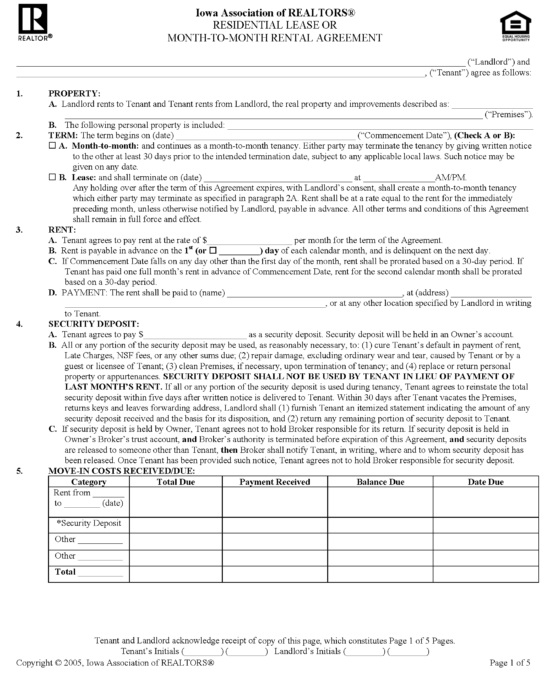 Residential Lease or Month-to-Month Rental Agreement – Brokers licensed with the Iowa Association of REALTORS® may use this lease to establish a fixed-term or month-to-month rental agreement.
Download: PDF
---
Disclosures (4)
If the property is listed in the CERCLIS database, the landlord must disclose this fact to the tenant in their lease agreement.
Any person authorized to act in the place of the landlord must be listed in the contract in addition to the address where notices are received.
3) Lead-Based Paint Disclosure
If a residence was constructed prior to the year 1978, the landlord must disclose the possible presence of lead-based paint to all their tenants before occupation.
If there are shared utility charges, the landlord must disclose them to the tenant in writing, including the rate at which the charges and services are calculated and billed.