---
Updated on September 25th, 2021

A Montana standard residential lease agreement is a rental contract negotiated by a landlord and a tenant with the intention of entering into a property rental arrangement. A standard residential lease contains terms and conditions that define the relationship between the landlord and tenant as well as the rights, responsibilities, obligations, and duties of both parties.

Some of the terms in a residential lease include the amount of rent to be paid by the tenant, the payment due date, the length of the lease, the termination options for either party, which party is responsible for utilities, and whether or not subleasing will be allowed by the tenant. If the landlord demands a security deposit, pet deposit, or vehicle parking fees, these will be discussed by the parties and written into the agreement. A lease agreement becomes legally binding once it has been signed by the landlord and tenant.

Rental Laws – Title 70: Chapter 24 and Chapter 25

Handbook (Guide) – Montana Tenants' Rights and Duties Handbook
Security Deposits
Maximum – Not mentioned in state statutes.
Returning (§ 70-25-202) – Ten (10) days (thirty (30) days if landlord deducted for damages).
---
When is Rent Due?
Rent is due at the beginning of a term of a month or less, or equal monthly installments at the beginning of each month (§ 70-24-201(2)(c)).
---
Realtor Version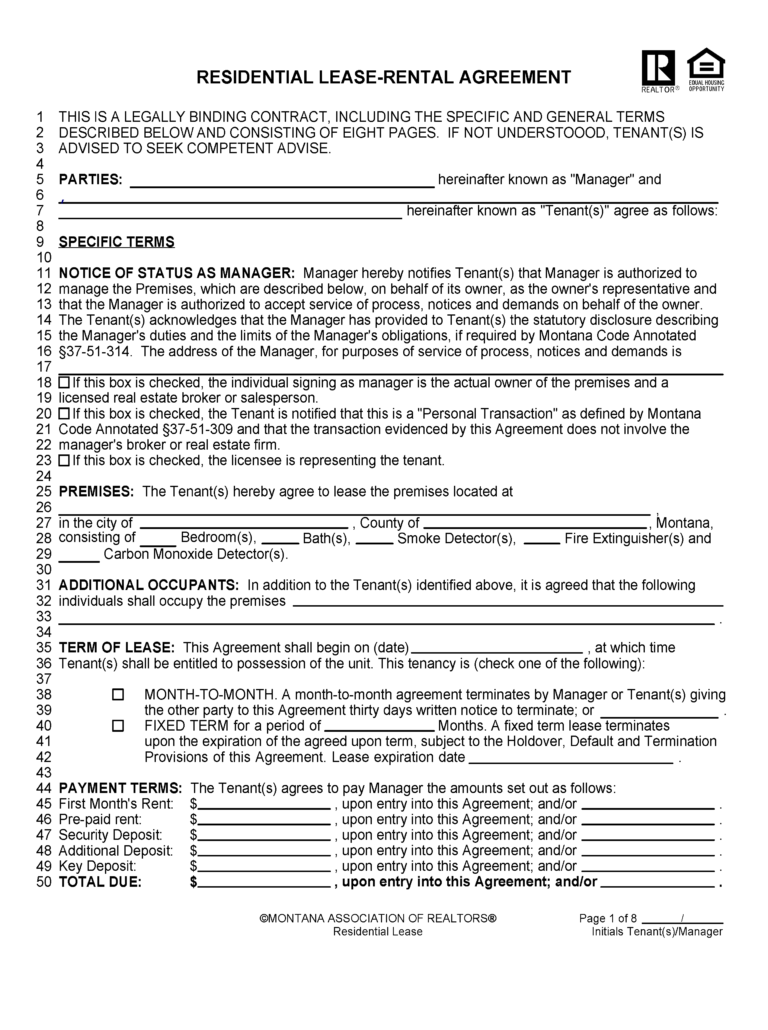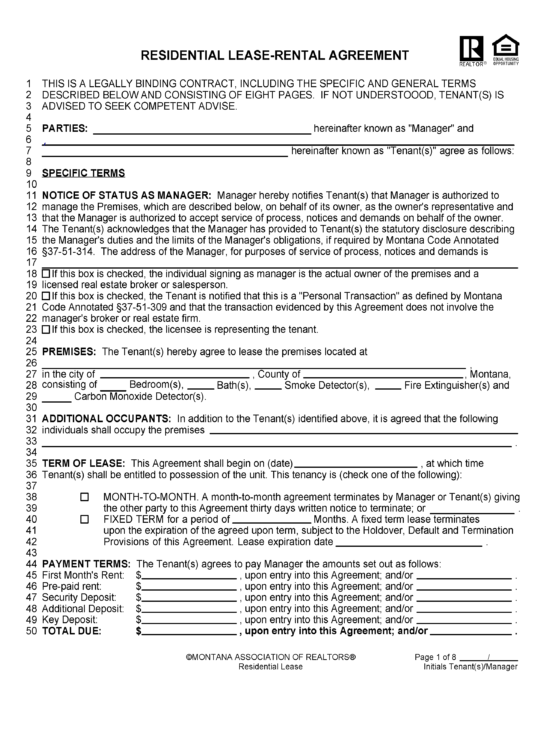 Montana Association of Realtors Residential Lease Agreement – A residential lease agreement used by realtors and agents, but can be downloaded and used by any landlord or property manager to enter into a residential tenancy with a tenant.
Download: PDF
---
Disclosures (5)
1) Lead-Based Paint Disclosure
This disclosure form must be provided to tenants prior to entering into a lease if the property was built before 1978.
All prospective tenants must receive a disclosure notice from landlords if the property they intend to rent has been used for the production of methamphetamine and has not been decontaminated in accordance with state law. The landlord may provide notice that documentation has been submitted to Montana Department of Environmental Quality stating that the property has been decontaminated in accordance with state law or that decontamination isn't required because it already meets state standards.
This disclosure form notifies tenants that it is their responsibility to check the property for mold. The landlord may use this form to state whether or not they have any knowledge of mold on the premises, but they are not liable for the presence of mold if they provide this form.
The names and addresses of the owner and anyone authorized to act on their behalf or authorized to manage the premises must be provided to the tenant at the beginning of the tenancy.
A written statement noting the present condition of the rental property must be delivered to tenants at the beginning of the tenancy if the tenant has paid a security deposit.