A Nevada standard residential lease agreement contains all the necessary provisions to maintain a fair and mutually beneficial rental arrangement between a landlord and a tenant to whom they are renting residential property. While every rental arrangement is unique, most lease agreements will be comprised of similar terms and conditions that will govern the relationship between the parties. Some of these standard terms include the length of the lease, rent amount, payment date, security deposits, termination options, rights and obligations of both parties, and utilities and services.
Typically, the landlord will walk through the rental unit with the tenant to inspect the condition of the premises and discuss security deposits and other fees, rent amount, and other information that may factor into the tenant's decision to rent the property. Once both parties are content with the agreement, they can sign the document and enter into a legally binding rental arrangement.
Rental Laws – Chapter 118A
Handbook (Guide) – Nevada Landlord-Tenant Law
Security Deposits
Maximum (NRS 118A.242(1)) – Three (3) Months' Rent
Returning (NRS 118A.242(4)) – Thirty (30) Days
---
When is Rent Due?
Nevada revised statutes do not mention rent due dates, grace periods, or maximum late fees; rent is due on the date agreed upon in the lease agreement.
---
Realtor Version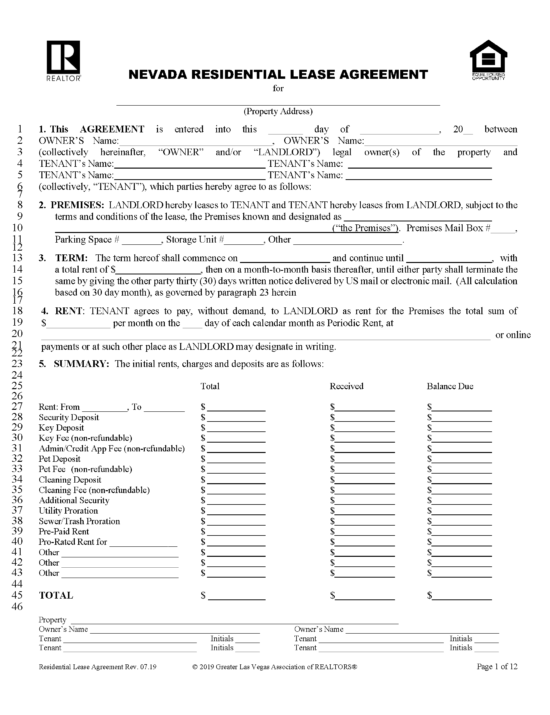 Nevada Association of Realtors Residential Lease Agreement – A lease agreement designed by Nevada's Association of Realtors to cover most types of residential property rentals.
Download: PDF
---
Disclosures (3)
If there is an impending foreclosure on the property, the landlord must disclose this in writing to the tenant.
2) Inventory and Condition of Premises
The landlord must provide the tenant with a signed form that details the condition of the property as well as its inventory.
3) Lead-Based Paint Disclosure
Before entering into a lease agreement, landlords must disclose to tenants whether or not lead-based paint exposure is a possibility on the premises. Only applicable if the property was constructed prior to 1978.