---
Updated on December 16th, 2022

A Massachusetts non-compete agreement is a written arrangement preventing an employee from going into direct or indirect competition with their employer post-termination. A typical contract will prohibit the employee from starting a new venture or working for a competitor in a similar industry as the employer within certain areas for a specific amount of time.

Besides creating durational and geographical limitations, the form allows the employer to specifically define which activities and behaviors are prohibited, including the non-solicitation of employees or customers. In exchange for these assurances, the employer must provide ample consideration, which may be an offer of employment or, if the employee already has the job, a material change in their employment.
Enforceability in Massachusetts
While Massachusetts courts of law generally disapprove of non-compete agreements, the state has adopted the Massachusetts Noncompetition Agreement Act (MNAA) that asserts NCAs are enforceable as long as they are reasonable.
When it

IS

Enforceable
Base requirements. A non-compete must meet the following prerequisites:[1]al

Be in writing and signed by both employer and employee.
State that the employee may consult with an attorney before signing.
Be only broad enough to protect the employer's business interests (i.e., trade secrets, confidential information, or goodwill), and a non-disclosure or non-solicitation agreement would be insufficient in doing so.
Be limited to the specific services the employee provided over the previous two (2) years of employment.
Adhere to the specific time and geographical restrictions and consideration conditions outlined below.
Have a garden leave clause (or other form of mutually agreed upon consideration).
Not conflict with public policy.

Before employment. When hiring an employee, the non-compete must be presented when the offer is made or at least ten (10) days before employment begins.[1]
During employment. If the employee is already working for the employer, an NCA must be presented at least ten (10) days before the effective date of the agreement and it must be in conjunction with fair consideration aside from continued employment.[1]
Garden Leave Clause
Massachusetts is the first state to require NCAs to have a garden leave clause. This provision states that the employee will receive at least 50% of their highest base annual salary of the past two (2) years during the non-compete period. If the employee breaches the restrictions put in place by the agreement, the employer may discontinue the payments.[2]
When it's

NOT

Enforceable
General
In accordance with state law, the following workers may not enter into a non-compete agreement:[3]
Nonexempt employees. NCAs cannot be used against employees who are nonexempt according to the Fair Labor Standards Act.
Graduate/undergraduate students. A student enrolled in a part- or full-time undergraduate or graduate program who was working as an intern or short-term employee cannot be forced to sign a non-compete.
Dismissals. If an employee is laid off or terminated without cause, a signed non-compete covenant will be unenforceable.
Minors. Non-competes are not enforceable against employees eighteen (18) years old or younger.
Industry-Specific
It is not permitted to ask anyone in the following industries to sign an NCA:
Maximum Time Period
When drafting a non-compete agreement, employers are prohibited from setting a non-compete term that exceeds twelve (12) months. However, if the employee misappropriated company property or breached their fiduciary duty, the employer is permitted to increase the non-compete period to a total of two (2) years from the termination date.[9]
Geographical Area
In accordance with state law, non-competes should only be enforced if the geographical scope is not too broad and does not go beyond the areas where the employee provided services.[10] However, courts have deemed national or global geographical restrictions to be reasonable if the employer built a broad market influence.[11]
Consideration
If an individual is offered a job and presented with a non-compete at the same time, the offer of employment is deemed to be sufficient consideration in the eyes of Massachusetts courts.[12] When a non-compete agreement is provided to an employee who has already commenced their job, consideration aside from continuation of work must be furnished by the employer.[13] State statutes do not define what constitutes appropriate consideration in these situations, in prior cases, a change in title, pay structure, level of authority, or focus of work were acceptable options.[14]
---
Sources
---
Related Forms (2)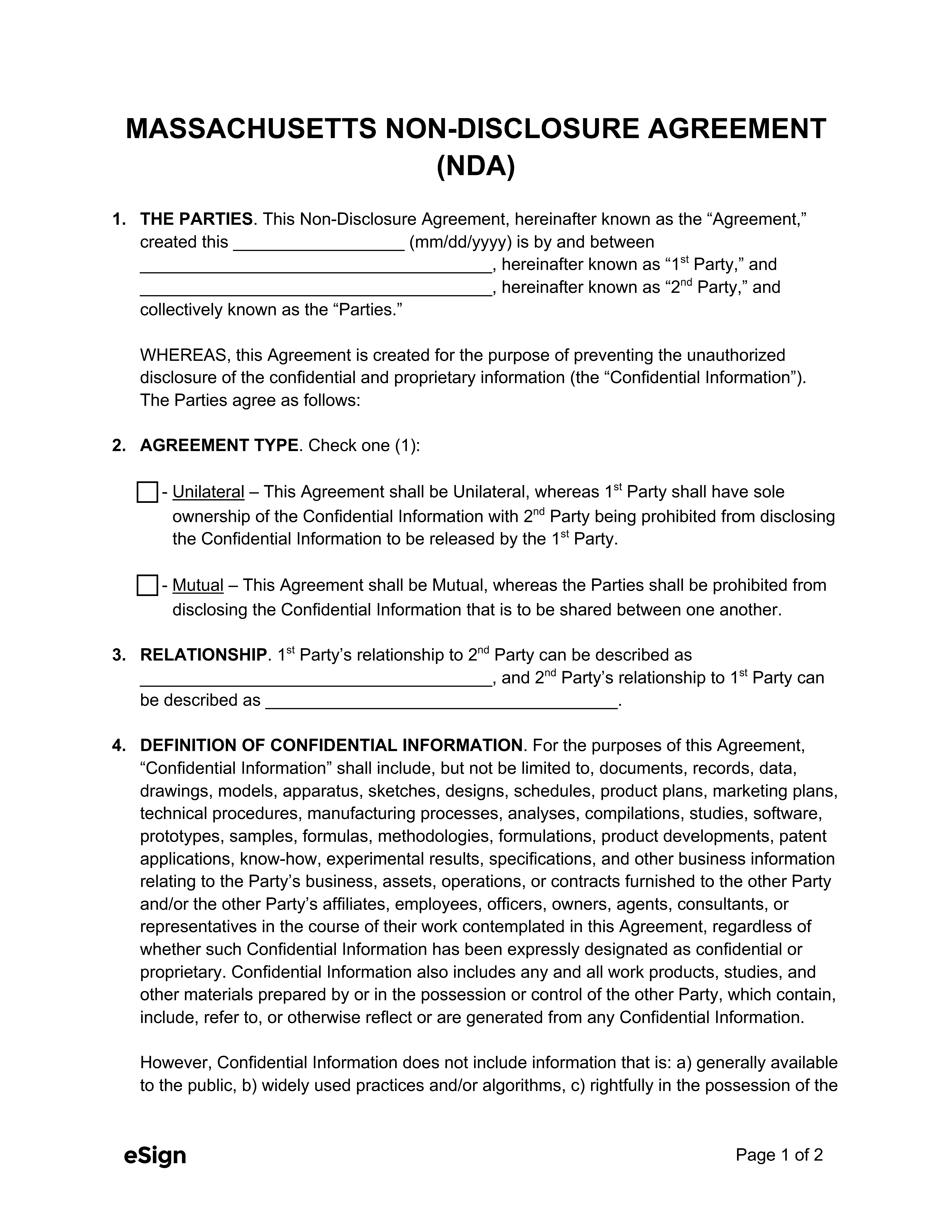 Massachusetts Non-Disclosure Agreement – This document is presented to employees for the purpose of maintaining the confidentiality of trade secrets.
Download: PDF, Word (.docx), OpenDocument
---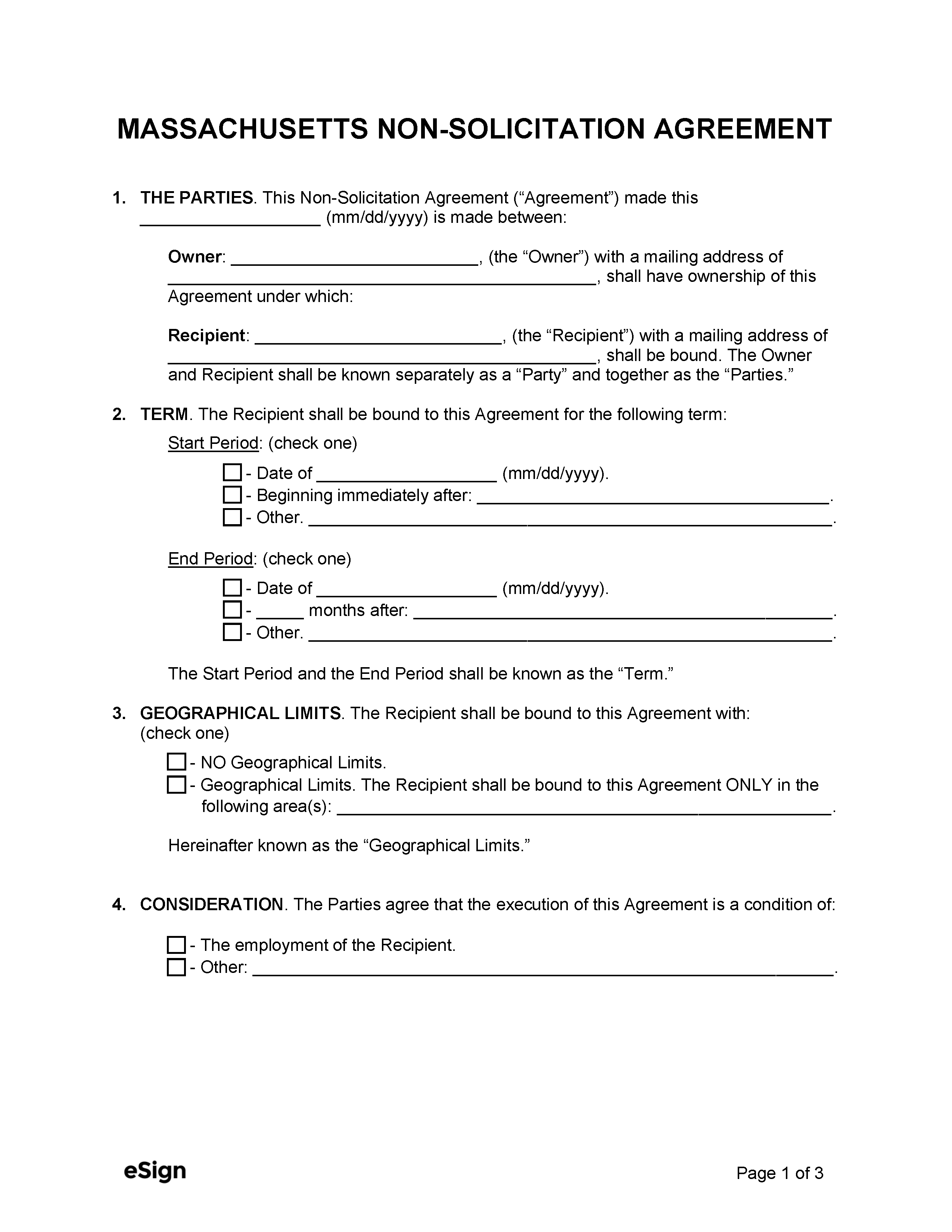 Massachusetts Non-Solicitation Agreement – A legally binding document that prohibits employees from engaging with customers and fellow employees for their own benefit.
Download: PDF, Word (.docx), OpenDocument