---
Updated on June 23rd, 2023

A Florida lease agreement is a legal document used to establish a residential or commercial rental arrangement between a landlord and a tenant. The landlord and tenant will go over all the provisions in the document before signing to ensure both parties understand their rights, duties, and obligations. Once it has been signed, it is legally binding and can only be terminated under certain circumstances.

Rental Application – Used to vet individuals for tenancy so the landlord can find the tenant best suited for renting their property.
Agreements: By Type (6)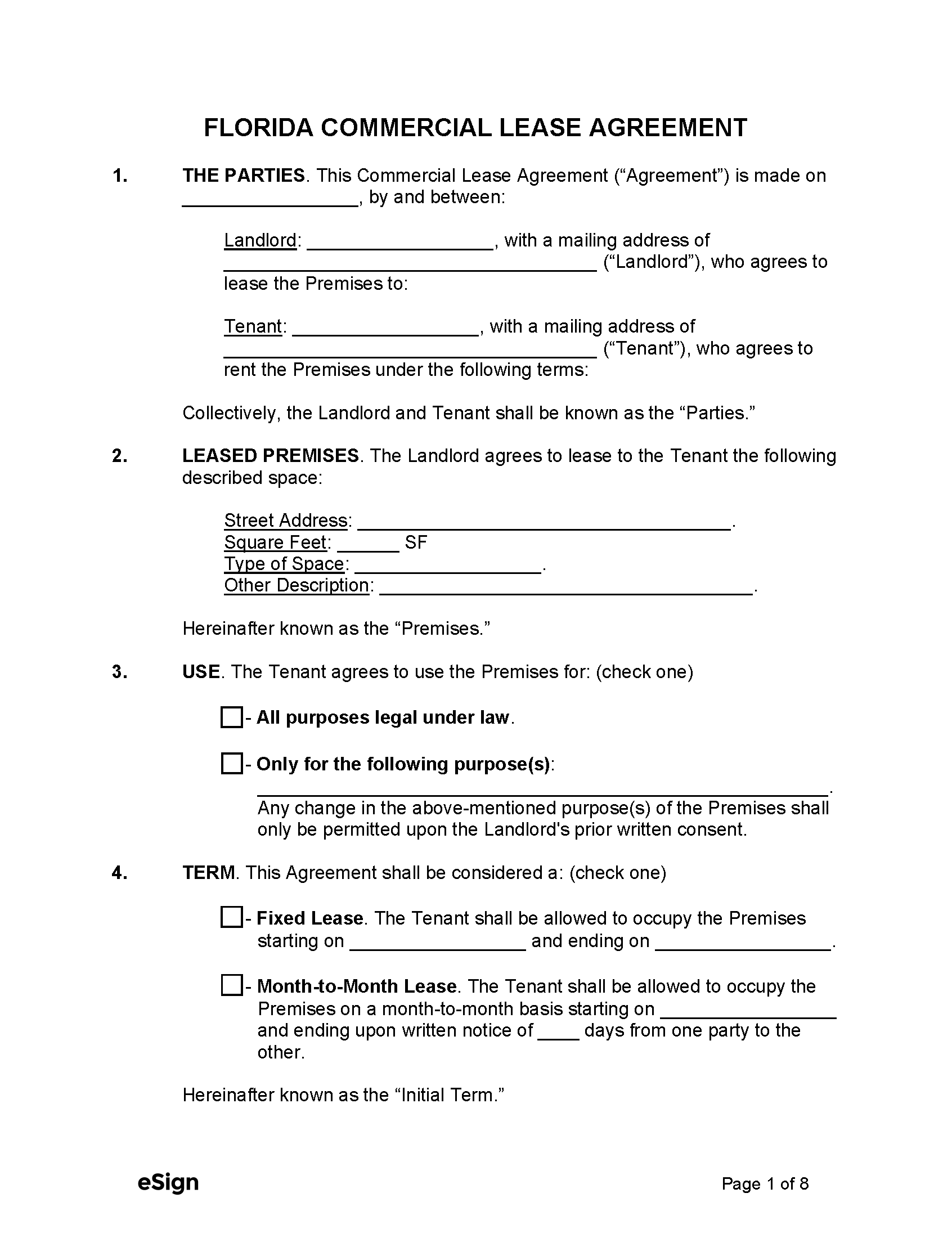 Commercial Lease Agreement – This document allows an owner of a commercial property to rent out real estate for office, retail, or industrial use.
Download: PDF, Word (.docx), OpenDocument
---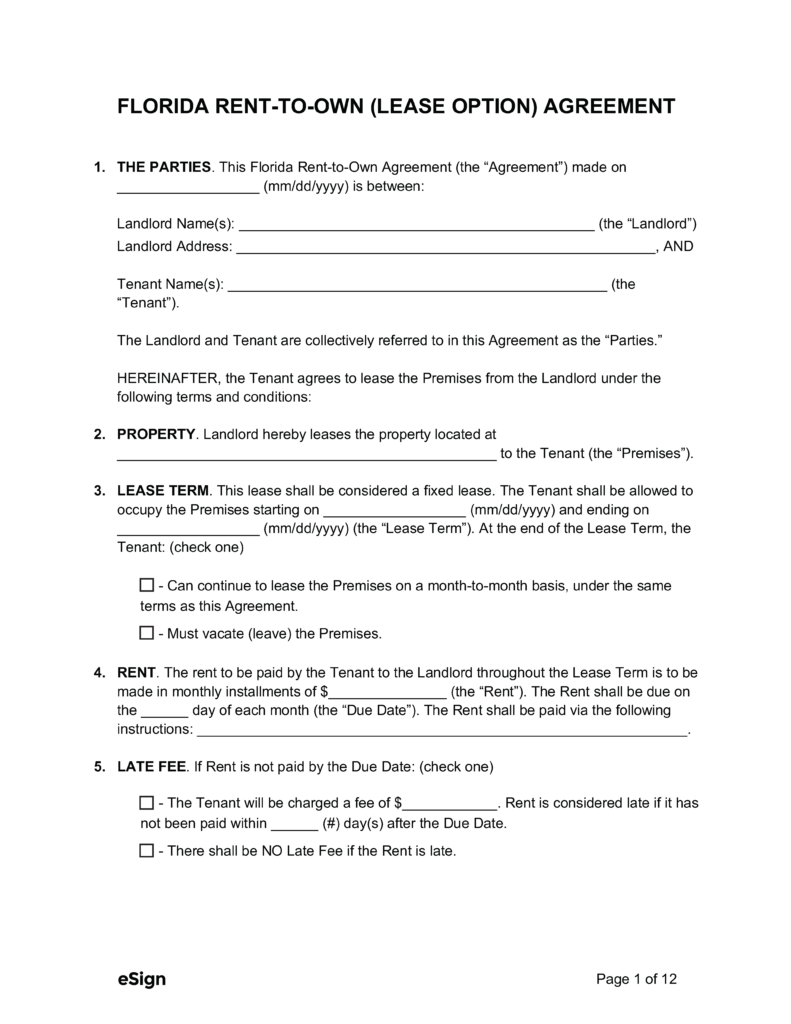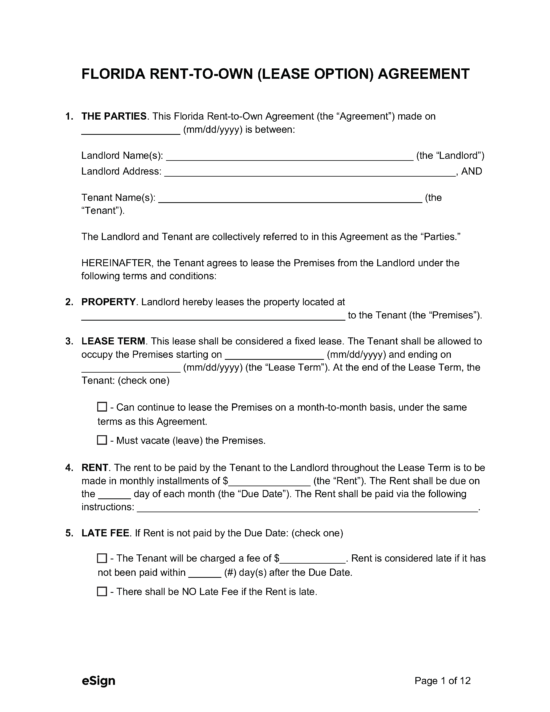 Rent-to-Own Agreement (Lease Option) – A regular lease that includes additional terms and conditions to allow a landlord and tenant to execute a real estate sale transaction after the term of the lease has expired.
Download: PDF
---
Month-to-Month Lease Agreement – This agreement establishes a looser type of residential rental arrangement wherein no fixed end date exists and either party (landlord or tenant) can terminate the agreement at any time with proper notice.
Download: PDF
---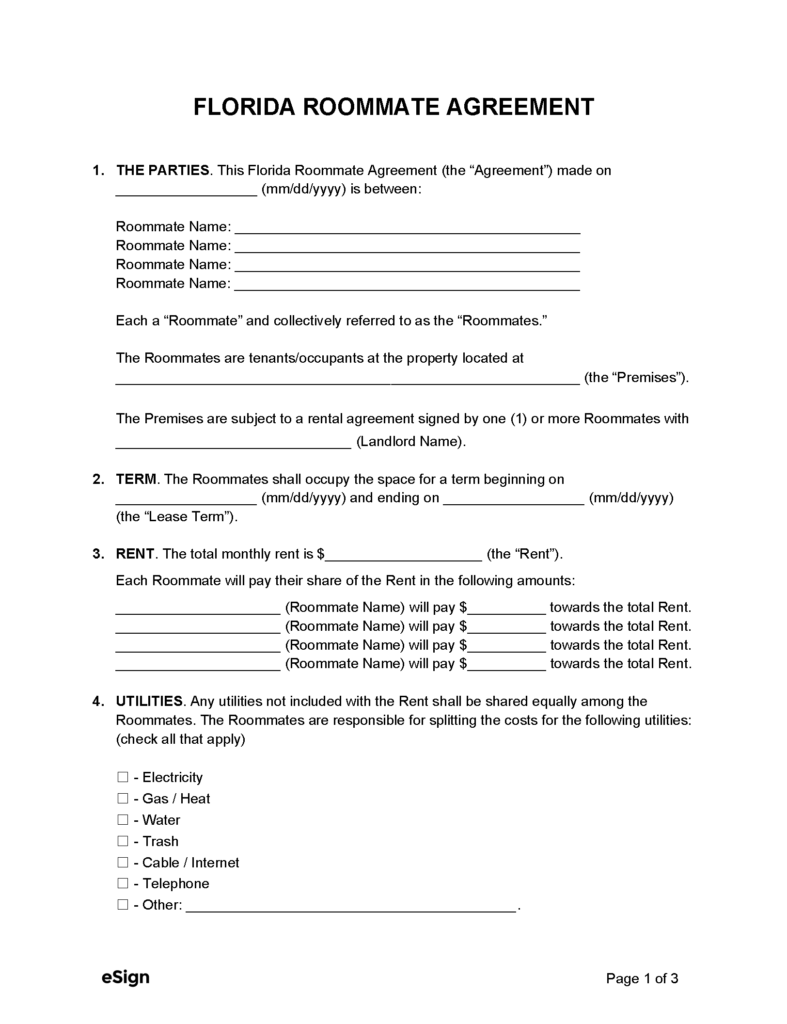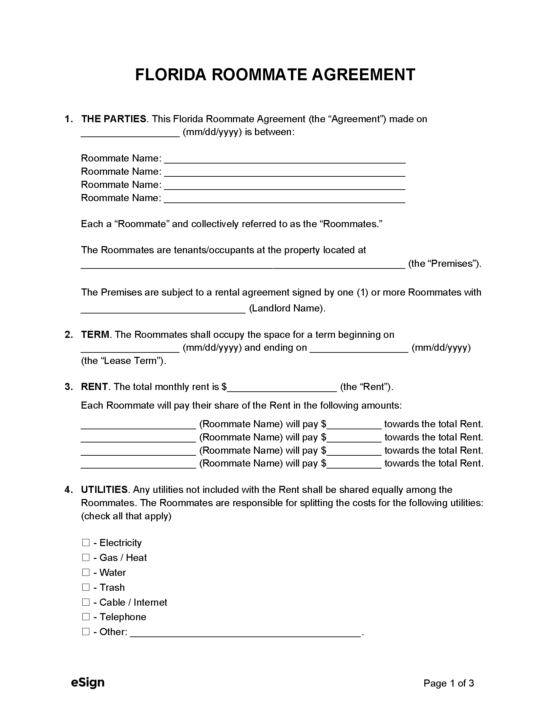 Roommate Agreement – An agreement made between roommates that is separate from the original lease and helps establish an agreeable living arrangement.
Download: PDF, Word (.docx), OpenDocument
---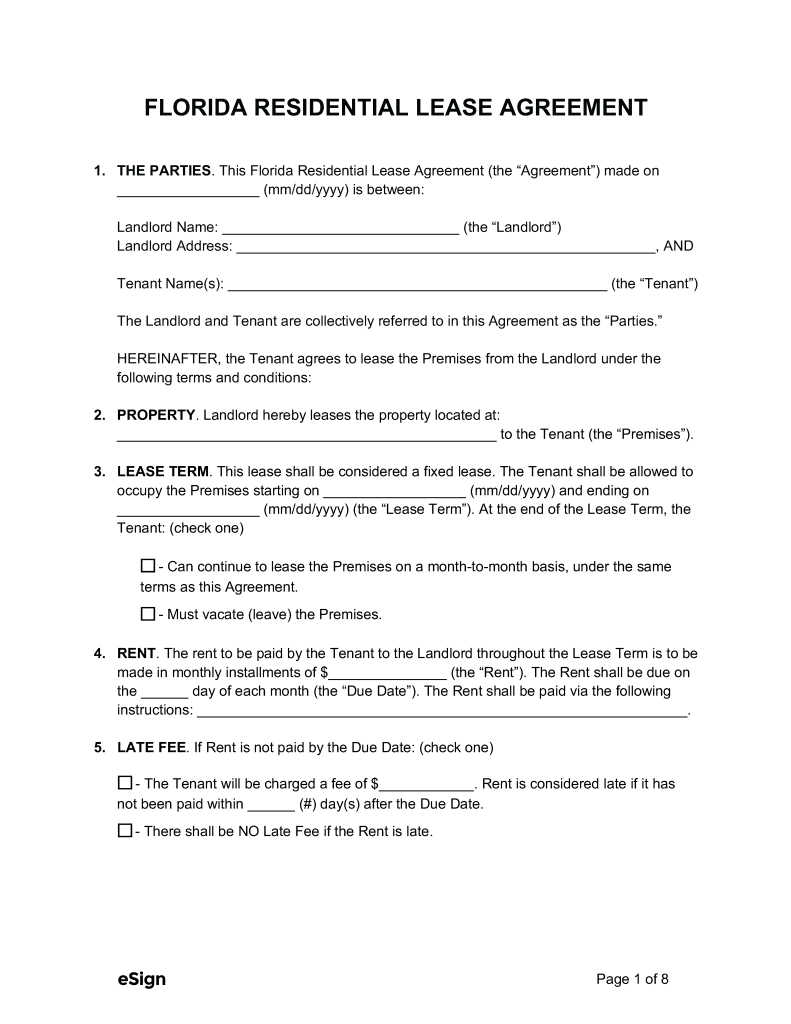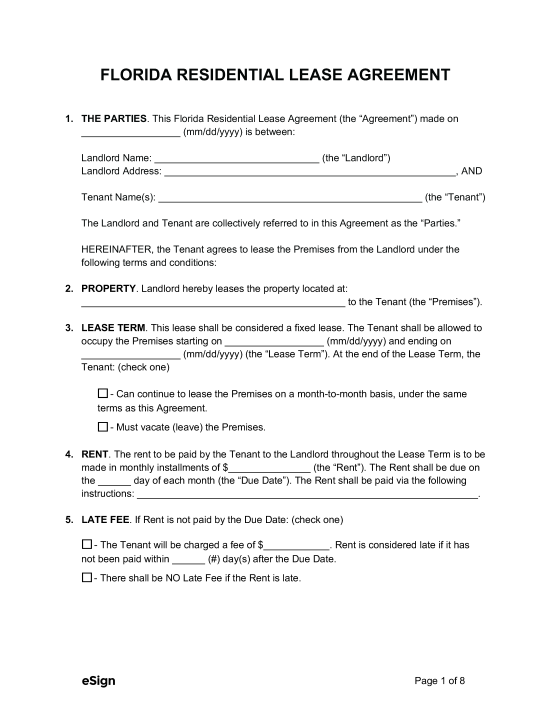 Standard (1-year) Lease Agreement – The most common type of lease agreement; a fixed-term residential lease that enables the landlord to collect rent from a tenant on a monthly basis without renegotiations until twelve (12) months have elapsed.
Download: PDF
---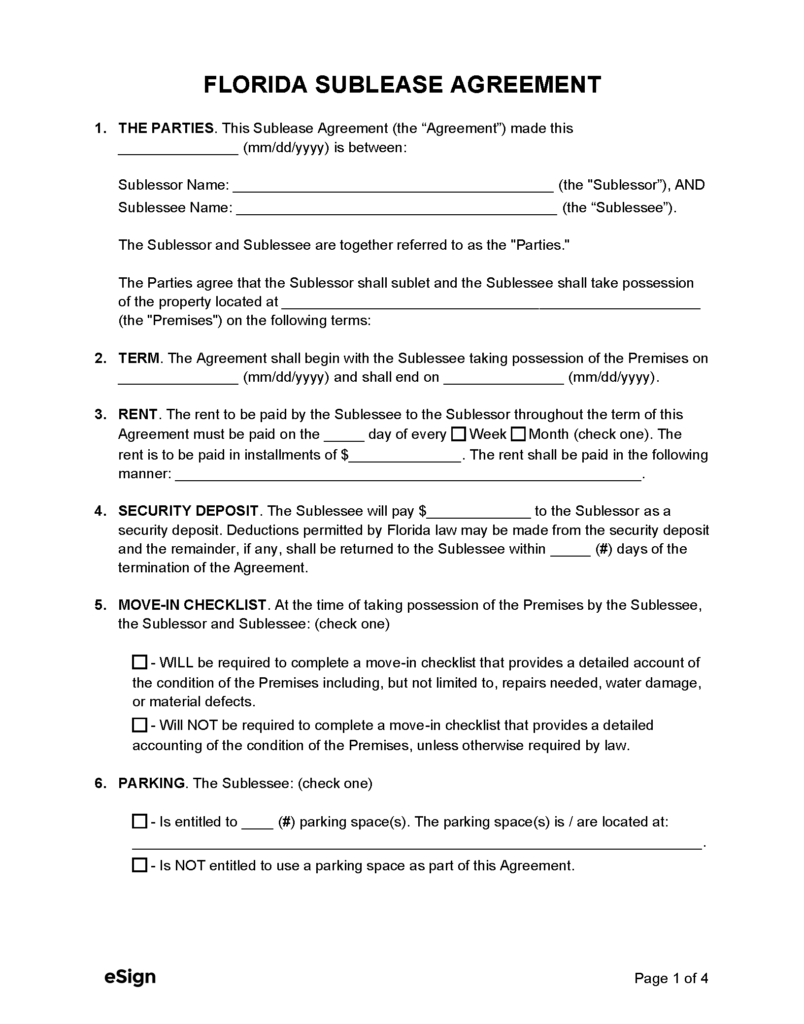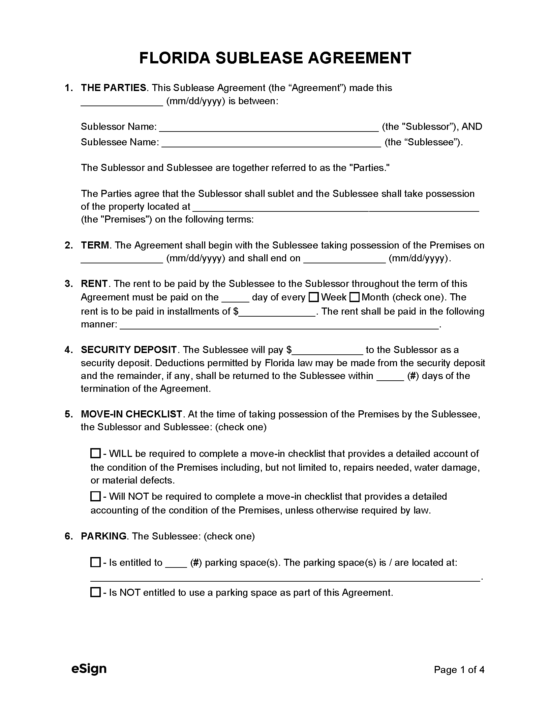 Sublease Agreement – This agreement allows a tenant to rent part of their living space to another individual (subtenant) with authorization from the landlord.
Download: PDF, Word (.docx), OpenDocument
---
Disclosures (4)
The name(s) and address(es) of the person(s) in charge of sending and receiving notices to tenants must be provided to all tenants before the commencement of a lease.
2) Lead-Based Paint Disclosure
If constructed before 1978, the owner of a dwelling must provide this disclosure if they are renting or selling the property.
Before a lease agreement can be executed, landlords must provide all tenants with a radon gas disclosure that contains the language specified in the above statute.
Written notice must be provided to tenants regarding their security deposit. The notice must include all information stated in the 2nd subsection of § 83.49 of the Florida statutes. (Note: this required disclosure only applies to landlords who rent more than five (5) individual residential units.)
Landlord-Tenant Laws
---
Landlord's Access
General Access (§ 83.53(2)) – The landlord can enter a tenant's dwelling as long as "reasonable" notice is provided. "Reasonable" notice is considered to be at least twelve (12) hours.
Emergency Access (§ 83.53(2)) – The landlord may enter a tenant's dwelling at any time for emergency purposes.
---
Rent
Grace Period – No statute.
Maximum Fees ($) – No statute.
Rent Increase Notice – No statute.
---
Security Deposits
Maximum Amount ($) – No statute.
Returning to Tenant (83.49 (3a)) – The landlord is given fifteen (15) days to return a security deposit (plus any interest) back to the tenant.
Interest Required? (83.49 (1a+b)) – Not required but interest may be collected as long as the tenant receives seventy-five percent (75%) of the annualized average interest rate or five percent (5%) simple interest each year.
Separate Bank Account? (83.49 (1a+b)) – Security deposits must be deposited in a Florida bank account and the money cannot "commingle" with other funds.