The New York month-to-month lease agreement is a contract that authorizes a tenant to rent residential property for one (1) month at a time. A month-to-month lease renews automatically at the end of each month and will do so perpetually unless terminated by either the landlord or tenant. To end the lease, the terminating party must provide the other with one (1) month's notice, or thirty (30) days' notice if the unit is located in New York City. Neither the tenant nor the landlord needs to provide a reason for termination. The flexible nature of this arrangement allows landlords to modify lease terms and increase the rent easily.
Notice for Terminating (§ 232-A & § 232-B) – Thirty (30) days in New York City; one (1) month everywhere else.
Tenant Screening – New York Rental Application
---
Disclosures (8)
1) Allergen Hazards Disclosure (NYC Only) (NYC Admin. Code § 27-2017.2) – A disclosure that notifies tenants that the building owner is expected to perform an annual inspection for indoor allergen hazards such as mold, insects, and rodents.
Download: PDF
2) Bedbug Infestation Disclosure (NYC Only) (NYC Admin. Code § 27–2018.1) – Given to tenants of rent-stabilized housing to reveal whether the property has a history of bedbug infestation.
Download: PDF
3) Building Smoking Policy Disclosure (NYC Only) (NYC Admin. Code § 17-505) – If a residential building contains three (3) or more units, this disclosure is required to identify the areas where smoking is permitted.
Download: PDF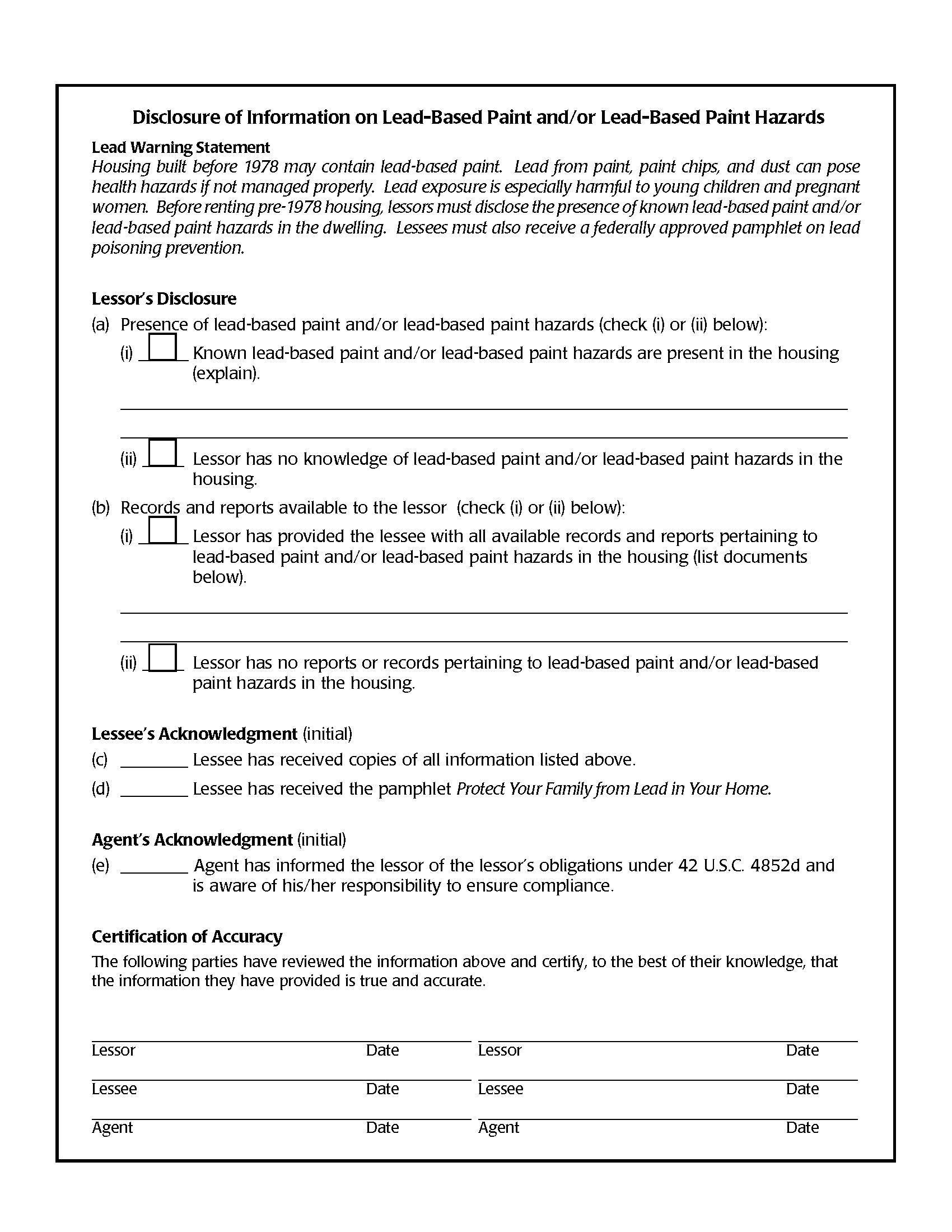 4) Lead-Based Paint Disclosure – Informs tenants whether lead-based paint is present on the premises. This disclosure is required when leasing residential property built before 1978.
Download: PDF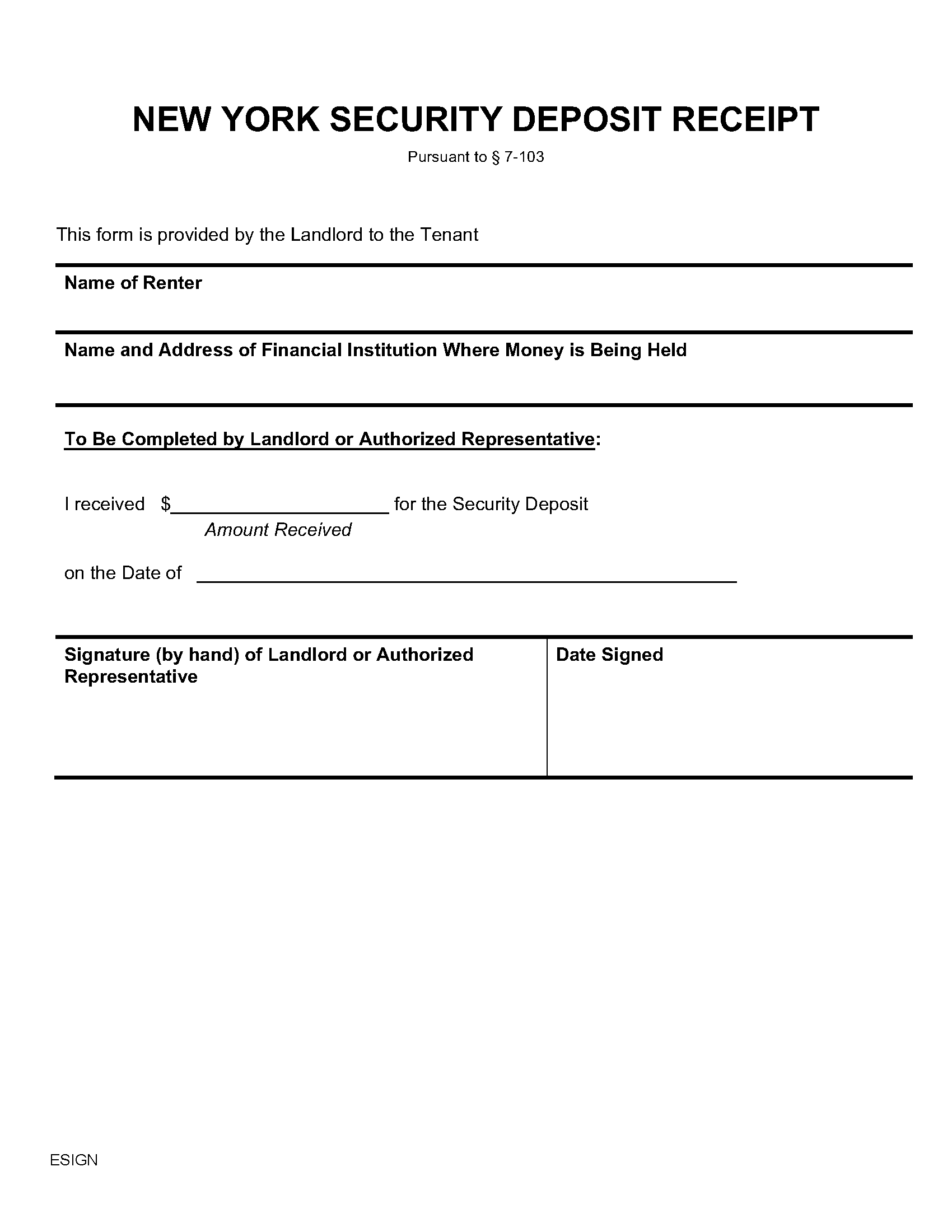 5) Security Deposit Receipt (GOB § 7-103) – If the tenant pays a security deposit, the landlord must notify the tenant of the name and address of the bank where the deposit is kept.
Download: PDF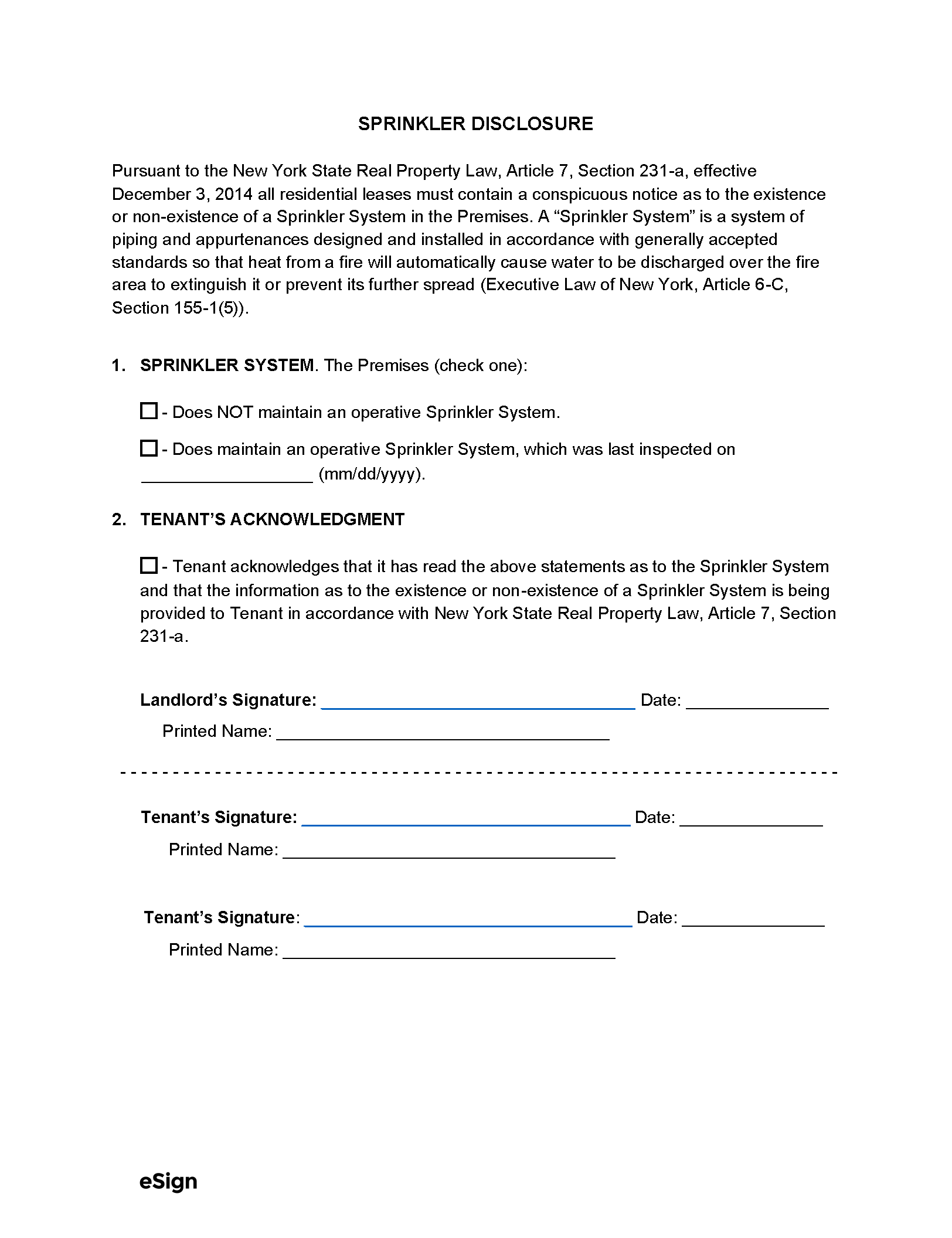 6) Sprinkler System Disclosure (RPP § 231-A) – This notice must be included in all residential agreements to disclose whether the property has an operational sprinkler device.
Download: PDF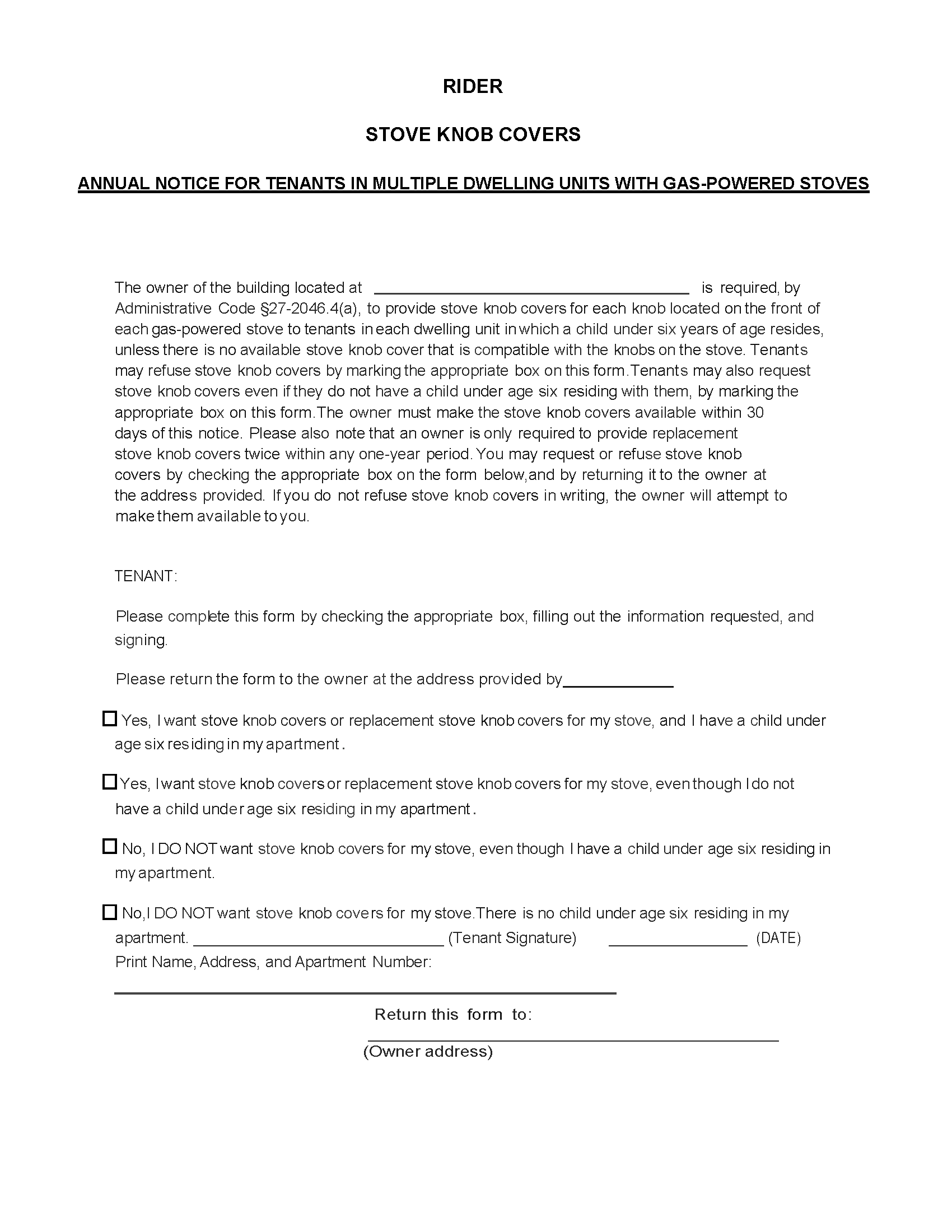 7) Stove Knob Covers Disclosure (NYC Only) (NYC Admin. Code § 27-2046.4(a)) – Notifies tenants that it is the landlord's duty to install stove knob covers on gas-powered stoves in rental units occupied by children under the age of six (6).
Download: PDF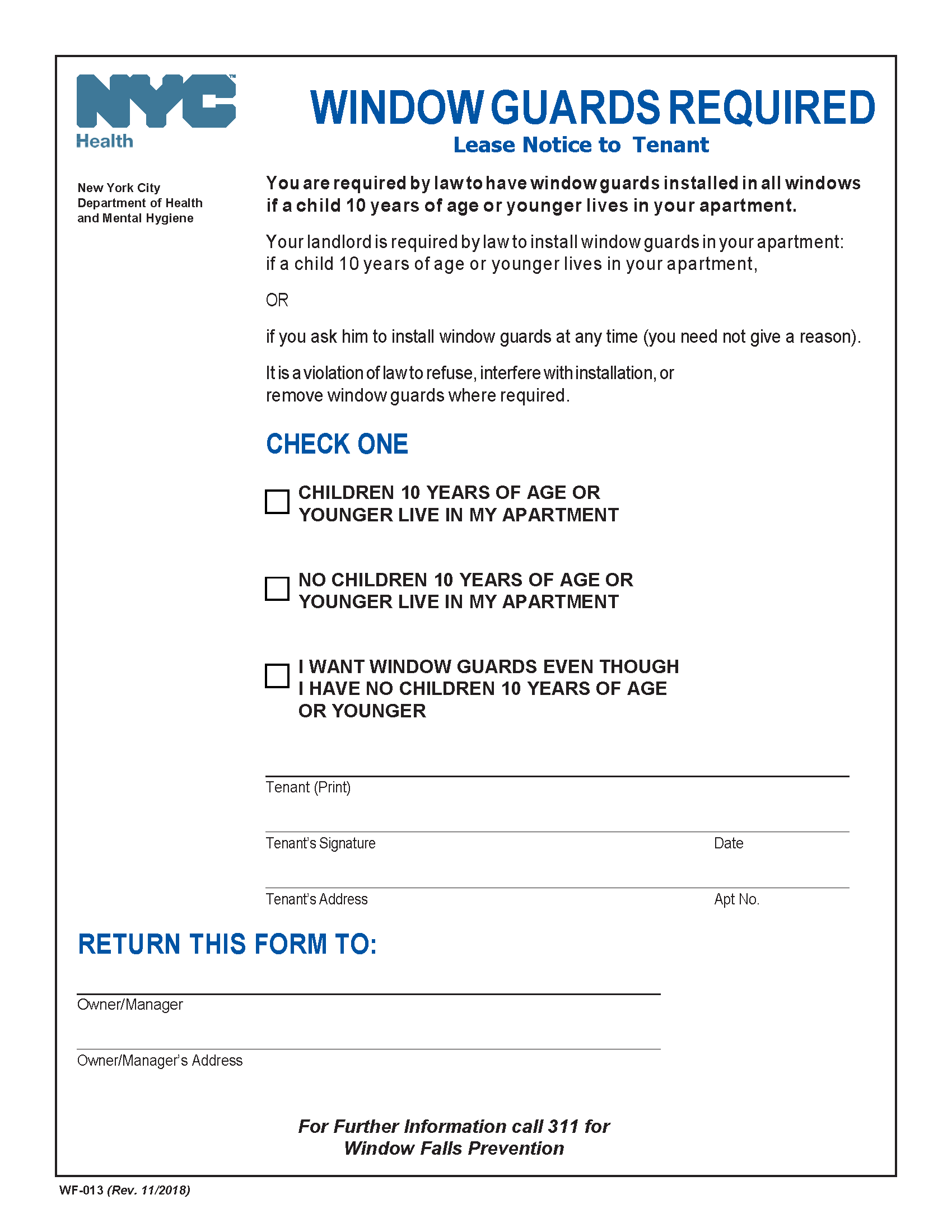 8) Window Guard Disclosure (NYC Only) (NYC Admin. Code § 27–2043.1) – Used to inform tenants that the landlord is required to install window guards if the property is occupied by a child aged ten (10) or younger.
Download: PDF