---
Updated on June 25th, 2023

Arkansas eviction notices are forms used to notify a tenant that they have defaulted on their lease agreement. In Arkansas, a landlord may serve a tenant a notice to quit for non-payment of rent or for non-compliance of a breach of their lease other than non-payment. If the tenant fails to cure the violation, the landlord may commence eviction proceedings. A 30-day notice to terminate a tenancy is provided on this page for landlords or tenants who wish to end a month-to-month lease agreement.
By Type (3)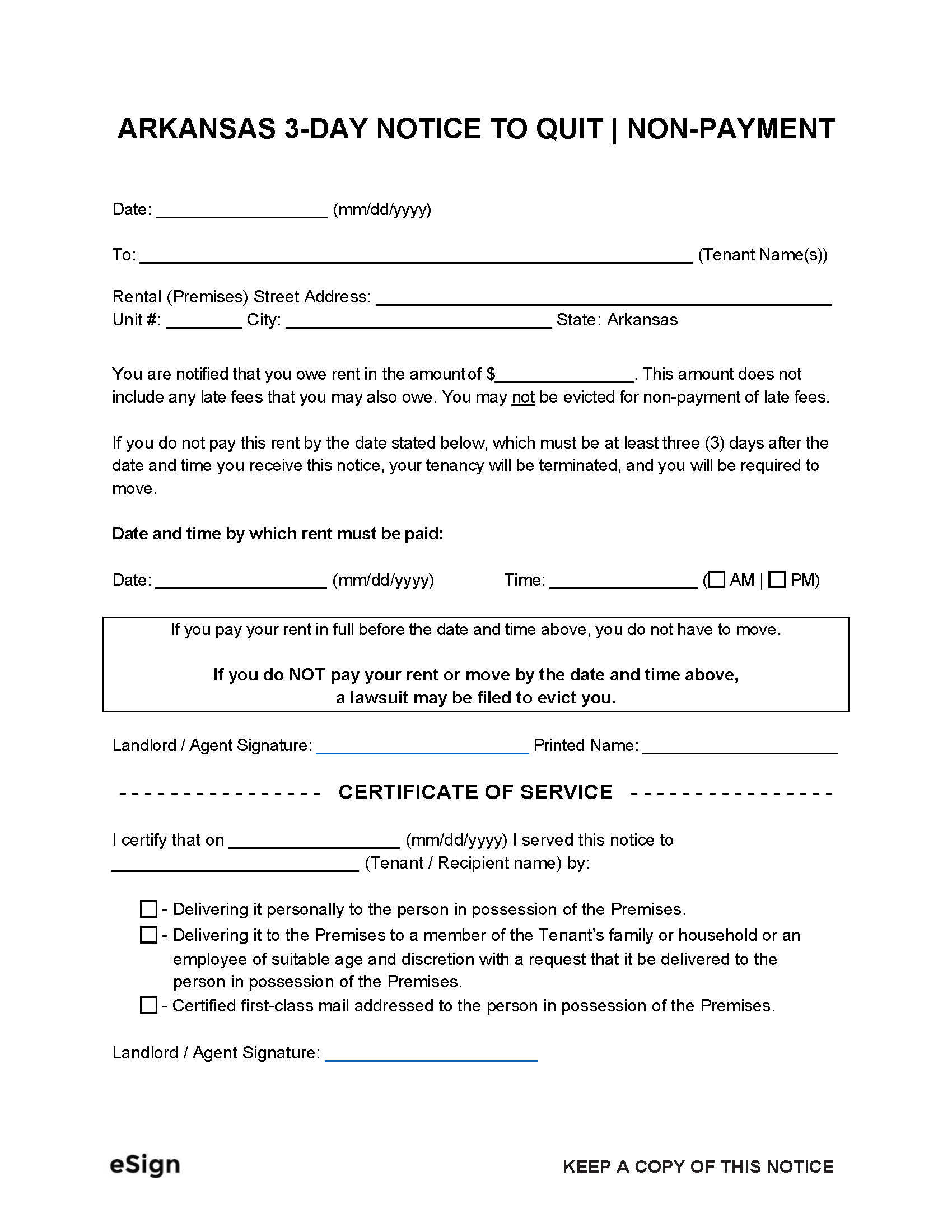 3-Day Notice to Quit | Non-Payment – Used to notify a tenant that they have failed to pay rent on time and must do so or risk eviction.
Download: PDF, Word (.docx), OpenDocument
---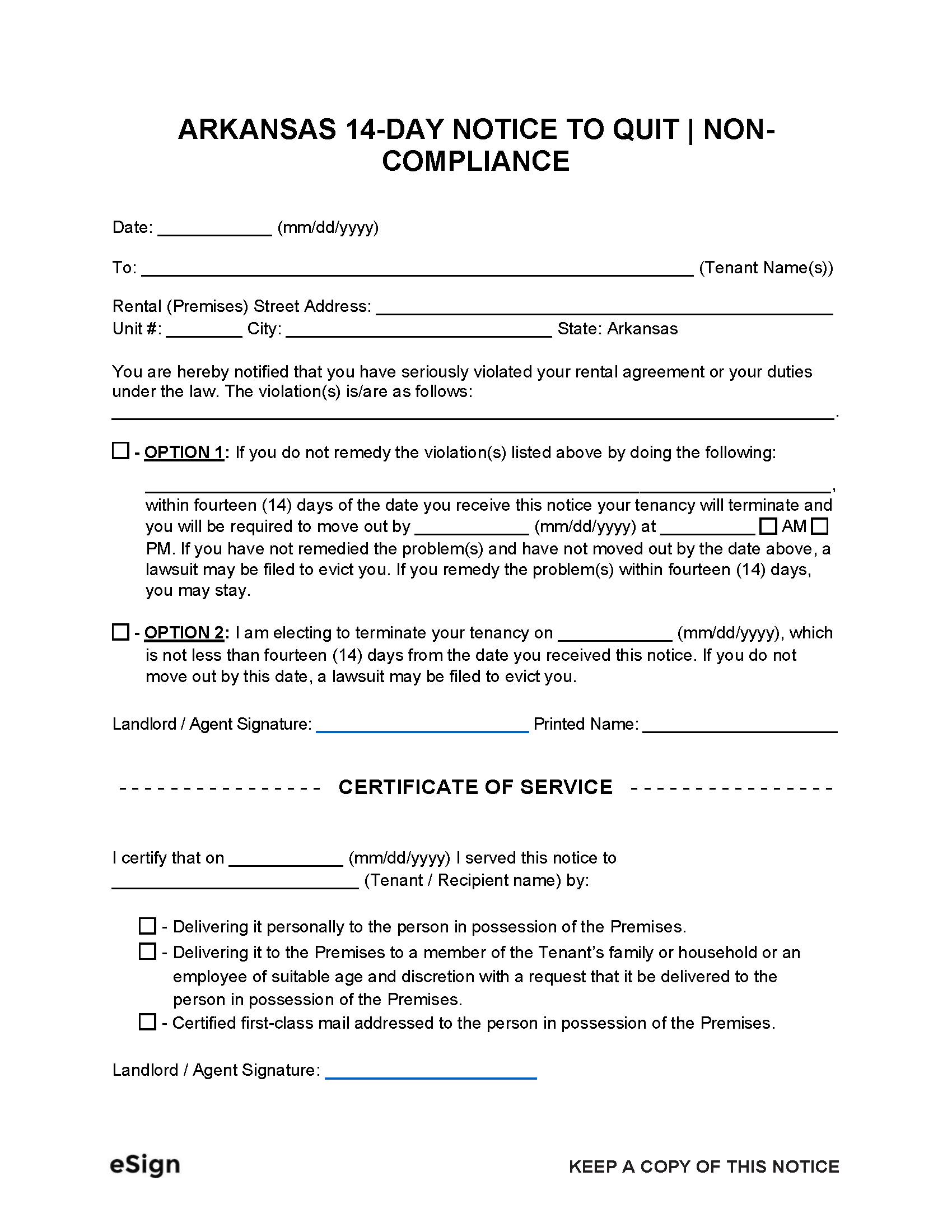 14-Day Notice to Quit | Non-Compliance – Used to notify a tenant of a breach of contract not related to non-payment of rent.
Download: PDF, Word (.docx), OpenDocument
---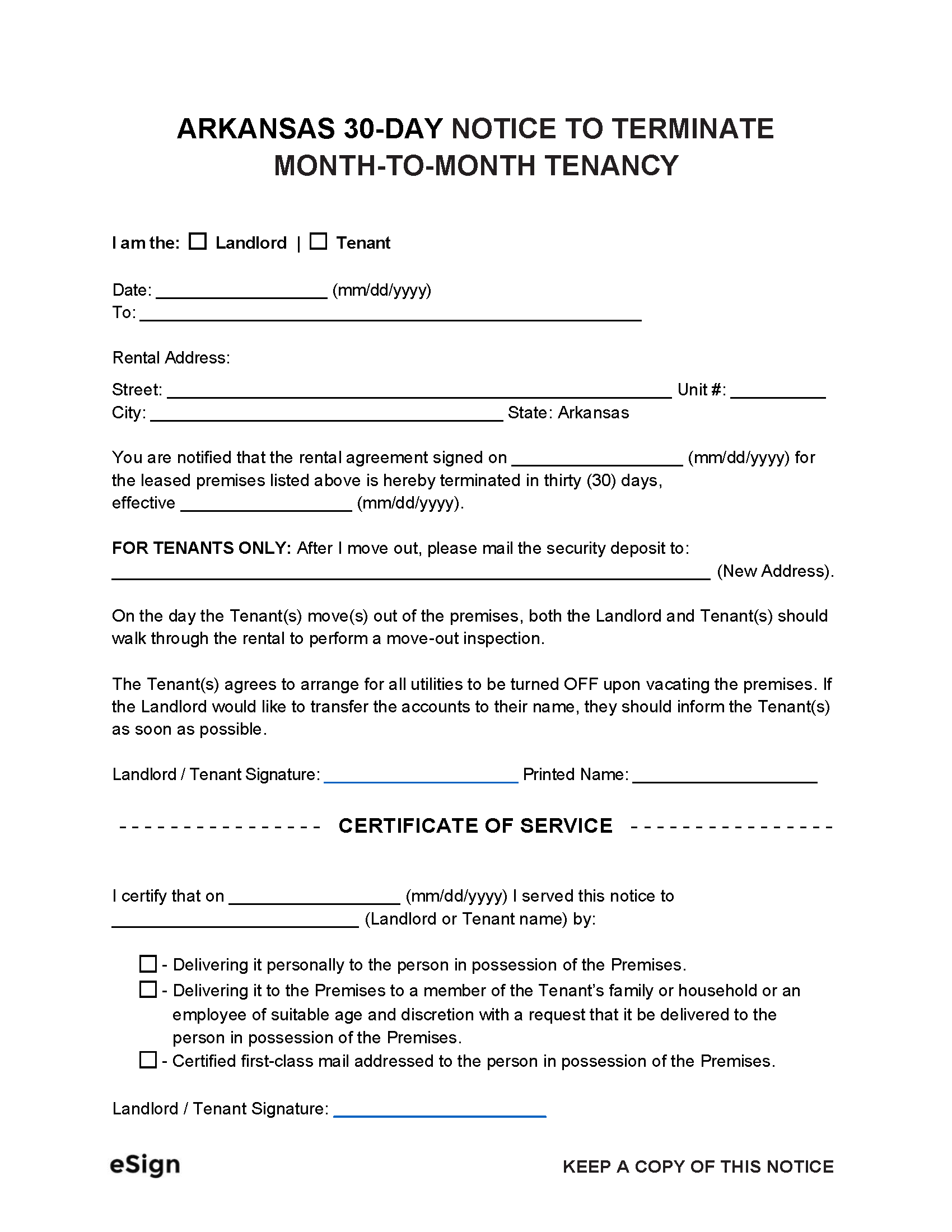 30-Day Notice to Terminate | Month-to-Month Lease – Used by a landlord or tenant to notify the other party that they wish to terminate a month-to-month lease agreement.
Download: PDF, Word (.docx), OpenDocument
---
---
Eviction Laws + Required Notices
Grace Period (§ 18-17-701(b)): Five (5) Days
Non-Payment of Rent (§ 18-60-304(3)): Three (3) Days
Lease Non-Compliance (§ 18-17-701(a)): Fourteen (14) Days
Periodic Tenancy Termination (§ 18-17-704(b)): Thirty (30) Days
Illegal Activity: Not mentioned in state statutes.
Intentional Damage to the Property: Not mentioned in state statutes.
---
How to Evict a Tenant in Arkansas
When a tenant refuses to vacate the premises after they have violated the terms of their lease (by non-payment of rent, any other non-compliance, or the lease termination date has passed), the landlord may file for eviction. Before doing so, the proper notices must be delivered to the tenant to allow them time to remedy the situation.
Step 1 – Download, Complete, and Deliver Notice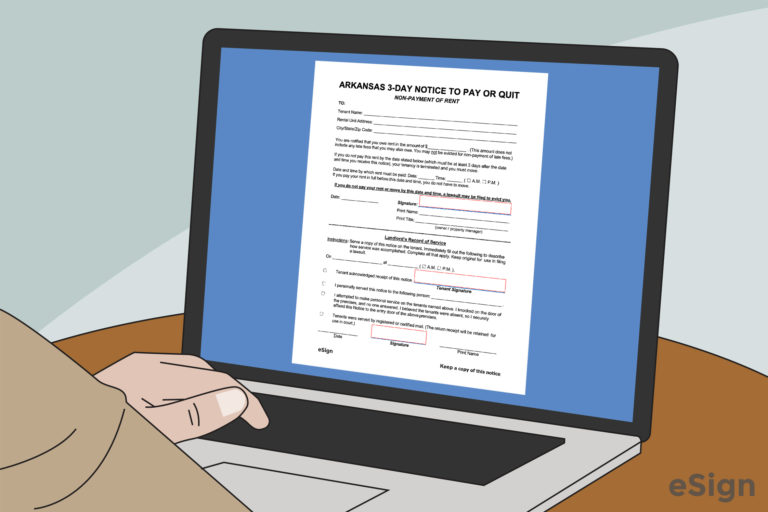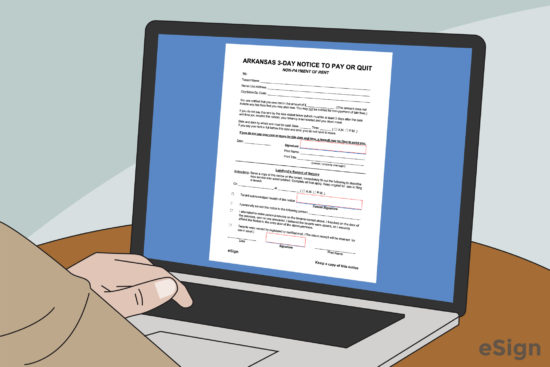 Depending on the situation, a landlord will need to download and complete the appropriate notice to quit document:
The landlord must deliver this notice to the tenant and allow them to cure the violation or vacate the premises within the specified notice period.
Step 2 – Eviction Suit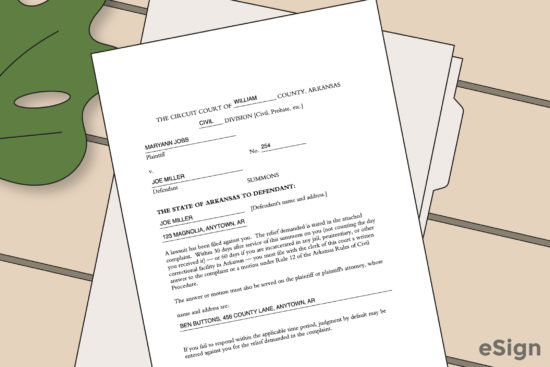 Failure on the tenant's part to remedy the violation or leave the property means the landlord can file an eviction suit with the district court that has jurisdiction over the property. They must complete and submit a Summons, a Complaint, and a supporting Affidavit (along with a Civil Cover Sheet) to the court. Filing a complaint and summons will cost (in most counties) $165. These documents must be served to the tenant as well and may cost an additional $40 – $80 for the processing fee.
Step 3 – Court Order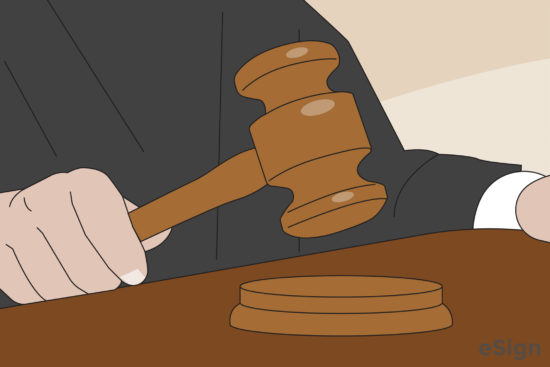 Following the filing of an eviction suit, the tenant will be issued an order from the court giving them ten (10) days to file an objection and pay any rent due to the court registry. Failure to do that will result in a Writ of Possession being issued.
Step 4 – Writ of Possession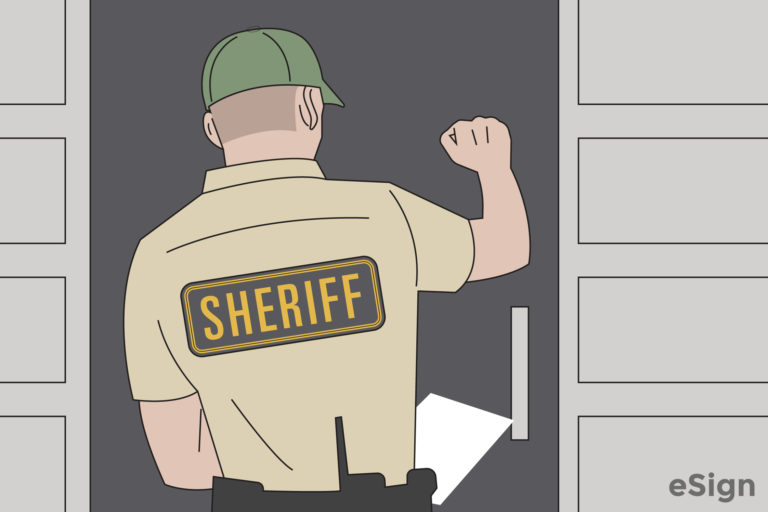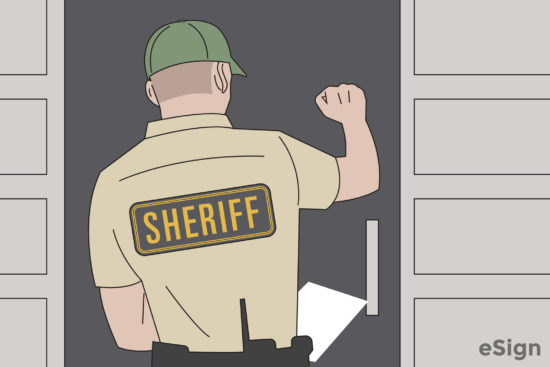 When a Writ of Possession is issued, the County Sheriff will evict the tenant from the premises and place the landlord in possession. Once possession has been determined, the landlord can assess the property for any damages and collect money owed for this plus rent due, attorney fees, court costs, etc.
---
Court Forms + Resources
Forms
Resources