The New Jersey 3-day notice to quit for non-compliance is used by landlords to terminate a lease agreement with three (3) days' notice because the tenant has failed to comply with a previous written warning. If the tenant causes a significant disturbance to their neighbors' peace, constantly violates the landlord's rules or breaks any terms of their lease that give the landlord the right of re-entry, the landlord must serve them with a Notice to Cease that allows a reasonable period of time for the tenant to remedy and/or stop their non-compliance before the landlord terminates their lease.
If the tenant continues their non-compliance after being served a Notice to Cease, the landlord can serve them the three (3) day notice to quit to end their rental agreement. The tenant must move out before the notice expires or the landlord will have the right to take legal action against them.
Laws – § 2A:18-61.2(3)(a), § 2A-18-61.1(b), and § 2A:18-53(c)(1, 3, and 4)
---
Related Forms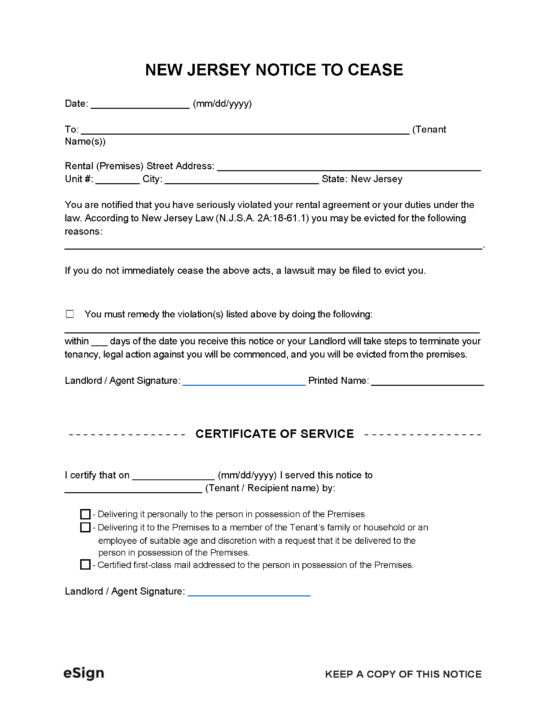 Notice to Cease – Before giving the tenant a notice to quit, the landlord must serve them with this notice that gives them the opportunity to stop or cure their lease violation.
Download: PDF, Word (.docx), OpenDocument
---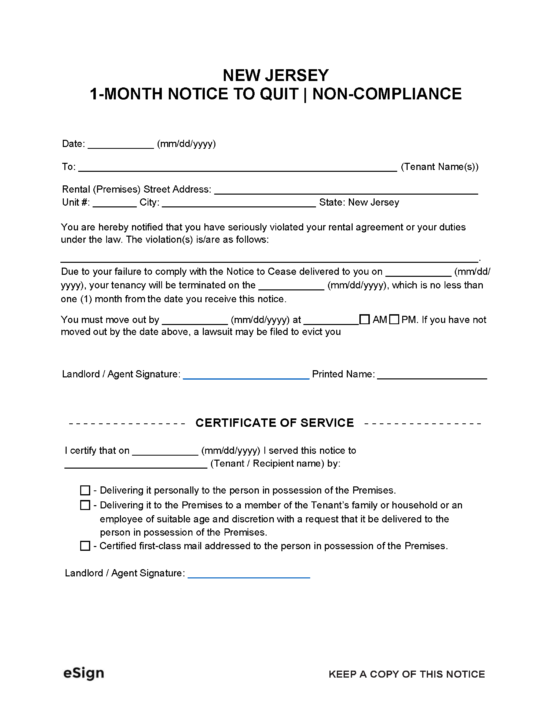 1-Month Notice to Quit for Non-Compliance – For habitually late rent and less severe lease violations that do not require the landlord's re-entry or disturb the neighbor's peace, the tenant will need to be given one (1) month's notice to quit after failing to comply with a Notice to Cease.
Download: PDF, Word (.docx), OpenDocument