A Notarized Bill of Sale is a general selling document designed to pass the possession of personal property from one person or entity to another. It contains fields to allow for notarization, which is the process of having a certified third party witness the seller and buyer's signatures onto the form. The primary purpose of notarizing a form is to prevent fraud. Without notarization, a person could attempt to pass a fake bill of sale (along with the seller's forged signature) in an effort to claim the property as their own. Motor vehicles, RVs, motorcycles, and other types of property that are registered with the state require proof of ownership documents to contain a verifiable notarization.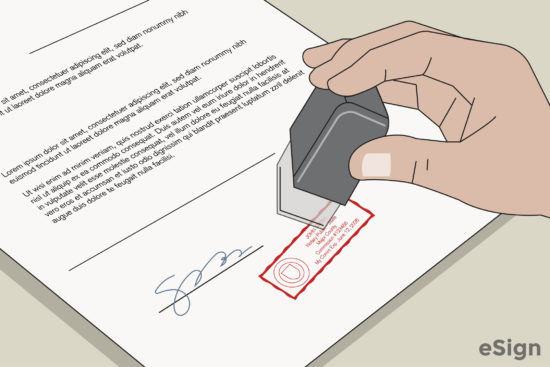 What is Notarization?
Notarization is the act of having a government-commissioned representative verify that the signature on a document is legitimate. This involves:
Ensuring the signer is who they say they are (their identity must be verified);
Establishing that the signer understands what they are signing;
Confirming they're signing at their own discretion; and
Witnessing the person's signature onto the form.
Once the signer has written their name, the Notary will sign their own name, place their official stamp onto the document, and write information that identifies who they are. This can all be done digitally or in-person.
When is Notarization Required?
A state's Division of Motor Vehicles is the department that establishes requirements for notarizing a bill of sale. It is most frequently mandatory motor vehicles, but can also be required for
And any other vehicle that is registered with the state.
Regardless of the property being sold, having it notarized is advocated to provide evidence that the sale was legitimate.
Where Can I Notarize a Bill of Sale?
Notaries can be found both in-person and online:
In-person:
Financial institutions (ex: banks)
Photocopy shops
Libraries
Colleges
Accountant/tax preparer offices
Law offices
Post office/shipping stores
By simply typing in "notaries near me" into Google, one can find establishments that offer notary services.
Online:
Whether it's for necessity or convenience, online notarization is a quick and easy means of having documents notarized from the comfort of one's home. To do this, simply go to the eSign homepage and click "Notarize". You will then be brought to Notarize.com. It costs $25 for a single notarization. You will need to have a webcam on your computer and a means of identifying yourself (such as your ID or passport).
---
How to Write
Download: Adobe PDF, MS Word (.docx), OpenDocument (.odt)
Step 1 – Party Info
In the first field, write the amount of money ($) the buyer is paying to the seller for the property. Then, write the full name of the buyer, followed by their mailing address. Repeat for the seller. On the last two (2) lines, write a precise depiction of the item(s) being sold.

Step 2 – Signatures
Do not sign until directed to do so by the Notary Public. When ready, the date of signing will need to be entered, followed by the seller and buyer's printed name, signature, and the date of their signing (mm/dd/yyyy).

Step 3 – Notarization
The lower half of the document is reserved for the Notary to fill out.