---
Updated on June 23rd, 2023

A Michigan lease agreement is a document signed by a landlord and a tenant that goes over the terms and conditions of renting an apartment, house, commercial space, or another type of real property. An agreement ensures that both parties are aware of their respective responsibilities and rights, and serves as proof of this mutual understanding once all necessary signatures have been inscribed to the document.

In addition to the lease term and cost of rent, an agreement will include provisions that delineate the potential causes for termination, the transfer of a security deposit, and the breakdown of utilities.

Rental application – A rental application can be used by a landlord to screen all potential tenants in order to find the one best-suited to renting the property in question.
Agreements: By Type (6)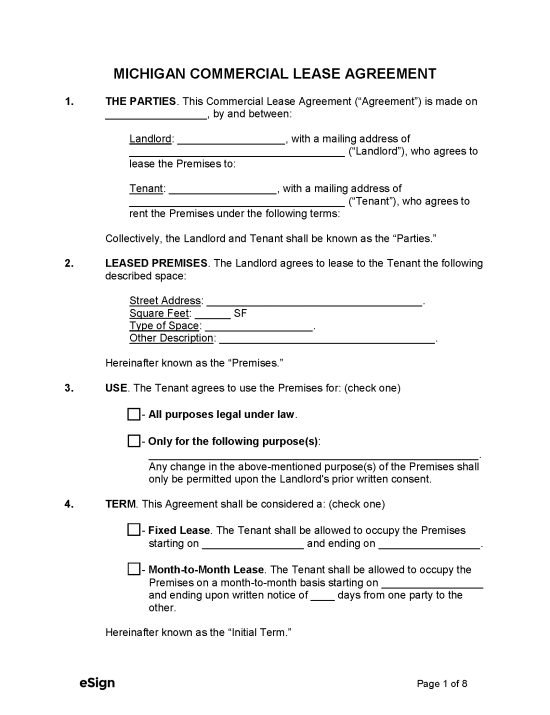 Commercial Lease Agreement – This is a lease agreement that enables a landlord to rent out commercial real estate to business owners.
Download: PDF, Word (.docx), OpenDocument
---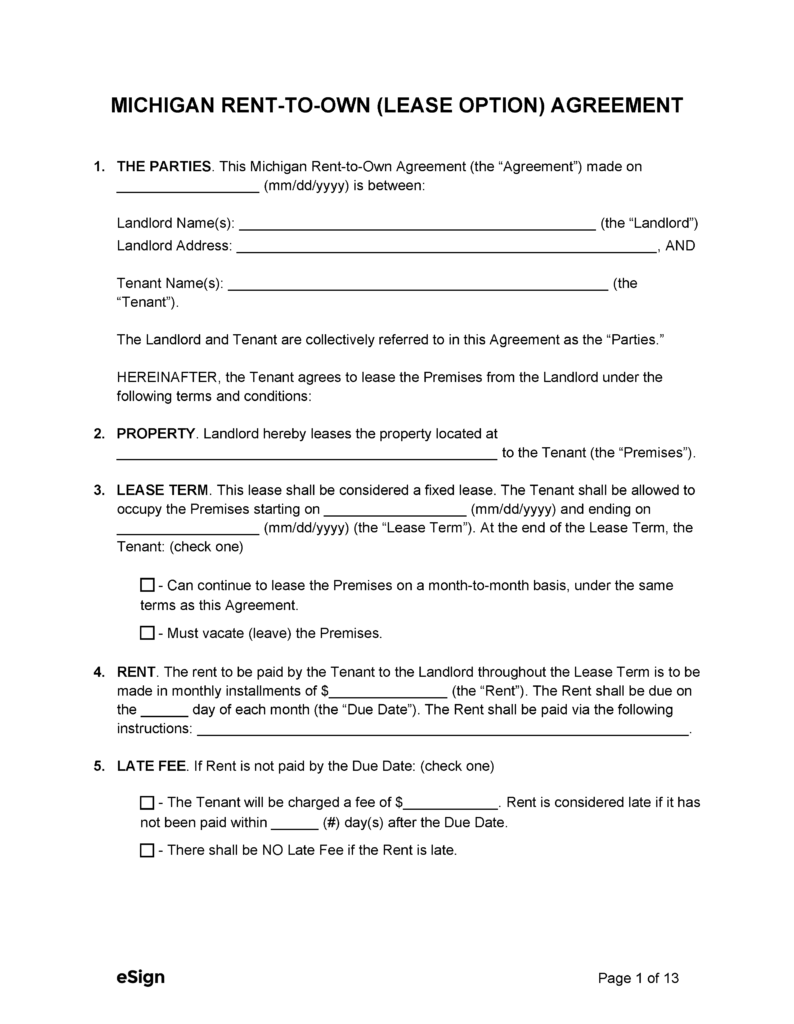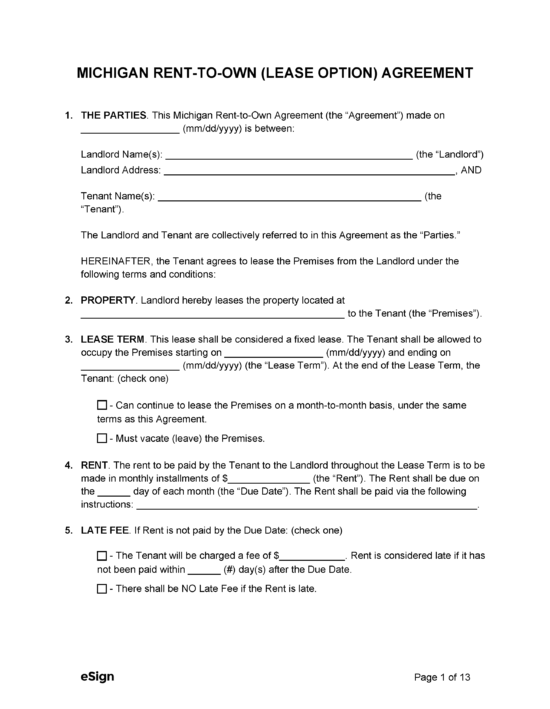 Rent-to-Own Agreement (Lease Option) – A rental lease with an option to purchase provides the tenant with an opportunity to reside on the property and eventually purchase it should they abide by the terms and conditions of the agreement.
Download: PDF
---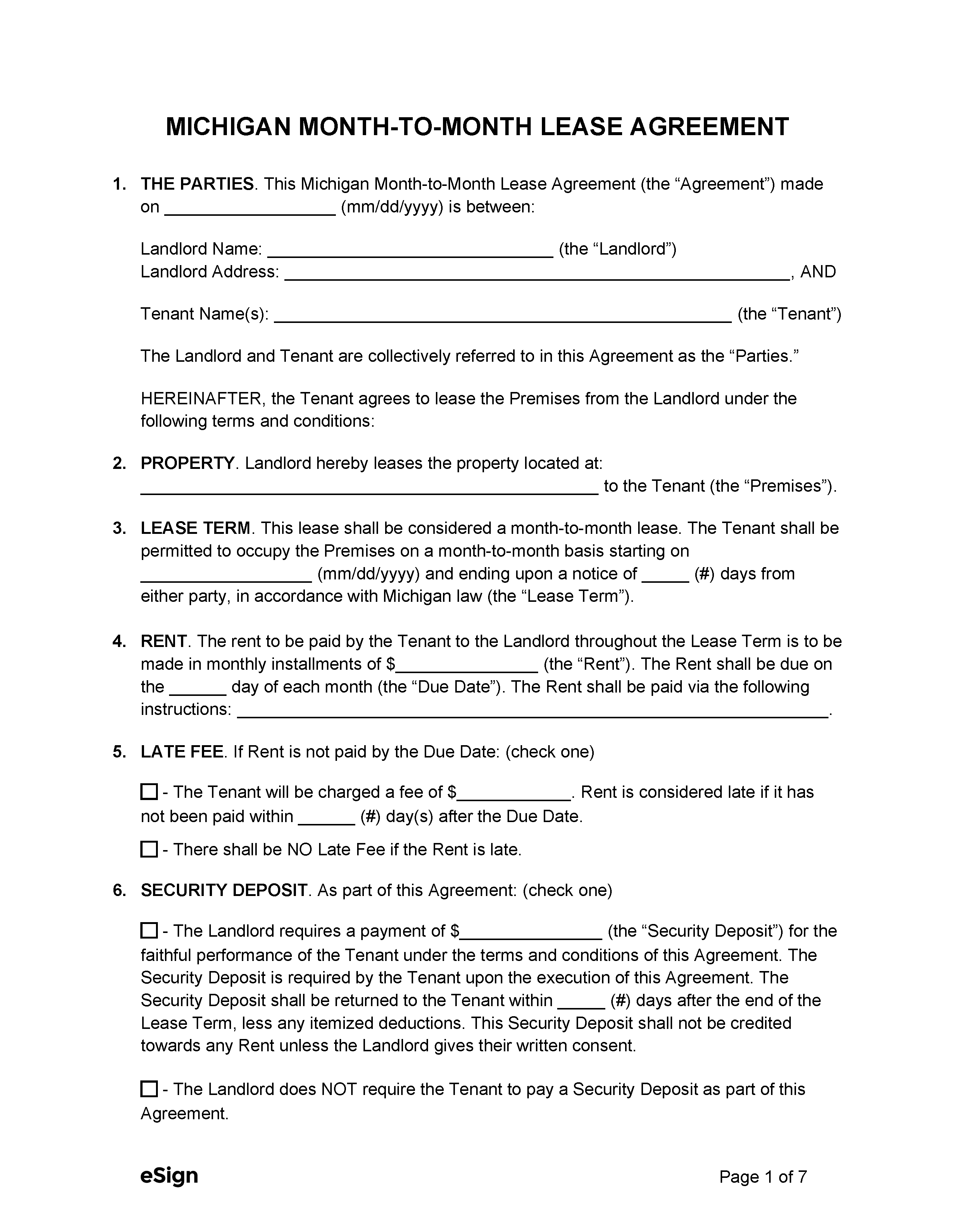 Month-to-Month Lease Agreement – This agreement renews each month with the payment of rent. Either party can terminate the agreement with sufficient warning to the other party.
Download: PDF
---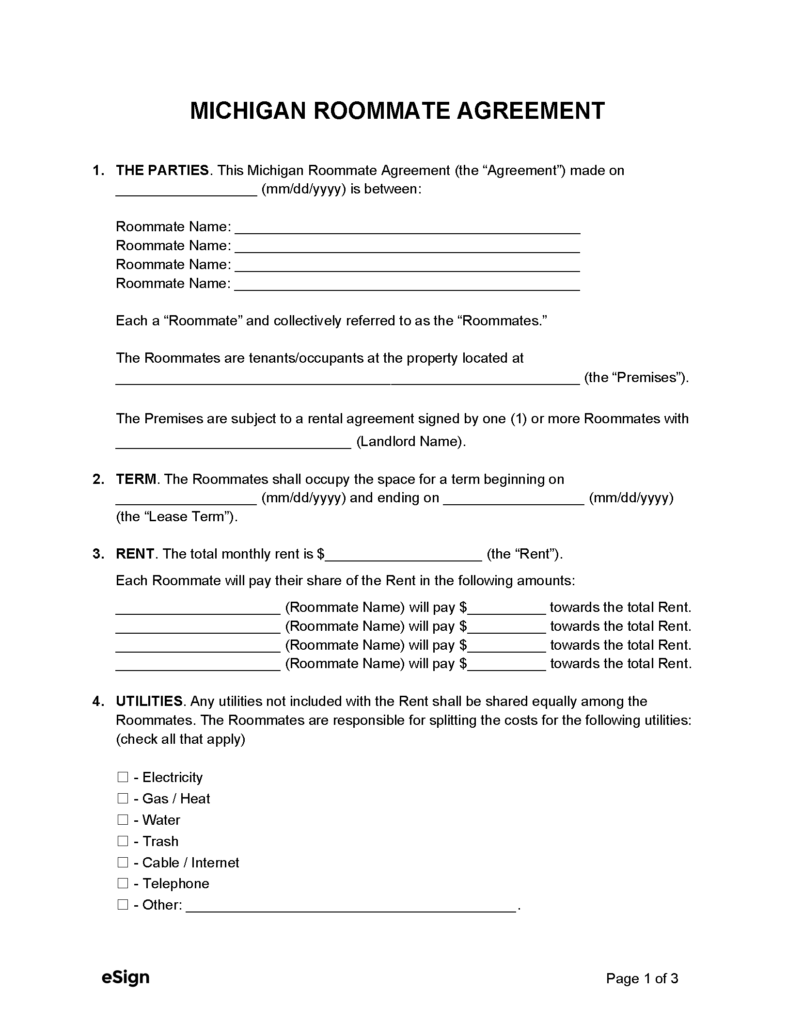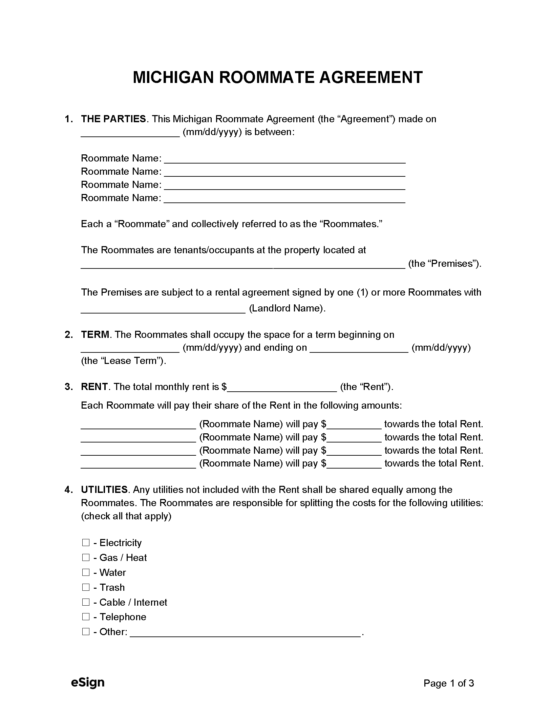 Roommate Agreement – An agreement between two (2) or more individuals residing in the same residence that details the conditions of the living arrangement.
Download: PDF, Word (.docx), OpenDocument
---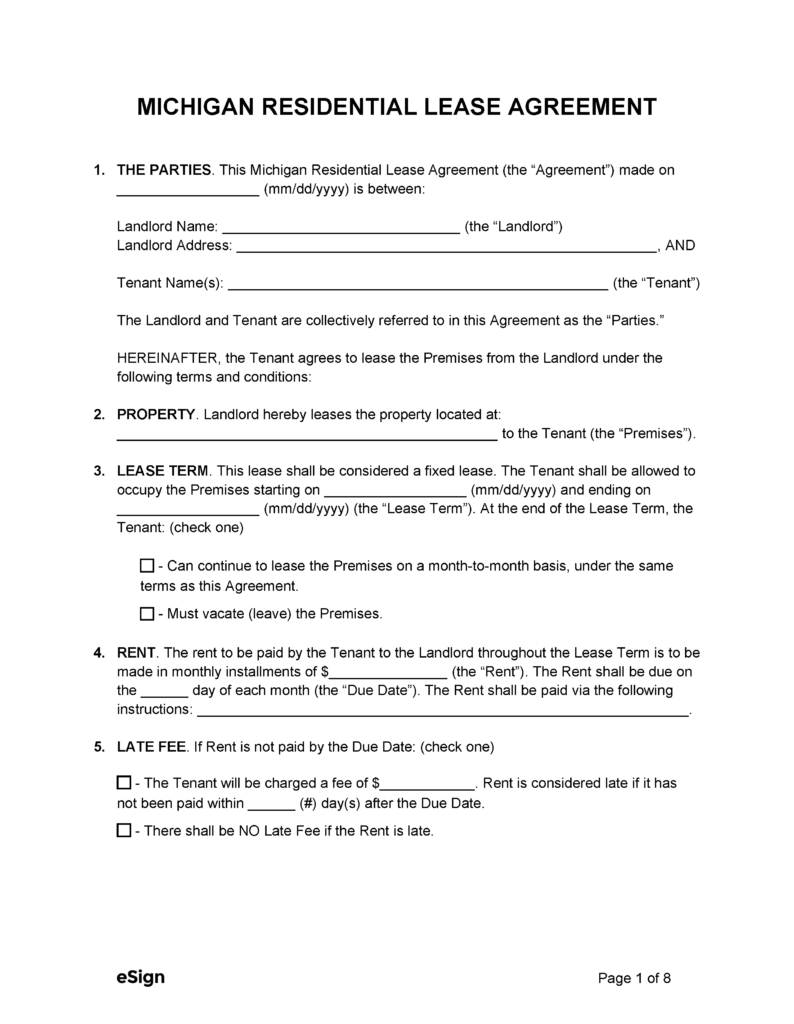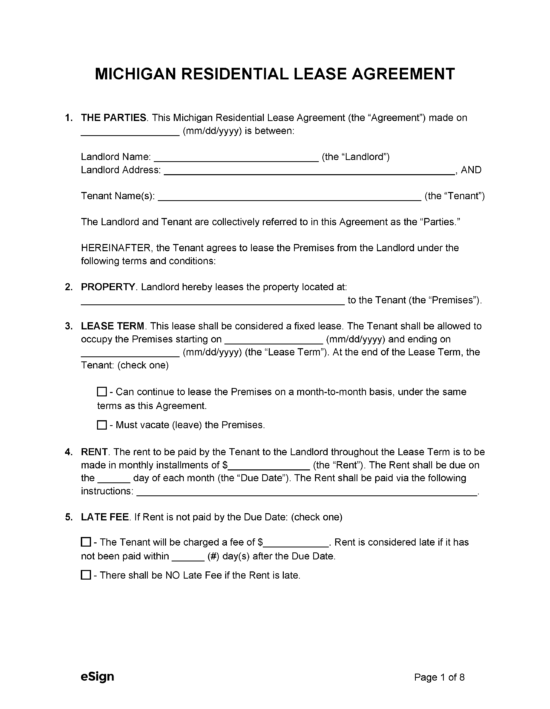 Standard (1-year) Lease Agreement – The most common residential lease, it lasts for a total of twelve (12) months with the option to renew after a year (in most circumstances).
Download: PDF
---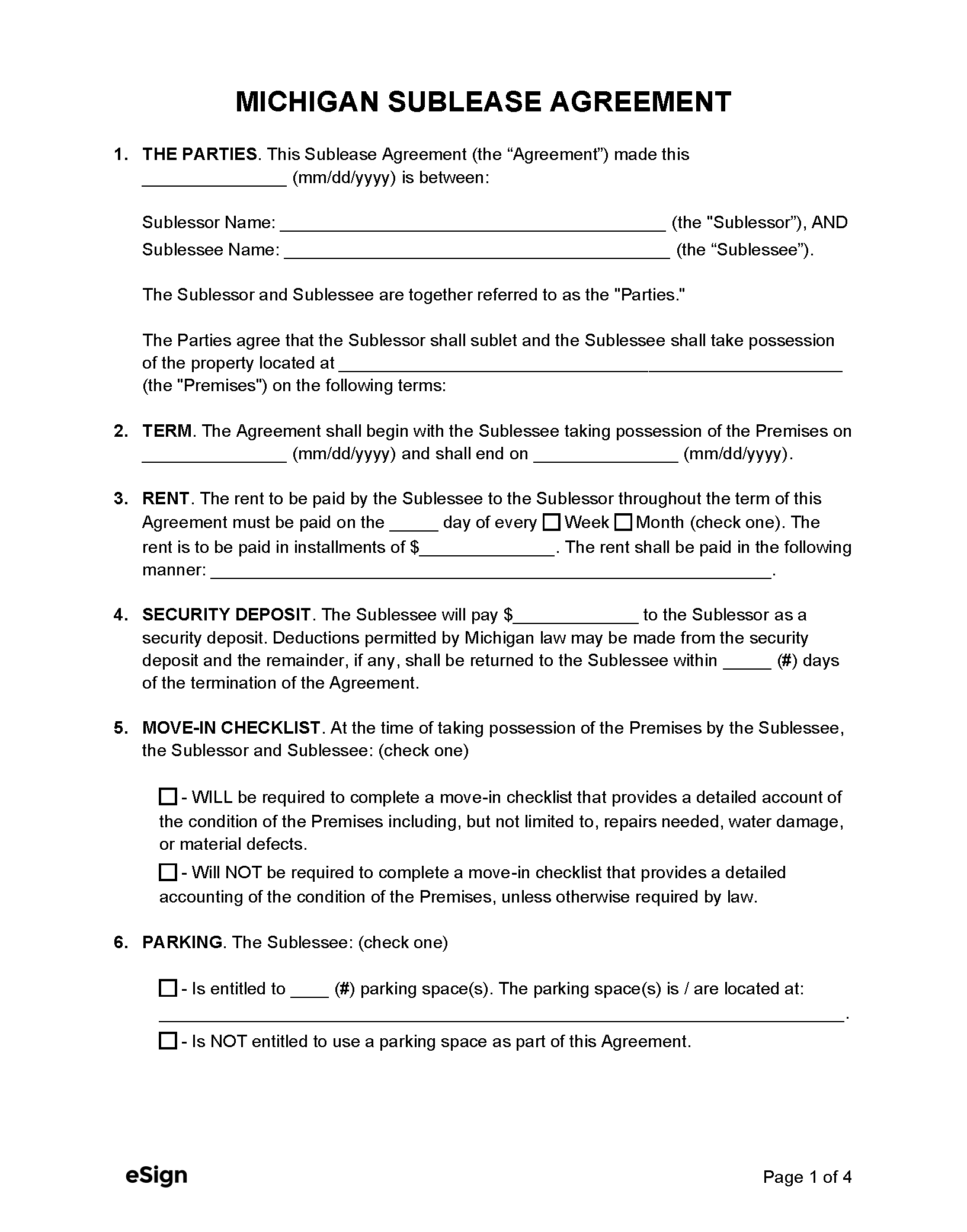 Sublease Agreement – The sublease agreement is between a tenant and a sublessor who has agreed to rent out a portion or the entirety of the property for a defined period of time (usually less than a year).
Download: PDF, Word (.docx), OpenDocument
---
Disclosures (5)
If a tenant believes they are in danger of being a victim of domestic violence, they will be released from their obligation to pay rent. A notice of this statute must be provided in the lease, posted on the property, or delivered to the tenant.
A landlord must provide two (2) blank inventory checklists before tenancy begins so the tenant can take note of the condition of the property.
3) Lead-Based Paint Disclosure
In accordance with federal law, a lead-based paint disclosure form must be handed to all tenants who are renting a property constructed prior to the year 1978.
This security deposit notice (or a similarly constructed form) must be provided to all tenants who have been asked to put down a security deposit before renting residential property.
All lease agreements must contain a specific statement (detailed in the previously mentioned statutes) in compliance with the Truth in Renting Act.
---
Landlord-Tenant Laws
---
Landlord's Access
General Access – No statute.
Emergency Access – No statute.
---
Rent
Grace Period – No statute.
Maximum Fees ($) – No statute.
Rent Increase Notice – Not mentioned in state statutes. (However, the notice required for terminating the lease is equal to the length of the payment period (§ 554.134); it is usually the case that a landlord will not be able to increase the rent without a notice period equal to or greater than the payment period.)
---
Security Deposits
Maximum Amount ($) (§ 554.602) – A landlord may not charge more than one and a half (1.5) months' rent as a security deposit.
Returning to Tenant (§ 554.609 and 610) – The security deposit must be returned to the tenant within thirty (30) days of the lease termination date.
Interest Required? – No statute.
Separate Bank Account? (§ 554.604) – The funds need to be deposited into a regulated financial institution; however, the landlord may use the security deposit for any purpose as long as they deposit a cash or surety bond with the secretary of state.