Rental Application
– Completed by a tenant to provide references and authorize background and credit checks.
Lease Agreements: By Type (6)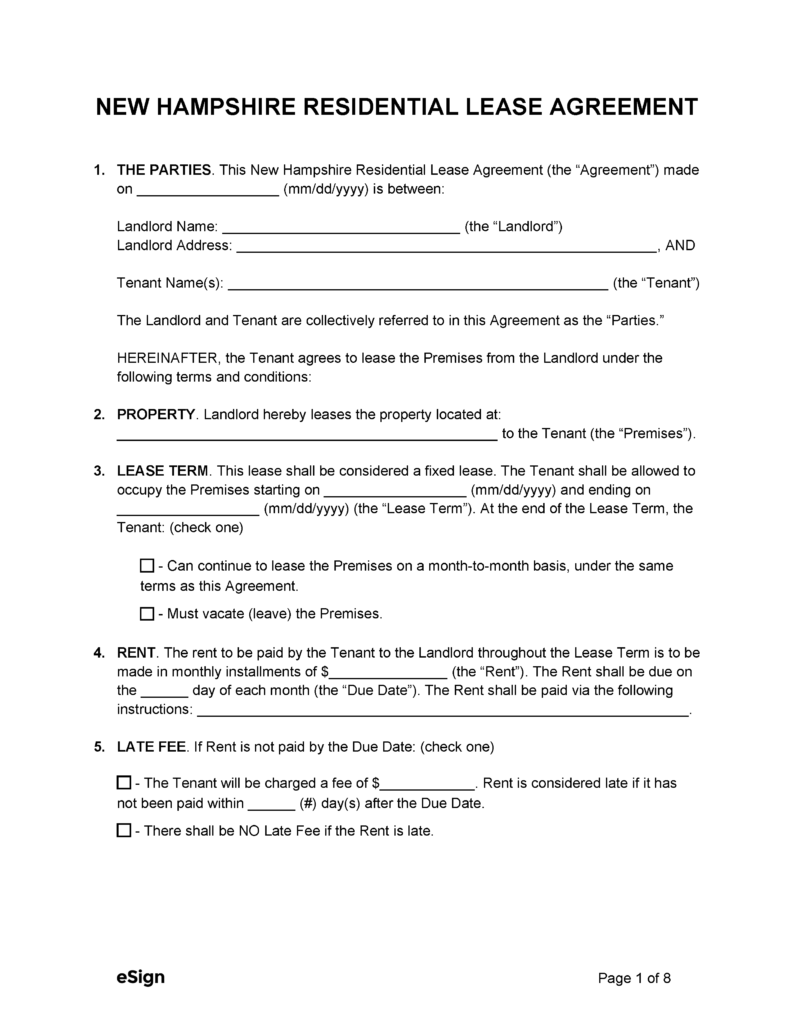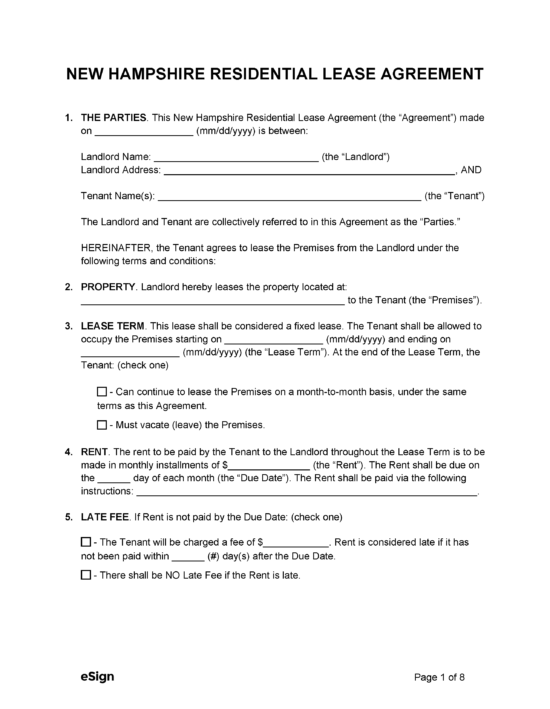 Standard (1-Year) Residential Lease – Used to rent a residence for a full year, often with the option to renew at the end of the lease term.

Download: PDF, Word (.docx), OpenDocument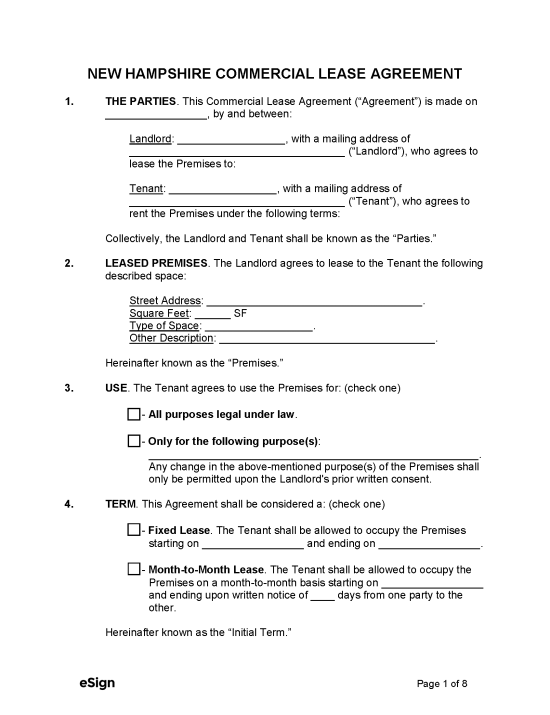 Commercial Lease Agreement – Enables a landlord to rent their industrial, retail, office space etc. to a business.

Download: PDF, Word (.docx), OpenDocument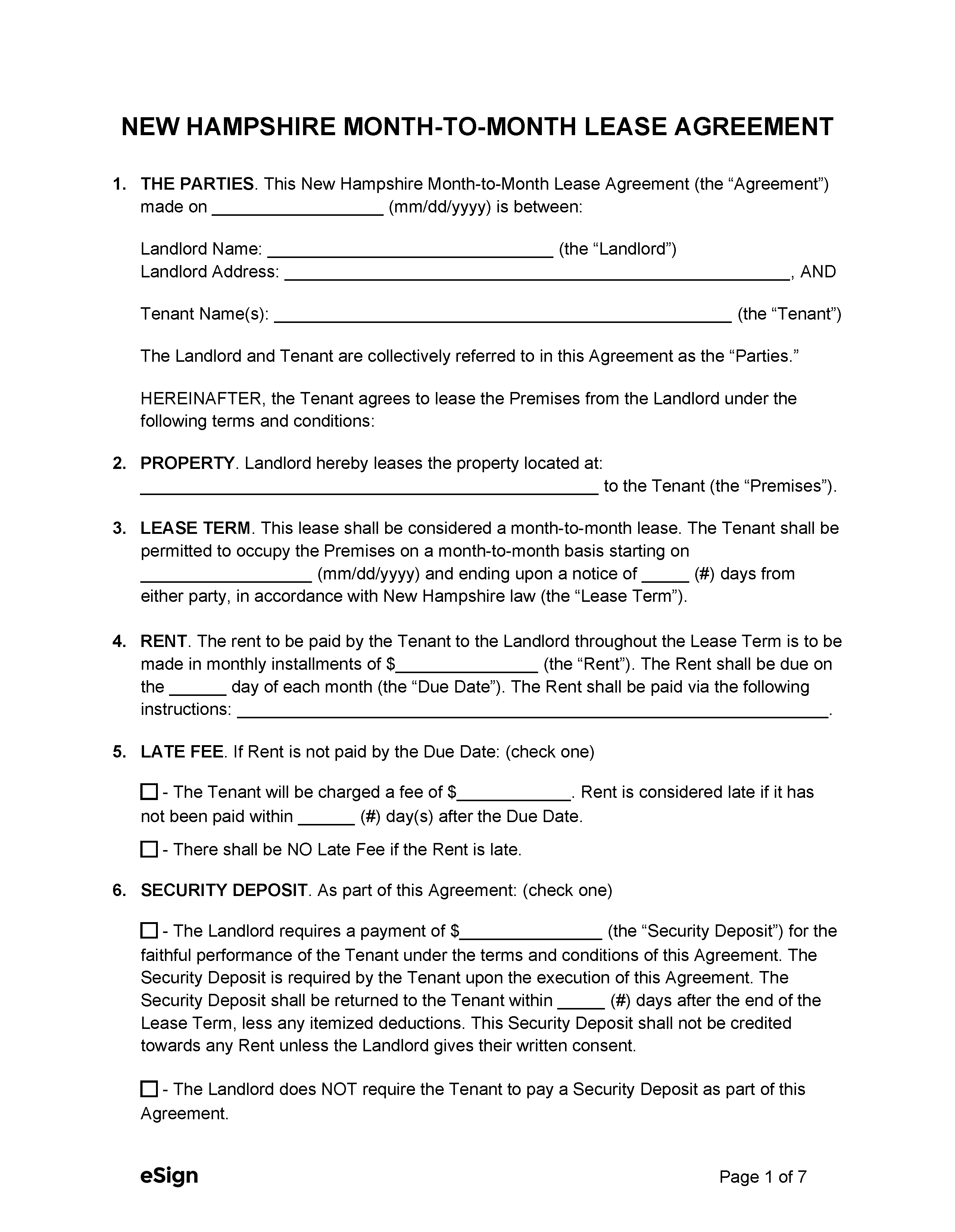 Month-to-Month Lease Agreement – A contract with a month-long term that renews automatically and indefinitely until cancelled by tenant or landlord.

Download: PDF, Word (.docx), OpenDocument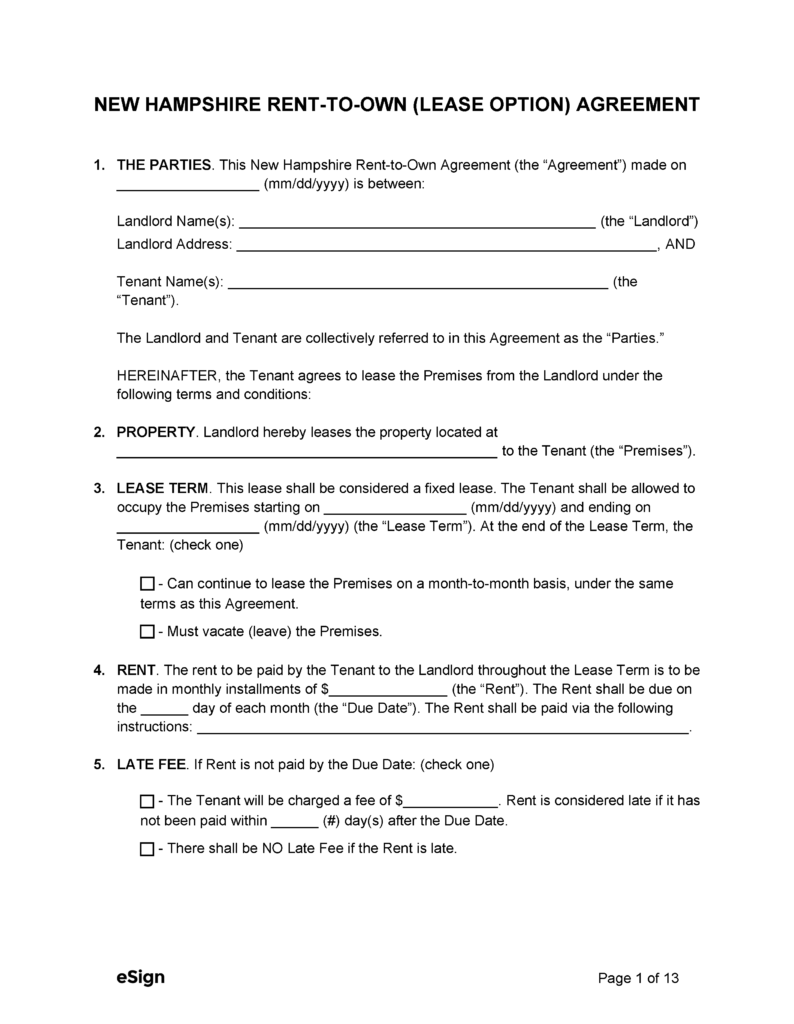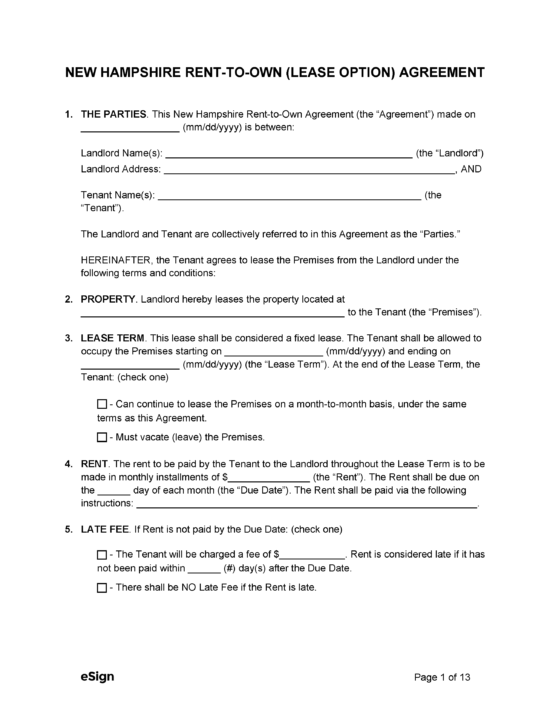 Rent-to-Own Agreement (Lease Option) – A rental agreement that allows a tenant to buy the property at the end of the lease.

Download: PDF, Word (.docx), OpenDocument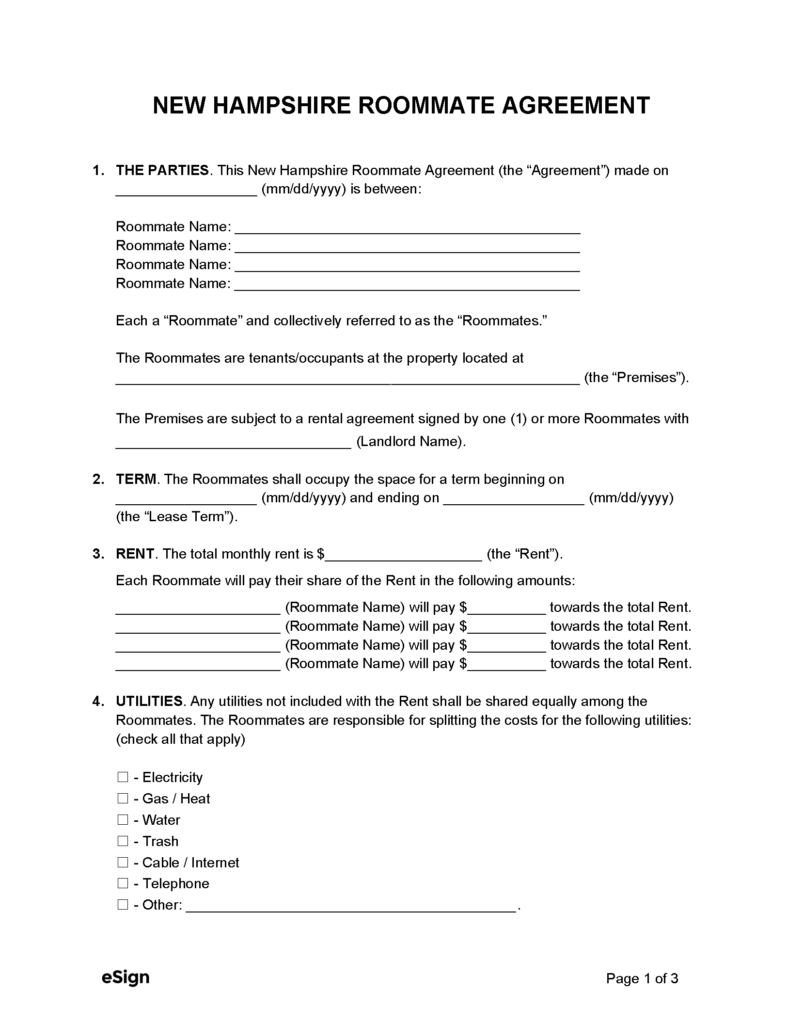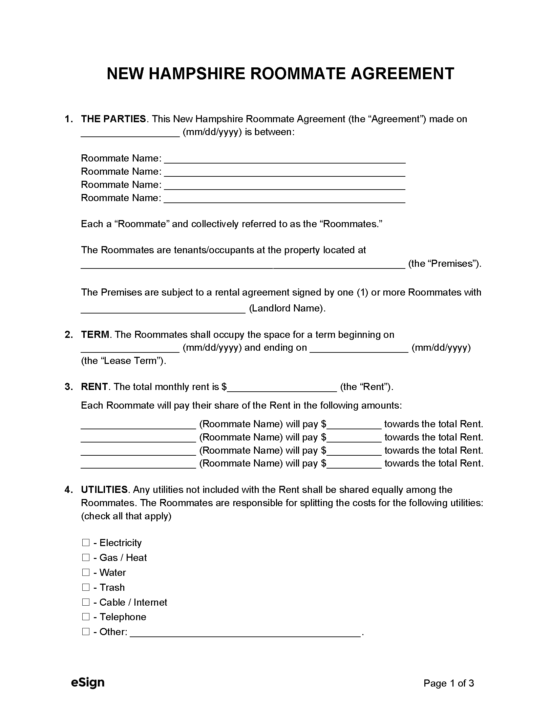 Roommate Agreement – A contract used by roommates to establish and sign off on house rules.

Download: PDF, Word (.docx), OpenDocument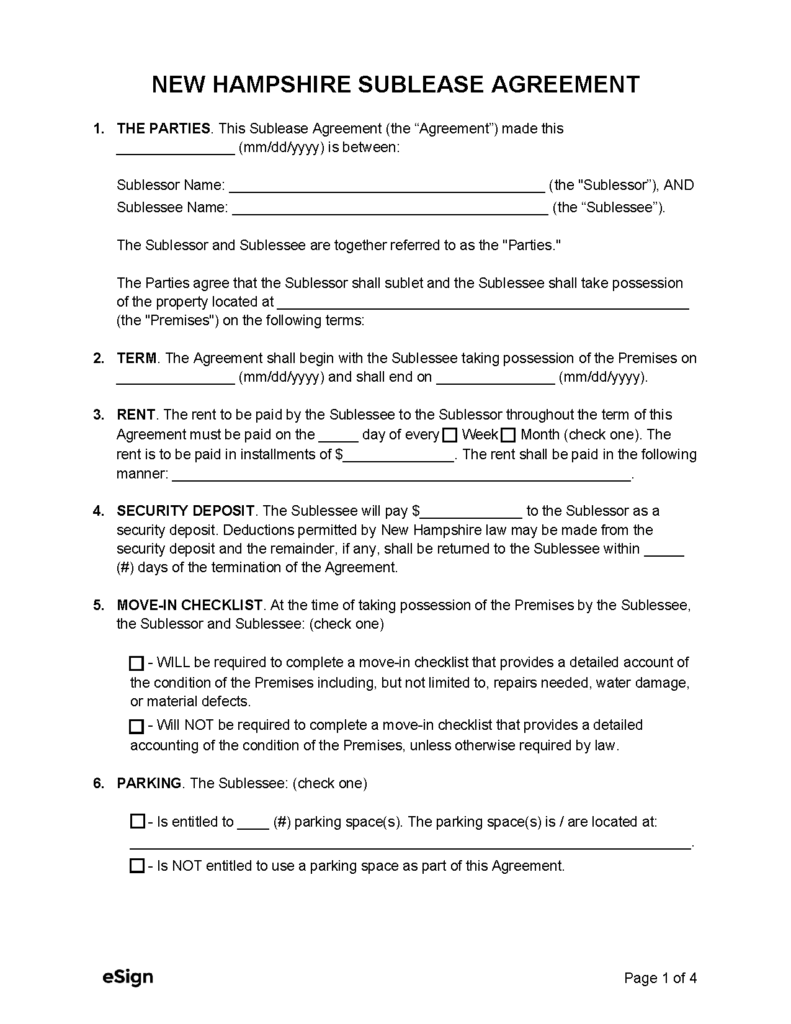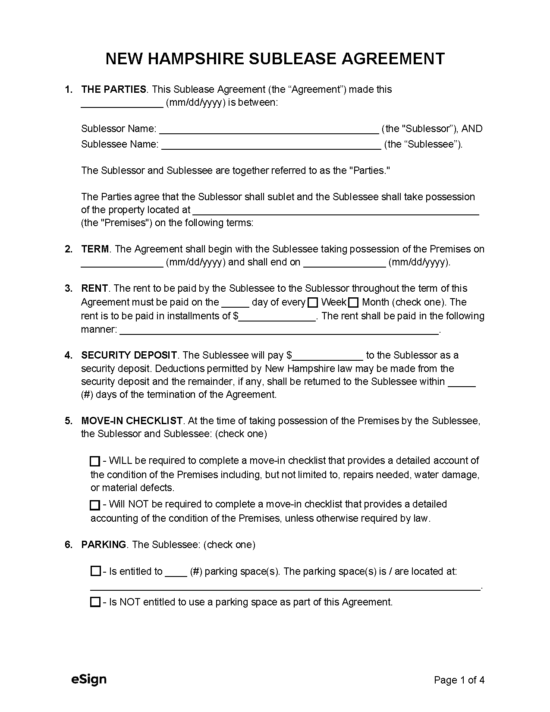 Sublease Agreement – This form is used by a tenant to rent out all or part of their unit to a subtenant.

Download: PDF, Word (.docx), OpenDocument
Required Disclosures (3)
Lead-Based Paint Disclosure (PDF) – Landlords renting out property built prior to 1978 must disclose to prospective tenants the possibility of lead-based paint on the premises.[1]
Repair Notice (PDF) – Landlords must notify tenants that any required repairs should be relayed to them in writing within five days of occupancy.[2]
Security Deposit Receipt – The landlord must provide a signed security deposit receipt unless the deposit was made via a personal, bank, or government-issued check.[3]
Security Deposits
Maximum Amount ($) – The most a landlord can charge in NH is one month's rent or $100, whichever is greater.[4]
Collecting Interest – Landlords are required to pay interest on the security deposit if held beyond one year. The interest rate must be equal to that paid on a regular savings account.[5]
Returning to Tenant – Deposits must be returned to the tenant within 30 days of the lease termination.[6]
Itemized List Required? – Yes, tenants must be provided a list of deductions made on their security deposit when it's returned to them.
Separate Bank Account? – Yes, deposits must not be mixed with the landlord's personal bank accounts. However, they may combine all security deposits from all tenants into one bank account.[7]
Rent Payments
Grace Period – No statute.
Maximum Late Fee ($) – No statute.
Bad Check (NSF) Fee – No statute.
Withholding Rent – Yes, a tenant can withhold a rent payment if the dwelling is unsuitable for living due to a landlord's negligence.[10]
Rent Increase Notice – A 30-day written notice must be given to tenants before increasing rent.[11]
Breaking a Lease
Non-Payment of Rent – A 7-day notice to quit informs tenants that they must pay their rent within seven days or face eviction.[12]
Non-Compliance – A 30-day notice to quit is used to inform a tenant that they must remedy a lease violation within 30 days or move out.[13] For violations causing significant damage or harm, a 7-day notice to quit may be used.
Utility Shutoff – Though not specifically mentioned in statutes, failing to maintain a dwelling's utilities may be considered a violation of lease terms.[14]
Lockouts – A landlord may change a residence's locks if abandoned or if they obtain a court-ordered "Writ of Possession," which is then provided to the sheriff to serve on the tenant.[15]
Leaving Before the End Date – No statute.
Lease Termination
Month-to-Month Tenancy – A 30-day notice to quit is used to end a month-to-month lease agreement.
Unclaimed Property – Landlords must provide the tenant a notice and store their unclaimed personal belongings for seven days after they've vacated the premises, after which they may be disposed of.[16]