---
Updated on June 23rd, 2023

A New Hampshire lease agreement is a document signed by a landlord and their tenant which relays the terms for the rental of the landlord's property by the tenant. In the majority of cases, rent is paid at monthly intervals, however, payments can be set at any rate stated in the lease. The duration of the contract may also vary. While most leases are annual, the landlord and tenant can agree to any term length for an "at-will" lease. If the tenant fails to comply with the agreement, the landlord may serve them with an eviction notice and commence legal actions against them.

Rental Application – A form that is completed by the tenant to provide references and give their permission for background and credit checks.
Agreements: By Type (6)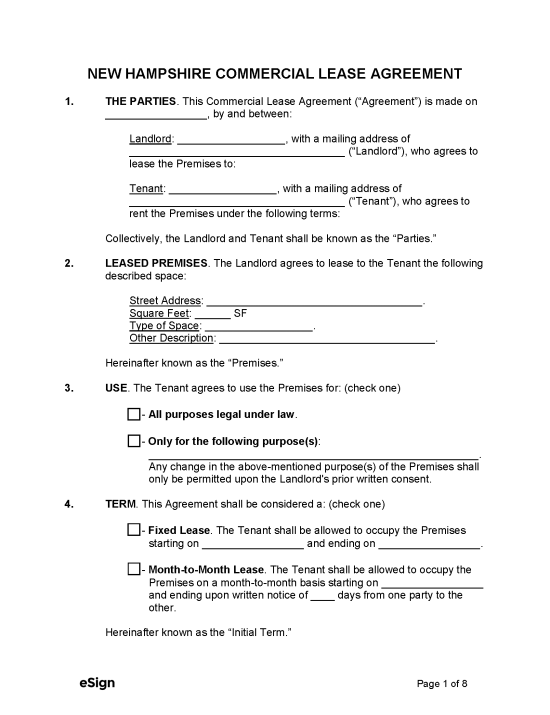 Commercial Lease Agreement – This contract is used for the rental of commercial property by an individual or business for professional purposes.
Download: PDF, Word (.docx), OpenDocument
---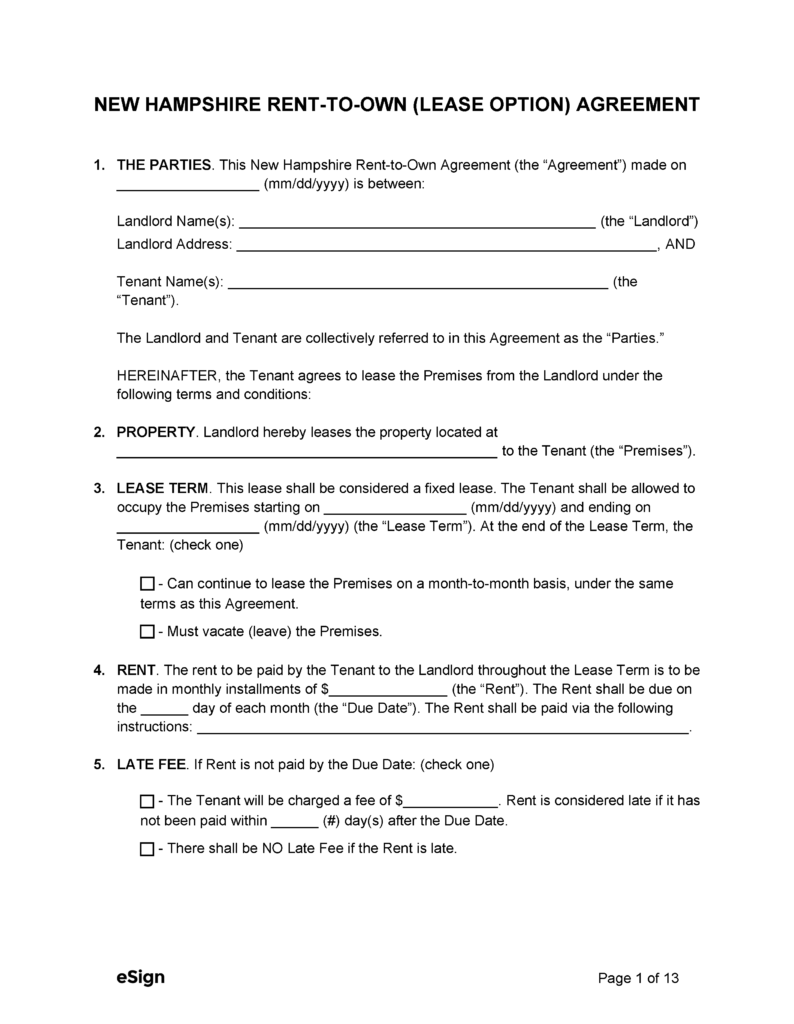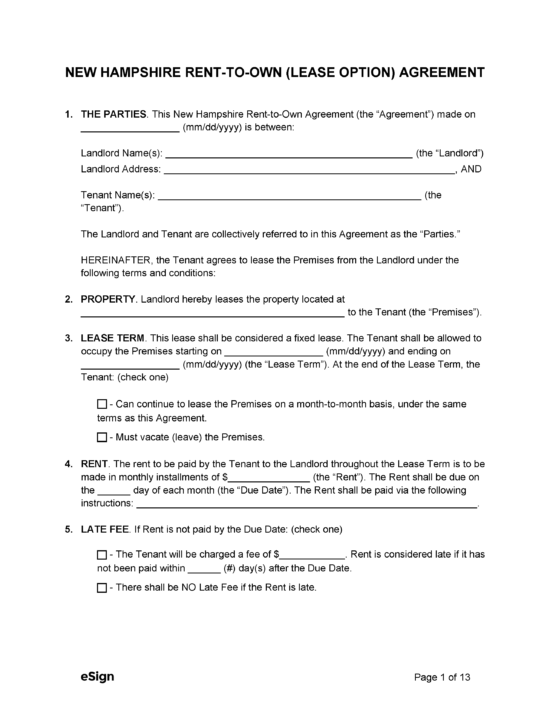 Rent-to-Own Agreement (Lease Option) – A rental agreement that gives the tenant the opportunity to buy the property at the end of the lease.
Download: PDF, Word (.docx), OpenDocument
---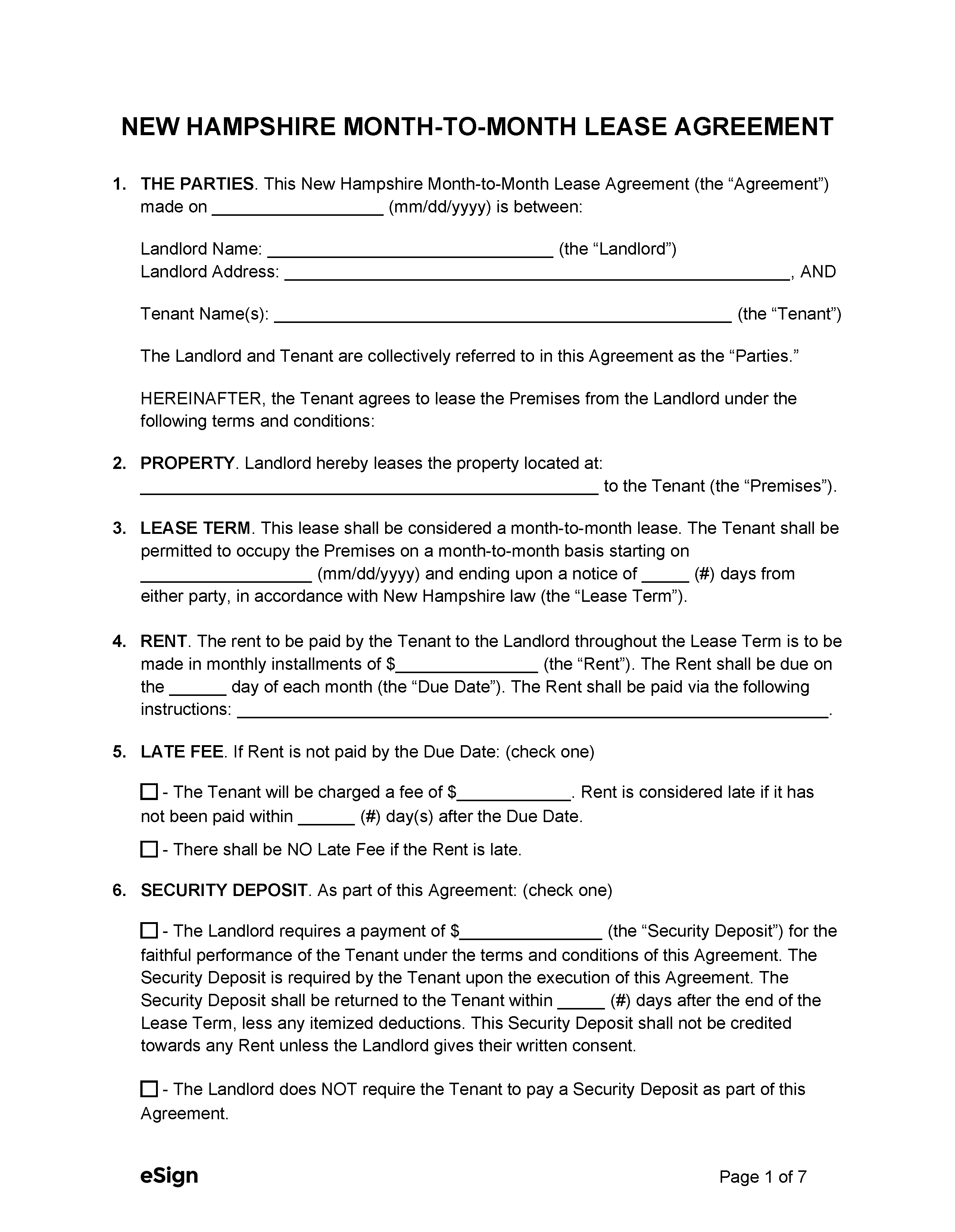 Month-to-Month Lease Agreement – A contract that allows tenants to rent residential space on a month-to-month basis.
Download: PDF, Word (.docx), OpenDocument
---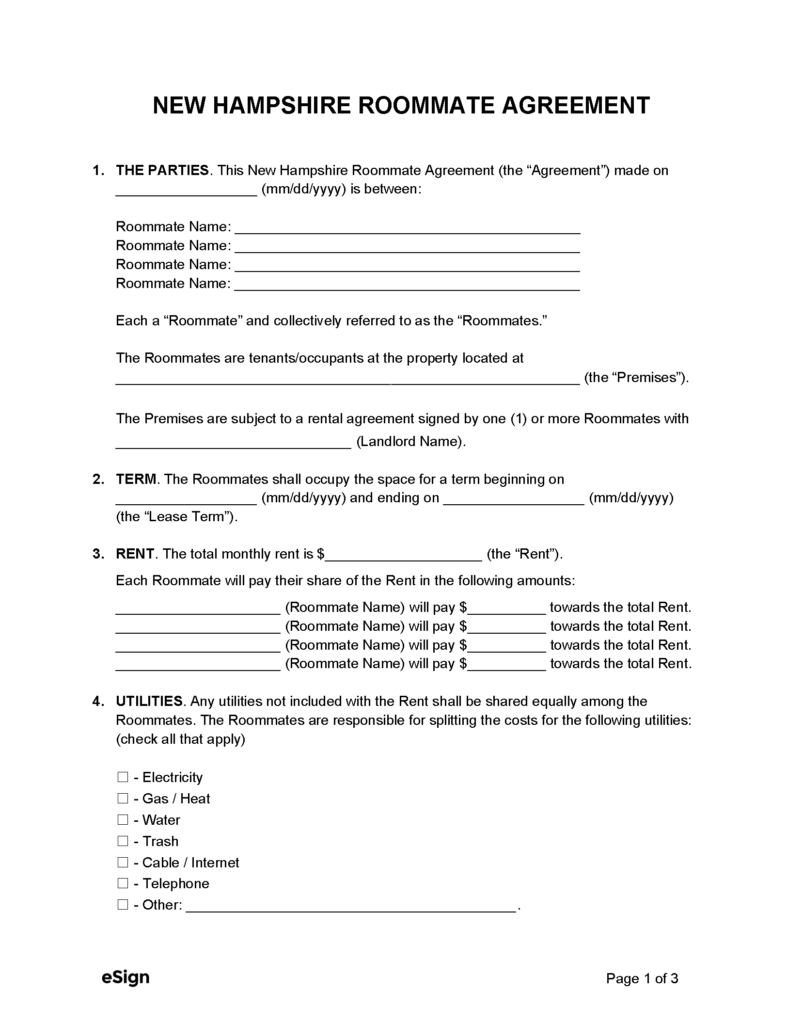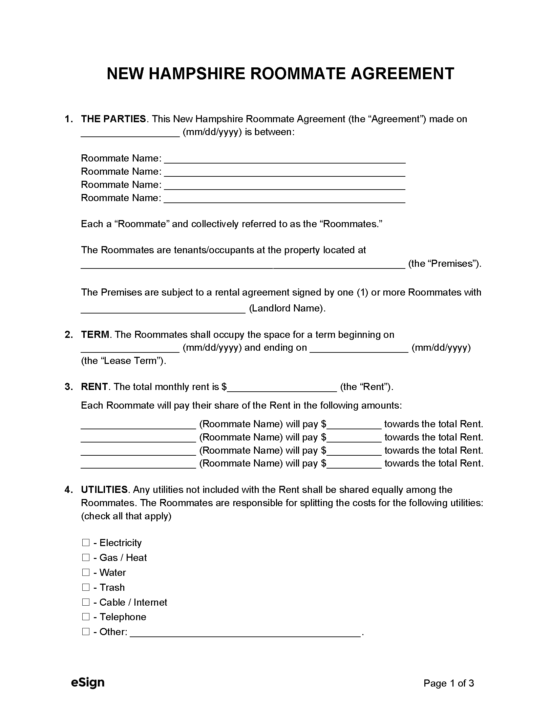 Roommate Agreement – Roommates can use this document to make a formal agreement regarding apartment/house rules and responsibilities.
Download: PDF, Word (.docx), OpenDocument
---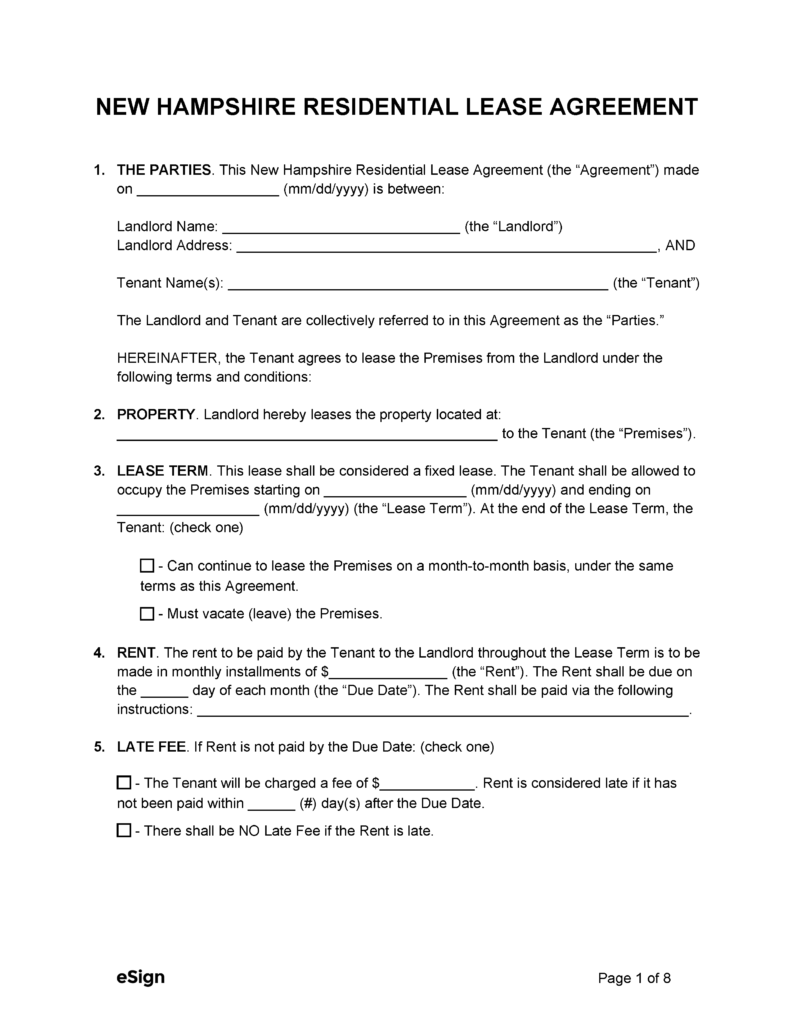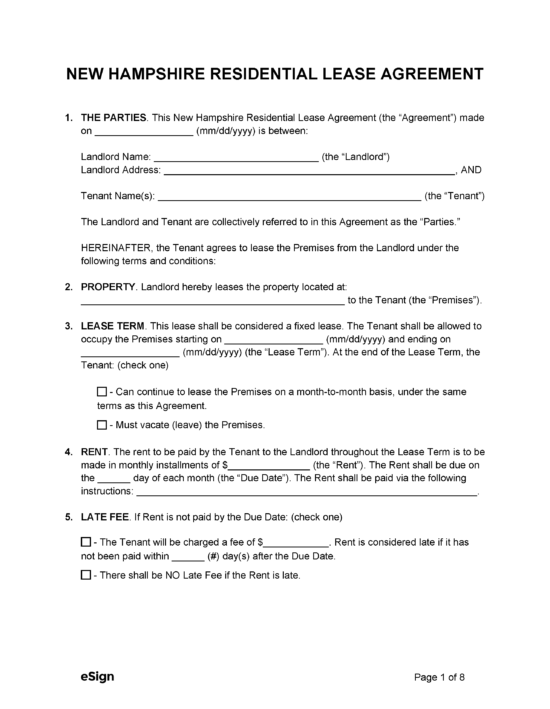 Standard (1-year) Lease Agreement – The standard lease agreement is a one (1) year contract for the rental of a residential property by a tenant, often with the option to renew at the end of the agreement's term.
Download: PDF, Word (.docx), OpenDocument
---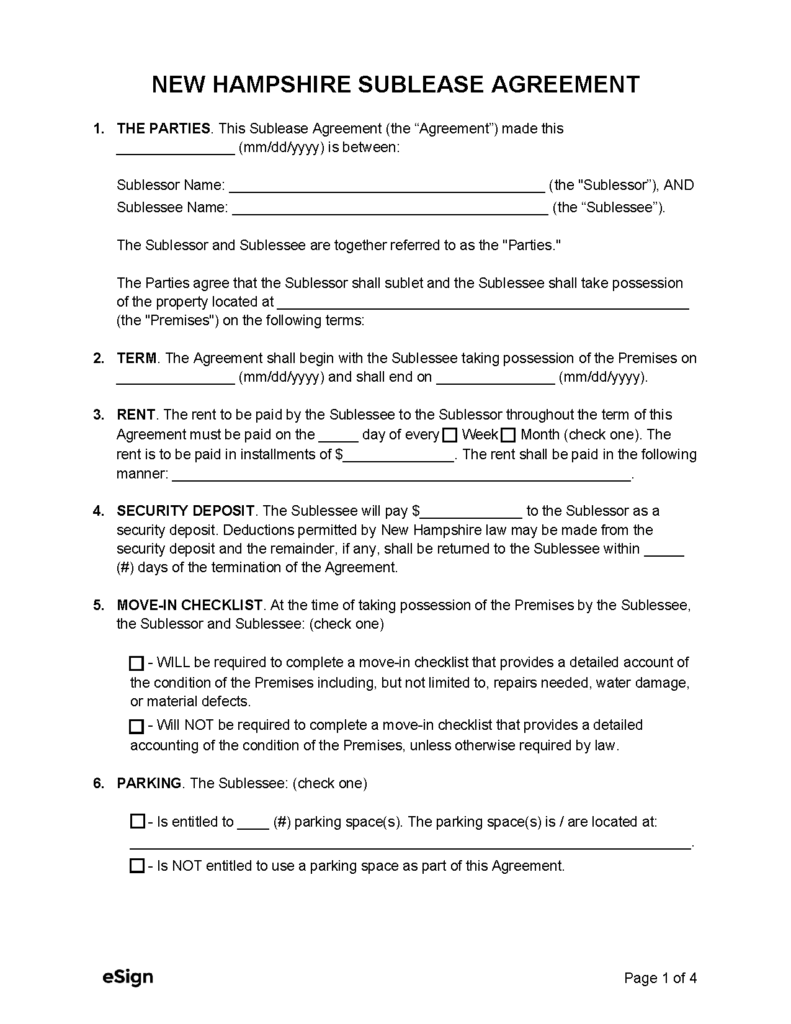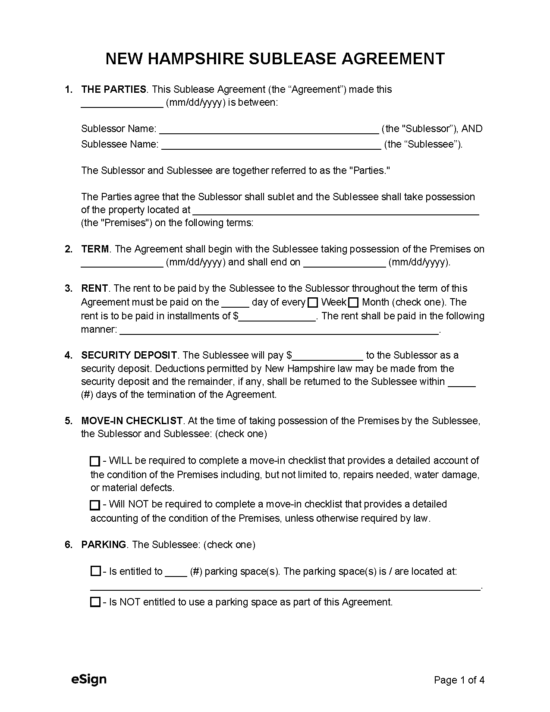 Sublease Agreement – If their lease allows, a tenant can use this contract to rent out all, or part, of their rental unit to a subtenant.
Download: PDF, Word (.docx), OpenDocument
---
Disclosures (3)
1) Lead-Based Paint Disclosure
In accordance with federal law, landlords renting out property that was built prior to 1978 must provide a disclosure form to prospective tenants warning them of the possibility of lead-based paint on the premises.
Landlords must notify tenants in writing that a list of all required repairs should be recorded in writing by the tenant and delivered to the landlord within five (5) days of occupancy.
A signed security deposit receipt must be delivered to the tenant by the landlord unless the security deposit was in the form of a personal check, a bank check, or a government-issued check.
---
Landlord-Tenant Laws
---
Landlord's Access
General Access (RSA 540-A:3(V)) – Landlords may enter the rented premises for any reasonable purpose as long as "adequate notice" has been given to the tenant.
Emergency Access (RSA 540-A:3(V-d)) – The landlord does not need the tenant's permission to enter for emergency repairs.
---
Rent
Grace Period – No statute.
Maximum Fees ($) – No statute.
Rent Increase Notice (RSA 540:2(IV)) – Thirty 30 days' notice, in writing, must be given to tenants before increasing rent.
---
Security Deposits
Maximum Amount ($) (RSA 540-A:6(I)(a)) – One (1) month's rent or one hundred dollars ($100), whichever is greater.
Returning to Tenant (RSA 540-A:7) – Deposit must be returned to the tenant within thirty (30) days.
Interest Required? (RSA 540-A:6(IV)) – Yes, if the deposit is held for longer than one (1) year.
Separate Bank Account? (RSA 540-A:6 (II)(a) and (IV)(a)) – Yes, deposits must not be mixed with the landlord's personal bank accounts. However, the landlord is legally permitted to combine all security deposits from various tenants into one (1) bank account.