A North Dakota lease agreement is a contract that allows a landlord to lease their property to a tenant in exchange for periodic rent payments. The landlord should include all necessary terms and conditions, such as rental costs, security deposits, fees, utilities, and any activities that they prohibit on the property. If the tenant does not pay their rent or breaks the terms of their lease, the landlord can start an eviction action against them in court after issuing the proper notice. To be valid, the contract must conform to state laws and be signed by both parties.
Rental Application – Prior to signing an agreement, the landlord can have the tenant fill out this form as a method of verifying their information, references, and credit history.
Agreements: By Type (6)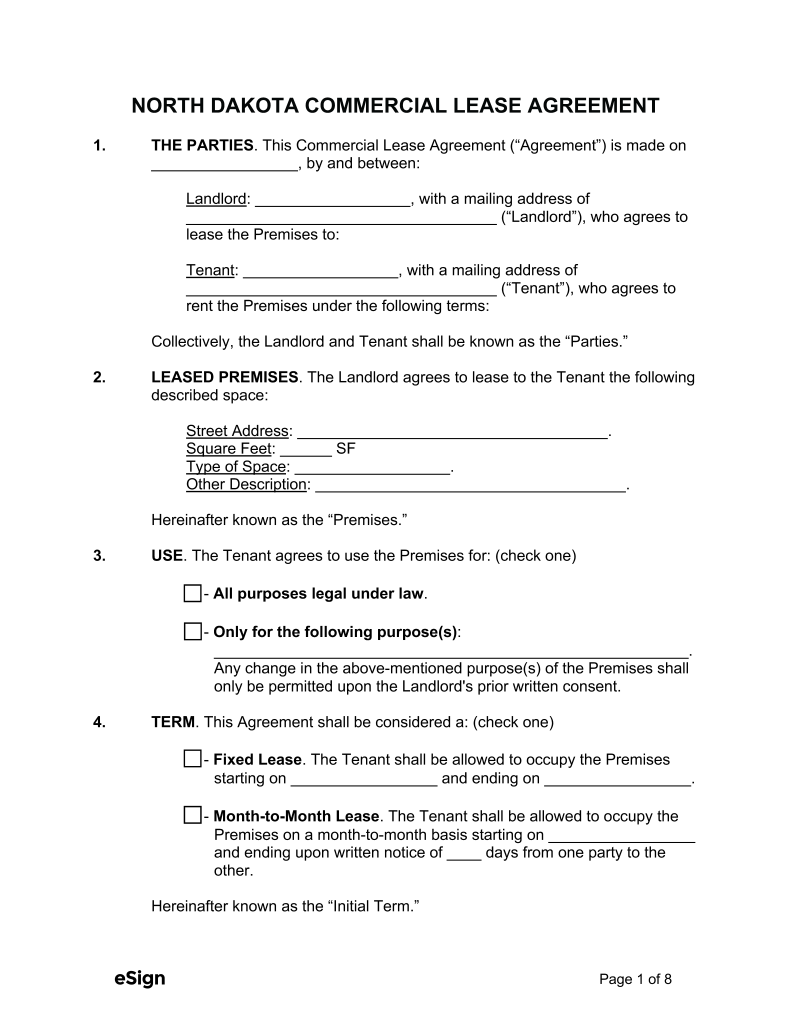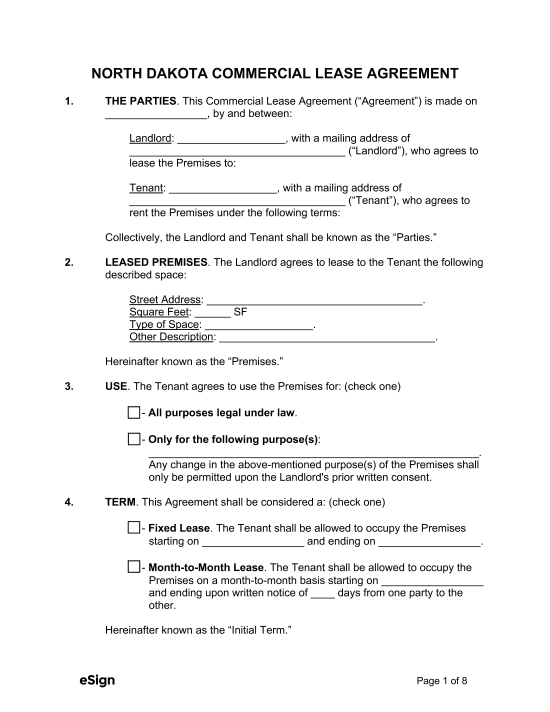 Commercial Lease Agreement – A rental contract that lays out the terms whereby an individual or business will rent commercial space from a property owner or manager.
Download: PDF, Word, OpenDocument
---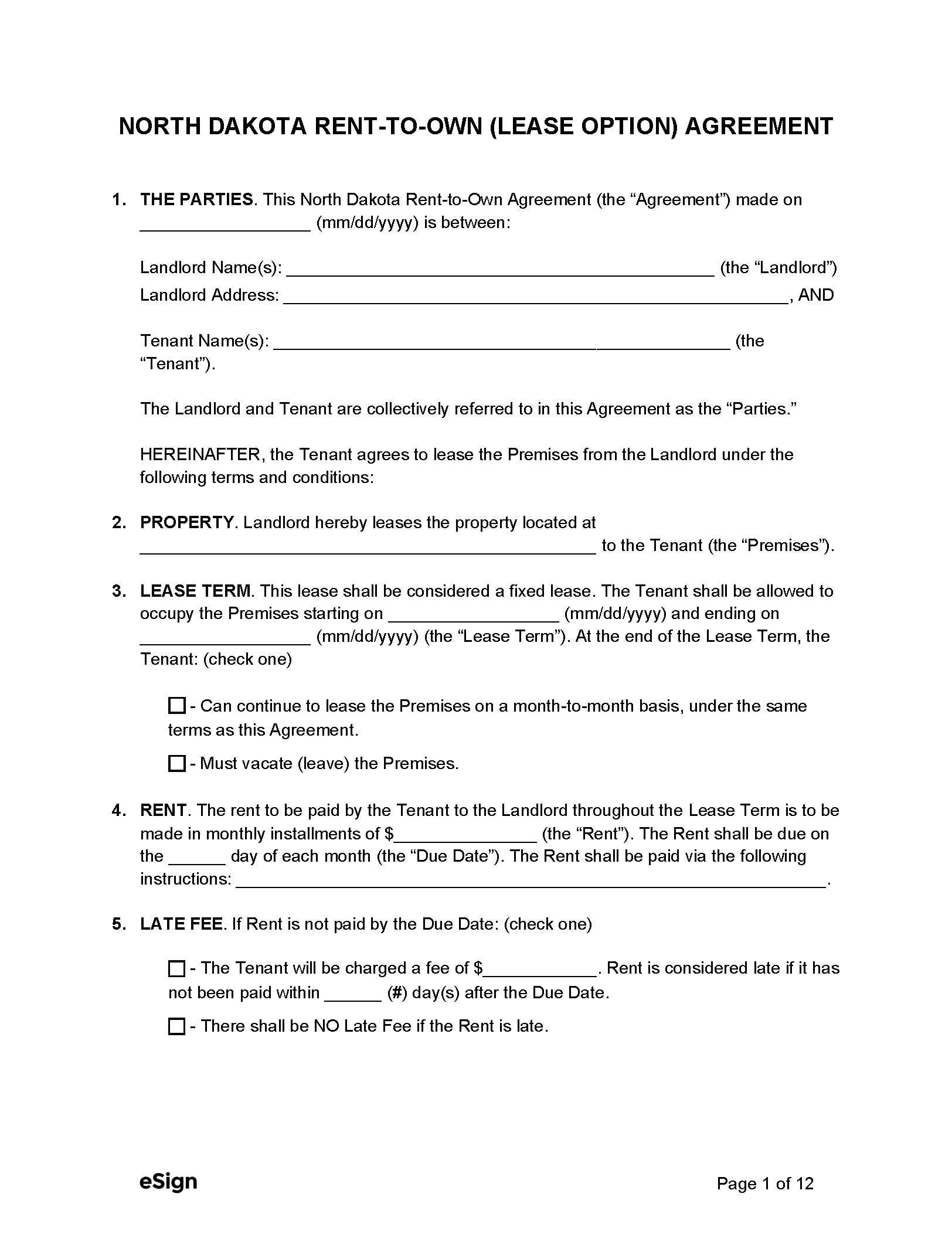 Rent-to-Own Agreement (Lease Option) – A tenant with this type of lease agreement is given the ability to buy the rental property from the landlord.
Download: PDF, Word (.docx), OpenDocument
---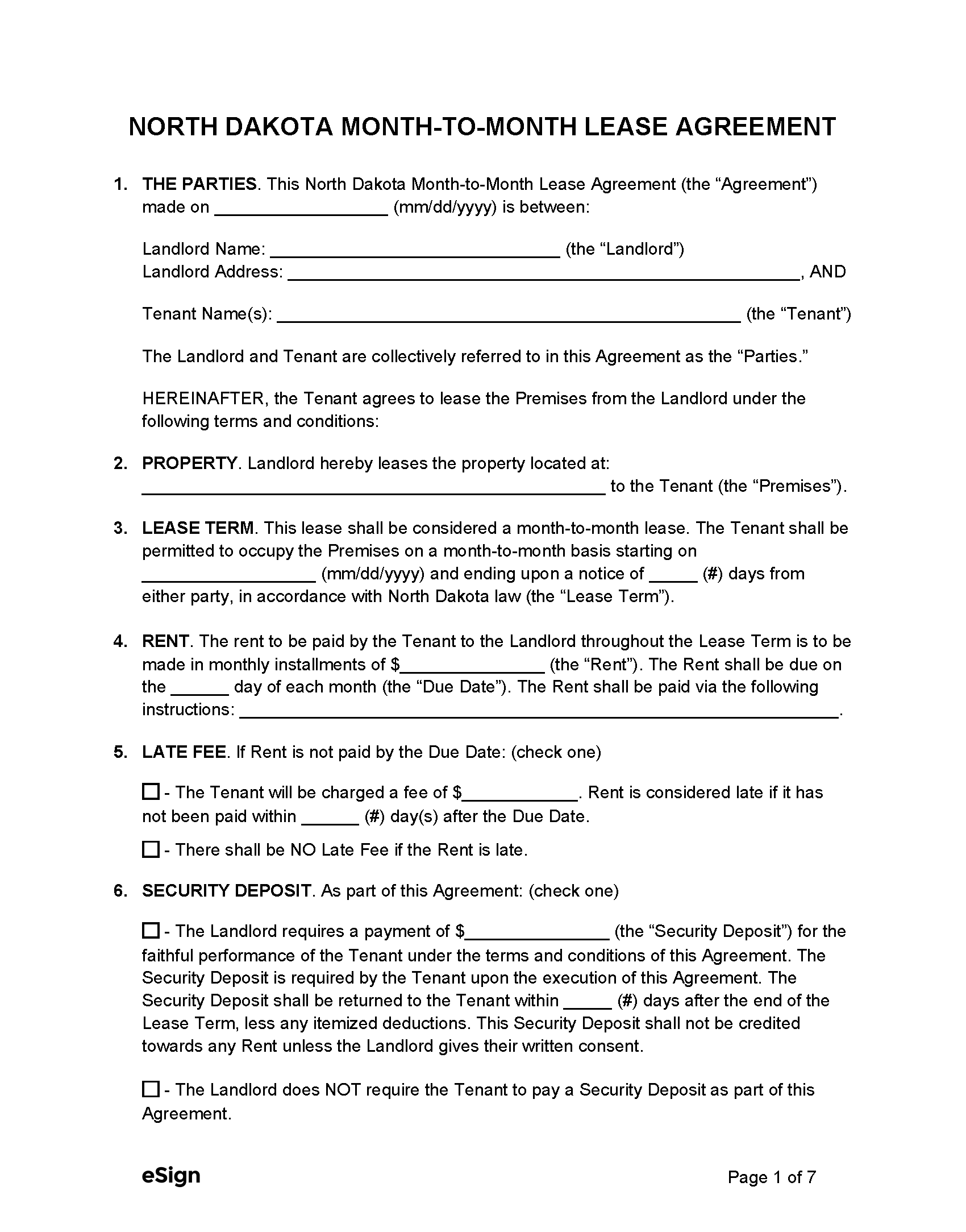 Month-to-Month Lease Agreement – A month-to-month lease is a rental arrangement that has no set length and is instead renewed each time that the tenant pays their monthly rent.
Download: PDF, Word (.docx), OpenDocument
---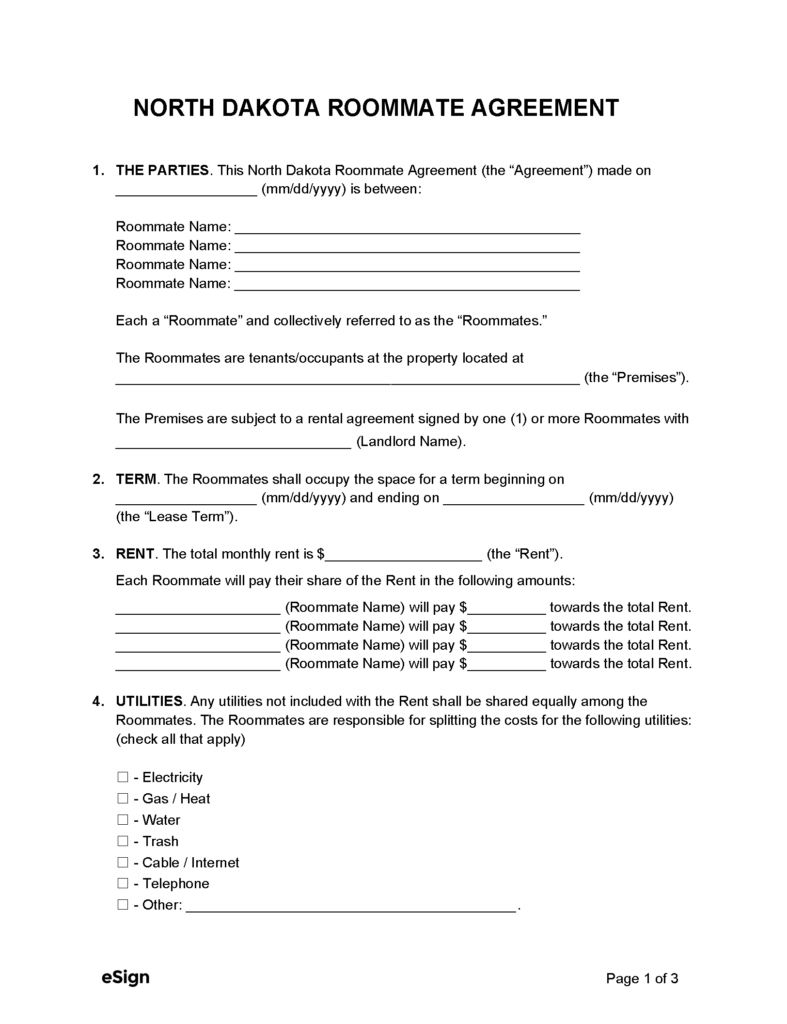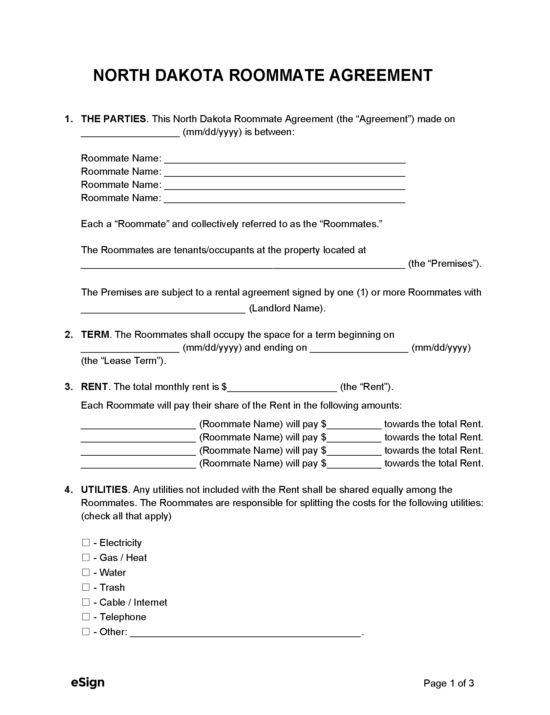 Roommate Agreement – A roommate agreement relays the division of payments and chores in a shared residence, as well as a set of rules that they all must follow.
Download: PDF, Word (.docx), OpenDocument
---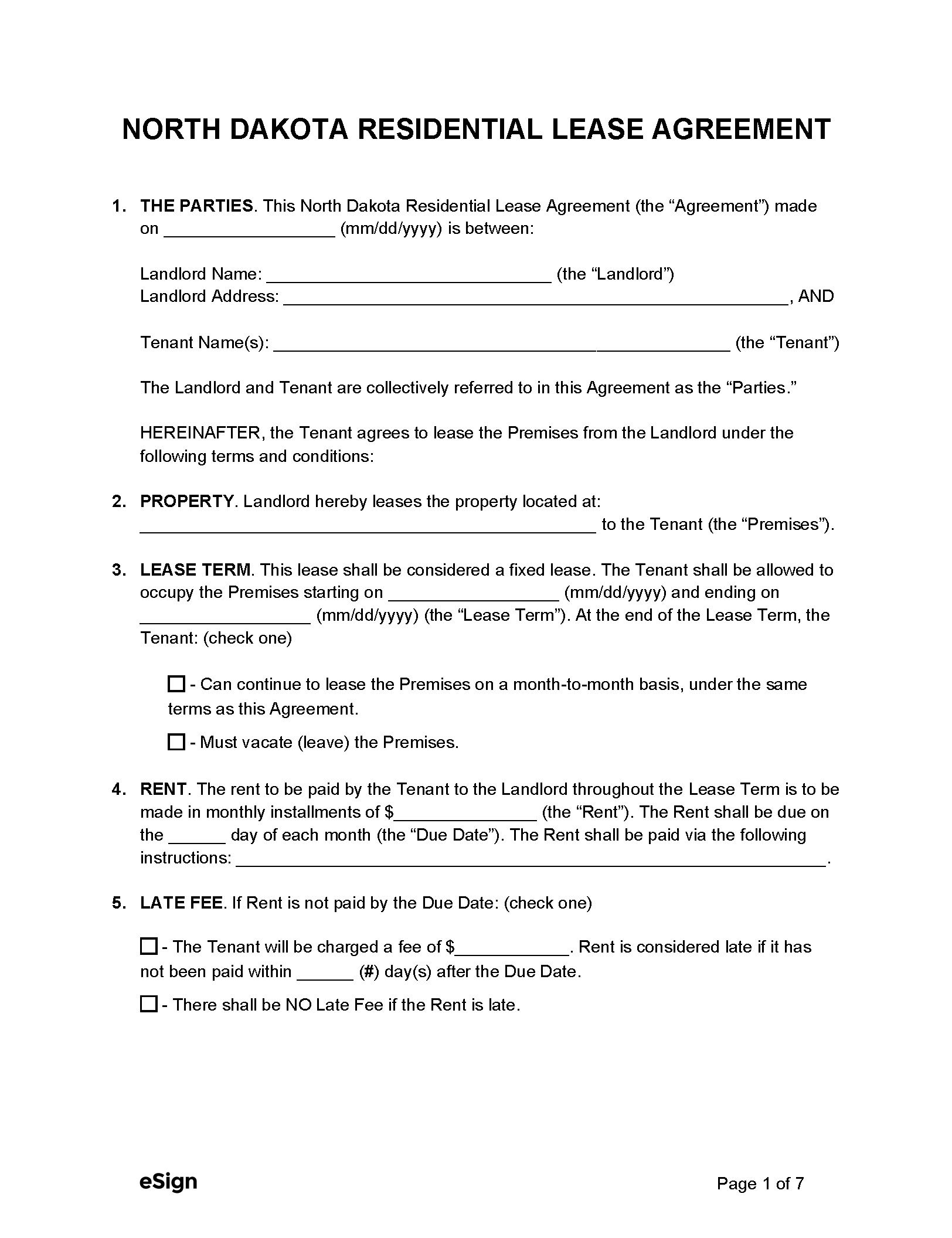 Standard (1-year) Lease Agreement – Annual leases are the most common type of rental agreements. They have a one (1) year term with monthly payments, and in most cases, an option to renew.
Download: PDF, Word (.docx), OpenDocument
---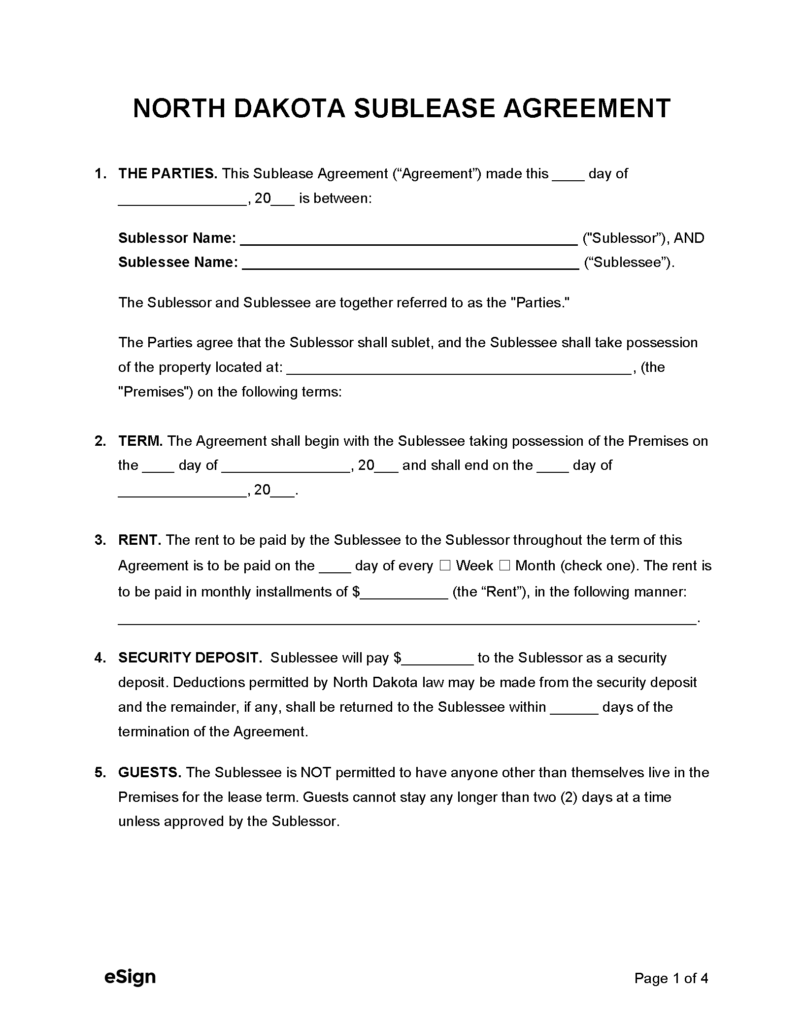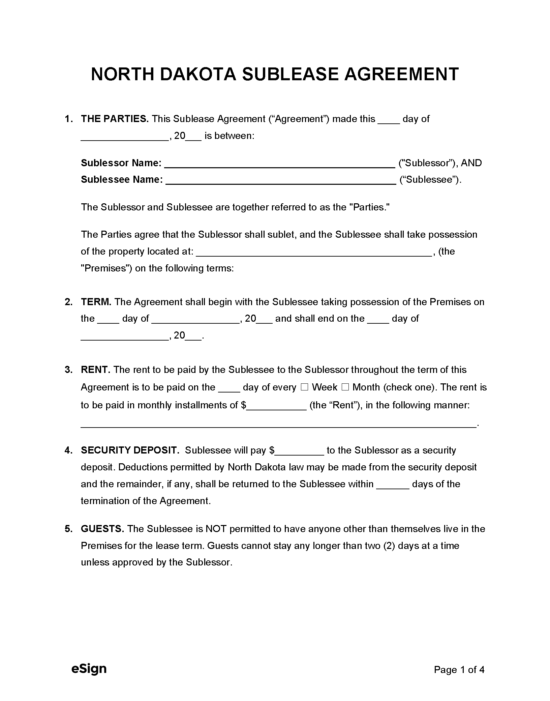 Sublease Agreement – If it is in accordance with their lease, a tenant can use this contract to rent some or all of their space to a subtenant.
Download: PDF, Word (.docx), OpenDocument
---
---
Landlord-Tenant Laws
---
Landlord's Access
General Access (§ 47-16-07.3(2)) – Unless it is impractical to do so, the landlord must give the tenant reasonable notice and obtain their permission before entering.
Emergency Access (§ 47-16-07.3(1)) – The landlord can enter the rental unit without permission in the case of an emergency.
---
Rent
Grace Period – No statute.
Maximum Fees ($) (Attorney General's Guide to Tenant Rights & Responsibilities) – Fees can only be charged if the landlord states them in the lease.
Rent Increase Notice (§ 47-16-07) – Before raising a tenant's rent, landlords must give them thirty (30) days' written notice.
---
Security Deposits
Maximum Amount ($) (§ 47-16-07.1) – An amount equal to one (1) month's rent is the most that a landlord may demand for a deposit. If the tenant has pets, the landlord can charge up to two (2) months' rent or two thousand five hundred dollars ($2,500), whichever is less.
Returning to Tenant (§ 47-16-07.1) – Deposits must be given back to tenants thirty (30) days from the tenant's move-out date.
Interest Required? (§ 47-16-07.1(1) and (3)) – Yes, if the lease is longer than nine (9) months.
Separate Bank Account? (§ 47-16-07.1(1)) – Yes. When the landlord receives a security deposit, they must place it into a "federally insured interest-bearing savings or checking account for the benefit of the tenant.