How Long Does it Take to Process?
Most landlords take 24 to 72 hours to screen a tenant.
By State
What is a Rental Application?
The main purpose of a rental application is to screen applicants for a residential tenancy. It is an efficient and legal method of acquiring information about a person applying for housing, which can be used to accept or reject the applicant for a one (1) year lease.
What is a Credit Report? (Consumer Report)
The term "consumer report" means any written, oral, or other communication of any information by a consumer reporting agency bearing on a consumer's credit worthiness, credit standing, credit capacity, character, general reputation, personal characteristics, or mode of living which is used or expected to be used or collected in whole or in part for the purpose of serving as a factor in establishing the consumer's eligibility for:

(A) credit or insurance to be used primarily for personal, family, or household purposes;

(B) employment purposes; or

(C) any other purpose authorized under section 1681b of this title.
Minimum Credit Score Required
A good credit score is considered anything above 670, which in 2019 was approximately 66% of the population.[1] The minimum credit score required depends on the landlord; if the landlord feels the tenant does not have a satisfactory credit score, they may require 3 to 6 months' rent in advance to secure the lease.
How to Screen a Tenant (5 steps)
Screening a tenant is a process that involves collecting a completed rental application from the potential tenant along with a non-refundable fee (if applicable). To properly conduct a credit and background check, a tenant must provide some personal information and a signature to demonstrate their consent.
1. Obtain a Completed Rental Application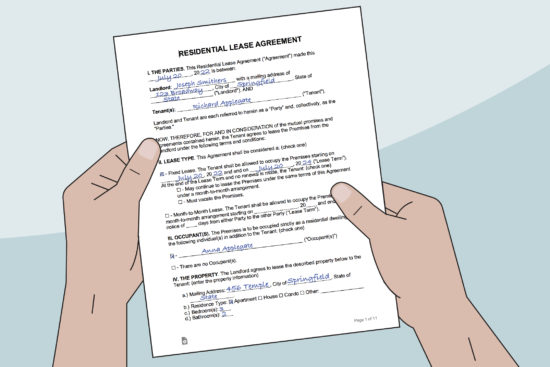 Download: PDF, Word (.docx), OpenDocument
The tenant will be required to complete the rental application for the landlord to successfully run a credit check, background check, and verify references. The landlord will need to use the applicant's full name, current address, and social security number (SSN) in order to search for any public records about the individual.
Non-Refundable Fee ($) – The landlord, or their agent, may charge a non-refundable fee to perform the screening. This fee is usually between $35 to $70 in accordance with state laws.
2. Verify the Tenant's Income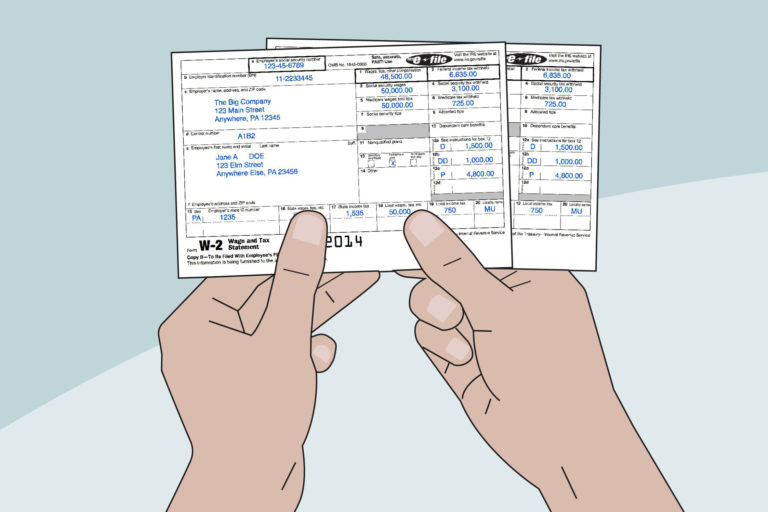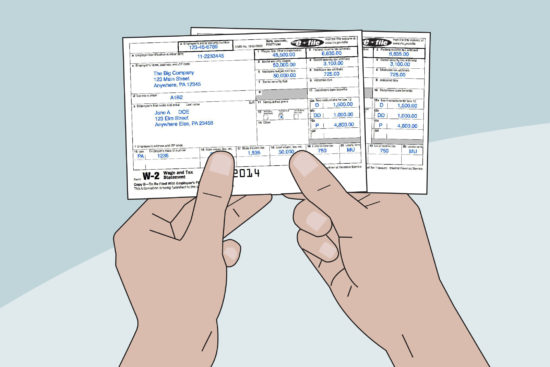 The landlord should verify the tenant's employment situation and other sources of income. This can be done in the following ways:
Last Two (2) Years IRS Tax Returns – Request IRS Form W-2.
Last Two (2) Paystubs – This request can be made to the employer or through an Employment Verification Letter.
Last (2) Months' Bank Statements – This will give the landlord a preview of the tenant's income and liabilities.
3. Best Tenant Screening Websites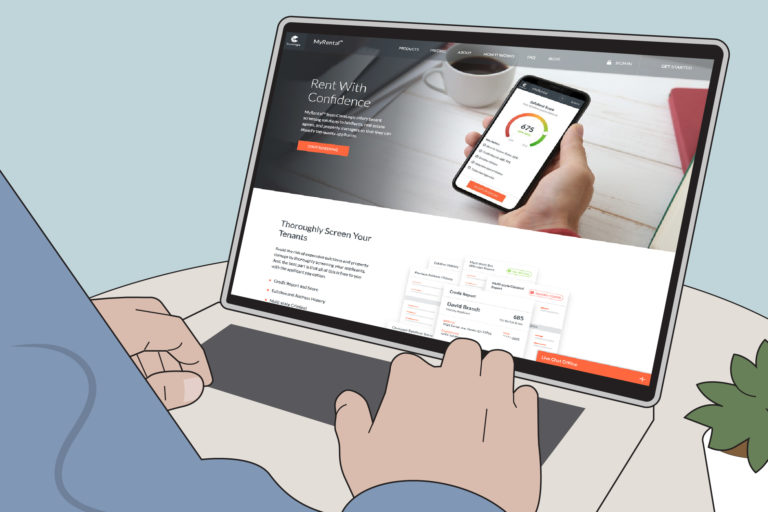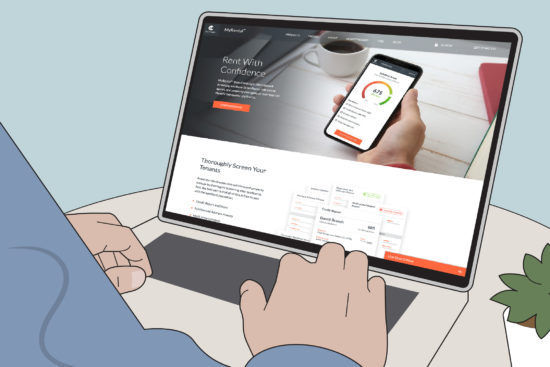 A credit report, background check, nationwide eviction check, and any other available public information may be found online through these ten (10) websites:
*As part of a combo package.
**Requires a subscription.
4. Check References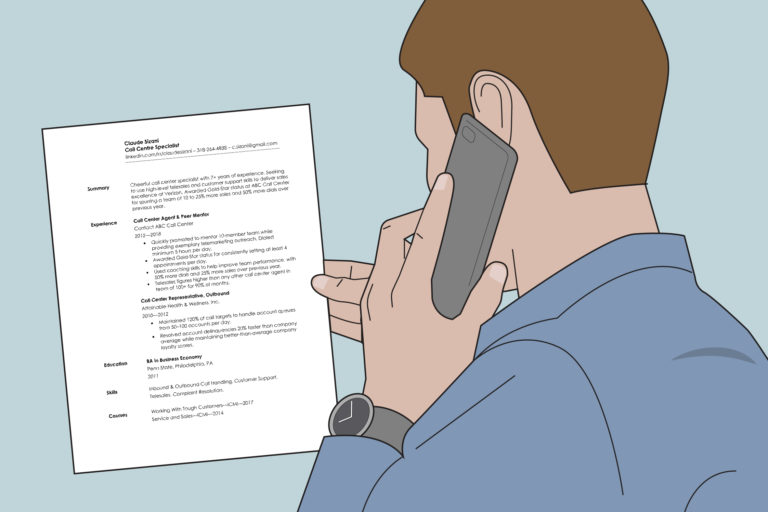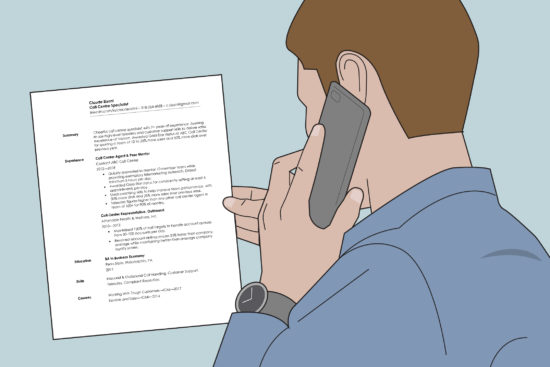 Calling and emailing an applicant's references validates a tenant's personality and habits, which standard screening practices can overlook. Simply requiring the applicant to list references will result in them providing the contact details of friends or family. Because they will offer high praise for the applicant, landlords should specify that listed references must be employers or previous landlords.
Unless one of the references mentions that the applicant should not be trusted by any means (and backs it up with proof), a single reference should not necessarily determine the outcome of the individual's application.
5. Approve or Reject the Tenant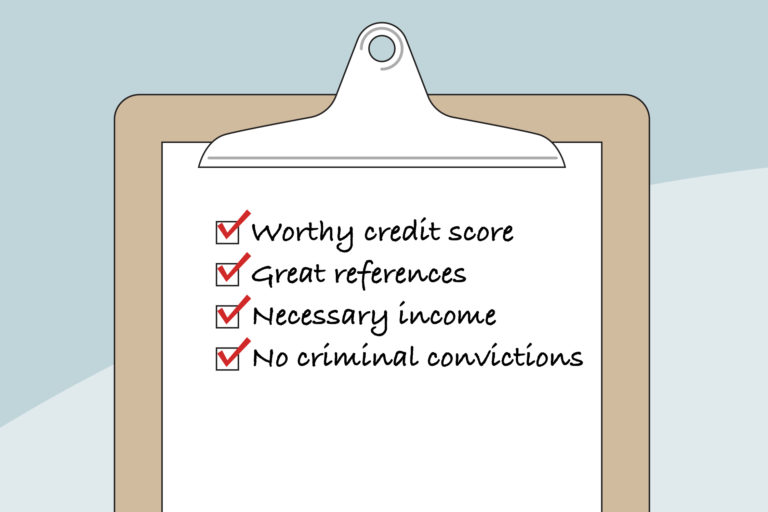 Option A. Tenant is Approved, Write a Lease
If the tenant checks all the boxes for making a great tenant (has a worthy credit score, great references, the necessary income, no recent criminal convictions, and so on), the landlord can approve their application. The next step is to draft a lease agreement, which binds the tenant to a specific lease term (typically 1 year) and outlines the general terms and conditions they must abide by.
Once drafted, the landlord should send the lease to the tenant for signing. Once signed by all tenant(s), the landlord will need to collect the first month's rent, the security deposit, and any other agreed-upon fees.
Option B. Tenant is Rejected, Write an Adverse Action Letter
If the landlord decides to reject the tenant, they will need to deliver the tenant a letter known as an adverse action letter required by the Fair Credit Reporting Act (15 U.S. Code Ch. 41).
Sample letter: Tenant Adverse Action Letter (PDF)
The letter must contain the following points of information:
The applicant can obtain a copy of the report if requested (within 60 days).
The name, address, and phone number of the reporting agency.
A general paragraph stating that the tenant was rejected.
The reason (non-specific) as to why the applicant was rejected.
A disclosure that the consumer reporting agency did NOT decide to reject the applicant, but the landlord did use the information from the report.
Maximum Application Fees: By State
Landlords charge anywhere from $20 to 200+ per application, depending on the desirability of the rental, the cost of the rent, and other factors. As a general rule, landlords should not attempt to make a profit on applications. Most States do not limit the amount to be charged for an application. The states that do have limitations are:
| | | |
| --- | --- | --- |
| State | Maximum Fee | Source |
| California | $54.46 – maximum fees are adjusted yearly based on the CPI. | California Apartment Association |
| Delaware | $50 or the equivalent of 10% of the monthly rent (whichever is greater). | § 5514(d) |
| Maryland | Any fees over $25 must be returned to the tenant. | § 8–213 |
| Massachusetts | Landlords are forbidden from charging an application fee. However, licensed brokers can charge a fee. | § 15B, 254 CMR 7.00 |
| New York | $20 or the background check cost, whichever amount is less. | § 238-A |
| Oregon | Fees cannot be greater than the average actual cost of obtaining information on the applicant. | ORS 90.295 |
| Vermont | Landlords cannot charge an application fee for residential tenancies. | § 4456a |
| Virginia | $50, not including additional costs that result from running background checks. | § 55.1-1203 |
| Washington | Any fee charged to applicants cannot exceed the costs of obtaining screening information. | 59.18.257 |
| Wisconsin | Landlords cannot charge more than $20 for a credit screening report. This does not apply to other screening costs. | § 134.05(4) |
Sample
Download (blank): PDF | Download (with sample data): PDF
RENTAL APPLICATION
1. THE PROPERTY.
Property Address: [PROPERTY ADDRESS]
Lease Type: ☐ Fixed ☐ Periodic | Start Date: [MM/DD/YYYY]
Monthly Rent $[RENT AMOUNT] | Application Fee: $[FEE AMOUNT]
2. THE APPLICANT.
Applicant's Full Name: [FULL NAME] | DOB: [MM/DD/YYYY]
Phone Number: [PHONE] | E-Mail: [EMAIL]
License #: [ID NUMBER]
Additional Occupant(s): [OCCUPANT NAMES (IF ANY)].
Pet(s): [DESCRIBE PETS (IF ANY)].
3. CURRENT RESIDENCE.
Property Address: [CURRENT ADDRESS]
Monthly Rent ($): [RENT]
Lease Start: [MM/DD/YYYY] | Lease End: [MM/DD/YYYY]
Reason for Moving: [REASON]
Landlord's Name: [LANDLORD NAME]
Landlord Email: [LANDLORD EMAIL]
Landlord Phone: [LANDLORD PHONE]
4. CURRENT EMPLOYER.
Company Name: [EMPLOYER NAME]
Employer's Address: [EMPLOYER ADDRESS]
Title/Occupation: [TITLE / OCCUPATION]
Gross Monthly Income: $[MONTHLY INCOME]
Start Date: [MM/DD/YYYY]
Supervisor Name: [SUPERVISOR NAME]
Supervisor Phone: [SUPERVISOR PHONE]
Supervisor Email: [SUPERVISOR EMAIL]
5. VEHICLE.
Do you own a vehicle? ☐ Yes (describe below) ☐ No
Make: [MAKE] | Model: [MODEL] | Year: [YEAR]
Color: [COLOR] | Plate #: [PLATE #] | State: [STATE]
6. REFERENCES.
Full Name: [REFERENCE NAME] Relationship: [RELATIONSHIP]
E-Mail: [EMAIL ADDRESS] Phone: [PHONE NUMBER]
Full Name: [REFERENCE NAME] Relationship: [RELATIONSHIP]
E-Mail: [EMAIL ADDRESS] Phone: [PHONE NUMBER]
7. BACKGROUND INFORMATION.
Have you ever been evicted or a defendant in an eviction action? ☐ Yes ☐ No
If yes, describe: [DESCRIBE (IF APPLICABLE)].
Have you ever filed, or are you in the process of filing for bankruptcy? ☐ Yes ☐ No
If yes, describe: [DESCRIBE (IF APPLICABLE)].
Do you have any outstanding balances with past landlords? ☐ Yes ☐ No
If yes, describe: [DESCRIBE (IF APPLICABLE)].
Have you ever been asked to move for a lease violation of any kind? ☐ Yes ☐ No
If yes, describe: [DESCRIBE (IF APPLICABLE)].
Have you ever been convicted of a crime? ☐ Yes ☐ No
If yes, describe: [DESCRIBE (IF APPLICABLE)].
8. CONSENT & ACKNOWLEDGMENT.
I hereby certify that I am at least 18 years of age and that all information given on this application is true and correct. I authorize the Landlord and its agents to obtain an investigative consumer credit report including but not limited to credit history, OFAC search, landlord/tenant court record search, criminal record search, and registered sex offender search. I authorize the release of information from previous or current landlords, employers, bank representatives, and personal references. I agree to furnish additional credit and/or personal references upon request. I understand incomplete or incorrect information provided in this application may cause a delay in processing which may result in denial of tenancy. This investigation is for resident screening purposes only and is strictly confidential. I hereby hold the Landlord and its agents free and harmless from any liability for any damages arising out of any improper use of this information.
Important information about your rights under the Fair Credit Reporting Act:
• You have a right to request disclosure of the nature and scope of the investigation.
• You must be told if information in your file has been used against you.
• You have a right to know what is in your file, and this disclosure may be free.
• You have the right to ask for a credit score (there may be a fee for this service).
• You have the right to dispute incomplete or inaccurate information. Consumer reporting agencies must correct inaccurate, incomplete, or unverifiable information.
Consumer Response Center, Room 130-A, Federal Trade Commission, 600 Pennsylvania Avenue N.W., Washington D.C. 20580.
In connection with my application for housing, I understand that the property owner/agent may obtain one or more consumer reports, which may contain public information, for the purposes of evaluating my application. These consumer reports will be obtained from one or more of the following consumer reporting agencies:
• Equifax, E.C.I.F., P.O. Box 740241, Atlanta, GA, 30374-0241, (800) 685-1111
• Trans Union, Regional Disclosure Center, 1561 Orangethorpe Ave., Fullerton, CA, 92631, (714) 738-3800
• Experian (TRW), Consumer Assistance, P.O. Box 949, Allen, TX, 75002, (888) 397-3742
These consumer reports are defined as investigative consumer reports. These reports may contain information on my character, general reputation, personal characteristics, and mode of living. In connection with my application for housing, I authorize the owner/agent to obtain a consumer report from the consumer reporting agencies listed above.
Applicant's Signature: _______________________ Date: [MM/DD/YYYY]
Printed Name: [APPLICANT PRINTED NAME]